MVP for an App Matching People With Care Workers Delivered in 5 Months
A social enterprise that puts people before profit
Helpr is a platform that allows people needing care, or their families, to post their care needs and for Helpr care partners to select those jobs that best match their skills, location and availability.
The technology removes many back-office function allowing more money to be paid to the carers and allows cost to consumer to be reduced.
The founders set out with the goal of revolutionising social care in the UK. Personal experience taught them that finding quality care for their loved ones posed an unnecessary challenge.
Traditional care agencies are resource heavy, lack efficiencies and too focused on profit to truly support those most in need of help. Helpr leverages technology to bring change to the social care market and put people first.

Revolutionising social care in the UK
British care workers are underpaid and often overextend themselves, which results in a lower quality of service and job satisfaction. Private individuals seeking care for themselves or their family are charged more than they should be - and the money supports care agencies and local authorities rather than care workers.
To solve this problem, Helpr partners with care workers and focuses on meeting their needs. Helpr offers training, flexible hours, and better money for care partners. The results speak for themselves:
up to 66% higher earnings for care workers,
20% lower prices for those in need of care services.
Helpr has been approved by the UK's Care Quality Commission and is currently delivering care services to two local authorities as well as a variety of private individuals.
Helpr's management can focus the majority of their energies in providing comprehensive support to their partners. Their online training courses allow participants to earn certificates from the only company in the UK that has government endorsement.
Helpr is a social enterprise rather than a company focused on profit. Their main concerns are quality of service and improving people's lives.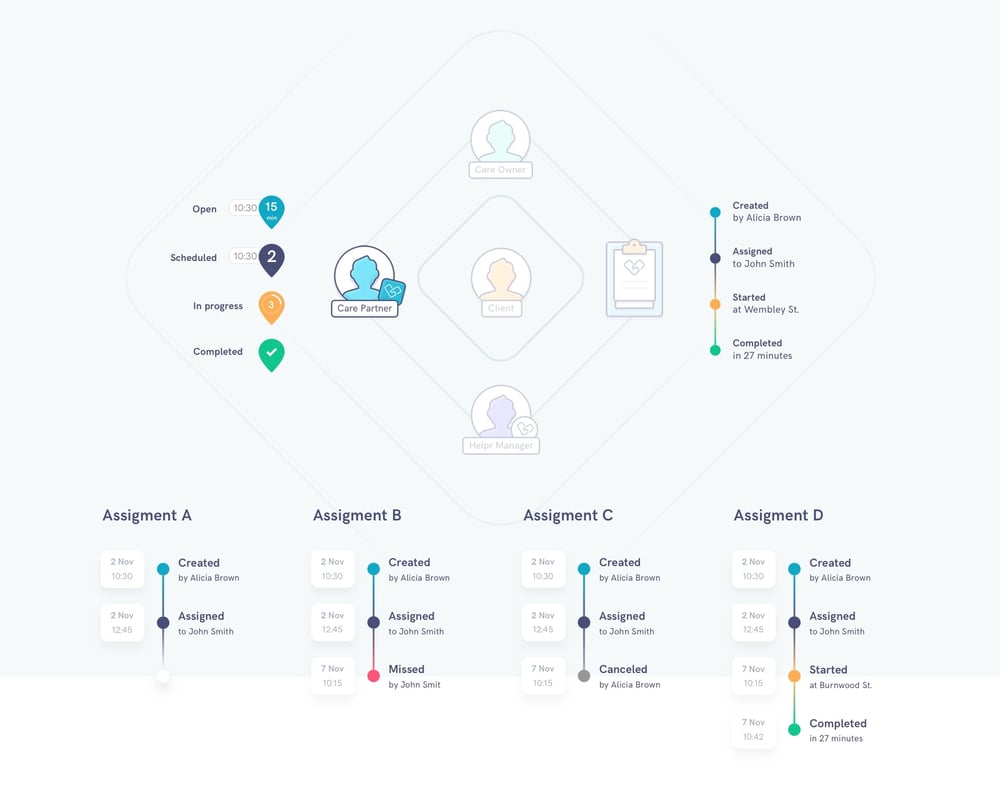 In addition to earning more money, Helpr's care partners have more control over their work/life balance in that they choose the jobs that best fit with their own families needs resulting in a more caring and higher quality workforce and satisfied clients.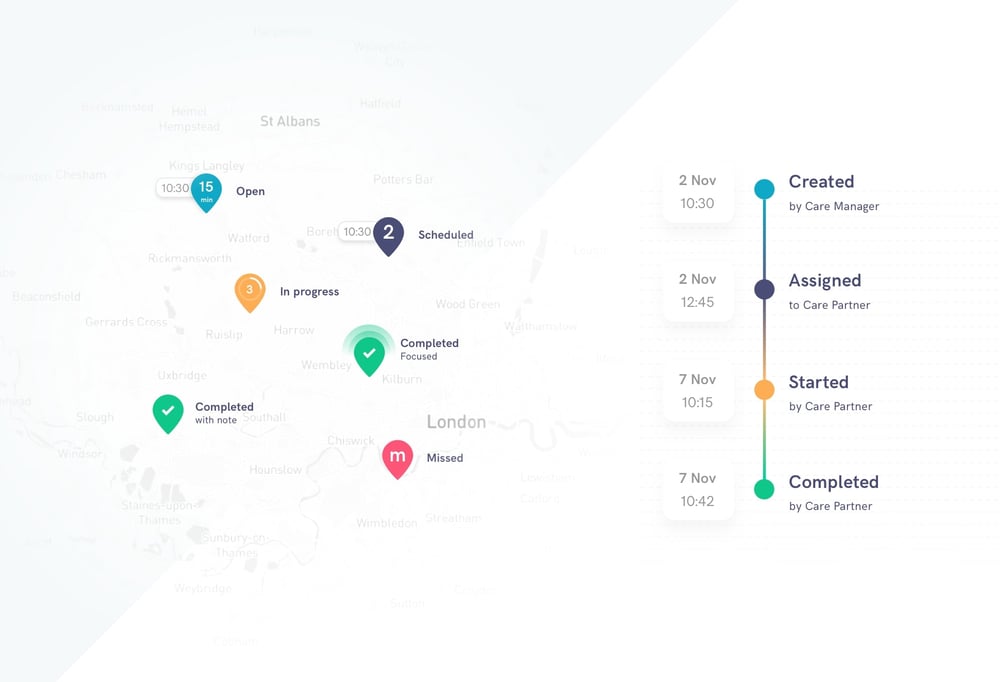 "What impressed us most was how quickly the Netguru team grasped what it was that we wanted to do and were able to make valuable suggestions. The result of the workshop was that we came away with a shared image of what was to be built rather than a large volume of detailed specification."

David Nurser

Co-Founder, Helpr
The biggest challenges in transforming the idea into life
Helpr's main goal in itself was a huge challenge: to bring positive, meaningful change to the entire social care system in the UK. The founders needed a technological partner capable of building both the frontend and backend for the web app, as well as the iOS and Android versions of Helpr.
Sensitive information that needed to be protected from outside parties, yet at the same time made available to those purchasing care services for their loved ones (usually the children of the people receiving care), posed another challenge.
The buyers are responsible for their close ones' well-being. They need open access to care plans, diaries, and reports, yet information about vulnerable people must be kept safe.
Helpr needed to build a marketplace for a complex and highly regulated service.
The system had to support many care partners in various locations, dealing with local laws and regulations.
Various authorities needed to be brought on board and provided with procurement and management tools for care services.
Social services is a complex market. While familiarising themselves with the reality of social care in the UK, Helpr's founders learned that each local council may have its own procedures and preferences.
Meanwhile, agencies sell care services to private individuals using their own approach. This complex patchwork of interconnected entities has consequences: care workers in various locations have different needs and limitations. This had to be taken into consideration while building Helpr.
Crucially, Helpr is not a social care agency. Making a profit is not their top priority. Instead, Helpr has become an open market of assignments for certified care workers. Each assignment is tracked in real time, and Helpr records events such as the posting of an assignment, claiming an assignment by a care partner, or the work being finished. Cancelled and missed assignments are displayed as well.
People purchasing care services from Helpr for their family members can relax a little as they receive a text message letting them know when a care partner has arrived. They can also see the notes left by the care partner and will receive alerts if perhaps medication is running low or the person needs a doctors appointment.
Government organisations can check the detailed notes, the audit trail of actions initiated by any alerts and can see if any assignments are being missed and clients being left unattended.
The platform alerts the management team if assignments are late starting resulting in Helpr never having missed an assignment, as the team don't have to schedule the work for the care partners they only have to look for and resolve issues that the platform flags for them.
Netguru: Understanding Helpr's vision through a workshop approach
Netguru was among twenty companies Helpr's founders spoke to about their project. We were chosen for our full-stack development team, talented and experienced designers, iOS and Android experts, as well as our skill at working remotely.
Helpr's founders had previous experience with remote teams and offshore companies, so they knew what to look out for. Transparency and good communication were key to them.
At the time, Helpr's founders had only very simple wireframes created by another agency. We had to build the platform from scratch. To test the new partnership between Helpr and Netguru, we ran a scoping session to learn more about the project, begin planning work and iron out collaboration between both teams.
Development proper began the following month. This was our first meeting with Helpr's founders in Netguru's headquarters in Poznań, Poland. Later during the project's first phase we met two more times: a halfway point meeting to discuss project challenges, and a thorough review of the entire first phase of the project.
We used that opportunity to make plans for the second phase.
Netguru's team needed to be fairly hands-on with managing the project and designing the platform, as Helpr's founders initially had limited experience with the social care market.
We ran a scoping session to start the project with a solid plan.
Flawless communication was one of the cornerstones of the project, as understanding Helpr's vision and needs was crucial to the platform's success.
Helpr's founders were deeply engaged with the project from the very start. They participated in daily Slack communication and weekly calls. Netguru's project management tool of choice, Jira, was always open to them, and they could see how the project was going, what tasks got completed or pushed back, or even what bugs have been discovered.
Netguru provided a full suite of services required to build a fully functional app of this scope: UX and UI design, backend and frontend for the web app, as well as its Android and iOS versions.
Later, we ran a Product Design Sprint and helped the founders pivot towards a B2C business model.

Technological challenge taken up by Netguru
To limit project complexity and prevent major issues, we focused on the design, backend, and frontend of the web app first. This allowed us to arrive at a version of Helpr we and the founders liked.
Only then did we begin building the iOS and Android apps - and even then, we solved major development questions in the Android app first and built the iOS one after two weeks' delay. This was a great move for optimising development costs and ensuring that both native mobile apps were built to match the highest quality standards.

Supporting multiple types of users on a complex platform
The first phase of the project was dedicated to delivering a highly functional MVP that would be representative of Helpr's full potential. This meant that we needed to build a complicated web-based system for social care authorities, two native mobile apps, and a system for monitoring care partners' work. We did so within five months, then moved on to stage two: scaling the app to match the company's growth.
Netguru still provides maintenance for the project, reacting to the client's feedback and preparing the platform for further scaling.
In its current state, Helpr supports six types of users, many of which require dedicated interfaces. We implemented advanced testing strategies to make sure everything works as intended. The client has access to a Beta Helpr environment, used for employee training and as a sandbox for testing new ideas.
The platform is fully integrated with Stripe for card payments, as well as with Mailchimp for automated mailing. Helpr's team is growing, and they're making solid profit after only two and a half years since development began.
In five months, we delivered a cross-platform MVP with a broad scope of features.
Helpr is fully compliant with the requirements of a number of UK authorities involved in the social care system.
The platform's complex suite of functionalities includes online training, GPS tracking, payments, real-time alerts, and much more.