Top-notch wellness app developers
We have years of experience in creating custom wellness apps that help people live healthier lives.
Health and wellness app development
Types of wellness apps
There are many ways in which technology can improve people's well-being. These are just some of the options.
Fitness apps

Mental health apps

Implement new technologies

Expert advice and support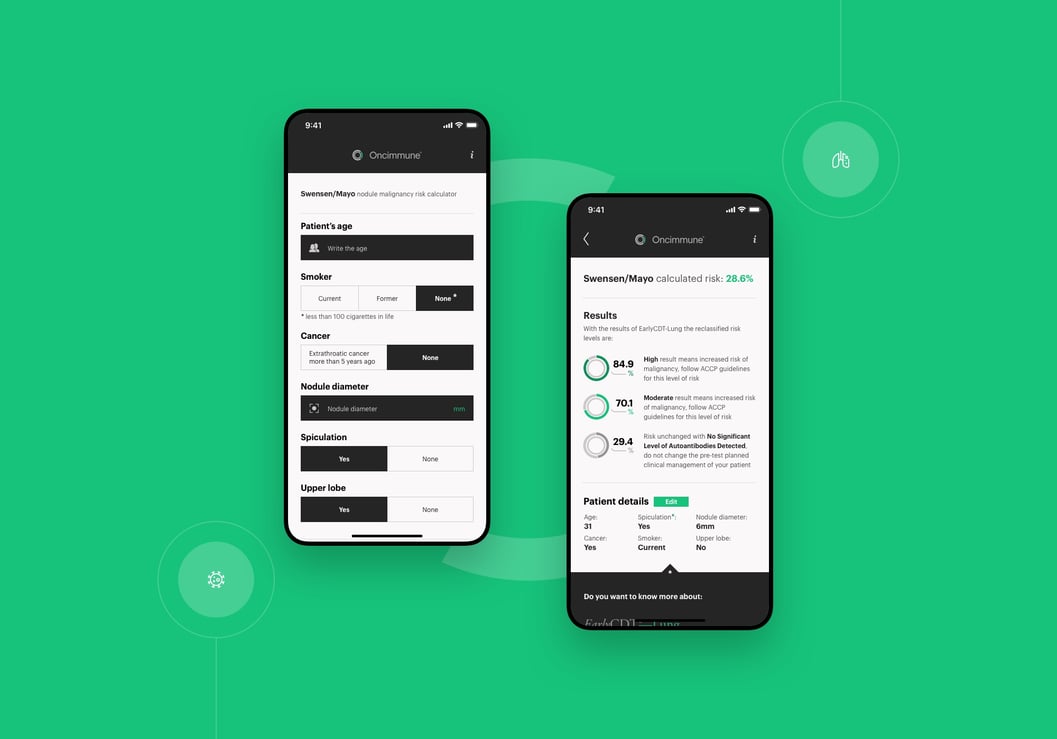 Wellness apps made by Netguru's experts
Oncimmune: mobile app for cancer prevention
Oncimmune is a mobile app that helps doctors quickly calculate the probability that their patients have lung cancer. The app uses Oncimmune's patented technology to detect autoantibodies produced in response to cancer, allowing the app to detect cancer up to four years earlier than current methods.

Oncimmune has already sold over 150,000 simple blood tests for early lung cancer detection. One way that Oncimmune does this is by providing their tests to doctors who have patients with a lung "spot" or nodule.

To go one step further and make early cancer detection even faster, Oncimmune decided to create an application that would help doctors quickly calculate the probability that their patients have lung cancer. It was not an
What do wellness apps do?
At their core, wellness apps are designed to help people live healthier lives. They do this in a variety of ways. From tracking fitness goals to providing reminders to take medication or get adequate sleep. In recent years, wellness apps have become increasingly popular, as people look for ways to take control of their health.
According to a recent study, the wellness app market is expected to be worth $540 billion by 2025. This growth is being driven by a number of factors, including the rising cost of healthcare and the increasing demand for convenient, affordable wellness solutions.
Wellness apps are usually developed by wellness app development companies, who create products that are compatible with a wide range of devices and platforms.
This allows people to use the app in their everyday lives, incorporating it into their daily routine. The best wellness apps are those that make it easy for users to meet their goals and see results. By helping people to live healthier lives, wellness apps have the potential to make a lasting impact on global health.
See how our support helped those companies
Our cooperation with Netguru is a true partnership. Whenever we faced challenges this year, we could rely on Netguru for our urgent staffing needs and time-critical deliverables. The Netguru team has gone above and beyond any expectations of what a strong and reliable partner can be.

My experience of working with Netguru was absolutely excellent. Different software teams go through ups and downs, and good software teams are resilient.
What makes the Netguru team succeed is being able to ride ups and downs as a team

As OLX Group experienced a significant increase in demand for design talent, we could count with Netguru to support us as a real extension of our in-house team. Their designers were embedded in our day to day, sharing the same commitment and focus to deliver impactful solutions to our customers. Beyond the great design work produced, they are really nice people to work with, which is equally important to build a long lasting partnership.
Industries we excel in
We help businesses of all types, from startups to big enterprises. We provide services that range in scope and size - everything you need for your business growth!
Finance and banking

Retail

Healthcare

Education
Let's work together
Start your project with us or take existing one to next level
Share your challenge and our team will support you on a journey to deliver a revolutionary digital product
Estimate project

Delivered by Netguru
We are actively boosting our international footprint across various industries such as banking, healthcare, real estate, e-commerce, travel, and more. We deliver products to such brands as Solarisbank, IKEA, PAYBACK, DAMAC, Volkswagen, Babbel, Santander, Keller Williams, and Hive.
Self-care mobile app that lets users practice gratitude

$5M Granted in funding

Investment platform that enables investment in private equity funds

$28M Granted in funding

Data-driven SME lending platform provider

$20M Granted in funding

Lead generation tool that helps travelers to make bookings

$47M Granted in funding
Read more on our Blog
Check out our knowledge base collected and distilled by experienced professionals, and find answers to some of the most important questions on healthcare software development.
Looking for other services?
Check out the other services that we have in our range. We deliver high-quality products on time. Hassle-free.
Back to All Services