Disruption Insights: Promote a Quality Mindset Among Engineers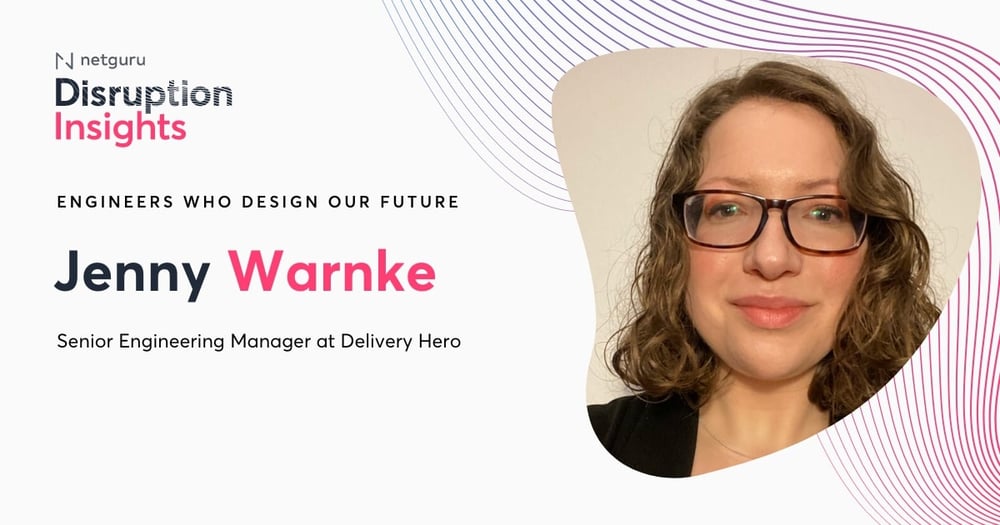 Welcome to the first episode of Disruption Insights Miniseries focused on Engineering.
We are excited to share with you all the nuggets of wisdom and actionable tips we gained from Jenny Warnke, Senior Engineering Manager at Delivery Hero.
Jenny has an extensive engineering background and more than 13 years of experience in software development. Before joining Delivery Hero, an online food delivery platform, she spent almost five years at PayPal and two years as a Head of Engineering at Blacklane.
She was kind enough to talk with us about the engineering culture at Delivery Hero, share some insights on internal cooperation best practices, or her approach to keeping engineering teams happy. See what else you can learn from her.
We all know that well-defined goals and KPIs are crucial for the efficient organization of technical work, but we believe there's more to that. This series aims to uncover how household names manage their tech teams and how it translates into business opportunities.
🎯 Engineering challenges
Exciting engineering challenge right now
Scalability is the major topic in the Fintech Department. As we and Delivery Hero continue to grow, we are not only scaling our team, but also the supporting architecture. This ensures we are creating compliant, accurate, and secure solutions.
Some of the challenges we have to consider include:
How many transactions we can handle per second
How our database handles the load
Developing proper data reporting, and
How to best train and educate our engineers to succeed at work
Main engineering challenges ahead
The Fintech Department is relatively new at Delivery Hero, so there are plenty of opportunities ahead. Ultimately, we want to deliver value to end customers and, to do this, we are constantly learning and iterating on our processes and best practices.
💻 On the tech side
KPIs and missions essential to your role
DORA metrics and TPS (transaction per second) are key KPIs for us, but we also value our people metrics such as how many female vs male engineers we have in our teams, or senior vs junior. Ultimately, we want our tech teams to reflect the diversity of our customers so that we can build products that our customers love.
Success in the software development process
For me, it all boils down to delivering value to the end customer. The way we deliver value should be iterative, impactful, include the risk assessment of what's being deployed, and should be followed by an awareness of the value. All tasks and projects require proper testing, a secure environment and must be compliant in the development process to ensure success.
Approach to testing, implementation, and eventual rollback
Quality testing is part of the product delivery flow at Delivery Hero. It is never an afterthought but fully integrated into the process, from planning to implementation. Within my own team, I expect engineers to have a quality mindset – this means that it is always top of mind in testing, implementation, or rollback.
Tackling technical debt
When developing new features, we always do an impact or risk assessment to understand if the solution will include technical debt. If yes, we ensure this is taken care of by having a list of the main technical debts and a plan on how to tackle this and how long it is expected to take to fix it. We normally use Jira tickets to track this and ensure that it is part of our KPI process to regularly review.
🤝 Internal cooperation
Do's and don'ts you've learned while scaling tech teams
To succeed at building and scaling teams, it always starts with good documentation. The better your engineering team documents their processes, the easier it is to be productive day-to-day and scale or onboard new team members.
When a new team is being formed, it helps if the engineering manager already has domain knowledge and is already familiar with the company, to ensure that the team embodies the company culture.
Software development methodologies you follow
At Delivery Hero, we mainly use agile software development methodologies.
Crucial stakeholders you work with
In the Fintech Team, we collaborate frequently with our local brands to integrate key solutions. Alignment on goals, having regular check-ins, and making sure that we talk about "blockers" and developing the right solutions are key to ensuring effective collaboration.
🧩 Hiring and team management
Engineering skills and traits you focus on
Having a growth mindset is key, as well as the ability to take ownership – no matter the role.
Secret sauce for building high-performing teams
High-performing teams are diverse teams. Diversity is not just about different backgrounds and genders but also includes having the right mix of technical and soft skills.
Making engineers satisfied and happy
My advice is to talk to your people. Make sure you take 1:1s seriously, talk regularly about growth, and really try to fully understand and support their career.
Recipe for preventing burnout
Make sure to regularly check in with your engineers and ask questions, and ensure your team is taking time off or sick leave (when needed). It's really important to ensure everyone has a good work-life balance to prevent burnout.
Leadership style you prefer
Based on my experience, I think it's important to change your leadership style based on the situation and the person. I don't like telling people what to do but rather foster an open dialogue.
💡 Looking into the future
Bets on the future of development teams organization
This really depends on the company, so there is no right or wrong way to organize a team.
---
Learn from other engineering and product experts: