How to Find and Hire Great Android Developers for Your Next Mobile App

Mobile devices now account for over half of all Internet traffic, with the majority of this traffic dominated by apps.
Android, Google's mobile operating system, leads the global smartphone operating system market with an 81% market share. This, combined with frequent updates and a loyal following of users, makes it a top choice for businesses that think of mobile app development.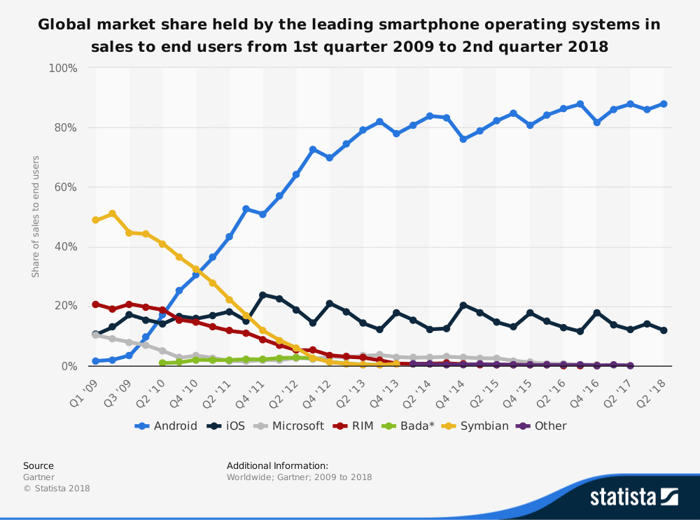 Source: Statista.
So, if you already have a great idea for an app, and you know you want to build it for Android - what's the next step?
The market for Android developers is huge, and it can be difficult to pinpoint the right candidate to meet your specific needs and bring your app to life in the most successful way possible. Here, we share our tips to help you find and hire the best Android developers, along with how to avoid the potential pitfalls of making a bad decision.
How to find top Android developers
For the best chances of finding exactly what you need, follow this process:
1. Define your requirements
This is a super important task to start with, as mobile apps are pretty diversified and require various skill sets. Defining the elements that are crucial to your project will allow you to find devs that specialize in a given technology. You should, in particular, figure out if you need specialists with experience in one or more of the following trending environments:
audio/video streaming,

external IoT hardware,

augmented & virtual reality,

app security,

apps that communicate with backend,

implementing outstanding designs and meaningful micro-interactions.
2.

Run a good interview
In order to choose the best candidate for any role, you need to be thoroughly prepared during an interview. And if you're not technical yourself, you should consider bringing in a trusted developer to verify the candidate's skills.
Before the interview, you should run a background check on your potential candidates. Pre-employment screening should include checking the candidate's experience and their work history, as well as their accomplishments. After that, you can write down questions that will help you better understand important details that could be relevant to your project. Remember to ask a few problem-solving questions - ones that may pertain to your mobile app development process now or in the future - as well as questions based on problems encountered by your team in the past.
3. Ask to see a portfolio
It's good to know that many Android devs have usually worked on at least two apps - which should be available in the Google Play Store. But it's not the number of released apps that matters. What really matters - is their quality:
consider the size of the apps and their functionalities,

their stability and implementation,

how many downloads they've already gotten.
This way, not only will you be able to better understand your applicants and their answers, but you will also get an idea of the scale of the projects that they've accomplished.
Where to find good Android developers
There are three main ways to hire an Android developer:
as an in-house employee,

on a freelance basis,

or by teaming up with a group of external mobile app development consultants.
The method you opt for depends on several criteria. Consider these points when weighing your options:
What is your budget?

What is the actual deadline?

Are you going to lead and manage the Android team by yourself?

How important is the quality of your app?

Do you have any technical background?
Answering these questions will allow you to choose wisely. Just remember - every option has its pros and cons. There's no universal solution that will work for everyone, but you can choose the one that will be perfect for your needs. Check out the cheat sheet below to see what you can expect.
In-house employees and freelancers
PROS:
total control over the mobile app development process,

total control over the employment process,

you'll build an internal knowledge base with project documentation,

typically lower cost for app development,

better understanding of the business context and internal processes,

easy process for adjusting software to various needs.
CONS:
costly recruitment process,

burden of managing the entire team,

restricted access to good specialists,

lower flexibility in terms of resource management.
Mobile app development company
PROS:
excellent assistance in defining system requirements,

proven experience in software development,

flexible team-assembly process,

easy and flexible resource management,

transparency and predictability in terms of costs,

easy process for adjusting software to various needs.
CONS:
possible lack of domain knowledge,

technical knowledge remains outside of your company,

typically higher cost for app development.
That's pretty much all you need to be aware of for now. However, no matter what option you eventually bet on, there's always a certain combination of features you should be looking for - both in an individual Android expert and in a team of specialists.
Let's see what they are.
What to look for in a great Android developer
A great Android developer has an ever-evolving and ever-increasing set of hard and soft skills. If you want to hire a developer who is capable of creating feature rich, cutting-edge and powerful mobile applications, look for the following key skills and qualities:
Technical expertise. An Android developer must be well versed in programming languages like Java and Kotlin and understand the basics of XML, as these are at the heart of Android app coding. They should also demonstrate hands-on experience in Android SDKs (Software Development Kits), Android Studio, and APIs. You should also check experience in any significant technologies for your business (see the "Define your requirements" paragraph).
Design skills. The UI and UX of an app are ultimately responsible for its success or failure. Design skills are particularly significant for a developer if they will not have any designers on their team.
Communication skills. A developer must be comfortable communicating with both technical and non-technical team members, both verbally and in writing. In addition, they need to be able to understand instructions and interpret your requirements for the app.
Collaborative skills. It is essential for a developer to be able to effectively collaborate with various team members and stakeholders for a design project to be successful.
Critical thinking. In order to write clean and maintainable code, a developer needs to have strong critical thinking skills.
Problem solving. A large part of a developer's role is troubleshooting issues that arise within the mobile app development process. They must have the ability to recognize problems and have the skills to resolve them.
Wrap-up
In order to build a successful Android app, choosing the right developer is critical. So firstly, think about whether your requirements would be best met by hiring an in-house employee, a freelance developer, or using the expertise of a mobile app development company.
Secondly, consider the budget that you can allocate to the project, and remember that while it may be tempting to go the cheaper route, this may not be the best way to meet your needs: evaluate the experience of potential developers.
Finally, a successful project hinges on the skills of the developer. Ensure they possess the required technical expertise, design, communication and collaboration skills, plus critical thinking and problem solving abilities. And in the end - hire the best fit for you.