Top 10 Founders in NYC in 2020
The city that never sleeps is packed with amazing things to do—and some incredible people to meet, too.
Entrepreneurs are in good company in New York, where impactful companies are being founded left, right and center. There are coworking spaces dotted around the boroughs, where bright sparks can connect, create, and put in some hard work.
To get you started in the start-up scene, we've put together a list of the top ten founders in NYC in 2020. Read about the amazing things these men and women are doing, the innovative companies they have founded, and their funding successes.
Kathryn Minshew
Kathryn Minshew is the CEO and cofounder of The Muse, a publication dedicated to helping young people with career advice and managing opportunities. Kathryn started The Muse when she was 25, and soon after was accepted into Y Combinator.
Among other things, Kathryn has been featured in Forbes 30 under 30, as well as had her spot in magazines such as Wired, Forbes, Fast Company, and others. She was even named one of New York's Ultimate Innovators and Disruptors in 2018.
The Muse gets over 75 million hits a month, the majority of them people looking to learn more about their career options. This is a crucial time for a company like The Muse, as career paths and preferences are shifting from generation to generation.
Millennials and Gen Z don't stay at jobs as long, and it takes a whole different mindset to hit the job search today than it did previously. The Muse makes that easier, with Kathryn at the helm.
Track record:
Total funding: $28.7M
Soundbyte: [Speaking of the one change that would help women at work] "Fund them, back them, pay them." - from Interview for Quartz.
Daniel Schreiber
Daniel Schreiber is no novice in leading a successful tech company. Before he started Lemonade, he was the senior vice president of corporate marketing at Sandisk. He left there in 2011 and started Lemonade in 2015, an innovative company that helps consumers rethink home and rental insurance. Lemonade prioritizes convenience, an important factor for many busy property owners. They charge a monthly cost to handle all insurance claims, and they make money by taking a small percentage of that cost for their profit.
What's incredible about Daniel is that in the four years since he started Lemonade, he has raised a whopping $480 million to bring his vision to life. That amount includes funds from New York City VC's Tusk Ventures and Thrive Capital, among others. Lemonade should be looking for an exit soon with these numbers, which will be great for the NYC startup ecosystem which is trying to find its next big winner.
Track record:
CEO of Lemonade (2015 - present)
President and Board Member at Powermat (2011 - 2015)
Senior Vice President at SanDisk (2008 - 2011)
Total funding: $480M
Soundbyte - "At a fundamental level, insurance is a social good. It's about a community of people pooling their resources to help the weakest members in their hour of need. That should be the most loved industry, but it's 180 degrees away from that..." - from Harvard Business Review
Clark Valberg
Clark Valberg is one of the up-and-coming CEOS in the design community. His company, Invision, makes it dead simple for companies and individuals to design better user experiences. Invision is wildly popular in the tech sector due to its friendly pricing structures and very useful software. Customers include the likes of Netflix, Eventbrite, Etsy, and thousands of others.
What's interesting about Clark is that although he is based in NYC, Invision is an entirely remote company—with employees based around the world. In fact, Clark runs one of the biggest remote companies in the world; Invision has over 800 global employees.
Remote work as a major movement is arguably in its early days, and companies like Invision with Clark leading the way pave a path for future—and current—companies wanting to go the remote route.
Track record:
CEO of Invision (2011 - present)
Cofounder of Epicenter Consulting (2003 - 2011)
Total funding: $350.2M
Soundbyte: "The screen has become the most important place in the world" - from Inc.
Mario Schlosser
Mario is also deep in the insurance game. He is the co-founder and CEO of Oscar, a new type of health insurance company. Unlike many other providers, Oscar uses technology to cut costs, save time, and deliver a better experience. They have raised a whopping 1.3 billion dollars to bring this vision to life. That funding includes sums from New York's Red Swan Ventures, Thrive Capital, and Box Group.
Before founding Oscar, Mario worked at Bridgewater and Associates as well as McKinsey. He received a degree in computer science at the University of Hannover in Germany and an MBA from Harvard Business School. He's taken all that knowledge and put it into Oscar, which is looking like a big win for the New York City tech scene.
Track record:
Total funding: 1.3B
Social: LinkedIn
Soundbyte: "We should start a health insurance company. That's a crazy stupid, stupid industry that's nobody's innovated in. Let's do that." - from CNBC
Frida Polli
Friday is the co-founder and CEO of Pymetrics, a company that claims to play matchmaker between talent and opportunity. Instead of taking the old recruiter approach, they run games to evaluate the skill and aptitude of their talent. Then, they use the results of those games to pick the perfect match. They have raised 56 million dollars from the likes of Mercer, Techhammer, and BBG Ventures.
On Pymetrics' about page, Frida mentions the power of the Netflix recommendation engine, and how she wondered why recommendation engines weren't used in the recruiting and professional industry. This unique insight has catapulted her to being one of the most prominent founders in New York City, aiming to solve a problem everyone has had at one point or another.
Track record:
Total funding: 56.6M
Soundbyte: "We can tweak data and algorithms until we can remove the bias. We can't do that with a human being." - from NNY360
Dennis Mortensen
Dennis is the cofounder and CEO of X.ai. Their virtual scheduling assistants, Andrew and Amy Ingram, can schedule meetings with other people seamlessly within email. The technology applies to recruiting, sales, marketing, and any other industry. X.ai aims to kill the inbox by creating autonomous scheduling experiences. He has a healthy 44 million VC dollars to make it happen.
Dennis also spends time speaking at events like Web Summit about the future of AI and productivity. He has written a book called Data-Driven Insights, and is also an accredited instructor at the University of British Columbia. He is a self-proclaimed New Yorker for life.
Track record:
CEO and Cofounder of X.ai (2014 - present)
CEO and Founder of Visual Revenue (2010 - 2014)
COO at Indextools (2004 -2010)
Total funding: 44.3M
Soundbyte: "We're about 90 people who've been working on it [having a computer arrange your diary] for three years. That might come as a surprise but it's one of those things where, similar to a self-driving car, it's very easy to imagine but it's very hard to execute on. We've just invested the time and effort into it." - from Business Insider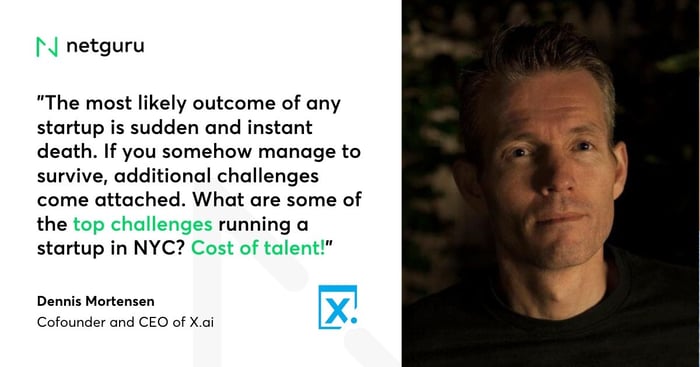 "The most likely outcome of any startup is sudden and instant death. If you somehow, against all odds manage to survive, and perhaps even shown early signs of actually prospering, additional challenges come attached to all sorts of other dimensions after that. One of those dimensions is geography, and that dimension holds a bucket of subchallenges from taxation to recruiting, and of course, a bucket of potential advantages as well. Now, to answer the question, what are some of the top challenges running a startup in NYC? Cost of talent!"
Emily Weiss
Emily Weiss is the co-founder and CEO of Glossier, a blog turned billion-dollar company. Glossier is a "beauty ecosystem", where they sell all sorts of beauty products and put out a wildly popular blog called Into the Gloss. Into The Gloss was actually the precursor to Glossier, as Emily saw the potential for it early on. And she was right. This may be the reason Emily has brought in $186 million in venture capital, some from NYC-based Thrive Capital and WME Ventures.
Emily isn't a stranger to the spotlight. While interning at Teen Vogue, she made an appearance on The Hills with Lauren Conrad. Before that, she got her education at NYU with a degree in studio art and spent time as a fashion assistant at the W magazine. Little did she know that these would all prepare her to lead a billion-dollar company!
Track record:
CEO and founder of Glossier (2014 - present)
Founder of Into the Gloss (2010 - present)
Styling Assistant for Vogue (2008 - 2011)
Total funding: 186.4 M
Soundbyte: "The conversation around sustainability even four years ago, when we first launched, was one percent of what it is today, so it's great news." - from The Independent.
Brandon Krieg
Brandon is the CEO and co-founder of Stash, the "Netflix for stock trading." With a simple subscription model, Brandon is helping people of all backgrounds get a hold on their finances. It has banking options as well as a platform to trade on the stock market. Although Stash was just launched in 2015, he has raised an admirable 189 million dollars, with investors including NYC-based Union Square Ventures and Valar Ventures.
Brandon is a thought leader on financial independence and has spoken at conferences such as Money2020 to share his vision for finances. He has been recognized by Goldman Sachs as one of 2018's most intriguing founders. Stash was also recognized in the Wall Street Journal as a company to watch. As the market leader, Brandon has a lot of room to run and will hopefully make NYC proud.
Track record:
CEO and cofounder of Stash (2015 - present)
Head of Global Electronic Execution at Macquarie Group (2013 - 2015)
Partner at Edgetrade (1998 - 2008)
Total funding: $189.3M
Soundbyte: "Stash is on a mission to empower a new generation of investors, giving everyone access to financial opportunity." - from Forbes
Katia Beauchamp
Katia Beauchamp is the co-founder and CEO of Birchbox. Birchbox is a beauty box that lets its users set their preferences of what they are looking for in the beauty category, then Birchbox sends out a custom box including haircare, skincare, fragrance, and other types of products. Birchbox works with beauty companies to distribute their products to all of their subscription customers on a monthly basis.
Birchbox started in 2010, and it is now one of the biggest subscription box companies in the US market. Their current price point of $15/mo proves there is a market of people who want to try out new products and are willing to pay for it. Prior to founding Birchbox, Katia studied at Harvard Business School and also spent some time working at NBC Universal. Since starting her company she has been recognized as one of the top business leaders, not just in New York, but in all of the US. She is further proof that women founders also build giant companies that make billions of dollars. Katia helps the diversity conversation happen all around our country, specifically in tech circles.
Track record
Funding raised: $86.9M
Social: Twitter, LinkedIn
Soundbyte: "Everybody in the beauty industry and every investor said that this would never happen because consumers were used to these alternative ways of trial, and most importantly consumers would never pay for samples because they had been trained that samples were free. That's what everybody told us in the early days. But frankly, we just disagreed. We were like, 'Well, we would pay, we're not dumb.' We represent some segment of the market. And sure, we wouldn't pay a ton, but there is some tolerance of payment here that feels pretty ROI-positive." —  Glossy
Simon Enever
Simon Enever is the CEO and Cofounder of Quip, which is…a toothbrush. Actually, it's FAR MORE than just a toothbrush. Quip tracks your toothbrush habits and helps you refill items that you're running low on. Quip's big play is dental insurance. They want to make it seamless to get dental insurance, and who else is better suited to know just what someone needs?
Daniel is an avid industrial designer, as you can see on his Behance. Before Quip, Simon held industrial design positions at ECCO design and FuseProject. He studied at Loughborough University. At the ripe young age of 31, Simon has taken his experience with industrial design and executed on it beautifully with Quip.
Track record:
Cofounder and CEO of Quip (2014 - present)
Principal and Founder of byDEFAULT (2013 - present)
Industrial designer at ECCO Design (2011 - 2014)
Owner of ENEVER Design (2007 - 2010)
Total funding: $62.2M
Soundbyte: "I asked the dentist why he felt his patients were getting these simple habits wrong, and he put it down to two things: That people did not like their oral care routine enough to want to invest time or energy in improving it, and most brands were more focused on selling expensive gimmicks rather than on guiding simple good habits." - from CNN.
Those are just ten of the up-and-coming entrepreneurs to watch in NYC. Each one is innovative, creative, and gained experience in their field before setting out to disrupt the scene.
People who build remarkable companies don't do so entirely alone. They bring other talented people along for the ride, and they use the available tools to help them create the best possible product or service. Tools like Netguru; " building software for world changers" is one of our catchphrases, and we are proud to do so.