Top Fintech Companies in the US to Follow in 2023 and Beyond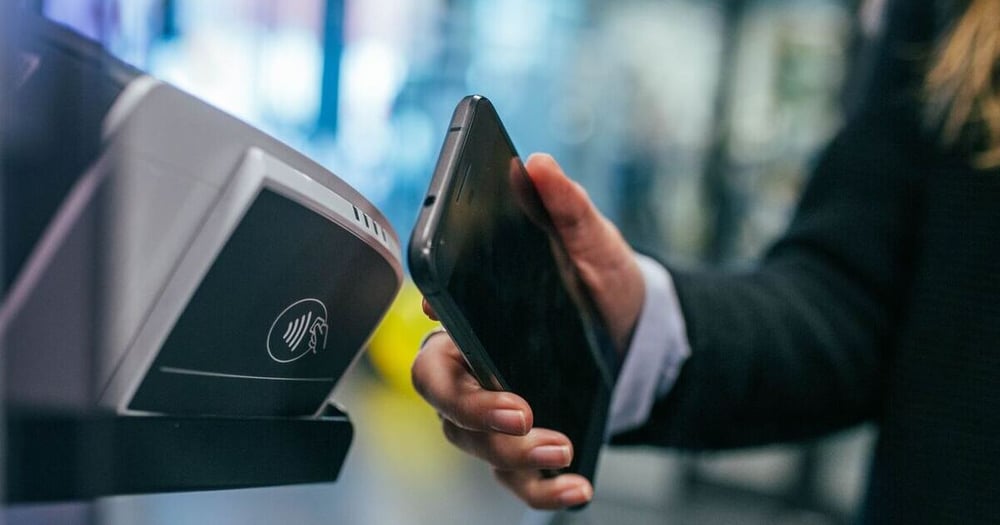 If you're trying to keep up with the US fintech scene, a list of the best fintech companies may come in handy.
In the midst of a crisis in the financial technology sector, during which we are seeing many companies filing for bankruptcy or merging with larger institutions, there are still many businesses out there whose situations can be simply described as stable with high market caps and growing revenues.
To give you a better idea of the current fintech landscape, we have compiled a list of the top fintech companies in the US based on their market caps, sourced from daily updated news outlets like Wall Street Journal and Google Finance, and locations of their headquarters (US only).
Why this location? The financial technology sector in the US is a key player in the global fintech landscape. The US has become a hub for fintech startups, dominating in the ranking of the largest fintech companies. As of 2022, the American fintech market size is estimated to be around $4 trillion. The US has around 11,000 fintech companies, ranging from small startups to established players.
Looking at the companies on our list it's clear that the term fintech doesn't refer to startups only. Traditional financial institutions are also offering services that can compete with digitally based businesses.
Leading fintech companies in the USA
20th century banking industry giants in 21st century fashion
VISA
Market cap: $450.3 billion
Revenue in 2022 and 2021: $29.3 billion and $24.1 billion
Headquarters: Foster City, CA
VISA is a leading global payments company that offers solutions for secure and seamless electronic transactions. Its network connects millions of businesses and financial institutions from over 200 countries and territories, making it one of the most widely used payment services among banks, merchants, and consumers alike.
VISA's primary business is payment processing, and it provides advanced technological solutions that ensure fast, reliable, and secure transactions. Their most recent area of exploration is the internet of things (IoT), thanks to a collaboration with IBM. Apart from expanding its own product and service range, VISA contributes to the overall fintech landscape with their impressive innovation program for startups.
Mastercard
Market cap: $338.0 billion
Revenue in 2022 and 2021: $22.2 billion and $18.9 billion
Headquarters: Purchase, NY
Mastercard is a finance giant with primary business focus on processing electronic payments and offering credit and debit cards. Mastercard operates in more than 210 countries and territories worldwide, which makes it one of the largest payment systems globally.
The company's products range from credit cards to mobile payments, but Mastercard doesn't rest on its laurels and keeps pushing the boundaries of their offerings. The company's commitment to innovation and security is evident in their identity theft protection solutions: biometrics and tokenization technology. Apart from delivering technological novelties they're also making a mark with CSR activity, touching such pressing issues as sustainability and inclusive growth in global communities.
American Express
Market cap: $122.5 billion
Revenue in 2022 and 2021: $55.6 billion and $43.7 billion
Headquarters: New York City, NY
American Express (Amex) offers financial services including credit cards, charge cards, travel services, and insurance products to individuals and businesses globally. Amex is known for exceptional customer service through its premium rewards and unique concierge program. Its credit card products are designed to fit different lifestyles and come with various benefits such as cashback and travel points. Additionally, Amex provides financial management tools to small business owners.
Amex's presence is strong in countries outside the US, including the UK, Canada, Australia, and Singapore, among others. The company operates in more than 160 countries worldwide, making it one of the leading financial services providers. By its number of card holders, however, American Express didn't make it to the winner's podium; it lags behind Visa, Mastercard, Citibank, and Chase in this regard.
Online banking for anyone's financial goals
PayPal
Market cap: $86.8 billion
Revenue in 2022 and 2021: $27.0 billion and $25.6 billion
Headquarters: San Jose, CA
Established in 1998, PayPal is a key player in the online payments sector. Their business activity focuses on offering secure and straightforward ways of transferring money digitally without disclosing users' financial details. It has become a popular digital wallet solution used for peer-to-peer transfers and a payment processing tool for over 200 million digital marketplaces and stores.
The company is widely recognized for its all-in-one platform, which supports multiple languages and currencies. It offers financial products ranging far beyond payment services, including PayPal Credit, a personal loans provider, and PayPal Here, which offers mobile banking solutions for businesses.
PayPal Holdings, Inc. has a strong global presence, operating in over 200 countries and territories, including the UK, Germany, France, and Australia, among others. Efforts to expand its global reach have resulted in PayPal partnering with significant financial institutions and ecommerce platforms.
Financial products for business banking
Intuit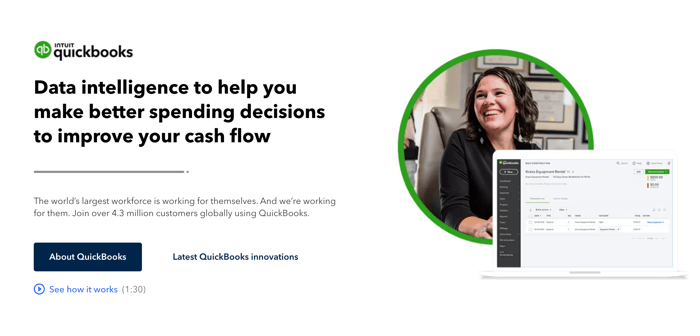 Market cap: $118.4 billion
Revenue in 2022 and 2021: $12.7 billion and $9.6 billion
Headquarters: Mountain View, CA
Intuit is a fintech company that specializes in developing financial management solutions for small businesses and consumers. Founded in 1983, Intuit has become a leading player in the financial software industry, with its flagship product QuickBooks helping millions of businesses manage their finances more efficiently. QuickBooks offers features that automate accounting tasks – such as invoicing, tax preparation, and payroll management – and provides insights into how businesses can improve their financial performance.
In addition to QuickBooks, Intuit also offers a range of other financial software products, including TurboTax, which helps individuals prepare and file their taxes, and Mint, a personal finance management tool that tracks customers' spending and helps with budget management. These products have made Intuit one of the most popular fintech companies in the world, enabling its expansion outside of the US.
Square (Block)
Market cap: $44.6 billion
Revenue in 2022 and 2021: $17.5 billion and $17. billion
Headquarters: San Francisco, CA

Block, Inc. is an American conglomerate of innovative companies, founded in 2009 by Jack Dorsey and Jim McKelvey. Square is a financial technology product that provides innovative payment and point-of-sale solutions to businesses of all sizes. Their key product, the Square Reader, offers small businesses a means to accept credit card payments using smartphones or tablets, making it easy to process transactions on the go.

The company has since expanded its offerings with a suite of software tools and hardware products including solutions for payroll processing, inventory, and customer engagement tools. Square serves millions of merchants worldwide and now operates in several countries outside the US, including Canada, Japan, the UK, and Australia.
Fiserv
Market cap: $71.0 billion
Revenue in 2022 and 2021: $17.7 billion and $16.2 billion
Headquarters: Brookfield, WI
Fiserv is a world-renowned technology company serving banks, credit unions, and merchants. The company centers their business around B2B financial tools and solutions, such as digital banking, payment systems, data processing, risk management, and more. They also serve other fintechs, not only by providing technological solutions but also by connecting startups with sponsor banks and other financial institutions.
Fiserv has a broad reach, with operations in several countries outside of the US, including Canada, the UK, Australia, Brazil, and India.
Solutions for developers: blockchain technology and others
Ripple
Market cap: $23.1 billion
Revenue in 2022 and 2021: $1.2 billion and $1.5 billion
Headquarters: San Francisco, CA
Ripple is a digital currency and blockchain-based payment protocol that has its role in revolutionizing cross-border payments. It facilitates fast, secure, and low-cost digital transactions globally, making it an attractive option for banks and other companies looking to streamline their payment processes.
The company's digital currency, XRP, serves as a bridge currency, allowing for real time transactions internationally. Using XRP Ledger (XRPL) ensures low cost ($0.0002 to transact), high speed (transactions settled in 3-5 seconds), and scalability (1,500 transactions per second).
Thanks to partnerships with over 300 financial agents worldwide, Ripple has become a key player in the digital payments market. The company operates in several countries outside the US, including Canada, Japan, Singapore, and the UK, and is continually expanding its reach.
Plaid
Market cap: valued at $13 billion in 2021
Revenue in 2021: estimations vary from $250 million to $300 million
Headquarters: San Francisco, CA
Plaid is a company that offers a platform for developers to build fintech applications that connect to users' bank accounts securely. It enables them to access and use banking data such as account balances and transaction histories.
With over 11,000 companies in the US, Canada, and Europe integrated into its API, Plaid is a leading provider of financial data infrastructure. The company partners with major fintech companies such as Venmo, Coinbase, and Robinhood.
Fintech companies in the US – wrapping up
After several shakedowns in the financial market between 2022 and 2023, including the downfall of FTX, Silicon Valley Bank, and Signature Bank, it's hard to predict what the future brings for finance in general and fintech in particular.
However, the companies listed in this article have already navigated successfully through hard and uncertain times, which makes them even more interesting to watch in the future.