15 Online Payment Service Providers You Need to Know About [2023 Update]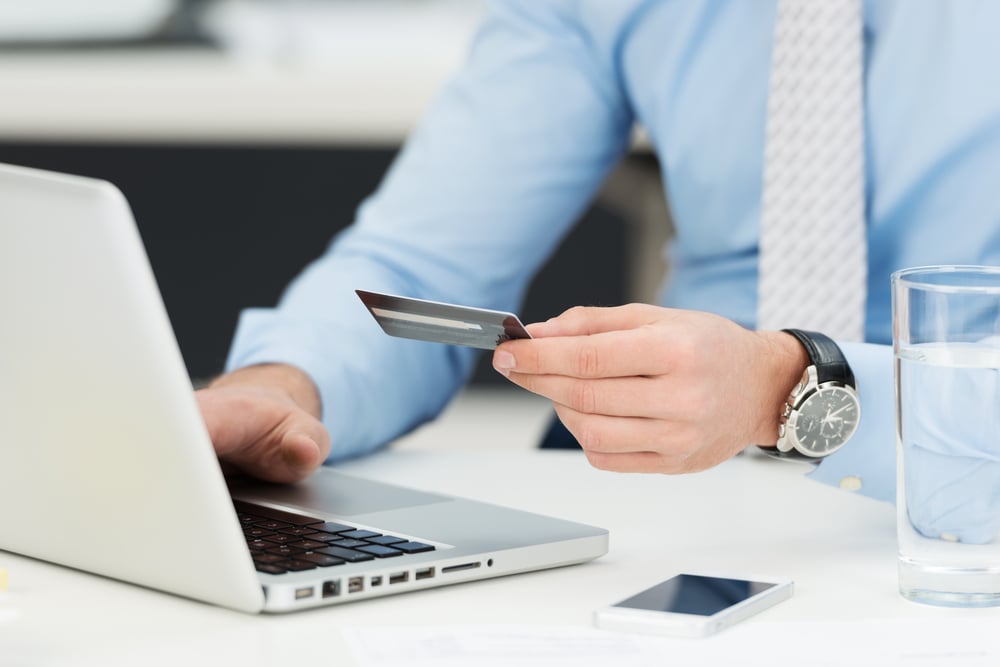 A reliable payment service provider (PSP) streamlines your processes, ensures payment safety, and gives your customers a better sense of security.
So, if you run an ecommerce site or just need to accept online payments, you might want to consider implementing a PSP, as it assists your business in a whole number of ways: from supplying you with ready-to-use payment systems to securing transaction details and increasing customer satisfaction.
The question is: how do you choose the best provider for your business?
PayPal, Stripe, Skrill, or maybe Amazon Pay? In the ever-growing online payment services market, navigating through the offers of all the merchant service providers is a challenge.
In the following article, we'll take a closer look at the 15 top companies to learn how different payment service providers work and how they can support your organization. We'll also discuss who merchant service providers really are, and what their role is in the payment process.
What is a PSP (payment service provider)?
A payment service provider (PSP) is a third-party company that enables businesses to accept a variety of payment methods online. PSPs connect merchants to different types of payment such as debit and credit cards payment, real-time bank transfers, e-wallets, and more, making the entire payment transactions process much easier.
If you'd like to learn more about the role of PSPs in your payment process, you'll find detailed info on the subject below the list of current top payment service providers.
15 Top Payment Service Providers for 2023
As the number of different payment service providers grows, it's getting harder and harder to recognize and choose the right partner for your business.
Discover the 15 top PSPs right now, and learn more about each of them.
PayPal
Accepted payments: debit and credit card payments, e-checks, PayPal Credit, and PayPal Pay Later
Rates: multiple options available, including a monthly fee – the fees start at 1.90% + fixed fee
There's no need to introduce PayPal to anyone. It's one of the most affordable payment service providers – perfect for low-volume transactions with pay-as-you-go terms and 24/7 email and phone support. According to their site, having PayPal as a payment option in your online store can lead to an increase in incremental sales on both desktop and mobile by 23% – that's surely enough to convince most people about the service.
Stripe
Accepted payments: credit and debit card payments, ACH payments, Apple Pay, and Google Pay
Rates: fees start at 2.9% + $0.30 per transaction
Stripe offers one of the most customizable PSP platforms. It's easy to set up and integrate with different business applications for both iOS and Android, including Lyft, Postmates, OrderAhead, and Instacart. The list of Stripe's clients proves its flexibility – companies like Atlassian and Figma manage subscriptions and recurring revenue thanks to Stripe, while Decathlon uses it to accept one-time payments.
Square
Accepted payments: debit and credit card processing, Apple Pay, and Google Pay
Rates: fees start at 2.6% + 10 cents per transaction
Square is easy to use, has a low entry threshold, and works for mobile credit card payment processing. On top of that, it takes care of all digital receipts and sales reports, and provides analytics solutions so you can glean business intelligence from your customers about their payments. With automatic upgrades continuously being sent out, it's dedicated to making constant improvements to help you run your business.
Authorize.net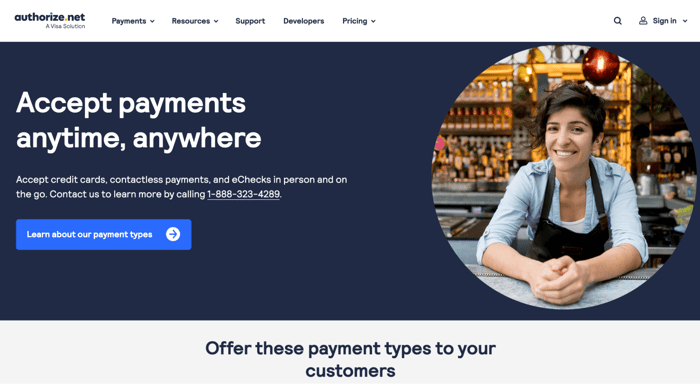 Accepted payments: credit and debit cards, e-checks, and PayPal
Rates: fees start at 2.9% + 30 cents per transaction + a monthly fee of $25
Authorize.net has been on the market since 1996 and is among the most comprehensive payment service providers on the market. The solution has won an award for outstanding API integrations. It's also one of the top merchant account providers and offers payment gateways in its all-in-one plan or separately.
Braintree
Accepted payments: PayPal, Venmo, debit and credit card payments, and digital wallets
Rates: fees start at 1,9% + €0,30 per transaction
Braintree is PayPal's "baby" and offers most of the payment services of its parent company. It's available in 40 countries and 130 currencies. Braintree accepts PayPal and most credit and debit cards.
Adyen
Accepted payments: credit and debit cards, PayPal, and other digital wallets
Rates: fees start at a fixed fee of €0.10 and an additional fee determined by the payment method
Adyen is an end-to-end payment processor, data, and financial management solution that provides access to over 300 payment methods via a single integration. It's a Dutch fintech with the status of an acquiring bank – enabling businesses to accept online store, mobile, and point-of-sale payments.
Dwolla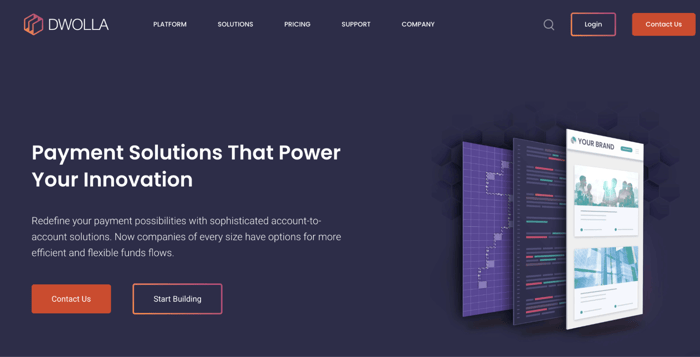 Accepted payments: ACH payments, paper checks, credit cards, and wire transfer
Rates: fees start at 1.9% + $0.10 per transaction
Dwolla is a very flexible product with multiple options for integration. It provides reliable solutions for installment payments, multiple-stage interests, and various recurring payments. Numbers speak for themselves and prove Dwolla's flexibility: they have more than 20 million users and process transactions worth more than $60 billion.
Skrill
Accepted payments: debit and credit cards, bank transfers, and mobile payments
Rates: merchant fees vary from 1.4% to 3.9% + €0.35 per transaction
Skrill to create an application for online account management.
Verifone (formerly 2Checkout
Accepted payments: credit and debit cards, PayPal, and other digital wallets
Rates: fees start at 3.5% + €0.30 per transaction
Verifone offers a secure payment gateway and a wide range of services that make it simple for businesses to accept payments globally. The platform's checkout was created to boost the users' conversion by allowing businesses to freely choose and adapt key local aspects such as currencies, languages, and payment methods.
Worldpay
Accepted payments: debit and credit cards, PayPal, and digital wallets
Rates: monthly fees start at £19
Worldpay is a UK-based global electronic payments business with more than 30 years of experience in merchant services and online processing. The company offers more than just PSP's services – if needed, it can provide your online store with extensive expert guidance. Customers can also expect top-notch security thanks to implemented encryption and tokenization, PCI DSS assessment tools, and EMV chip card acceptance.
Payoneer
Accepted payments: bank transfer, e-checks, and credit and debit cards
Rates: fees start at 1%
Payoneer allows businesses to pay and get paid globally, as easily as they can locally with an all-in-one multi-currency account. It's tailored to the needs of international online stores that operate on global markets. Its' PSP fees are very competitive, starting at as low as 1%.
Amazon Pay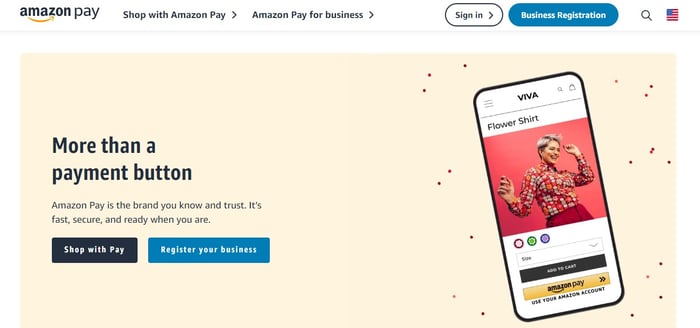 Accepted payments: credit and debit cards, bank transfer, and Amazon Pay balance
Rates: fees start at 2.9% + $0.30 per transaction
Amazon Pay is a payment processor created by Amazon for managing payments on-site. While at first it was developed to take care of the payments made on Amazon, it has now expanded beyond its parent company. It requires no setup or monthly fee.
Apple Pay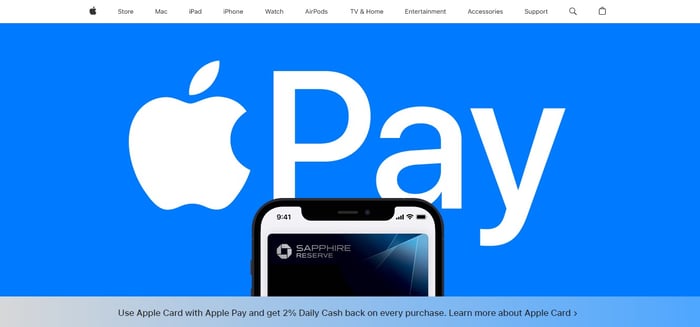 Accepted payments: debit and credit cards
Rates: no additional fee – only regular card processing fees
Apple Pay offers one of the most seamless experiences for customers. With an estimated 50 million users in 2022, it's one of the biggest mobile payment services players on the market. Please note that this one is not a payment service provider as such. Apple Pay is more of a P2P app, which means it requires to be used with another PSP app.
Google Pay
Accepted payments: debit and credit cards, and Google Pay
Rates: no other fees for commercial payments
Google Pay allows for swift payments with cards provided in the customer's Google Account. Like Apple Pay, Google Pay is not a typical payment service provider, yet its significant user base makes it a powerful player in the mobile payment market.
WePay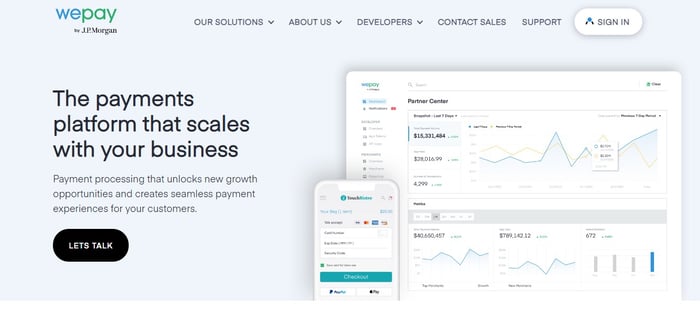 Accepted payments: debit and credit cards, ACH payments, and PayPal
Rates: fees start at 2.9% + $0.30 per transaction
WePay is a payment service provider owned by JPMorgan Chase. It's most known for its unique flexible API and great customization options. It offers end-to-end financial and support services that scale along with your business.
What you need to know about online payment services
The role of a payment service provider
Payment service providers can be used for a number of different payment processes, including online, mobile, in-store, and recurring payments. By offering an all-in-one solution, PSPs help streamline and simplify the payment processing within your organization.
How do payment service providers work exactly?
The entire transaction process is simple. Whenever your customer pays for a product or service via an online PSP, the payment is directed to the payment gateway. Then, your provider sends the payment data to the acquiring bank.
After that, acquiring banks dispatch a transaction request to the customer's bank in order to verify whether you have sufficient funds to complete this transaction. Once the payment authorization is received, the money is transferred from the customer's bank account to your account with PSP working as an intermediary.
The whole process is not only quick but also safe – both for your business and your customers.
A simplified schema looks as follows:
1) Customer pays for a product or service
2) The payment data is sent to a PSP gateway
3) The acquiring bank verifies the funds' availability with the customer's bank
4) The money is transferred from the customer's account to the merchant's account
Types of payment service providers
Online payment service providers can be divided into three main types: distributors, collectors, and aggregators. While all of them enable online payment provider solutions, their offer varies in such areas as fees, payouts, and contracting.
Distributors
The purpose of distributing PSPs is to remove the technical burden for ecommerce merchants. Distributors build and maintain connections to many different payment methods. Thanks to them, your store is able to accept electronic payments of several types.
Distributors are a good choice for merchants who offer only a few payment ecosystem options. One of the top examples of a distributing payment service provider is Skrill.
Collectors
Collecting payment service providers streamline settlement for all accepted payment methods. By combining all online payments into a single settlement, the process of reconciliation is simplified. Without using a collector, merchants would receive separate settlements for every payment solution they accept. The time and cost it would take to match orders with received settlements would prove to be uneconomical.
Collectors are the payment service provider of choice for merchants who offer lots of payment options. A good example of a collector is PayPal.
Aggregators
Aggregators accept online payments, collect the funds, and contract with individual payment methods. What makes them different from the previous types of PSPs?
Unlike the collecting payment solution provider, aggregators contract with the payment company on behalf of the merchants. The difference between them and the distributors is that aggregating PSPs also collect funds, negotiate the payment terms, and settle the merchant's bank account.
Merchants who offer only a few payment methods, but prefer not to contract with financial institutions, banks, and other payment method companies favor aggregators.
If you're looking for one of those, Stripe offers aggregating PSPs.
Benefits of using payment service providers
Streamlined payment process
Having a PSP is a quick and simple way for your businesses to accept a number of different payments online in a one-stop-shop manner, saving your business both time and money.
Secure online transactions
Many payment service providers use advanced security measures, such as SSL (Secure Socket Layer) encryption and fraud monitoring, to protect customers' payment information and make the entire transaction as safe as possible.
Wide range of payment options
Using the services of PSPs enable businesses to accept a variety of online payment methods, including debit and credit cards, ACH transfer services, and e-wallets like Google Pay and Apple Pay. Apart from being good facilitators for your company, they also increase accessibility and the level of convenience for your customers.
Fraud protection
Online payments service providers help you avoid becoming a victim of fraudulent transactions. PSPs verify payment details and check the funds before completing the transaction process, acting as your business's personal bodyguard.
Chargeback management services
Need some help with refunds? Payment service providers support you with chargeback management services that can help you resolve any disputes with customers without the need to involve yourself too much in the process.
Time and cost savings for businesses
Using a payment service provider can save your organization both time and money. PSPs help you streamline the payment process and reduce the need for manual payment processing.
Other electronic payment processing options
Payment service providers are not the only payment processing solutions available for businesses. Other options might be favored, especially by smaller companies.
Two of the most common choices include:
Traditional merchant accounts
Having a traditional merchant account means you handle all the payments on your own, without involving a third-party financial institution. The biggest advantage of choosing this option is having the space for customization and robustness. If you're dealing with lots of transactions, sometimes traditional merchant accounts can also be a cheaper choice (lower transaction fees).
However, setting up merchant account-driven payments can be a long and much more complex process. Keep in mind that it will be your business that needs to take care of all the little details, including the maintenance of service and ensuring that the transactions are secure.
Another important aspect to take into consideration is that merchant accounts may come with additional processing costs, such as application, setup, termination, and monthly fees. Unlike many payment service providers, they might also come with long-term contracts.
Peer-to-peer payment apps
Another option for online payment processing is using peer-to-peer (P2P) payment apps, like Venmo or Zelle. P2P applications allow for instant payments from mobile devices. They're most common for person-to-person money transfers, but can also be found in use by small businesses and startups.
A peer-to-peer app is a bit like a payment service provider, but most of them are restricted to app-based or online payment options only.
Choosing the best payment service provider
Finding the right payment service provider can be a real challenge. There is a lot of competition, a lot of confusion, and a lot of data to plow through before you can make a fully informed decision.
Just remember, your final choice of the best payment service provider offers should not be dictated based on price alone. Many times, you may actually find that the most expensive among them offers you precisely what you need.
While making your decision on a payment provider, it's best to consider these four factors: support, simplicity, security, and price. The payment processing partner who best addresses your needs within all of these areas will be the right one for you.