8 Top Mobile Loyalty Apps in Retail in 2023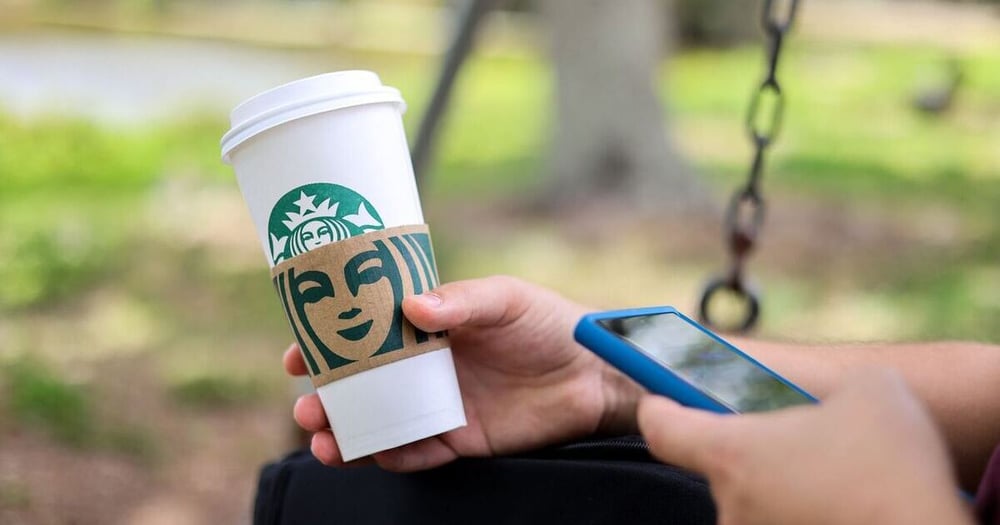 Incorporating mobile loyalty apps in the retail industry is a valuable approach to retain existing customers, and foster ongoing connections with them.
To have competitive advantage and acquire and retain customers, retail companies must go the extra mile, and while having a good product is crucial, fostering customer engagement through various initiatives builds long-term customer relationships, and increase customer loyalty, marketing increases customer retention, and drives additional sales.
How do retail loyalty programs work?
A loyalty program can encourage customer loyalty and repeat purchases by offering rewards, incentives, or exclusive benefits to loyal customers. These various incentive programs typically involve customers signing up, earning points or rewards based on their purchases, and then redeeming those points for discounts, free merchandise, or other perks.
Based on a survey conducted in late 2022, it was found that customer loyalty and reward programs were a significant determinant in earning the loyalty of seven out of 10 Americans towards their preferred brands. The same study indicated that more than 50 percent of U.S. shoppers were inclined to increase their engagement with their own loyalty program programs.
This article explores the most impactful loyalty apps in the retail industry, highlighting their effectiveness in the loyalty software demonstrating the value of this marketing strategy.
The successful mobile loyalty programs in retail
There are brands that effectively drive customer engagement and increase customer retention. Let's look at the below examples.
1. H&M Customer Rewards Program
The mobile app gives customers the instant access to exclusive discounts, personalized offers, and early access to sales and discounts:
The welcome 10% of their first purchase

Points on every purchase: $1 = 1 point | 200 point = $5 bonus voucher

A birthday treat

Monthly gift card giveaway

Double points days

Surprise offers

Invites to shopping events
This successful loyalty program and app also provides a seamless shopping experience, allowing customers to:
Browse and shop the latest fashion trends
Track their orders
Receive personalized recommendations
Additionally, the H&M loyalty app offers key features, like in-store scanning for product availability, digital receipts, and the ability encourages customers to save favorite items for future reference.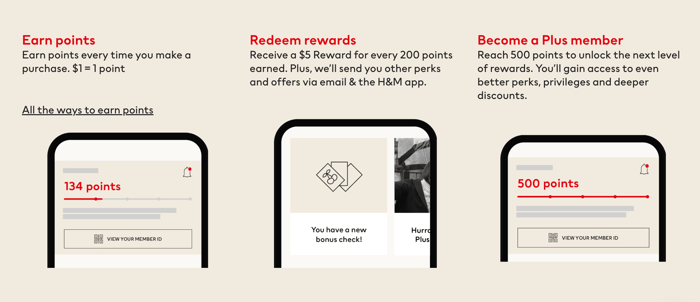 Image source: H&M
2. The North Face
The loyalty program by The North Face not only a loyalty program software enables members to redeem points for vouchers or products but also provides opportunities to further engage customers in competitions and events that align with the brand's values and principles.
10% off their first online purchase

$1 spent = 1 point earned

Every 100 points gets you a $10

Reward to use

Exclusive access to limited-edition collections and collaborations

Members-only field testing

Free shipping

XPLR Pass gifts

Access to The North Face Renewed Take-Back program, and a chance to test unreleased products

Image source: Google Play
3. Dunkin' Donuts
With the Dunkin' Rewards App, users can accumulate points, unlock loyalty rewards, access exclusive daily deals, explore new menu additions, provide customer feedback, and conveniently locate the nearest Dunkin' branch when needed.
The members receive, among others:
500 point for registration

10 points for every 1$ spend in the stores on any item at any Dunkin' country branch. Those points can then be redeemed for a variety of free menu items anytime you want.

3x points on any purchase made the day before their birthday

Members-only exclusive offers, for example, Start Your Summer off Right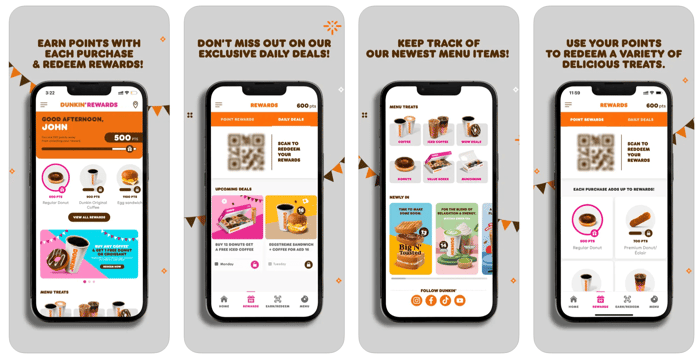 Image source: App Store
4. Sephora's Beauty Insider Program
This loyalty program is divided into three tiers:
Insider (standard): free to join

VIB: Spent 350$ per year

ROUGE: Spent 1000$ per year
It includes:
Earning 1 point per 1 $ spent

Getting Seasonal savings events

Beauty Insider Cash ( 500 points for $10 off your qualifying purchase)

End-of-year discount

Free birthday gift

Access to the Rewards Bazaar (redeem points for samples)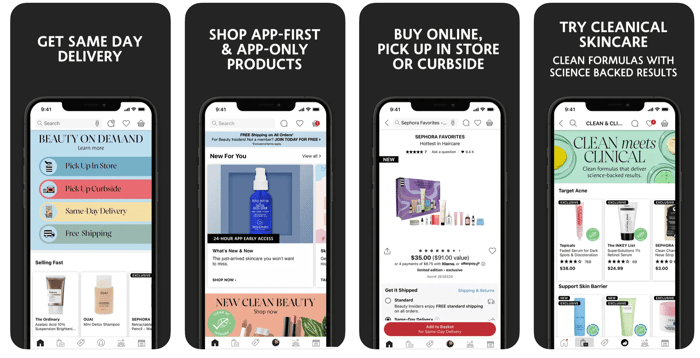 Image source: App Store
5. Starbucks Rewards Program
Starbucks loyalty app has been one of the top successful loyalty programs. By incorporating gamification elements and personalization features in the app, Starbucks engages with its customer base and provides rewards to loyal patrons.
Users earn redeemable Stars: 1 Star per $1 spent or 2 Stars per $1 spent when a member loads funds and pay with your digital Starbucks Card in the app

Rewards unlock access to exclusive benefits such as easy ordering, food and coffee.

Birthday Reward

Bonus Star challenges

Double Star Days

Games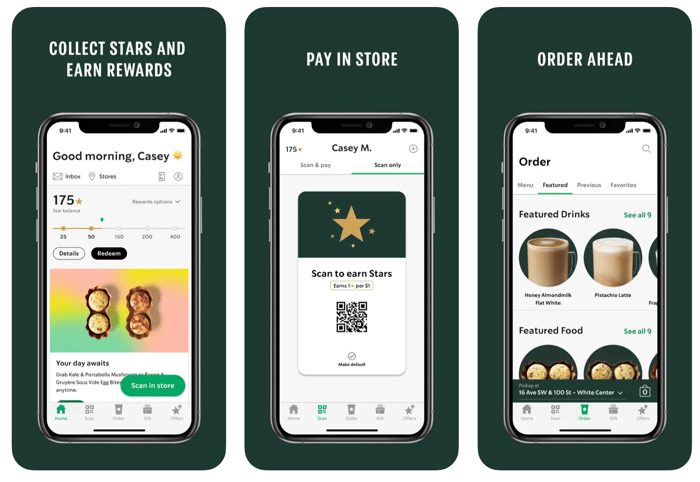 Image source: App Store
6. Target Circle
A chain of supermarkets in the USA created a Target Circle loyalty program that allows customers to earn points and accumulate 1% in Target Circle earnings rewards for every qualifying purchase made with a non-RedCard payment method, which can later be utilized at Target stores or online.
Customers can earn 1% (Target Circle earnings reward) when they shop at Target, in-store or online, or continue to save 5% instantly with RedCardTM

Birthday gift

Every time customers shop with Target Circle they earn a vote. They can cast votes to help direct where Target gives in relevant community.

Access to deals, plus offers

A Target Circle Bonus refers to a customized promotion that Target Circle members can receive as part of their membership. It provides members with the chance to accumulate additional Target Circle rewards by making eligible purchases at Target.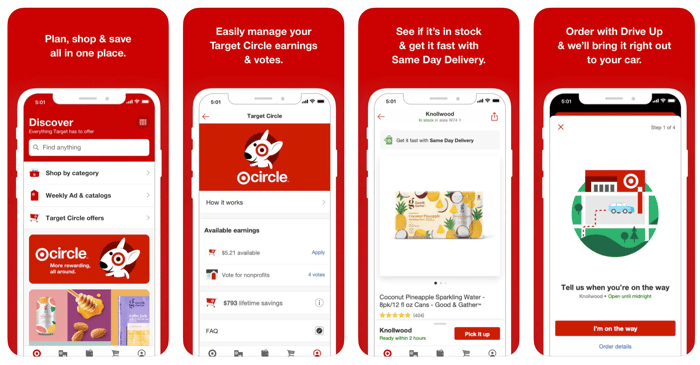 Image source: Target
7. Aura MENA
Aura loyalty points program rewards customers of 70+ international brands with loyalty points, that can be redeemed on shopping as well as dining.
Aura cooperates with retail brands such as H&M, Debenhams, American Eagle, Foot Locker, Boots, Bath & Body Works.
The mobile loyalty program includes loyalty members in 3 tiers:
Aura Hello: Standard membership

Aura Star: After gaining 6,000 tier points, earring points 50 percent more than Aura Hello

Aura VIP: 24,000 tier points earned, earning points double Aura Hello, access to the exclusive events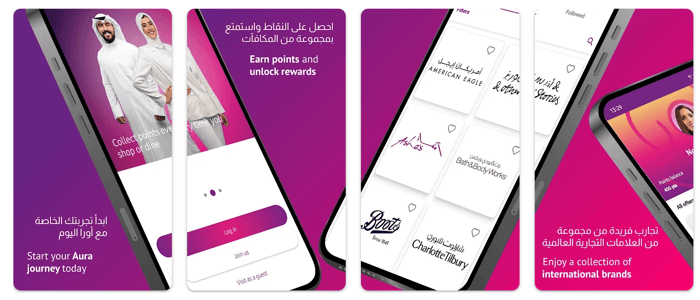 Image source: App Store
8. Designer Shoe Warehouse (DSW)
Designer Shoe Warehouse (DSW) app has redefined mobile loyalty program with its innovative program, offering an array of enticing features:
Rewarding Purchases: DSW's straightforward points-based system ensures customers are consistently rewarded for their purchases, creating a seamless connection between shopping and rewards.

Seamless Integration: The app harmoniously blends loyalty perks, exclusive offers, and a captivating shopping journey, setting new standards in the loyalty app domain.

Store Locator: Allows to effortlessly navigate DSW's extensive collection of footwear by locating nearby stores using the app's built-in store locator.

Clearance Calculator: Unveiling deals using the app's clearance calculator, equipped with the power of technology to provide instant savings.

Reward Tracking: Allows to monitor customers' reward points and track their progress through an intuitive interface.

Personalized Privileges: DSW's loyalty program offers tailored privileges that make every shopping encounter unique.

Proactive Engagement: With proactive customer engagement at its core, DSW ensures a flourishing bond between brand and buyer, enhancing the overall experience.

Source: Google Play
Why mobile loyalty apps are a great way to increase customer satisfaction?
Personalization: Mobile apps allow for personalized rewards, tailoring offers, recommendations, and rewards based on users' preferences, purchase history, and behavior. This consequently, not only improves customer engagement but also helps retaining customers.

Convenience: Users can easily access their loyalty program through mobile applications, eliminating the need to carry physical cards or remember membership numbers. They can conveniently track their rewards, view their point balance, and redeem rewards directly from their mobile device.

Enhanced engagement: Loyalty programs on mobile apps can foster increased engagement and interaction between users and the brand. Users may receive notifications about new products, personalized offers, or upcoming events, keeping them engaged and connected with the brand.

Convenience of payment: Some mobile loyalty apps integrate payment functionality, allowing users to make purchases directly through the app, providing a seamless and convenient payment experience.
Easy communication: Mobile apps facilitate two-way communication between users and the brand, enabling users to provide feedback, ask questions, or seek assistance easily.
What are the features of good mobile loyalty apps in retail?
Loyalty program integration: The app should seamlessly integrate with the existing loyalty program, allowing users to access their rewards, points balance, and transaction history. It should provide real-time updates on rewards earned and redeemed.

Mobile payments integration: Integrating mobile payment options, such as digital wallets or payment gateways, allows users to make purchases conveniently within the app. It streamlines the payment process and encourages users to engage with the loyalty program while making transactions.

Social sharing: Including social sharing features enables users to share their achievements, rewards, or special offers with their friends and networks. This can generate word-of-mouth promotion and attract new customers to join the loyalty program.

Gamification elements: Gamifying the loyalty app experience can make it more engaging and fun. Incorporating features like badges, leaderboards, or challenges encourages users to interact with the app and compete with others, fostering a sense of achievement.

Feedback and ratings: Providing a feedback mechanism within the app allows users to share their thoughts and suggestions, helping the loyalty program operators improve their services. Additionally, allowing users to rate their experience or leave reviews can contribute to building trust and credibility.
Rewarding customers for their brand loyalty
Looking after customer retention should be an integral part of your sales strategy. Introducing customer loyalty programs is one of the tactics retail companies can use to show customer appreciation and drive higher customer retention.
Not only do successful loyalty program programs lead to increased customer spending, but they also positively impact purchasing frequency and boost referrals as loyal customers are more keen to make repeat purchases and recommend your brand to their friends.
Considering how easy it is to switch between brands in retail, not having a mobile retail and loyalty software program is risky. If you don't have one yet, you should start thinking about designing a mobile retail customer loyalty app or program soon.