What Is Enterprise Cloud Computing? Introduction & FAQ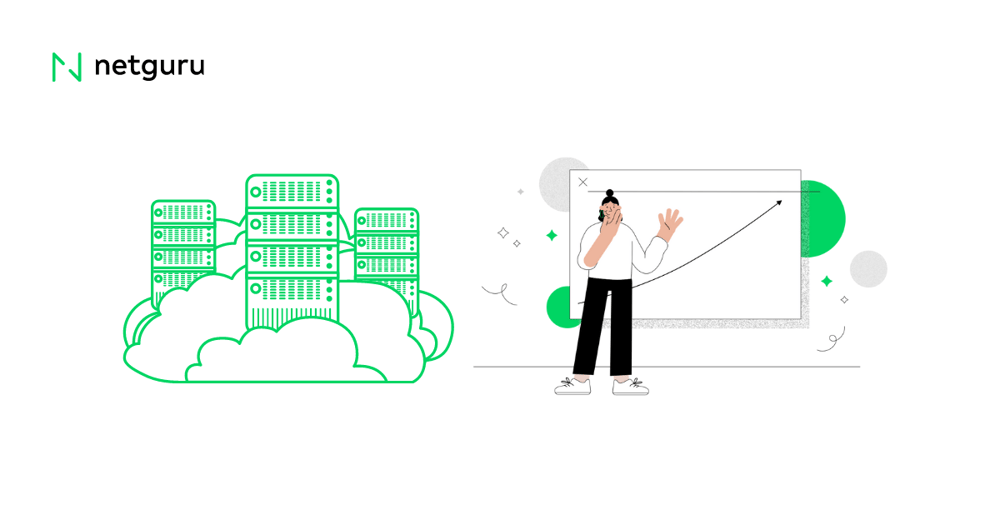 But what exactly is an enterprise cloud? We've put together an introduction to enterprise cloud computing to answer that for you.
What is an enterprise cloud?
Enterprise cloud computing is the supply of virtualized cloud computing services to a business. With enterprise cloud computing, businesses use cloud vendors to outsource IT services. These services include data storage, servers, databases, machine learning, analytics, developer tools, and IoT (internet of things).
Other resources include buying access to web-based software programs or Software as a Service (SaaS). Purchasing Infrastructure-as-a-Service (IaaS) is another example.
Enterprise cloud definition
An enterprise cloud brings together private, public, and distributed clouds in a unified IT environment. It offers a centralized control point. From there, businesses can manage enterprise cloud applications and infrastructure in any cloud.
An enterprise cloud provides businesses with a seamless, consistent, and high-performance experience.
Pros and cons of cloud computing
The benefits of cloud computing relate to security and cost savings. Procuring and installing hardware is expensive and time-consuming. When using a cloud vendor instead, you order services on-demand. That often works via a contract and service level agreement (SLA).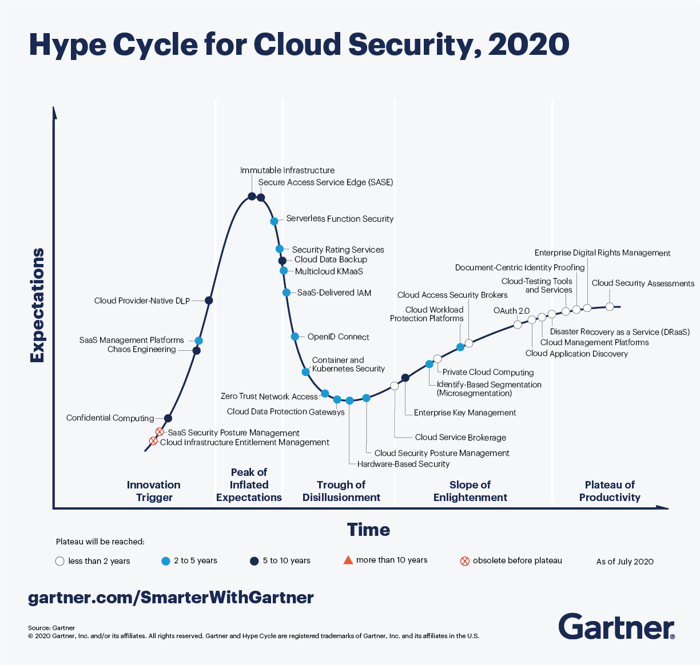 Source: Gartner
Companies pick and choose the services they require at any given time, meaning cost savings are possible and scaling is easy. Also, by migrating to the cloud, your business achieves a faster time to market.
What's more, cloud providers provide a robust, secure way for businesses to collaborate. That's increasingly important in these 'work from anywhere' days.
There are some cons to cloud computing, too. These center around initial expenses and expertise. Switching to the cloud saves money in the long run, but there are upfront outlays. For example, there are network, labor, synchronization, and integration costs.
Also, it takes time and money to train developers to use enterprise cloud solutions. You may also need a consultant to guide you through implementation in the early stages.
Note: the points in this section are not exhaustive. For more on the pros and cons of cloud computing, read our article: Advantages and Disadvantages Of Cloud Computing.
Examples of companies utilizing enterprise cloud
Businesses across various disciplines use an enterprise cloud. Examples of an enterprise cloud industry are retail, healthcare, and financial services. Plus sectors such as manufacturing, and organizations like federal agencies.
Specific examples include:
Financial services company Northern Trust
Cosmetics company L'Oréal
Multinational investment bank Societe Generale
Grocery retailer Kroger
Multinational conglomerate General Electric
Accommodation website and app HotelTonight
E-commerce corporation eBay
Video streaming platform Netflix
Take a look around our Clients section for a selection of case studies.
Enterprise cloud computing - FAQ
Now we've covered some of the basics, let's dive into enterprise cloud computing frequently asked questions.
Why use an enterprise cloud?
An enterprise cloud comes with a host of business benefits. It offers a new economic model that lets you combine pay-as-you-go cloud services with legacy IT systems. Choose which cloud provider(s) suit you best, depending on your needs.
Businesses can focus their efforts on what they need from their cloud vendor. As a result, there's demand for new and wide-ranging services from these eclectic users, broadening the service.
Furthermore, cloud providers offer instant infrastructure and deployment. That saves you IT manpower and time. In turn, your IT team can concentrate their efforts on revenue-generating activities.
What's driving enterprise cloud computing?
Businesses are making the move to enterprise cloud computing for several reasons. Cloud drivers include:
Business growth. Cloud technology improves team communication. It also allows employees to work when and where they choose. That means you save on IT needs and pay per user, enabling scaling.
Efficiency. A common driver, enterprise cloud computing helps businesses streamline and increase productivity.
Experience. Migrating to enterprise cloud computing enhances the customer experience. How? It's possible to introduce new channels of engagement.
Agility. Your IT team becomes more responsive to business needs and can react faster to market changes.
Cost. IT expenses fall, and they're also restructured to spread costs over time.
Assurance. The idea that data is safer in the cloud, maintained by cloud providers who build their model around security.
What are the different types of enterprise cloud architecture?
Enterprise cloud architecture describes the implementation of an enterprise cloud platform. It also details the cloud host and who has access. There are four main types of cloud deployment. As organizations move apps and services to the cloud, they must decide which structure best meets their business needs. Let's take a brief look at each model.
Public cloud
Offered by third-parties, anyone can use a public cloud. All customers share the services and infrastructure public clouds provide. An external provider hosts and maintains these public cloud services. Public enterprise cloud platforms include Google Cloud Platform (GCP) and Amazon Web Services (AWS), and Microsoft Azure.
At Netguru, clients can choose between these providers – we're equipped to provide services by all three vendors.
These providers control large data centers, and they typically have huge amounts of storage space. That translates into easy scalability.
Offering computing resources as part of a service, public clouds are broad in their remit. Cloud-based enterprise solutions range from completely virtualized infrastructure to specialized software programs. A versatile pay-as-you-go structure, public clouds don't require a large monetary outlay.
These hosted services allow you to tap into their security and disaster recovery plan. That ensures compliance and data safety for your business.
On the flipside, control is in the hands of the cloud provider you choose to go with. Repatriating assets may be tricky if you decide to change vendor. What's more, if your provider goes out of business or makes significant changes, you may need to make major infrastructure updates.
Private cloud
A private cloud isn't publicly available. One entity alone uses a private cloud; only authorized users can access and use a private cloud. Users can access a private cloud from anywhere, like a public cloud. The difference is that no one else can utilize the resources.
Some companies develop an in-house private cloud. Others partner with a managed service provider who hosts and secures the infrastructure.
Private clouds are all about control. It's possible to restrict access to assets, and businesses can move data and apps where they want, when they want. There's no threat of sudden changes, but you still get technical support from your vendor (if you have one) and disaster recovery.
However, private clouds can be less economical than public clouds. Why? You can only expand them by adding more capacity and hardware, meaning scaling cost-effectively is difficult.
Hybrid cloud
A hybrid cloud model combines a public cloud and a private cloud. Hybrid clouds allow both deployments to interact smoothly. Data moves seamlessly between public and private clouds. If your business needs both platforms, it's worth considering.
Hybrid cloud services provide scalability from the public cloud, and security and control from the private side. However, it's worth mentioning that the necessity for two servers can pose performance and security issues.
Multi-cloud
A multi-cloud structure combines services from more than one cloud vendor. These can include multiple private and public clouds. The multi-cloud model is a complex example of a hybrid system.
Multi-cloud offers specialization and versatility, catering to different cloud needs. For example, the HR department of an enterprise may have different cloud requirements than the finance team. The multi-cloud model doesn't leave a company reliant on a single provider and avoids the problem of vendor lock-in.
Can I trust the cloud?
Enterprise organizations are a target for cybercriminals trying to steal data. Breaches are expensive to fix and can impact reputation and customer relationships. With enterprise cloud computing, tools like cloud security monitoring are easily accessible. Network-wide identity and access controls are simple to put in place, as well.
Cloud service vendors support data security in both public and private cloud models. Your business data is safe in the cloud – more so than your hard drive.
What's the difference between enterprise cloud and hybrid cloud?
Hybrid clouds bring together public and private clouds. Whereas an enterprise cloud brings cloud technology on-premises. By doing that, enterprise cloud solutions behave and operate the same in both the data center and the public cloud.
An enterprise cloud boasts the benefits of public, private, and distributed clouds. Also, an enterprise cloud is more optimized for automation and application management than a hybrid cloud.
Note: a distributed cloud is a public cloud that allows you to run public cloud infrastructure in different locations. You can run it on your cloud vendor's infrastructure, on-premises, and at the data centers of other cloud providers. Another option is a third-party data center, also known as a colocation center.
Is cloud computing the same as Software-as-a-Service (SaaS)?
There are three main types of cloud computing: Software-as-a-Service (SaaS), Platform-as-a-Service (PaaS), and Infrastructure-as-a-Service (IaaS).
SaaS
Think of cloud technology and computing as a pyramid. At the top lies SaaS, a fully developed software solution that's available for use over the internet on a subscription basis. SaaS providers manage the infrastructure, operating systems, and data to deliver a program.
These vendors make sure the software is available on-demand whenever and wherever customers need it. A lot of SaaS applications run directly through web browsers. That means installations and downloads aren't necessary. SaaS solutions allow for easy scaling and streamlining. Applications and services that fall under the SaaS umbrella are Microsoft Office 365 and Cisco Webex.
PaaS
One level down the pyramid sits PaaS. PaaS is a bit less specialized, but it's more than pure infrastructure. PaaS provides the framework to build, test, deploy, manage, and update software products. Examples include Google App Engine and Apache Stratos.
IaaS
At the base is Infrastructure-as-a-Service (IaaS), the most flexible type of cloud service. IaaS offers a completely virtualized computing infrastructure that's managed over the internet.
An IaaS provider manages the infrastructure in a data center. That infrastructure includes enterprise cloud servers and data storage. Customers can customize the infrastructure to suit their business requirements.
AWS, Azure, and GCP offer all types of IaaS, PaaS, and SaaS.
What are the economics of cloud computing?
The economics of cloud computing center around a pay-as-you-go (PAYG) system. Charged only for the usage of cloud services, it's a budget-friendly and convenient option. Customers use software and infrastructure on a subscription basis, eliminating license costs. The model is simple and scalable.
Enterprise cloud computing: conclusion
What is enterprise cloud computing? It's a model where companies can access virtualized IT services from cloud providers on a PAYG basis – a cloud for enterprises.
Enterprise cloud computing is a thriving market. Organizations are becoming proficient at using cloud technology. What's more, many industries are migrating to the cloud as enterprise cloud development continues to occur. According to Datometry, cost-cutting is the top reason enterprises adopt the cloud.
Paying only for the services you use is affordable and scalable; that's attractive to businesses. Other drivers of enterprise cloud computing include agility and improved efficiency. There are many facets to cloud computing, from public and private clouds to hybrid clouds. Each has its pros and cons and security considerations.
Individual business requirements determine the type of enterprise cloud computing system you need. Would you like advice on the best cloud-based enterprise solutions for your business? We recommend checking in with an external cloud computing consultant.