Insurance Done Right. How Two Friends Disrupted The Industry and Got Allianz on Board

Management of Simplesurance. Joachim von Bonin (CFO), Robin von Hein (CEO), Victor Ruiz (CTO), Dominik Bark (CIO), Manuel Kester (COO).
What do you perceive as significant obstacles that could impact your vision?
The primary external challenges to us are regulatory compliance, as the insurance and banking industries are the most regulated industries. Especially the fintech and insurtech have to reconcile regulatory compliance for insurance and financial products and the data protection regulations. At Simplesurance, however, we have found a perfect solution to that.
Which is?
We're working with FOS (Freedom of Service), which allows us to offer the same products and services across Europe and always observe the specific local regulations, compliance etc.
What about the future growth? Simplesurance now employs over 150 people, is it enough for your ambitions?
Obviously, we want to grow. A good team is the key to a successful company. Only with the right mix of people with complementary skills, knowledge, and talents can we achieve our goals as a company, and remain competitive, innovative, and agile.
We strive to invest in our people and culture. I'm proud to say that in 2018, we are considered the 9th greatest employer in Berlin.
If you could go back in time, what would you have done differently?
I would have invested in the team earlier.
What would you have done faster?
I underestimated the importance of company culture. After six years, we have built a fantastic company culture with a dynamic and motivated team, who share the same vision and work toward the same goal. But I should have started that faster!
What would you have refrained from?
I'm very proud of the success of Simplesurance and its brands, but now I know that I would have refrained from building local brands and I'd have started with one local brand.
If you were to name any company that inspires you and Simplesurance. Who would it be?
There are many other players out there. I would tip my hat to our cooperation partners such as Revolut, Rakuten, real, and OnePlus. What they all have in common are a drive for innovation and sophisticated technology. Zhong An and Lemonade are also great examples of customer-focused and technology-driven business models. We all have the revolutionary spirit in common: we want to connect tradition with the new economy.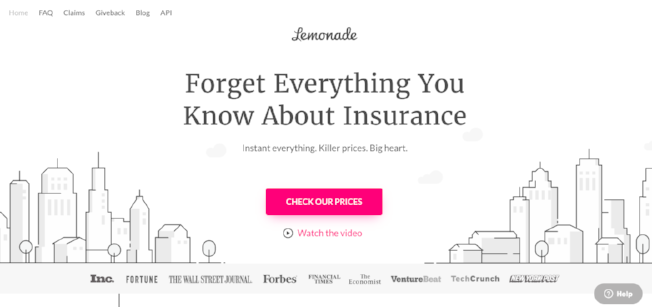 Lemonade is one of the examples of customer-focused and technology-driven business model.
The interview with Robin von Hein is part of Netguru's series "Scaling Fintech". So far, we have published the interviews with: