How We Mastered Remote Software Development? Use Cases
With over 90% of our clients hailing from abroad, Netguru battle-tested both development and design teams in various environments, cultures and timezones.
With one client, we collaborated with teams scattered across the US and Australia. With another, we have worked with three teams based in China, Israel and Poland. A story, shall we say it, typical to a global software and design consultancy.
However, whenever a new company is planning their journey with Netguru, a few common doubts cast a shadow:
how to entrust your own project to remote teams?

will they deliver the project on time?

will they understand the project's business values and goals?

will they be able to translate innovative ideas into a working product?
Our answer is four 'yeses'. Netguru builds software that lets people do things differently. Since 2008, we have successfully delivered over 600 projects to companies from healthcare, through property, to fintech startups, including such global brands as IKEA, Volkswagen, Babbel and Helpling. And we are constantly growing, trying to keep up with the demand for our services.
Not only did we deliver the software, design or consultancy skills remotely, but also we inspired our partners with our culture and processes. One of the stories is Six Eye, a London-based company that allows manufacturers remote access to lightning and audiovisuals in theme parks or exhibitions.
"We weren't confident that we could build a team with people scattered across the world. We had heard some success stories, but still it was hard to imagine managing people in different locations and different time zones,"
says Simon Hicks, CEO at Six Eye admitted. "It seemed like it would be a challenge for team members to collaborate on solving problems if they rarely met face to face."
It's changed now. The cooperation with Netguru made us realise that we too can work remotely. Not only is it possible, but it's also very efficient - Hicks added.
And he is not an exception here.
Sharing remote culture in the Berlin fintech industry
Solarisbank is a Berlin-based fintech company. Their specialty: Banking-As-a-Platform — something that can be compared to Amazon's AWS for digital banking. In a nutshell, you can build your own bank using different 'bricks' provided by solarisBank.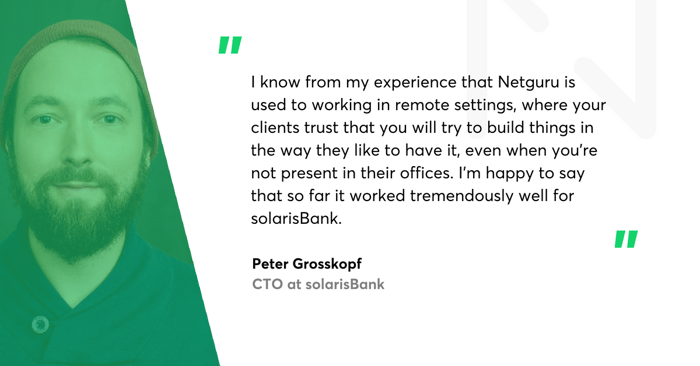 In three years, the company has already acquired a full banking license, raised almost €100m in funding, grew to a 170-person strong team, and attracted over 60 corporate customers.
As the company has grown exponentially, they faced one of the most challenging tasks in any industry - keeping the pace of development up to the ambitions of a leading fintech company. This was the moment Netguru joined this exciting journey.
We're 10 months into the project now, helping to create the product for the next-generation bank and supporting Solarisbank with the right infrastructure setup.
What do I appreciate about working with Netguru? That you take the ownership, you're experienced, and that we can rely on you.
— says Peter Grosskopf, CTO at Solarisbank. I know from my experience that Netguru is used to working in remote settings, where your clients trust that you will try to build things in the way they like to have it, even when you're not present in their offices. I'm happy to say that so far it worked tremendously well for Solarisbank.
Netguru, as Solarisbank's partner, shared the best practices and processes we have developed during our 12 years of operation. We supported solarisBank with our know-how: how to implement remote work, how to introduce effective communication on Slack, how to conduct project management, as well as other strategies needed to run teams scattered across the world.
See our case study with Solarisbank.
Effective cooperation in 3 different time zones
Here's another one: temi, the New York-based company behind the first personal robot, aiming to become a leader in home robotics.
Netguru partnered with temi, and we spent almost three years together, building the operating system for the robot and developing Android and iOS apps for temi. A joint team of developers, project managers and quality assurance specialists has been working from Israel, China, and Poland to deliver a product of the future.
In this case the bar was set higher – we were working on software for an actual physical 3D product that was based at temi's headquarters. And we succeeded.
In order to collaborate seamlessly as if we were an integral part of the temi team, we suggested common work grounds: Jira, Slack and Bitrise. We also introduced temi to our agile culture and processes, battle-tested at Netguru: two-week sprints, quality assurance, code review, retrospection and planning, backlog grooming, and daily standups.
"It was essential to be able to work on a hardware project remotely, with three teams working in different time zones"
— says Pavel Averin, PM at Netguru.
Asaf Davidi, VP of Product at temi, praised the cooperation with our team.
"Netguru is a great service provider. Sometimes, when you work on a project, it's hard to notice some stuff that is happening out there,"
— he added. And when you have an external provider, they always bring in new technologies, new methodologies, and a new perspective.
We have tonnes of similar stories. Let's take Hive, a New York-based company that wants to take on such collaboration platforms such as Asana, or Trello. Hive is a one-in-all project management tool powering Starbucks, Samsung, WeWork, The Economist, and thousands of other companies.
The company turned to Netguru to design the platform and to build their slick new mobile apps for iOS and Android.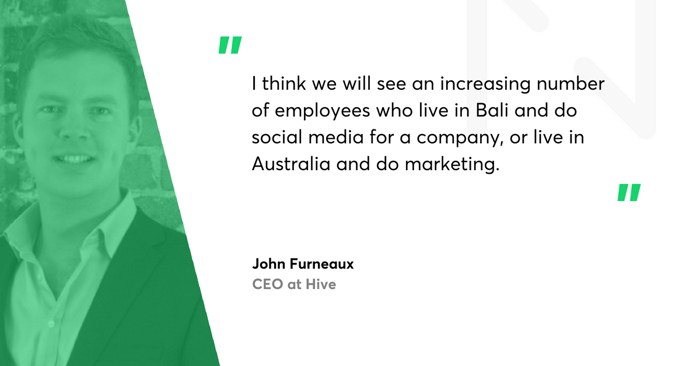 The difference between Netguru and other companies which we have worked with so far is that I can give you an outcome and you will deliver that to a given timeline, which means we're not adding management overhead on our side.
— says John Furneaux, CEO at Hive. "I really appreciate the PM model you have, not just the software development and design, Hive is also on the same page when it comes to remote work. Having partners in a different time zone wasn't much of a problem for them, as they are big believers in remote work becoming a standard in few years."
We will see an increasing number of employees who live in Bali and do social media for a company, or live in Australia and do marketing.
— John Furneaux added.
What is our secret sauce?
Our experience with remote development gave us the confidence to promise that when you share your challenge with our team, we'll work with you to deliver a revolutionary digital product. But there's one more thing. It's not only about experience with our clients. Remote work is embedded in Netguru's DNA.
Since day one, the company has built a culture of inclusiveness and flexibility. Wiktor and Kuba, the founders, believe that hiring the best talent is only possible by giving people a lot of space and freedom, and by allowing them to take ownership of their work. Our employees can work from wherever they want and they're not restricted with fixed hours.
Wiktor Schmidt, Executive Chairman and Co-founder at Netguru, underlines:
If you don't trust your employees enough to let them decide where from and when they want to work, it's better you don't hire them in the first place.
Our employees leverage that and work from different places. Kasia, a frontend developer, works from Australia, Nat has just got back from a 2-month workation across Portugal, and a group of developers work from Barcelona.
Another crucial factor in building a remote software development company is trust and transparency. For us, the best solution is to be transparent and honest about what we do. That's why we provide our clients with the access to our tools and communication channels to keep them in the loop. We also don't hide if something doesn't go as expected. Internally, communication in open channels is always preferred over private chats and we have a "cc the team members in emails" policy.
The trust we have built is also based on effective communication. Because you don't see your workmates in person, you need to find other ways to make sure everyone is on the same page. At Netguru, we hold regular weekly meetings within the teams, as well as daily standups. Naturally, our clients take part in the project meetings as well. Our communication tool of choice is Slack. It allows us to divide discussions into channels and threads, making everything transparent, easy to find, and accessible. Slack shortens the distance and as Julian Stiefel, a co-founder at Tourlane, admits:
Thanks to the technology we used, Slack and all the different possibilities to communicate, it was not an issue to work with a remote team anymore.
Finally, running a remote team requires the right tools and defined processes. We've already mentioned Slack, which is probably the tool number one in the whole company, but the list is much longer. We use Jira for project management, Salesforce as our CMS, HubSpot for marketing, Google docs for collaborative writing, and so on. Each and every tool help us streamline processes and organise our daily work.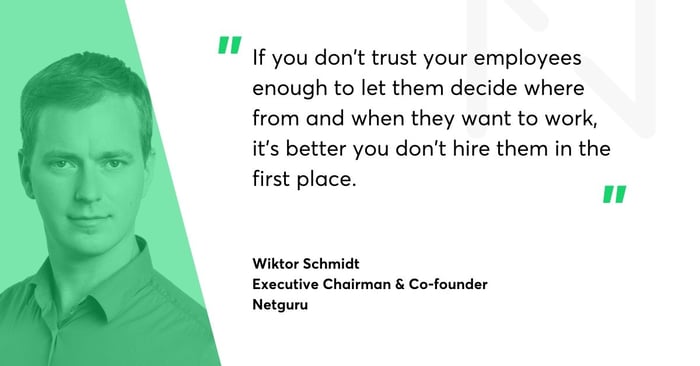 Why not to work remotely?
Remote work opens a vast panoply of opportunities to hire better talent, work more efficiently, and get more inspiration from different markets and perspectives. Even though many companies still perceive hiring abroad negatively, trends indicate that more and more organisations will notice that they don't need to have constant supervision over their team's progress to be sure the project will be delivered on time. And once they do, they can discover all the benefits that remote work brings. You don't need to add management overhead on your side, as John Furneaux, CEO at Hive, stated.
Having said that, we don't cling to the remote collaboration policy 100%. We are always happy to visit our clients onsite and work with them side by side. It becomes especially important during work on crucial parts of a project, and when major milestones are planned.