iPhone vs Android Users: Key Differences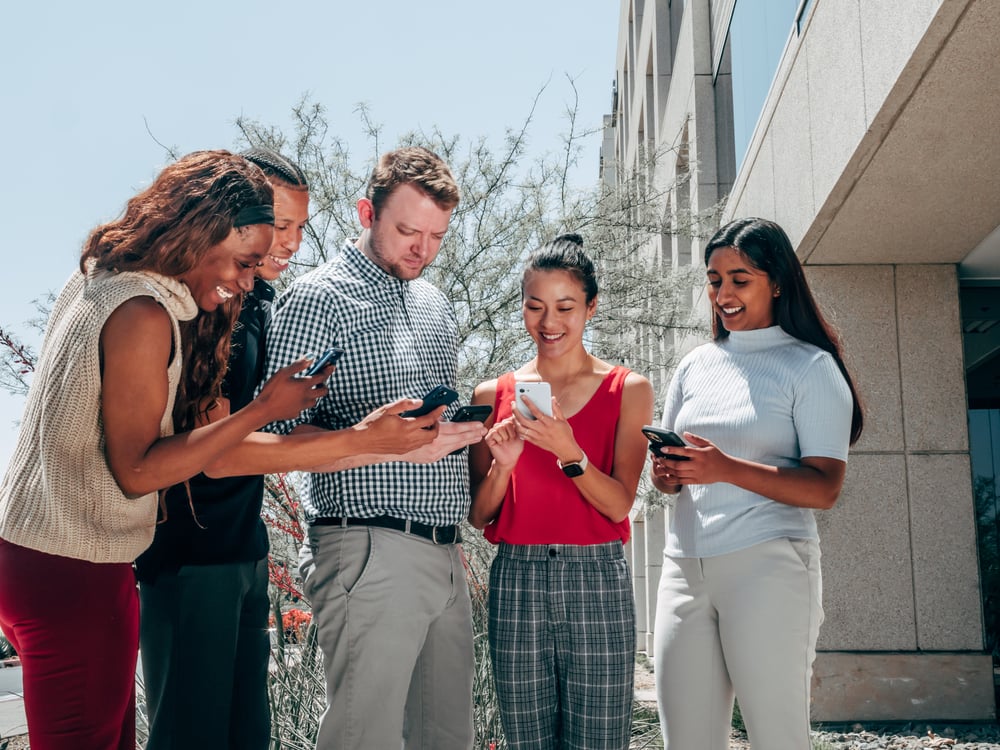 New smartphones are released constantly, sparking debates among consumers about switching platforms. From a business perspective, there's a lot to learn not just from the pros and cons of these devices, but also from the consumer profiles of iPhone and Android users.
iOS and Android cater to different sets of user personas. When building a mobile app, organizations, startups, and enterprises should get to know their distinct user bases as much as possible in order to meet their needs.
This guide presents the key differences between iPhone vs Android users, particularly in terms of demographics and behavior. Based on these differences, this article also highlights the key aspects to consider when choosing a platform. This is intended to benefit decision makers in companies looking to sharpen their mobile development strategies.
Android vs iOS Market Share
Android and iOS have a duopoly over the global mobile operating system market, with Android accounting for about 70% market share and iOS at around 28% (as of August 2022). The percentage of iPhone users vs Android users in Europe (as of 2021) doesn't differ much at 32.1% and 67.2%, respectively.
Google Play offers around 3.55 million apps to Android users, making it the app store with the most available mobile apps (as of Q3 2022). iOS users, meanwhile, can choose from about 1.6 million apps in the Apple App Store.
However, while Android prevails in the number of users and apps, iOS is ahead when it comes to mobile app revenue globally. Figures from market intelligence firm SensorTower indicate that consumer spending on apps from the Apple App Store reached $85.1 billion in 2021, while spending in the Google Play Store amounted to $47.9 billion.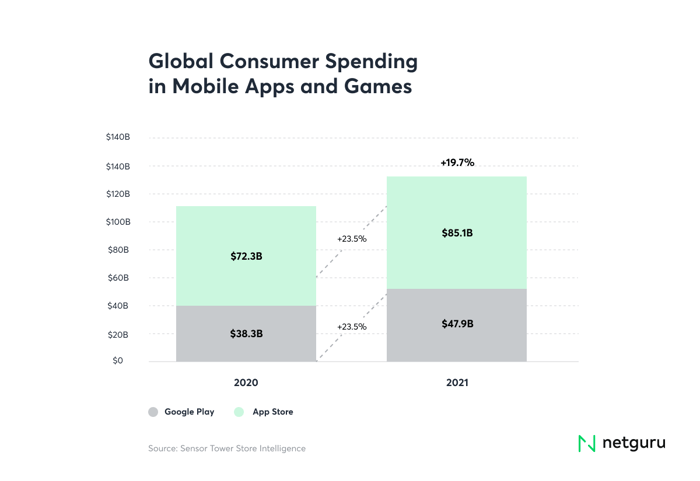 Why is Android More Popular Globally While iOS Dominates the US?
By the second quarter of 2022, iPhones overtook Android-powered devices in the hands of US consumers for the first time since Apple launched their smartphone in 2007 (according to a report from Counterpoint Research). Apple has now passed 50% market share (dubbed as "active installed base") of US smartphones. The report notes that there had already been a strong trend of Android users in the United States shifting to iOS in the last four years.
There are a few common reasons that analysts often cite as to why Americans generally prefer the iPhone over Android devices. Some say it's because Apple is an American company, and its devices (not just the iPhone) have long been staples in American popular culture. Some experts also say that US consumers have been more receptive to claims that the iPhone and the iOS ecosystem are superior when it comes to security and protecting user privacy.
On the economic front, analysts point out that US consumers are generally less price sensitive than those in many other countries. It also seems that Apple is the least depreciating smartphone brand, making it the preferred choice for future trade-ins and hand-me-downs.
Ultimately, Apple commands the highest satisfaction and loyalty ratings in the US among major smartphone brands (leading Samsung, Google, Motorola, and LG), albeit only with a razor thin margin (according to a 2022 Statista Global Consumer Survey).
iPhone vs Android differences in hardware and software
Before getting to the differences between iPhone and Android users, it's useful to go through some key distinctions between the hardware and software they use. To begin with, Android users have a wide variety of devices to choose from – with a range of options in screen sizes, processors, device features, and price points. iPhone users, on the other hand, are limited to Apple's iPhone lineup.
One difference that stands out, particularly to those switching from one platform to the other, is that Android phones typically come with physical buttons for navigation, while iPhones use a navigational interface that is entirely touch-based. This can be a matter of preference, but it's worth noting that the physical buttons on Android phones can sometimes be more convenient, especially when using the device with only one hand.
When it comes to the user interface, the most notable difference is that Android users are able to customize their home screens by reorganizing their widgets and apps in many ways, whereas iPhone users are limited to a more simplistic grid layout. Android phones broadly have more customization options than iPhones, allowing Android users of the former to change the look and feel of their phones to suit their personal preferences.
When it comes to publishing apps in the application marketplace, Apple has a much stricter approval process resulting in fewer buggy or low-quality apps in its App Store. However, this also means that it can take longer for new apps to be approved and made available for Apple devices.
Demographics and Behavior: iPhone vs Android Users
Admittedly, it's difficult to definitively say whether one consumer segment is more likely to be an iPhone user or an Android user. These things vary by country, change over time, and depend on many other variables.
Based on recent publicly available global data, here are some key takeaways on the differences between Android versus iPhone users:
iPhone users generally earn more than Android users – iPhones tend to attract premium or higher-income customers. In a 2018 survey (from US-based eCommerce platform Slickdeals), iPhone users reported an average annual income of $53,231 and $37,040 for Android users. The same survey also reported that iPhone users spend more on clothes, beauty products, and technology-related items than Android users.
Premium and ultra-premium consumers prefer the iPhone – Relatedly, Apple leads the market in the premium smartphone segment (according to a 2022 Counterpoint report), defined as smartphones with a wholesale price of at least $400, with 57% global market share. Furthermore, iPhones dominate the ultra-premium segment of $1,000+ devices with 78% market share.
Younger users prefer the iPhone, older generations prefer Android – In a 2019 survey (from the Mobile Ecosystem Forum), the percentage of iPhone users (44%) only outnumbered Android users (30%) in the 16-24 year old age group. Android users lead iPhone users in older age groups. This appears to sync with US demographics, as iPhones lead among 18-34 year olds with a 58% share compared to 42% for Android (based on a 2019 report from Mercator Advisory Group). Conversely, older generations among US consumers prefer Android devices over the iPhone.
Customer loyalty to both platforms is high and steady – Android users are more loyal than iOS users, albeit only slightly. Android has a 91% customer retention rate, compared to 86% for iOS (according to a 2018 report from Consumer Intelligence Research Partners).
Reasons for switching from one OS to the other – Among the list of reasons, users switch from iOS to Android and vice versa in search of a better user experience, better features, and better pricing (according to a 2018 survey of US consumers from PCMag). 47% of those who switched from Android to iOS said that the latter provided a better UX, while only 30% stated that the change from iOS to Android delivered a better experience.
In addition, 29% said that they moved from an iOS device to an Android device for affordability, compared to 11% for the other way around. However, the gap in wanting better features (e.g. camera, design, etc.) isn't as wide, with 24% of respondents stating this as their motivation to go from an iPhone to an Android device and 25% vice versa. Other reasons that didn't matter as much for switching platforms include wanting more apps, better customer service, and faster software updates.
Apple users feel more secure than Android users – It's difficult to definitively state that iOS is better at protecting user security and privacy than Android. While that may be the general consensus among a lot of security experts, they also say it's not that simple. However, when it comes to perceptions, a 2022 survey found that consumers feel more secure using Apple devices than Android ones. In addition, among those surveyed who experienced security breaches, 75% of iOS users said that they were able to fully recover their data compared to only 55% of Android users.
Android users are more responsive to push notifications – Android apps tend to perform better than iOS apps when it comes to user engagement from push notifications (based on a 2021 report from Airship). The reaction rate for Android is 4.6% versus 3.4% for iOS. This means that Android users click more often on their push notifications than iPhone users.
Android users also have a higher opt-in rate of 81% compared to their iOS counterparts at 51%. This means that more Android users choose to opt in or receive push notifications. A key factor for this is that iOS doesn't allow apps to automatically opt in their users to push notifications, whereas Android does.
iPhone users spend more on in-app purchases – The global average in-app spend per user, per app in 2022 for Android users is $0.47 and $1 for iOS users (according to Statista). This is consistent with global consumer spending on the top 100 subscription-based apps. iOS apps from the Apple App Store earned a total revenue of $13.5 billion in 2021, compared to $4.8 billion earned by Google Play apps (according to SensorTower). For businesses looking to monetize their apps using premium models, subscriptions, or in-app purchases, building on iOS appears to be the more optimal route.
On the other hand, for those looking to drive revenue through ads or referral marketing by way of gaming apps, they should note that there are more game installs on Google Play. However, revenue generated from gaming apps on iOS is still higher than from those on Android (by around $15 billion in 2021).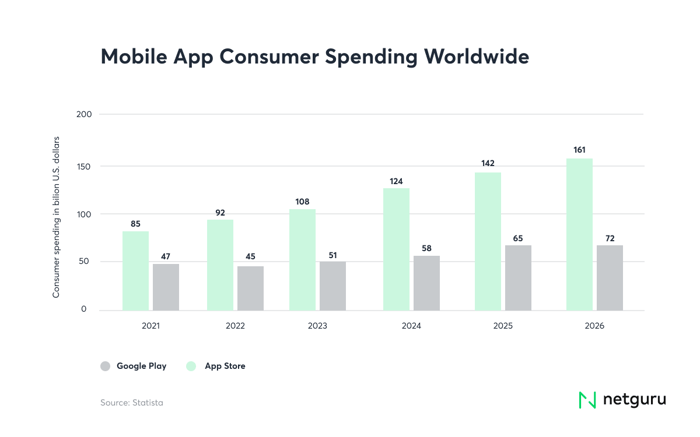 Aspects to Consider When Choosing a Platform for Your Mobile App
These facts demonstrate that the differences between iOS and Android users can impact a firm's overall digital strategy. Hence, choosing a platform for a mobile application is a decision that should be taken with consideration. It's not uncommon for businesses that want to be present on both platforms to decide to launch on one first, then leparn and improve the product before developing on the other. Companies also have to decide whether they want to develop natively or through a cross-platform approach.
To help make these decisions, here are some of the most important considerations when deciding to build an app on either Android or iOS (or both):
Target market and demographic – If the app is intended for users outside of the United States and other high-income economies where iPhone leads the market (e.g. UK, Canada, Japan), developing it first on Android is likely to be the optimal decision. Conversely, if the app is predominantly aimed at markets where the iPhone has a stronger presence than Android devices, going for iOS is the preferable option.
However, businesses need to investigate this further within each market and drill down into customer segments. As the above-mentioned figures indicate, individuals with higher incomes tend to prefer iPhones. It's important to do the research ahead on the preferred platform of specific audiences.
Hardware options for consumers – iOS is only available on Apple devices, which are priced at a comparative premium. On the other hand, there's a wide range of consumer electronic brands (e.g. Samsung, Google, Motorola, LG, ASUS) that use Android's open-source operating system on their own smartphones. There are budget friendly Android smartphones that cost as little as $150, as well as premium range Android models.
App development considerations (technologies, cost, duration, etc.) – As technology managers very well know, there are a lot of variables during the development phase. Particularly when weighing the implications of choosing between (or both) Android and iOS, the technology options obviously vary. When it comes to programming languages, businesses need to have the talent in Java, C, C++, and Kotlin when developing for Android, while iOS developers use Objective-C or Swift. Access to (or availability of) developers isn't necessarily a deterrent due to the wide talent pool of engineers globally for both platforms. Market rates differ, but iOS developers command slightly higher pay than those for Android (at least in the US). Of course, companies can greatly benefit from engaging a mobile app development consultancy.
When it comes to project duration, it ultimately depends on the requirements. Based on experience, the difference in project timelines between iOS and Android projects doesn't vary significantly. Businesses also ought to consider cross-platform development approaches, which have proven to cut costs, speed up delivery, and simplify overall development. Even if a business already has an existing app on one platform (e.g. Android), cross-platform technologies (such as Kotlin Multiplatform) make it easier to expand to other platforms while continuously enhancing the existing app.
iOS and Android Comparison Chart
There are a lot of ways to compare and contrast iOS and Android. For product managers and executives tasked to work with technical teams, the table below provides a comparison of the two platforms.
| | | |
| --- | --- | --- |
| | iOS | Android |
| Developer | Apple | Open Handset Alliance and Google |
| Hardware options | Apple (not available for other smartphone brands) | Samsung, Google, Motorola, LG, and ASUS, among others |
| Programming language | Swift & Objective C | |
| Source model | Proprietary (with some open-source elements) | Open source |
| Language support | 40 languages | 100+ languages |
| Marketplace for mobile apps | Apple App Store (no other app marketplaces allowed) | Google Play Store (plus other less popular marketplaces such as Aptoide and Galaxy Apps) |
| Customizability | Limited | Highly customizable |
| Global market share (percentage of users) | 28% | 70% |
| Number of apps | 1.6 million | 3.55 million |
| Global revenue of apps | $85.1 billion | $47.9 billion |
| Age group | Preferred by younger users (18-34 years old) | Preferred by older users |
| Economic profile | Higher income on average | Lower income on average |
| Customer loyalty | High and steady (but slightly lower than Android) | High and steady (with a slight edge over iOS) |
| In-app spending | More spent in mobile apps | Less spent in mobile apps |
| User response to push notifications | Less responsive with a reaction rate of 3.4% and opt-in rate of 51% | More responsive with a reaction rate of 4.6% and opt-in rate of 81% |
| User perception of security | Perceived as more secure | Perceived as less secure |
| Compensation for developers (limited to US) | iOS developers are paid slightly more | Android developers are paid slightly less |
Getting to Know iPhone vs Android Users
There are plenty of considerations to make when developing a mobile app. Executives and project managers can get caught up in the technology options, cost implications, and project execution. One factor that could give businesses a leg up against their competitors is taking the time to understand the differences between Android and iPhone users within their target markets and tailoring products to them accordingly.
When there are resource constraints or if the business is still testing a product idea, it is worth considering being present on only one platform. To execute this, businesses have to make the effort to understand who their users are and factor that into choosing between iOS and Android.
Nevertheless, because of cross-platform technologies, businesses can minimize the effort, cost, and risks of being available on both iOS and Android (and even as desktop and web apps). While making a decision between iOS and Android is important, this gives companies and organizations more time, resources, and mental bandwidth to focus on improving product features, engaging customers, and building the business.