Top 10 Fintech Companies in Berlin to Watch in 2021
A mobile bank, a company fighting for ownership of your data as a human right, a pan-European online marketplace for savings and investments, and a drone insurance startup - we present the 10 hottest fintechs from Berlin right now.
Number of fintech startups in Germany as of November 2020, Source: Statista
Berlin is a vibrant city. It's was named the most student-friendly city in Europe and one of the top 15 best cities to live in by Mercer. Add to this a wide tech-related talent pool and relatively low cost of living and it shouldn't surprise you that innovative businesses are born and developed here, including those with a financial background. Explore the potential of Berlin's tech scene, and discover the innovative fintech applications these companies are bringing to the financial industry.
N26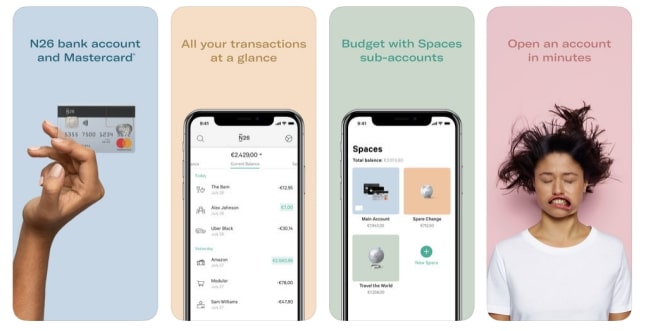 As Maximilian Tayenthal, co-founder and CFO of N26, put it in an interview with our Tomasz Grynkiewicz, "about five years ago, they [traditional banks] did not take us [N26] seriously".
Now N26 is one of the biggest so-called challenger banks and works hard to replace traditional banking players with their mobile-only offering. And you have to admit that they're doing it pretty successfully, as the Berlin-based N26 now has more than 2.5 million customers in 24 markets across Europe who currently hold over €1 billion in their accounts.
However, the path to replacing traditional banks and dominating the banking market might be bumpy. As Handelsblatt reports, Germany's financial regulator identified "numerous" shortcomings at the mobile bank related to staffing levels, outsourcing, and engineering.
The newspaper raised also some security and money-laundering concerns. It is safe to say that what will happen to N26 will shape the future of fintech in Europe.
Friday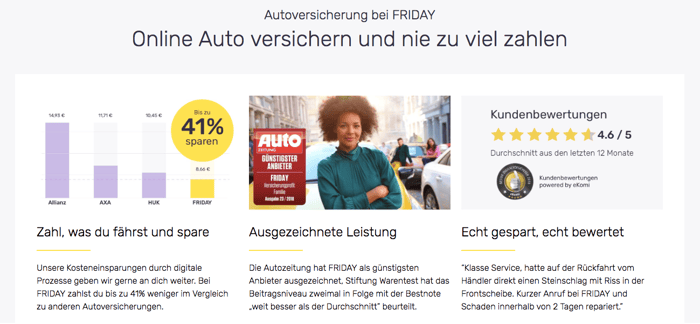 If you hate your car insurance company for setting up a very complicated contract and fee system that you totally don't understand then you will probably like Friday. This insurtech company offers car insurance that is billed on kilometers that you drove. The contract that you sign has a monthly terminability and there's no paperwork to do in order to have your car insured.

All of the insurance-related formalities are done via Friday's mobile app and online system. The company was funded in 2017 and now has more than 45,000 customers and €114m secured in funding.
Wefox Group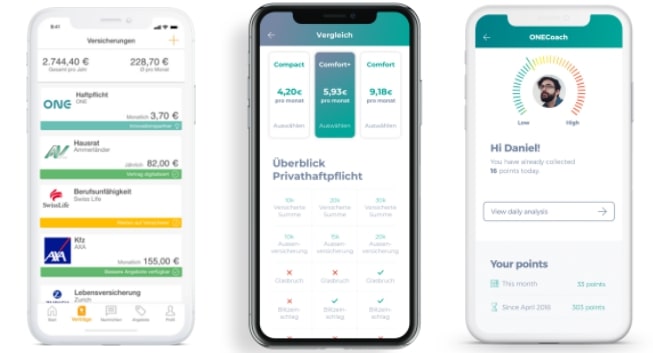 "We believe that ownership of data is a basic human right" - claim the good people of Wefox Group. The company operates two businesses - wefox and ONE. Wefox is a digital marketplace for insurance and ONE is a digital insurer, active on the wefox marketplace of course.
The idee fixe of Wefox Group is to provide you with insurance and make sure that your data is used properly and with your full supervision. More than 250,000 customers use Wefox Group's services every month and the company has secured more than $160m in funding.
Celebrity fact: Ashton Kutcher has invested in this Berlin-based insurtech.
Finleap
Berlin may be considered a fintech hub because fInleap is based there. This entity has launched 16 fintech companies in the last 5 years and added some more to their portfolio by acquiring them as a means to an ambitious end - building a fintech ecosystem in Germany's capital city.
Finleap's ecosystem consists of such companies as Penta (digital bank for SME's), ELEMENT (white-label insurtech factory), solarisBank (a platform for banks to build their own digital products) or Clark (leading digital insurance broker). It's a litmus test of the Berlin fintech scene.
Raisin
You work hard, earn every penny of your salary, and want to build your financial future, so you're looking for the best savings and investments options. You can do all the research on your own and create accounts in many different institutions but it would be nice if you could diversify your assets using just one account, wouldn't it?
Raisin does just that - provides you with a "pan-European online marketplace for savings and investments" that you can easily navigate. The company now has more than 170,000 customers in more than 30 countries, works with 76 banks, manages more than €12bn in assets, and has secured more than $178m in funding.
Learn more about Raisin's approach in our interview with Tamaz Georgadze, CEO and Founder of Raisin:
The Fintech That Takes It All. CEO of Raisin: We See a €15 Trillion Market Not Properly Taken Care of by Banks
Taxfix
No one likes to do their taxes. That's why Taxfix was born - to explain every tax-related issue in a simple way. And to save German taxpayers some money. The Berlin-based company offers a simple, conversation-based interface for filling out tax declarations.
After answering some not-so-difficult questions, one's tax refund is calculated immediately. If the customer is satisfied with the refund, Taxfix prepares and sends the tax documents paperlessly to the appropriate tax office. As simple as that. The company has secured $45m in funding.
Neufund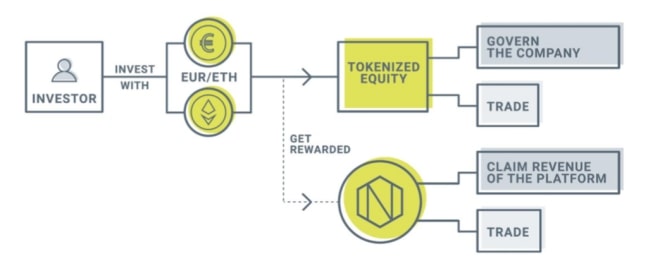 Simply put, Neufund wants to replace traditional stock exchanges with a trading platform based on the blockchain. This Berlin-based company is providing a platform for Equity Token Offerings (ETO). ETO is a new model of securing funding by issuing equity tokens on the blockchain, in a public or private placement.
It is a hybrid investment model that combines some elements of better-known ways of raising capital: an IPO, an ICO, and a VC round. Thus far, the company itself has secured €15m in VC and ICO funding.
ELEMENT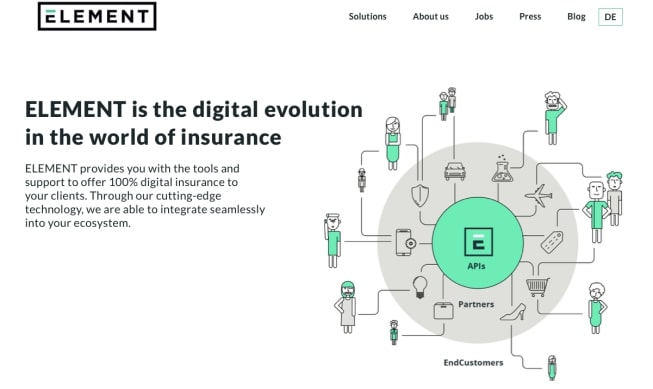 Attentive readers may have noticed that this company's name was mentioned before, as it is a part of the finleap ecosystem. ELEMENT is a Berlin-based white-label insurtech factory, which means that the firm helps other companies build insurtech solutions, based on a proprietary engine and technology.
ELEMENT's clients focus on building their business and taking care of their own customers while leaving to ELEMENT's team the management of "the insurance value chain" which includes initial actuarial calculations, underwriting, policy administration, and claims management. The company has secured €51m in funding so far.
solarisBank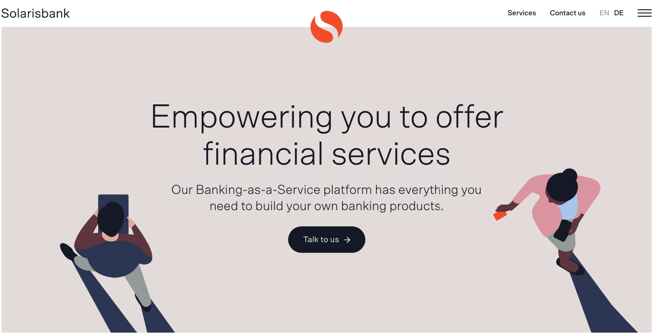 solarisBank is also a part of the finleap ecosystem and has a similar business model to ELEMENT's, with the difference that the company is providing services for firms seeking help in building digital banking products. solarisBank offers an API those products can be built on.
The company treats various banking services (bank accounts, KYC services, algorithmic scoring, transactions, and even payment cards) as building blocks, which you can mix and match to create banking services specifically tailored to your business model. solarisBank offers a helping hand in any regulatory-related issues in Germany as well. The company has raised €95.1m in funding.
Netguru is proud to have provided ongoing support for solarisBank in recent years, both in software development, API integrations, as well as some consulting services.
Clark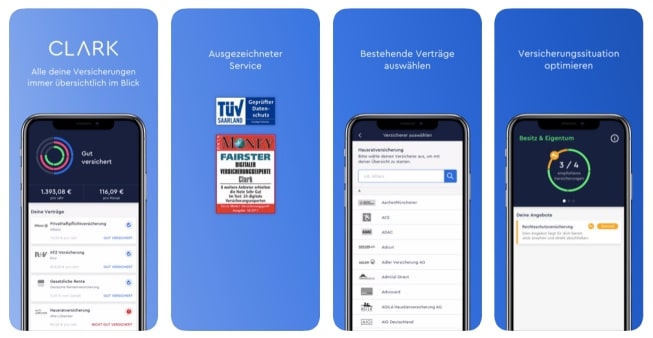 The third, but not the least, company of the finleap ecosystem worth mentioning here is Clark - the leading German digital insurance broker. It provides customers with a digital platform to compare and buy insurance as well as offers advisory services.
You can use the platform both on your mobile devices and via a desktop application. Clark also provides a white-label digital insurance platform for banks, insurers or brokers. The company has secured $43.8m in funding.
Read interview with Clark's Head of Business Intelligence.
Getsafe
As you may have noticed, insurtech is a pretty important part of Berlin's fintech scene. Getsafe is another example of a company that may disrupt the traditional insurance business, however headquartered in Heidelberg. The firm offers "insurance to go" - it only takes five minutes to set up an insurance deal tailored for your needs on your smartphone.
Getsafe focuses on three main areas: liability insurance, legal protection insurance, and drone liability insurance. Yep, drone insurance. Starting from a €6.02 monthly premium. $12.7m is the amount of funding that Getsafe has secured so far.
Did we miss anyone? Let us know.
Also, check out our other fintech watch-lists in 2019:
Top 10 fintech companies in London
Top fintech companies in Paris
---
Pssst! Netguru Disruption Forum is coming to Paris shortly. To be the first to know when & where - subscribe to our fintech newsletter - Pocket Change.
Learn the key takeaways from our latest edition in NYC, or London event, or the first Disruption Forum in Berlin.