6 Companies That Nailed Digital Transformation With Innovative Mobile Apps

Years ago, it was perfectly plausible for a company to have a great product, a persuasive marketing team, and ride high in its industry without fear of being toppled by a younger, smaller rival.
In the digital era, however, new technologies are rapidly changing the business landscape, and organizations are turning to digital transformation as they look for ways to remain competitive.
Here, we're going to show you how custom mobile applications can boost growth in your business, and take a look at five inspiring companies that are dominating their industries thanks to groundbreaking mobile apps.
What is digital transformation?
Digital transformation involves using digital technologies to fundamentally change how a business operates. It is a chance to reimagine how you engage with your customers, how you deliver value, and to modify or create new business processes.
More than a buzzword, digital transformation requires a significant shift in organizational culture, and a desire to challenge the accepted norms. If done well, it has the power to make a company more competitive and leaner, increasing agility.
The benefits of digital transformation in business
Although digital transformation is not easy, and requires a long-term commitment, it can bring many advantages.
Increased efficiency. Successfully leveraging new technologies to automate processes can give you a substantial increase in efficiency. This can lead to a reduction in workforce requirements, and large cost savings.
Improved decision making. With a move to digitized information, you are able to tap into the insights hidden in your data. This allows management teams to make better, more informed decisions based on quality intelligence.
Better reach. Digitalizing your business offering, means that customers can now find and access your products or services from anywhere in the world.
Enhanced customer experience. Using data to better understand your customer allows you to get closer to them, know what they want, and deliver a personalized experience.
Why mobile apps are important in digital transformation
Although every company's digital transformation strategy will be different, mobile apps can be a game changer, and should be given serious consideration.
Some of the benefits of mobile apps for business include:
Easier engagement of customers in-app versus on a website. Push notifications can be used to keep customers informed, or can be triggered using the GPS technology to deliver relevant offers based on a customer's location.
The time spent using mobile applications is increasing, giving businesses more opportunities to be in front of their customers.
Mobile apps are developed to be faster than websites, and can provide a better user experience.
Custom mobile apps can boost employee productivity, for example, using an app to improve sales assistance out in the field.
Five mobile apps that helped companies crush digital transformation
To show you the possibilities, let's take a look at five trailblazers that have taken business mobile app development to the next level.
Whether the goal was to improve customer experience, make their service more accessible, or simply to push the boundaries of innovation, mobile apps have fundamentally changed the way these companies do business, and in some cases, revolutionized their industries.
In curating this list, we judged apps based on their level of innovation, combined with their clever use of technology to solve a problem for customers that could not have been solved without it.
1. USAA mobile
USAA was founded to serve the finance needs of U.S. Military servicemen and women. With a customer base located around the world, USAA needed to find a way to offer deposit services to its members, wherever they were.
The bank was one of the first to offer a mobile deposit application, and went on to leverage smartphone cameras as a way of scanning cheques for deposit. As well as making deposits, the app allows customers to check their balance, transfer money, pay bills, and even trade stocks.
The app was introduced in 2009 on the back of the iPhone's early success, and by the end of 2010, mobile deposits made up 14 percent of USAA's total monthly deposits. The app now sits at number 43 on the App Store, with over half a million ratings at an average of 4.8 stars.
2. Walgreens
The pharmacy chain Walgreens might be 118 years old, but it is still at the cutting edge of digital innovation. The company's mobile app has allowed it to improve process efficiency and provide customers with a better experience.
Among other things, the mobile app allows users to refill prescriptions simply by scanning a barcode, arrange a live video chat with an online doctor, set pill reminders to manage medications, and check availability of products in the nearest stores.
In the first quarter of 2018, digital channels accounted for more than 20 percent of refill script requests, illustrating the success of the effort that the company has put into enhancing its digital capabilities. The app is currently used by 5 million customers per month, and has been downloaded more than 50 million times.
3. Nike Fit
According to sports company Nike, 60 percent of people wear the wrong size shoe. This summer, however, the company is set to revolutionize the market.
In an industry first, Nike is releasing a state of the art mobile application that allows customers to scan their own feet to find the perfect fit. Nike Fit uses the customer's smartphone camera to create an ultra-precise scan, which collects 13 points of data and builds a map of both feet.
Through a combination of computer vision, machine learning, and recommendation algorithms, the app offers suggestions for the ideal shoe. In addition, the company will use the app to enhance customer experience, by using the data gathered to improve the design of future products.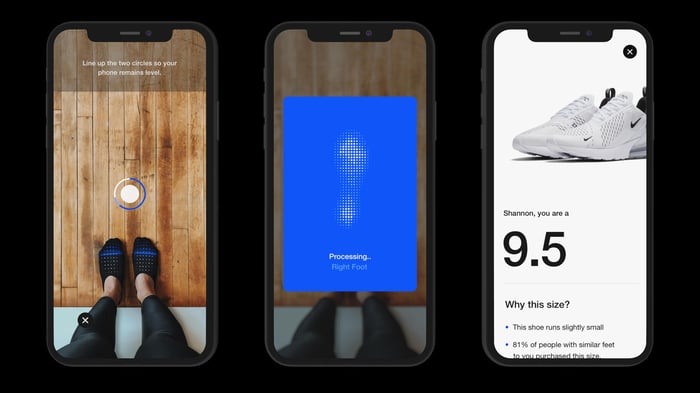 Credit: News.nike.com
4. Ikea Place
The Swedish furniture retailer Ikea has also transformed customer experience with a clever solution to an age-old problem. For customers struggling to imagine how a piece of furniture might look, or fit, into their home, the company has developed Ikea Place.
The app uses augmented reality (AR) to display products in customers' homes with 98-percent size accuracy, helping to make purchasing decisions easy. Since its release in 2017, the app has been downloaded over 2 million times.
5. Domino's
When the pizza company's share price hit an all-time low in 2008, Domino's invested substantially in digital transformation in an attempt to recover its position. Among other initiatives, it launched its mobile app in 2011.
The app allows customers to order pizza quickly and easily, and then track their order from the moment it's placed until it is delivered or ready to be collected. By 2017, 60 percent of domestic sales were made online or via a handheld device.
As well as improving customer experience, the company's digitally-innovative strategy also helped it to reach new customers; outperforming its nearest rivals Pizza Hut, and Papa John's, and taking the dominant share of the market. Domino's continues to push forward, with ordering now also available by watch, messenger, Google Home, and Alexa.
6. Keller Williams' "Command Mobile" App
Time is money for realtors. To tackle this head on, Keller Williams, the world's largest real estate franchise, launched a personal assistant mobile app for field agents. Command Mobile was specifically created to help them streamline their jobs and avoid wasting precious time on carrying out manual tasks at the office.
The app reflects the core functionalities of Keller Williams' desktop app like Referrals, Contacts, Maps, Notifications, and Tasks into a mobile app that helps agents do their jobs on the go and create a slicker sales pipeline.
Kelle combines AI-powered technology and data engineering to present realtors with a handheld personal assistant that's uniquely geared to their clients and contacts. As a result, Keller Williams has been dubbed one of the most innovative brands in the industry.
Conclusion
As new technologies disrupt the business environment, companies are turning to digital transformation to retain their competitive position in the market. In particular, mobile apps are proving to be a key part of this strategy for many organizations, and with good reason.
Mobile apps make it easier to engage your customers, offering unique features that may not be available elsewhere, and therefore are an effective way of promoting your products or services.
A growing trend for people to have their devices within arms reach at all times, means you can get closer to your customers, and your company is always available to them.
Brand recognition is increased and, with regular use, your app can help build trust with your customer.
However, with mobile app downloads predicted to increase by 50 percent between 2018 and 2023, perhaps the most compelling reason to go mobile, is simply not to miss out on your share of the pie.