How Do IoT Automations Enhance Retail Warehouse Management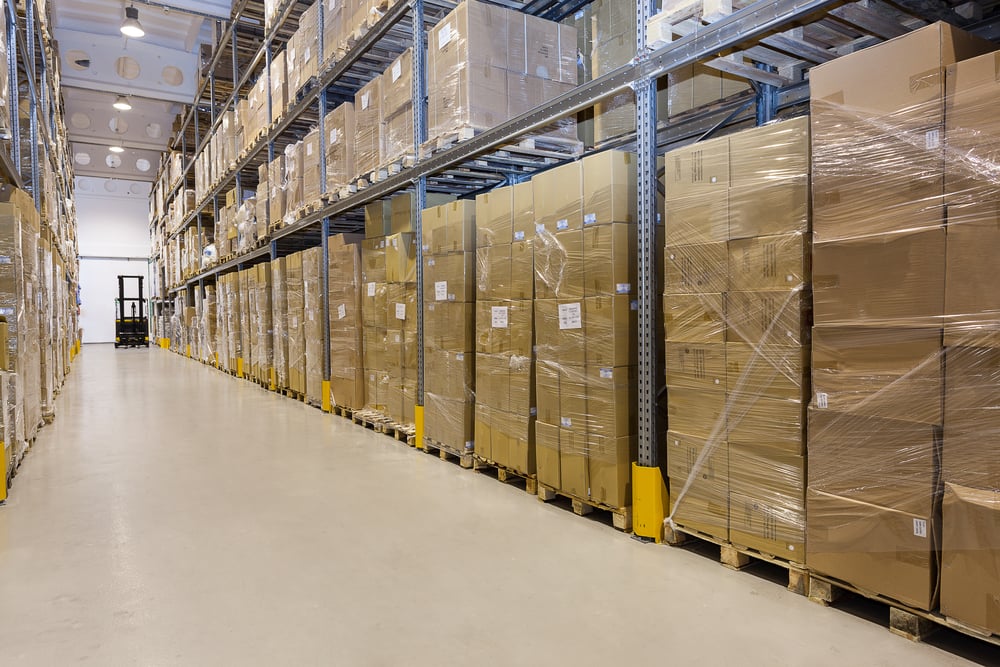 Amazon robots. Image source: Waredock
Not all tasks are for autonomous mobile robots, a few tasks are from human hands, creating a semi-automated warehouse. For something with a huge delivery process, a smart warehouse with special IoT devices, in this case a fleet of robots, is a perfect design that creates an incredibly efficient supply chain network.
Ocado's automated, smart warehouse
This fully robotic warehouse, using a hive-grid-machine (see in Fig 4) and IoT technologies is the creation of Ocado, a British online-only supermarket that's made a name for itself in recent years designing highly automated, smart warehouses and selling the tech to other grocery chains.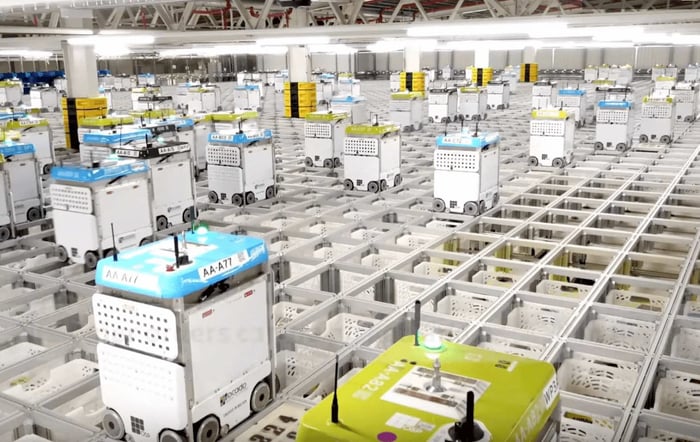 Ocado warehouse robot. Image source: New Atlas
These smart warehouse technologies are vital for running operations in modern, intelligent warehouses. When fully completed, Ocado's operation is set to be its most advanced yet, processing 3.5 million items every single week. It's also a perfect example of the wave of automation slowly hitting the supply chain of countries around the world.
Individually, the bots aren't intelligent; they don't make decisions for themselves. But their actions are all coordinated by central infrastructure. All the data is collected in one place and dedicated algorithms supporting decision-making, next sending commands to bot. There is a special place for repairing robots inside and testing sandboxes for verifying before Ocado's bot is switch into production mode.
Benefits of robotics warehouses
Robotics offers interesting benefits in warehousing and manufacturing, too. These robots increase the efficiency of supply chains by carrying out basic tasks using supply chain data and, by analysing and using data streams, predictive maintenance can be carried out to make sure the robots run as smoothly as possible.
Increase efficiency and productivity
Because they operate autonomously, AGVs can increase the efficiency of a supply chain, and they're predictable and reliable for repetitive tasks. AGVs eliminate unnecessary walking and also eliminate the physical labor of transporting materials. They set the pace for workers as well, keeping associates on-task.
AGVs guide human workers through each task, reducing human error and helping to improve order accuracy by minimizing loss and misplaced products. By leveraging artificial intelligence to optimize routes and prioritize work, collaborative robots improve resource utilization whilst inventory data analysis can be used to track inventory management and improve inventory optimization.
Consistent costs
In general, robots such as AGVs are rented on a per unit per period basis, meaning there's less variation in costs compared to human labour. This is because human labor fluctuates based on conditions and demand.
Flexibility
Depending on the model, some robots can offer flexibility by being able to easily change pathways without requiring re-routing guide wires or other infrastructures. This means AGVs are a scalable solution with the ability to add more units on demand.
Less space required
Compared to other automation solutions, such as conveyor systems, robots require less space. Some robots are smaller compared to traditional warehouse equipment, such as forklifts, which allows for floor layouts with narrower aisles and better space utilization.
Improved safety
Finally, robots are a safe automation solution for IoT warehouse management, distribution centers, and manufacturing facilities. Robots are equipped with sensors to avoid collisions.
Advanced warehouse robots like AMRs have intelligent routing capabilities that enable them to plan the most efficient path through a warehouse or facility, reducing aisle congestion and preventing injuries.
IoT automations transforming retail warehouse management
AGVs are uniquely designed robots to automate tasks for which humans are not necessary. They automate long walks in warehouses, set the pace for workers, improve inventory management systems and eliminate the physical rigors of a traditionally physically demanding job. From a data engineering point of view, you can manage a fleet of robots and develop more optimal algorithms, low-cost routes, and more performant delivery.
Customers are satisfied when they have a package on time and with proper items - IoT technology in warehouses provides us this level of satisfaction. For warehouse owners it's a new era of thinking about data analytics, planning in logistics, and scaling warehouses into new regions.
We can support your company with difficult algorithms for analyzing all data streams from warehouses. Better monitoring gives us excellent predictive maintenance systems and, of course, delivery that customers will be happy with. You and your employees can feel safe using autonomous warehouse operations.
With the backdrop of Industry 4.0 initiatives and consumer changes, automation and robotics continue to infiltrate manufacturing environments. Researchers include forecasts to 2023 with assumptions for all market segments, with detailed discussions of the key issues and trends impacting the mobile robot market. Right now they assume 580,000+ Order-Filling Robots to Work in Warehouses by 2023.