Top Mental Health and Therapy Apps of 2023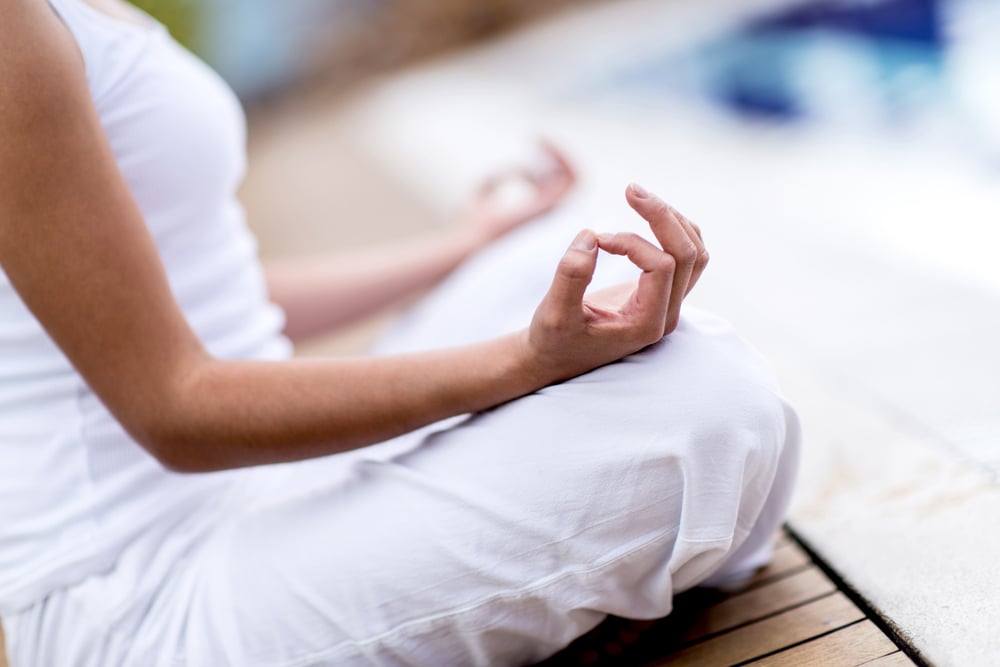 Mental health apps provide evidence based techniques and resources for users looking into personal wellbeing as an investment.
In 2022, the worldwide market for mental wellness applications reached a worth of $5.2 billion, with projections suggesting a compelling 15.9% annual growth rate between 2023 and 2030.
The surge in adoption of mental health apps, attributed to their positive impact on treatment effectiveness and lifestyle enhancements, combined with the growing recognition of mental health as a critical aspect of overall well-being, stands as pivotal forces behind the market growth.
With a variety of choices tailored to individual needs, there is something for everyone from meditation to therapy applications designed specifically for stress management or addiction recovery.
Let's take a closer look at some top rated apps available in 2023 which are dedicated to improving overall well-being and developing healthy habits.
Best overall mental health app: Headspace
Headspace stands out as the top choice among mental health apps, offering a variety of mindfulness exercises to address stress, anxiety, and depression, along with tailored resources for better sleep, making it a clear leader in supporting overall well-being.
Moreover, it offers extended courses that educate on concepts like fundamentals of mindfulness, conquering cravings, and beating distractions among many others.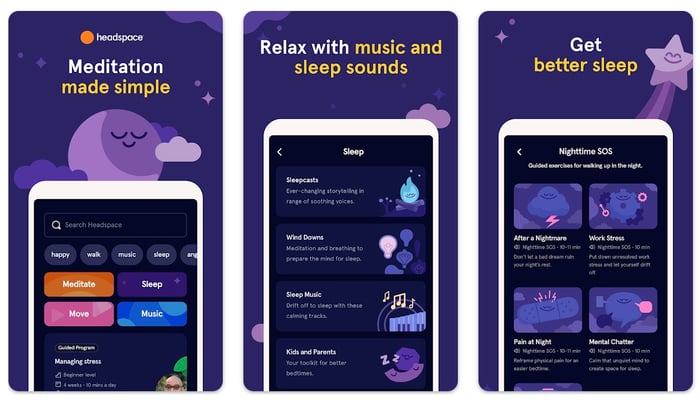 Image source: Google Play
All these qualities come together pushing Headspace ahead when searching for the best possible option within many different types of psychotherapy smartphone solutions intended to bolster emotional and psychological stability among consumers today.
The app offers over 1000 focused activities, meditations, and sleep casts to meet various needs. From improving concentration levels or managing tension to enhancing relaxation before bedtime,the platform prides itself with leveraging evidence-based methodologies coupled with an intuitive user interface.
Newcomers can take advantage of its seven-day free trial. Following this period, plans including student or family options are available that make it cost effective too.
Best therapy app: BlueCall
In a fast-paced world where stress and challenges can sometimes feel overwhelming, having a reliable support system for your mental health is essential. According to BlueCall, the best therapy is designed to empower you on your journey towards emotional well-being.
BlueCall connects you with licensed therapists and counselors who are well-equipped to offer help and advice. Whether you're dealing with stress, anxiety, or simply need someone to talk to, BlueCall's team of empathetic professionals is there to provide guidance and support.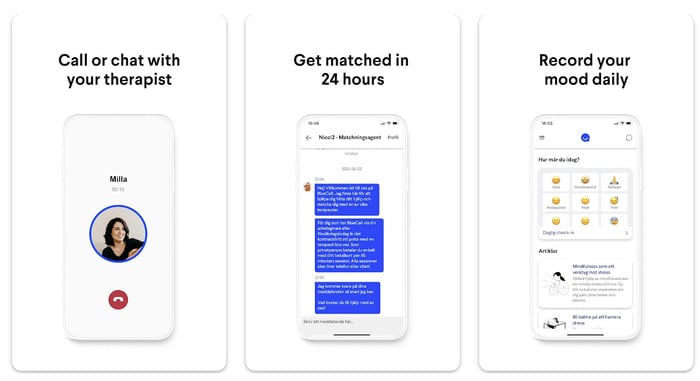 Image source: Google Play
With secure and confidential video sessions, you can access therapy from the comfort of your own space. No more commuting or scheduling conflicts—just genuine conversations that help you navigate life's challenges.
Best meditation app: 7Mind
This mindfulness application originating from Germany seamlessly incorporates the art of meditation into users' everyday routines. With an extensive user base of over three-quarters of a million individuals throughout Europe, the app is currently available in three languages: German, French, and Dutch. It offers convenient access to meditation practices suitable for a diverse range of practitioners, spanning from novices to seasoned meditators.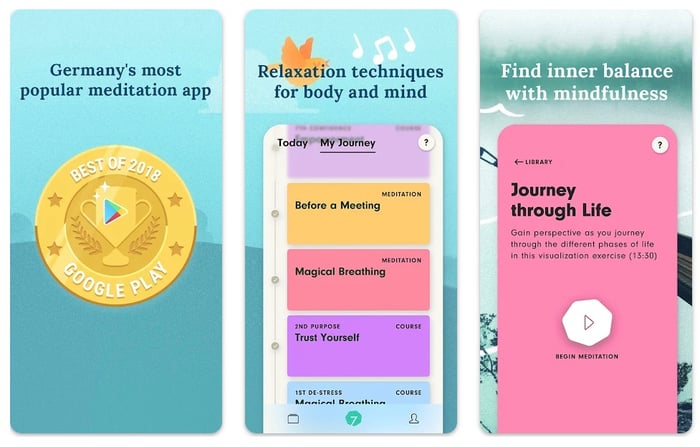 Image source: Google Play
Notably, the app's effectiveness is rooted in rigorous scientific evaluation and endorsement. The meditative experiences within the app have been meticulously curated in collaboration with a panel of experts, which includes distinguished Zen instructor and visionary entrepreneur, Paul J. Kohtes, as well as the mind-body scholar, Prof. Dr. Med. Tobias Esch, alongside Jonathan Lehmann.
The meditation routines span a spectrum, commencing with sessions as concise as 7 minutes, all designed to usher in tranquility to the mind.
Best app for anxiety relief: Happify
Happify is the premier app for individuals struggling with anxiety. It utilizes evidence-based games and activities, as well as cognitive behavioral therapy techniques, to help reduce stress levels and give users an improved outlook on life.
This innovative platform provides resources that address mental health symptoms while also fostering positive thinking patterns so one can become more resilient in their overall journey toward a healthier mindset.
On top of all the features geared towards bettering one's emotional wellbeing through relieving stressors associated with anxiety, Happify includes a supportive community full of people who are tackling similar issues or going through the same struggles together.
This environment builds camaraderie among peers, allowing them to receive essential support during times when they require it most.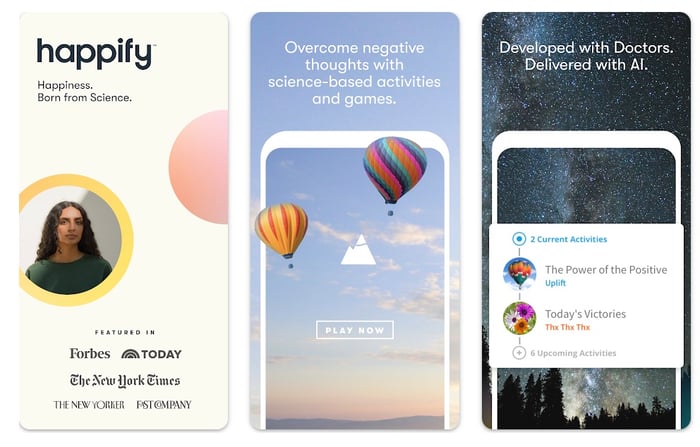 Image source: Google Play
By utilizing effective strategies such as engaging exercises based on positive psychology practices combined with helpful guidance from its friendly online user base, Happify stands out from other applications designed specifically for managing anxiety related pressure, making it truly tops within this field of wellness tech.
Best app for stress management: Sanvello
For individuals striving to foster their mental health and reduce stress levels, Sanvello is THE app. This extensive solution for managing tension includes cognitive behavioral therapy-based self care resources alongside a monitoring system of moods and peer support, making it invaluable for anyone hoping to strengthen their emotional well-being.
Sanvello has several components tailored towards helping people manage anxiety while also improving overall mental wellbeing. It comprises guided journeys with supportive coping skills as part of an encompassing approach that empowers users by providing them the necessary resilience in facing life's hurdles head on.
There are options available where one can track daily feelings which helps detect patterns related to said individual's state of mind overtime.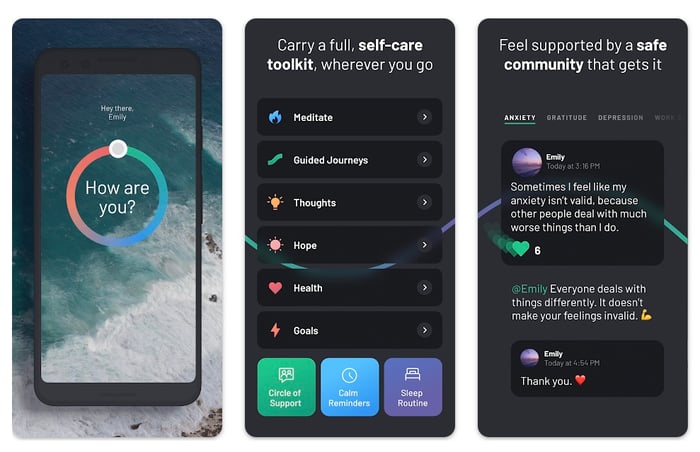 Image source: Google Play
The supportive community feature available on the app can also be very beneficial by providing support from people who understand what one is going through.
Best app for sleep and meditation: Meditopia
Meditopia is a yet another interesting meditation and mindfulness app designed to help users manage stress, anxiety, and enhance their overall well-being.
The app aims to provide a platform for individuals seeking to incorporate mindfulness practices into their daily routines, regardless of their meditation experience level.
Key features:
Guided meditations: Meditopia provides a range of guided meditation sessions led by experienced meditation instructors.
Sleep stories: The app offers sleep stories, which are calming and soothing narratives designed to help users unwind and fall asleep more easily.
Personalization: Users are able to customize their meditation experience by selecting sessions based on their preferences and goals.
Subscription model: While many meditation apps offer free content, they often have a subscription model that provides access to a broader range of sessions and features. Meditopia follows a similar model.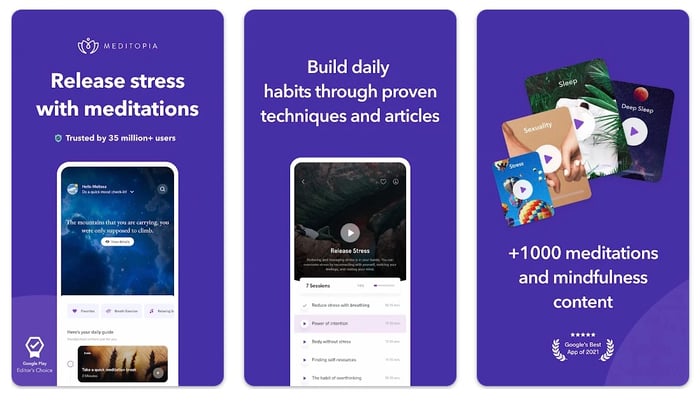 Image source: Google Play
Best app for mood enhancement: MoodKit
MoodKit is a must-have for those on their mental health journey, with over 200 cognitive behavioral therapy (CBT) activities designed by clinical psychologists to help users build positive life skills and improve overall well-being. It provides evidence-based methods that enable its users to identify negative thought patterns and enhance moods via customizable journals.
To these features, MoodKit offers benefits such as the ability to export charts or notes which can then be shared with specialists/loved ones.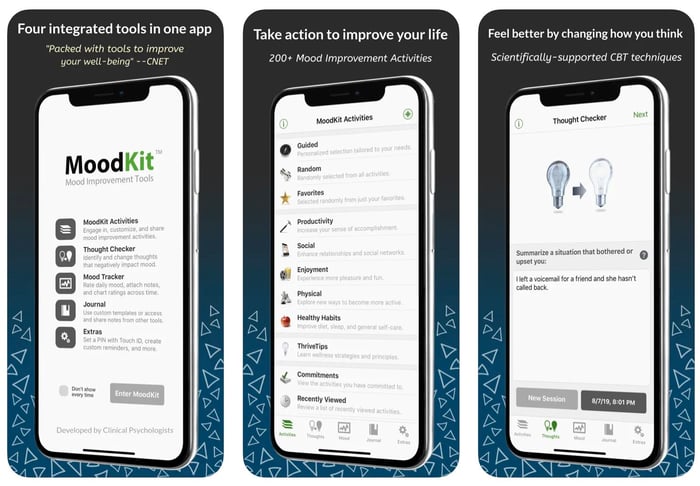 Image source: Apple Store
Through setting goals within the platform and tracking changes over time, MoodKit offers individuals next-level mental health support in their journeys into greater well-being.
Summary
The top mental health and therapy apps of 2023 present a wide range of tools to aid people in their mental wellness. From Headspace that provides complex solution to Meditopia that offers features aimed at meditation. Each app is distinct with its own advantages, which helps users advance both their mental health plus overall wellbeing.
Whether seeking professional advice for stress management or sleep quality enhancement, these applications can offer effective and accessible solutions for many different needs concerning mental well-being.