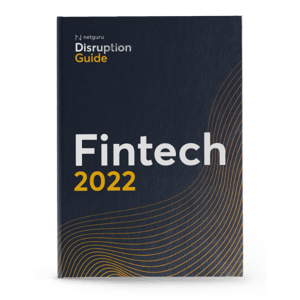 Be the first to know when Disruption Guide Fintech 2022 goes live
Get the lowdown on the whole fintech industry in our comprehensive Guide. Discover the companies to watch, people to follow, technology and trends driving the industry, and much more! Sign up here to be the first to get your copy of the number one publication in fintech.
Insights from leading fintech companies
Click for the details
Sorry, our forms might not work
All the fintech trends, experts, and companies to watch in 2022
We created a go-to resource for the fintech community — a guide that you can rely on for access to the best insights from the brightest minds in fintech, packaged up in an easy-to-digest format.

Featured experts
Meet some of the contributors to Disruption Guide Fintech 2022
Stephanie Bowker

Head of Marketing at Spendesk

Jörg Howein

Chief Product Officer at Solarisbank

Amy French

Director at Level39

Can Osman Yildirim

Growth Partner Development Manager at Amazon Web Services

Tom Brammar

CEO at Stackin'

Radosław Sałek

Senior Account Manager at Google Cloud

Jakub Czerwiński

VP CEE at Adyen

Miguel Armaza

Fintech VC at Speedinvest

Miguel Armaza

Co-Founder and General Partner at Gilgamesh Ventures

Nikolai Hack

Head of Strategy & Partnerships at Nucoro

Aleksandra Prejs

Head of Growth at Netguru

Pawel Stezycki

Senior Innovation Consultant at Netguru

Sean O'Connor

Fintech Sales Team Leader at Netguru

Bartosz Białek

Product Design Manager at Netguru
One guide on all things fintech
Five categories of essential information to help you get ahead in 2022
Companies Shaping the Fintech Industry:

Fintech Unicorns
Fintech Startups With the Highest Investment
Biggest IPOs in 2021

Fintech Leaders to Follow:

Most Successful Startup CEOs
Corporate Innovators with the Biggest Impact
Inspiring Design Directors
CTOs to Follow
Finance Editors

Building a Fintech Network:

Most Active Fintech VCs
Fintech Accelerators
Fintech Hubs





Sources of Fintech Inspiration or Insights:

Best Fintech Podcasts
Top Fintech Newsletters
Fintech Magazines and Blogs to Follow
Fintech Events



Technology Trends in Fintech in 2022:

Trending Fintech Technologies
Top Fintech Solutions or Services
Fintech Design Trends to Watch



All you need to know about Disruption Guide Fintech
What's in it for you, what content can you expect, and how you can contribute to the next edition.
What's Disruption Guide Fintech?

Disruption Guide Fintech features major fintech trends, top solutions and services, as well as innovators from leading banks, financial institutions, and fast-growing startups.

More than 30 experts from companies such as HSBC, Citi Private Bank, Spendesk, Penta, and Citi Ventures contributed to the first edition of the Guide, making it one of the most comprehensive pieces about the fintech scene in the US and Europe.


How are rankings in the Guide created?

Listicles presented in Disruption Guide Fintech are created based on reliable industry data such as Statista reports, Crunchbase databases, and industry reports.

Eight categories in the Guide were created based on the results of jury voting. These categories are:

Technologies Trending in Fintech
Top Fintech Solutions or Services
Fintech Design Trends To Watch
Most Successful Startup CEOs
Corporate Innovators with the Biggest Impact
Inspiring Design Directors
CTOs to Follow
Most Sustainable Fintech Companies
How to contribute to the next edition of Disruption Guide Fintech?

You can nominate experts, companies, trends, or useful fintech resources to be featured in the next edition of the Guide

by submitting this form

.
Stay on top of the 2022 fintech trends
Disruption Guide Fintech 2002 covers all the must-know fintech trends, crucial industry data, leaders and companies to watch, presented in one easy-to-read guide.
Sign up for the waiting list