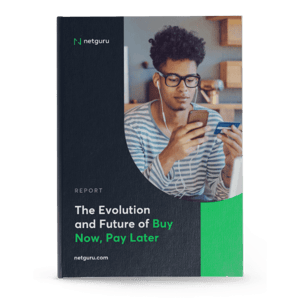 How BNPL is transforming consumer lending
Download our report to learn:
What's behind the success of buy now, pay later.
Why it's worth betting on BNPL.
The possible future scenarios for this financing option.
Potential challenges BNPL solutions may face.
Click for the details
Sorry, our forms might not work
The meteoric rise of buy now, pay later
Netguru in numbers
+170

$258 billion

$45.6 billion

76+ million
If buy now, pay later apps can establish long-term relationships with users, they could replace credit cards among Gen Z and Millennials.

What's behind the success of buy now, pay later?
Successful client-facing digital products need to combine three areas: great user experience, a robust business model, and smart technology. BNPL has managed to connect all these areas.
Simplicity of BNPL

Tailored for ecommerce

Minimal friction

Flexibility of payments

Alternative business model
Here's what you need to know about buy now, pay later
Find answers to frequently asked questions about the buy now, pay later market
What is buy now, pay later?

Buy now, pay later (BNPL) is a point-of-sale financing option that allows consumers to pay for purchases at a later date, often in installments and at no extra cost. While the concept isn't new, BNPL has exploded in popularity in recent years, particularly among younger generations.
How has BNPL evolved?

The best-known BNPL brands have been on the market for around five to seven years, refining their offerings and expanding their reach. Over the upcoming months we could see more new entrants into the market as companies target different geographical areas and established lenders launch BNPL solutions to defend their positions.

We can already see examples of such strategies, with Chase, Marcus by Goldman Sachs, Citi, and The Commonwealth Bank of Australia building BNPL offerings based on credit cards.

In 2021, we've seen the BNPL landscape continue to change rapidly, particularly during the second half of the year. We discuss the current changes in the BNPL landscape in our report.
Which BNPL companies should I be watching?

Klarna, Afterpay, and Affirm led the early charge in the BNPL market, and now more than 170 companies serve consumers in this growing sector.

Although ongoing partnerships and acquisitions continue to change the landscape, after Klarna, Afterpay, and Affirm, these companies are currently leading the way:

US: Uplift and Zip
Europe: Zilch and Alma
Australia and New Zealand: LayBuy and Brighte
Middle East: Tamara, Tabby, and Shahry
Southeast Asia: Kredivo, FinAccel, Rely, and TendoPay
Let's work together
Expert insights on the evolution and future of the BNPL market
Download the report to learn how buy now, pay later has changed the consumer lending landscape and shifted online shopping habits. Find out what strategies both new entrants and established players can adopt to meet the challenges ahead.
Get the report