3 Augmented Reality Use Cases in Banking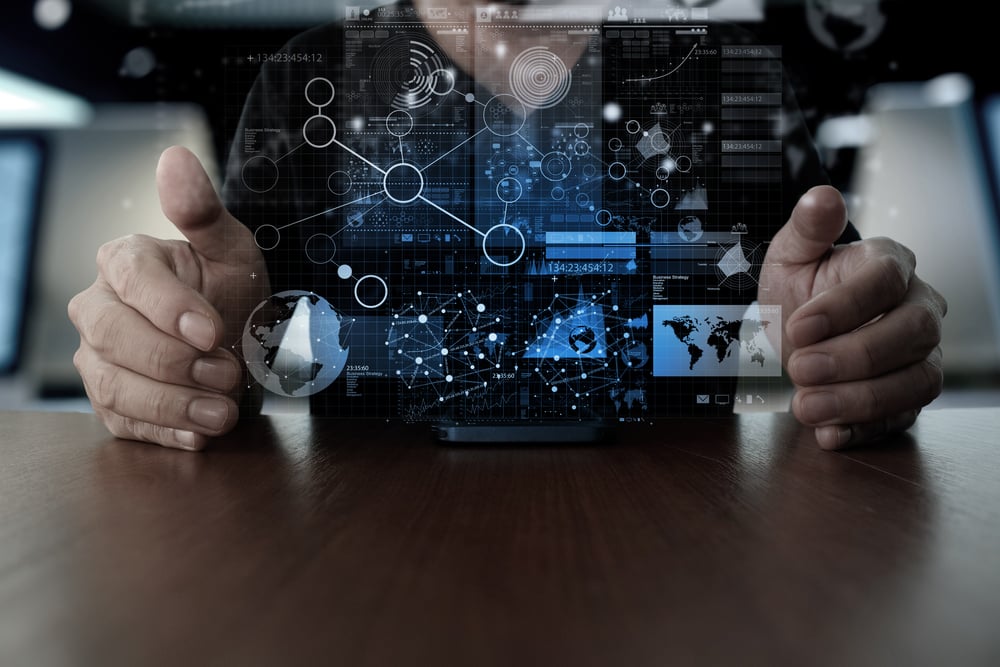 Augmented reality in banking enhances the customer experience by providing a personalized and interactive way of accessing financial information and services.
Imagine a world where banking is no longer confined to physical branches or even your smartphone screen. Enter the realm of augmented reality banking, where financial institutions are leveraging this cutting-edge technology to revolutionize customer experiences, enhance security, and deliver personalized services.
Key takeaways:
Financial institutions are utilizing augmented reality for personalized services and streamlined account management.
Embracing augmented reality is not just a technological advancement; it's a commitment to delivering exceptional service in the digital age.
Streamlined account management
NF Innova, a digital banking solutions provider, has created an opportunity for their customers to use augmented reality via their smartphone camera to access various details about their bank-issued credit card.The mobile banking app validates the user's ownership of the card by recognizing it during login. The application showcases an animated visual representation of the user's expenditures from the past three months.
This functionality is an extension of their Personal Finance Management (PFM) module, automatically sorting all expenses into designated categories like Car, Utilities, Travel, and related labels.
Bank transactions are increasingly conducted on mobile devices, and mixed reality can be employed to encourage and enhance this trend. Westpac Banking Corporation is among those investing in a system that uses relevant banking cards and transaction history to overlay information on the real world environment using their mobile app.
Through this process, account management becomes more accessible, and customer experience is enriched with up-to-date financial information presented in an immersive manner within the app.
Upon downloading the Westpac app, banking cards associated with the user's account are registered and activated. To access their account, customers simply slide their credit or debit card under their phone, triggering the camera.
The app then presents comprehensive information, including balances, transaction history, spending locations, and more. These details are visually represented in 3D bar charts, offering insights into expenditure categories such as travel, food, or utilities.
Functionality is limited to authorized customer cards, similar to linked accounts in online banking. The app registered to one individual cannot access credit card information from another person.
Enhanced data visualization
Augmented reality in banking for data visualization typically involves overlaying digital information, graphics, or visualizations onto the physical environment viewed through a mobile device, tablet, smart glasses, or any AR-enabled device.
Banks can use extended reality to enhance the in-branch experience for customers. By pointing their mobile devices at specific elements in the branch, customers can access information such as current interest rates, loan options, or account details in a visually engaging manner.
For customers managing investment portfolios, augmented reality can provide an interactive and visual way to view their portfolio performance. By pointing their device at a printed or digital statement, they can see their investments, gains, losses, and trends in an intuitive and graphical manner.
Bank employees can utilize augmented reality to access real-time analytics and dashboards overlaid onto their physical surroundings. This can include data on customer preferences, account balances, market trends, or transaction volumes. Mixed reality makes this information easily accessible and more engaging.
J.P. Morgan Asset Management has introduced a mobile-based augmented reality experience, developed in collaboration with Coffee Labs, as an innovative way for clients to access interactive analysis on significant economic themes affecting markets and investors.
This AR experience, a part of the award-winning Guide to the Markets, virtually projects economic analysis onto the user's surroundings, making it accessible from anywhere through a smartphone or tablet web browser. Users can interact with a holographic version of Dr. David Kelly, Chief Global Strategist, within their physical environment, accompanied by 3D visualizations of industry-leading charts and data tables.
The initiative showcases J.P. Morgan Asset Management's pioneering use of augmented reality to engage and educate clients and financial professionals, enhancing their understanding of complex economic and market topics.
ATM and branch locator
Finding the nearest ATM or branch has never been easier. AR-powered mobile apps, such as those offered by JPMorgan Chase, enable customers to point their smartphones in any direction to view the locations of nearby ATMs or bank branches overlaid onto the real world through their phone screens. This convenience enhances the customer experience by saving time and reducing frustration.
Bank of Oman has introduced a cutting-edge banking innovation in the form of an augmented reality mobile app called NBO AR. This application represents the bank's latest venture into leveraging technology to enhance the banking experience for its customers.
Available on both Apple and Android mobile platforms, the NBO AR app can be easily downloaded from the Apple Store or Google Play by searching for "NBO AR," making it highly accessible to a broad user base, including both NBO and non-NBO customers.
Once installed on a mobile device, the app utilizes location and camera access to provide a seamless and interactive experience. As users move their mobile devices, the app utilizes augmented reality technology to furnish them with valuable information. For instance, users can easily locate the nearest National Bank of Oman (NBO) branch or Automated Teller Machine (ATM).
Conclusion
Augmented reality is revolutionizing the banking industry by offering innovative solutions that enhance the customer experience. From virtual banking assistants to immersive investment insights, augmented reality is transforming the way customers interact with their banks. These real-life examples demonstrate how augmented reality can simplify processes, provide valuable information, and make banking more engaging.
As technology continues to advance, we can expect even more exciting AR applications in the financial sector, further improving the banking experience for customers. Embracing mixed reality is not just a technological advancement; it's a commitment to delivering exceptional service in the digital age.