How Mobile Apps Are Changing the Banking Industry: 5 Examples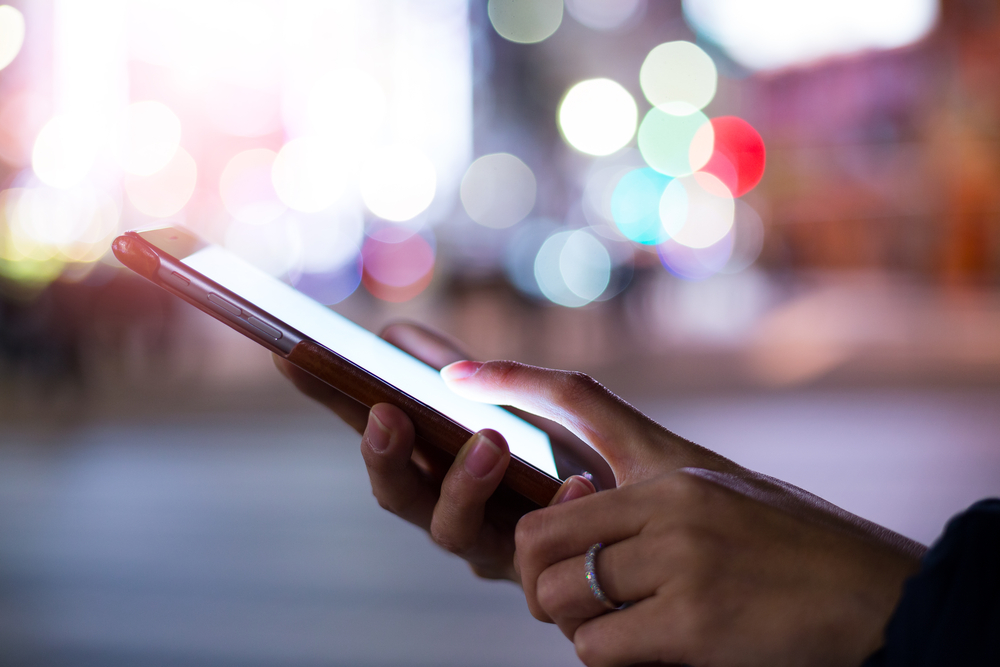 Mobile banking apps are bound to become the most important channel for bank customers to access banking services.
CACI predicts that by 2021 mobile banking will become the biggest channel in terms of users in the UK. Apps will overtake high street branches to claim the number one spot. The study shows that the proportion of customers using apps for banking will continue to rise in the UK over the next four years, reaching 71% by 2024. Currently, it oscillates around 45%.
In comparison, in the US, mobile banking apps are used by 3 out of 10 customers, according to Omnichannel and Branch Banking: The Current U.S. Consumer Banking Environment survey, while the penetration rate of personal mobile banking in China stands at 57% (as of 2018).
The mobile banking apps momentum is mostly fueled by young people. According to Business Insider Intelligence's Mobile Banking Competitive Edge Study, 89% of survey respondents said they use mobile banking, but this percentage rises to massive 97% when it comes to millennials.
Don't be mistaken that mobile banking is solely for younger generations. Ninety-one percent of Gen-Xers and 79% of baby boomers also reported seeing the benefits of these kinds of mobile services.
Why do people use mobile banking apps?
Customers switch to mobile banking apps because it is an easy-to-use tool for everyday basic banking activities. According to Statista, 90% of users in the US use mobile banking apps to check their balances, 79% do it to view recent transactions, 59% to pay bills, and 57% to make transfers. They would use online banking for those services in the past, but more and more users are switching to apps.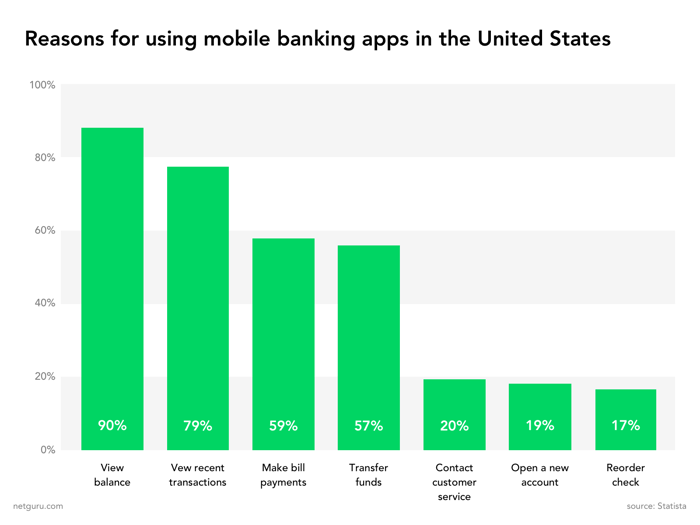 Users choose mobile banking apps as their main bank interface also because apps offer far greater options of personalization. According to Accenture's study 80% of mobile banking users would be willing to share data in return for personalized and convenient services.
Another important benefit of using mobile banking apps (also present in web banking) is that they're available 24/7 and you can access them from wherever you are. We're no longer limited by working hours and the locations of branches or ATMs. You can fulfill all your banking needs instantly.
Mobile revolution in banking is also triggered by new competitors that banks need to face. Such fintech companies as Revolut, Monese, or N26 offer very good mobile experience, which is a big challenge for traditional financial institutions. Those organizations focus on mobile-only operations – account creation and management, and money transfers take place entirely in their apps.
Fresh, vibrant, and outspoken companies like Revolut attract younger generations that are used to doing as much as they can on their mobile devices. Visiting branches seems odd to them. That is why banks must embrace mobile revolution. If they don't, they'll lose younger customers.
Is security an issue in mobile banking apps?
The simple answer is: not so much, at least from a user's perspective.
According to a study by Accenture, only 28% of bank customers believe that mobile and online banking isn't safe. Security used to be a bigger concern for mobile banking apps development but that has changed. Nevertheless, security should be a priority for every mobile banking app development company.
Banking applications collect a lot of sensitive data in one place. Personal data, address data, account balance and, of course, money itself.
Other applications can focus solely on beautiful designs and engaging features while not spending so much resources on security. In banking applications, users expect security at the core of banking experience – they want to know their money is safe.
Mobile banking apps can be a good source of security encouragement for customers, as they provide the best security solutions. Biometric login and two-factor authentication are now market standards – almost every activity in a banking app must be securely confirmed by the user.
What are the benefits of mobile apps in banking?
Improved security
Cyber-crimes are a considerable threat, without a doubt, but banks can leverage mobile app development to ensure high levels of security. Additional hardware security options make mobile banking apps more secure than their online counterparts. Such solutions as biometric authentication are a huge advantage of mobile devices.
Cutting operational costs
Developing mobile banking apps and promoting them as the main channel for banking activities can reduce banks' operational costs. Mobile apps allow banks to go paperless, which saves time, money, and natural resources. It's also a way to cut expenses for branch maintenance and operations. Last but not least, mobile apps offer transactions that are ten times cheaper than ATM transactions.
Additional revenue streams
According to a study by Fiserv, mobile banking apps can impact customer engagement and return on investment in several different ways. Financial institutions can generate additional revenue by offering value-added services in the apps, like retail offers or travel insurance. Customers using mobile apps are more engaged in banking activities than branch-only customers and use more products. They're also more loyal to a brand if the mobile experience is good enough.
Better customer experience
By developing a useful and well-designed mobile app, banks can improve their overall customer experience. Mobile banking apps are always available for customers – they are always within their reach.
Customers can fulfill any of their banking needs whenever and wherever they want to. The personalization options of products and services offered via mobile banking apps are far greater than those in branch-only or Internet scenarios.
The mobile environment is one of the best business cases for leveraging machine learning in order to improve the user experience. ML models learn from users' individual habits and activities. Apps powered with ML can offer precisely tailored insights for the user based on what is most important for them. Such banking apps display relevant information according to the predictions of an ML model.
Power of mobile analytics
Mobile banking apps are a great tool for financial institutions to collect and analyze many different kinds of data and receiving important customer feedback. They can learn more about customers' habits and needs, which is very powerful knowledge for product development. Information and feedback gathered via mobile apps can massively help in improving the overall customer experience.
Better communication with push and in-app notifications
Mobile apps are a very effective tool for the communication between the bank and the customer. Push and in-app notifications can trigger certain actions and improve customers' relationships with the brand (when used properly). They should also be used as a way of passing on key information, from a bank's perspective. There's a higher chance that customers will notice a notification than that they read a lengthy letter or email.
5 examples of best banking apps
Mobile banking apps can fuel digital transformation of financial institutions. If designed and developed well, they can make a true difference when it comes to user retention and customer lifetime value. In the previous part of this material, I focused on explaining why developing banking applications is important.
Now it's time to show 5 examples of best banking apps. We took into account the following three factors when selecting the apps:
they have high ratings in both Google Play store and App Store,

they ensure the highest levels of security,

they help millions of customers manage their money.
Capital One
Capital One's app helps customers manage their credit cards, bank accounts, home, and car loans via personal mobile device. Users can also check account balances, pay bills, view payment activity and transaction details, and set up personalized notifications.
Other key features include locking a card inside the app and an integration with smartwatches. This app was deemed as having one of the highest customer satisfaction rates by J.D. Power. The average score on Google Play and App Store is 4.7/5.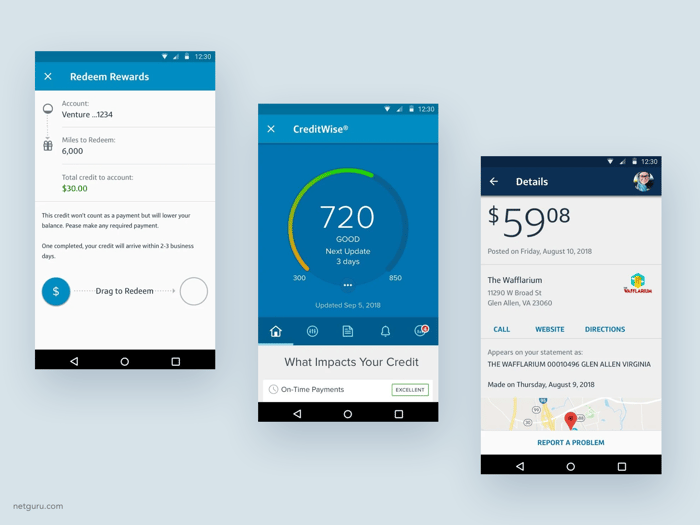 Bank of America
Bank of America provides its customers with a banking app with a large set of features, e.g. an ATM localizer and a virtual finance assistant. J.D. Power recognized the app for its outstanding banking service.
On top of all that, BoA put a great focus on security features. Users can feel truly safe, because the app includes such solutions as: fingerprint login, fraudulent activity monitoring, travel notices, and activating/deactivating of credit cards.
USAA Mobile
The USAA app is a perfect example of a modern banking application. It has almost every feature users could find useful.
Account management, virtual assistant, integration with Apple Pay and Google Pay are only some of them. USAA Mobile's security solutions are outstanding: you can log into your account using voice, search or fingerprint recognition. That form of combining convenient features with highest security levels is worth recognizing.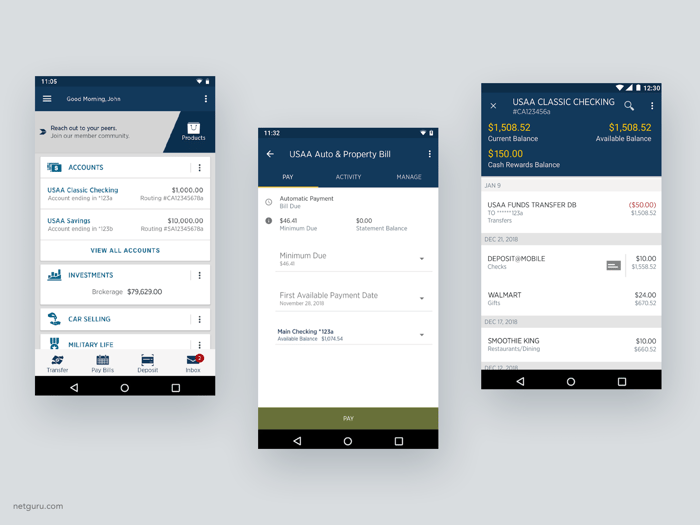 U by BB&T
U by BB&T includes all the 'standard' features like transferring money or depositing checks but also offers such interesting options as creating and managing goals as well as organizing your receipts.
This app is perfect for planning and controlling your finances. It has many features which will help you to keep track of your budget by defining your financial goals. Those are the reasons why this application stands out of the mobile banking crowd.
Wells Fargo
Wells Fargo is mainly a corporate bank. That's why the banks' application focuses on investment tracking and analyzing.
Besides that, it offers other consumer features like paying bills, depositing checks and managing your account. It is a really good choice for people who invest much and for SMBs. You can monitor your account balances, track your open orders and analyze your investments. It also offers real-time quotes, market data, and news, which is unique for a mobile banking app.
So what do bank customers expect?
Bank customers expect to have a dedicated, personalized, well-designed and useful application for as much banking of their services and products as possible.
Modern customers are so attached to their smartphones that they also expect their financial institutions to be at the pocket's reach. We all love to be able to check our bank balance whenever and wherever we want. Combining rich and useful features with high security standards lets banks retain their current customers and win new ones.