Top Six Challenges of Launching a Digital Product According to Founders and C-level Executives
Bringing an innovative digital product to market is a complex process during which things will inevitably go differently than planned.
We've asked over a dozen founders and C-level executives how to successfully navigate this process and share their first-hand experience of launching digital products. Experts from various industries opened up about the challenges they faced, the mistakes they made and the lessons they learned.
Here are the top challenges and advice on how to deal with them when launching a digital product, according to people who did it successfully.
#1 – Focus on your main goal
When developing a product, you will come across tasks, objectives, and opportunities that might distract you from the original goal. Unless you truly know what you're striving for, it's easy to lose sight of the main objective along the way. That's why, as many of our interviewees emphasized, it's so important to always stay focused.
For Lukas Zörner, CPO at Penta, which offers banking products for business owners, maintaining focus on what really matters is the most important part. Not only for a product but for the entire company. In FinTech in particular, it's crucial to make sure that the products you build work seamlessly together and this requires exactly one thing: unprecedented focus.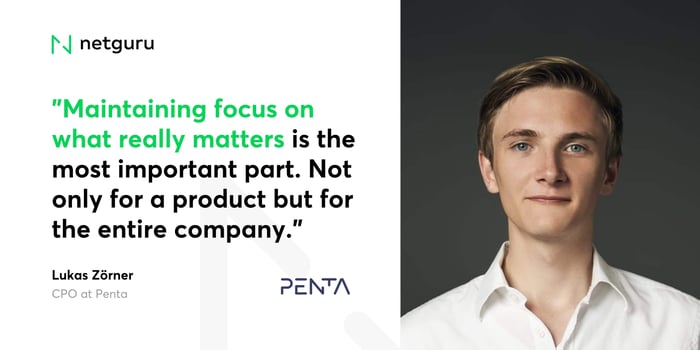 Stefan Muehlemann, Founder and Chairman of the debt capital market platform Loanboox, considers saying "no" to be one of the most important challenges of product development: With so many opportunities at hand, it is sometimes hard to focus and say "no" to promising ideas. But if something's not part of your core business and substantially enhances your product, don't do it.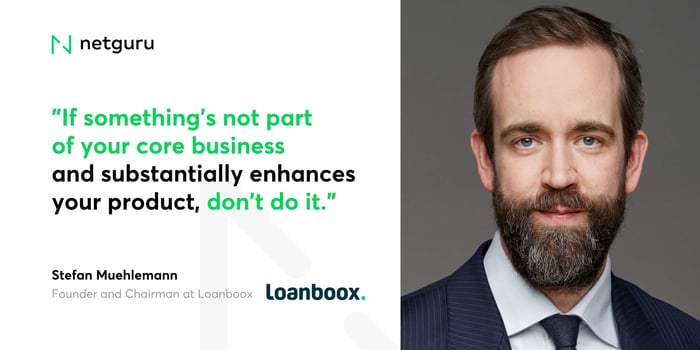 David Goldberg, co-founder and CEO of Founders Pledge, an initiative aiming to transform charitable giving, points out that staying focused is fundamental to non-profits as well: Ensuring we are sustainably funded is a constant challenge. It's easy to lose sight of what incentivises you when you're trying to appeal to donors, but I've learned that it's crucial to stick to your core values and motivations and keep these at the heart of everything you do.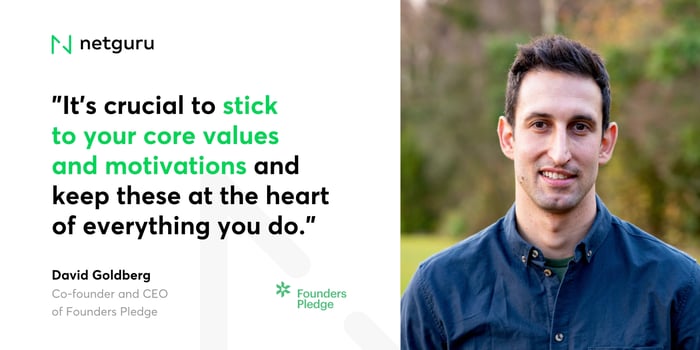 Focus is also essential when talking about your product to potential investors or users.
As entrepreneurs, we know our product and are always excited to talk about all the cool features we've worked on. I think we try to say too much initially instead of focusing on the main feature and should always simplify the message, offering less information but making it easily explainable to the audience, says Philippe Racine, co-founder of the social selling platform Stent.io.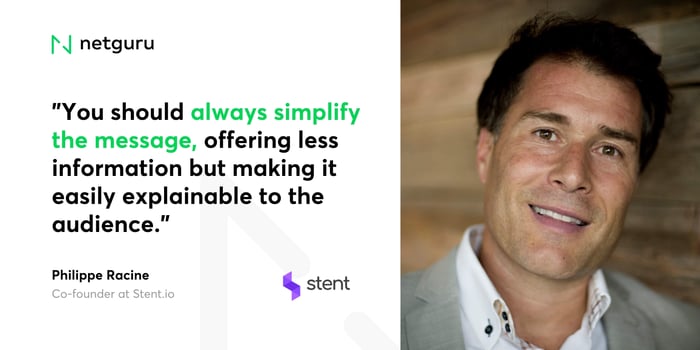 #2 – Allocate resources wisely
Deciding how to best spend your money, especially if you don't have unlimited resources, is another challenge that several of our experts brought up.
You might need to limit your spending to just the absolute essentials. As Alec Dobbie, CEO and co-founder of FanFinders, which connects brands with parents, explains: A challenge of being a bootstrapped self-funded business was working out what our cashflow allowed us to spend and watching every penny. At the start, our five co-founders didn't meet in person for nearly two years as travel isn't cheap, but Skype is.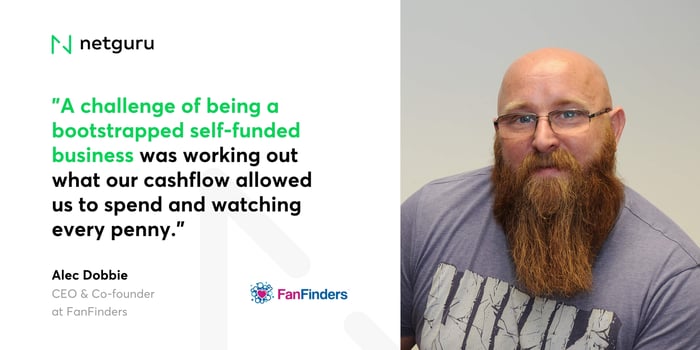 You might also need to invest much more into your core activities than you initially planned. That was the case for Andrea Tassistro, the founder and CEO of The Foodetective, a food industry platform. I fell victim to one of the most common mistakes in Product Development, underestimating the time involved to create, design and implement product features. It took me time to understand the value of each feature we needed to create, all the while making certain we had sufficient resources to fund and pursue any intended changes to the product we needed to make.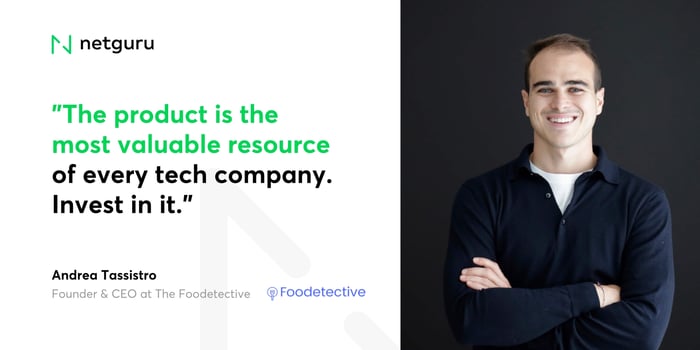 Of course, mistakes are a great opportunity to learn: I now know when and where to utilise and allocate funds more appropriately.
Some even see the upsides of having limited resources, as it makes it easier to maintain focus. As Oliver Reichenstein, CEO and founder, Information Architects, told us, Many startups don't know what to do with VC money. Being entirely bootstrapped is healthy, as we don't waste money on things we are not sure about.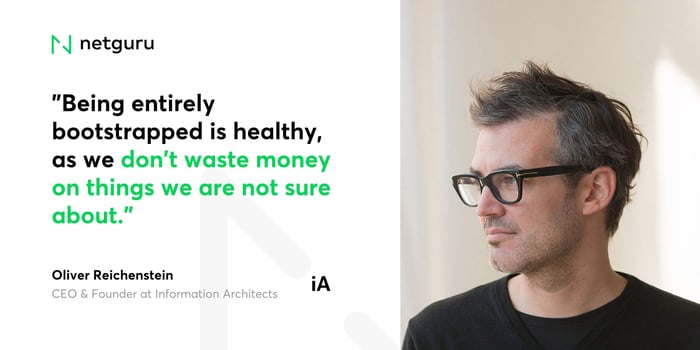 #3 – Don't skimp on the team
Building the right team is fundamental, says Edoardo Benedetto, Chief Design Officer and co-founder of Oval, a financial literacy platform.It's all good having the technology, skills, quality and experience, but nothing beats the love and confidence in the products you get from assembling the right team. It is the biggest challenge for a founder to seek, convince and motivate a team, but it makes all the difference in the world.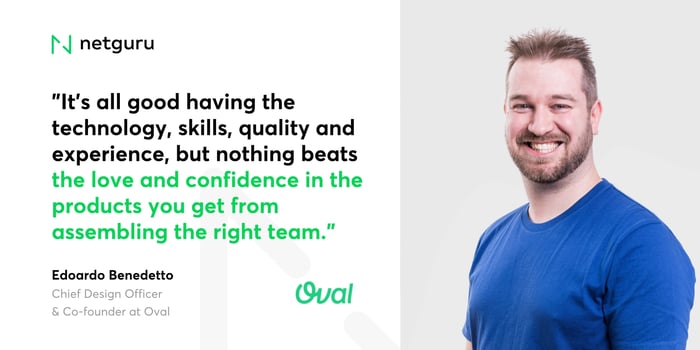 The first instinct of many new business owners is to save as much as possible on personnel. But experienced entrepreneurs advise against this approach.
Knowing when to recruit our first staff was one of our main challenges, says Alec Dobbie of FanFinders. Becoming the source of someone else's mortgage payments is daunting without lots of cash in the bank. However, not recruiting can stunt your business growth. Our founders decided to recruit and that our employees' salaries would come before ours. This allowed us to make the decision and push ahead.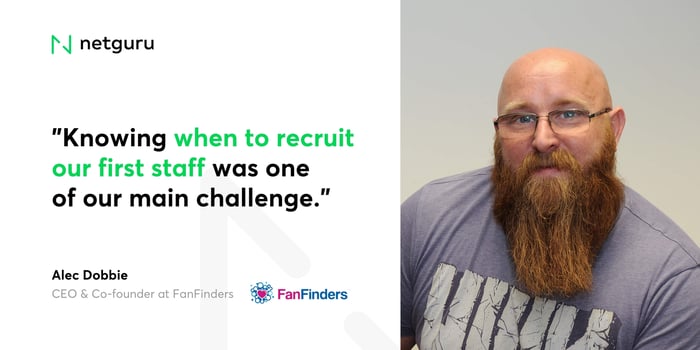 Number one is having the right people, underscores Stefan Muehlemann of Loanboox. As a founding team, you need to only hire the very best, even if it takes forever. Never be satisfied with the second best.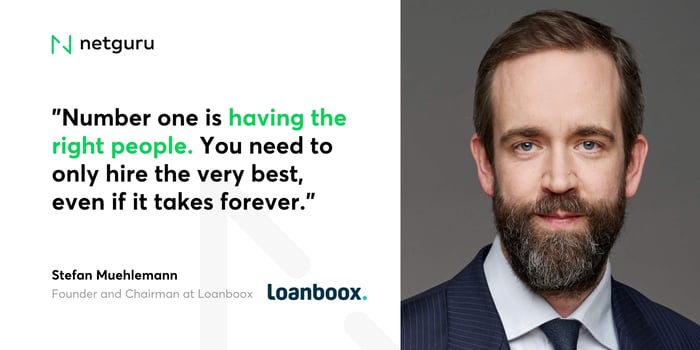 However, it is important to keep in mind that unless you are an established company, attracting the best talent will not be easy. Hiring can be very difficult for a small company without a product in the market. You have to convince people that what you're building is important without them being able to see or use it. You also have to find the right balance between taking the time to hire, and move quickly toward launch, points out Asaf Avidan Antonir, CEO and co-founder at ONYX, a smart fitness instructor.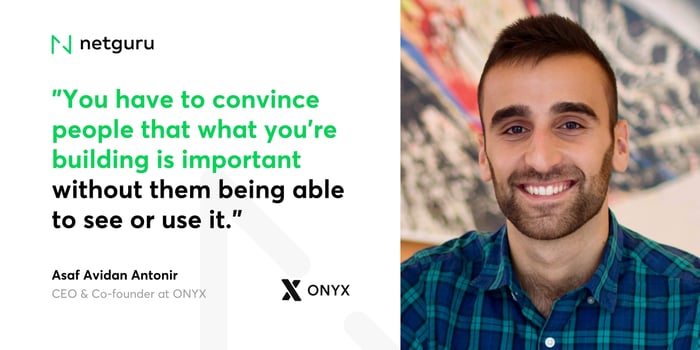 His advice? We found that working with consultants such as Netguru was incredibly valuable. The time to get started is often much shorter, the risk of making the wrong hire is lower as you can iterate quickly, and you can still vet their work to make sure it fits your needs and that they are passionate about the project.
#4 – Understand your users
You might think you have a great idea, but it is the users who will ultimately decide whether your innovation is a success. Many entrepreneurs we spoke to underscore the importance of understanding your users.
The first step is to figure out who those users actually are. If you don't, you might pay the ultimate price. Tomasz Rudolf, co-founderand Executive Chairman of the corporate venture studio The Heart, learned this lesson the hard way, having co-founded a start-up earlier in his career that only lasted for one and a half years. We did not focus clearly enough on one target market, trying to appeal to entrepreneurs, corporate teams and consultants alike. If you build a product for everybody, it is likely to be loved by nobody. Once you know who your target audience is, it's crucial to understand what they truly want.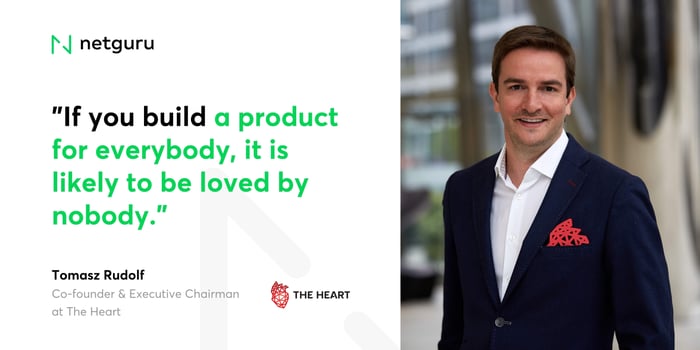 Our first challenge was coming to a minimal understanding of user behavior. When you first release your product, you don't know what exactly users want because you have no previous data to base decisions on. You have no idea how users will react. It's a big and risky guessing game. says Noam Toister, CEO of Bookaway.com, a travel platform.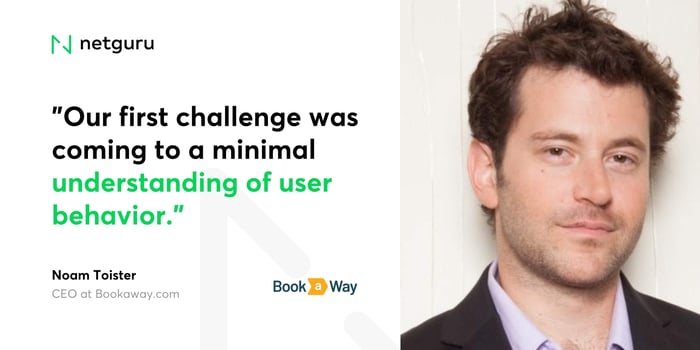 Yaniv Ben-Yosef, co-founder and CTO of Milan Innovincy BV, which provides information to help farmers increase crop production, puts it simply: You have to become your user, think like them and understand their problems at the deepest level. You also have to be connected to them on an emotional level. Ideally, the company developing the product should use the product in-house to experience it first-hand. It's important to realise that users come first, before the technology.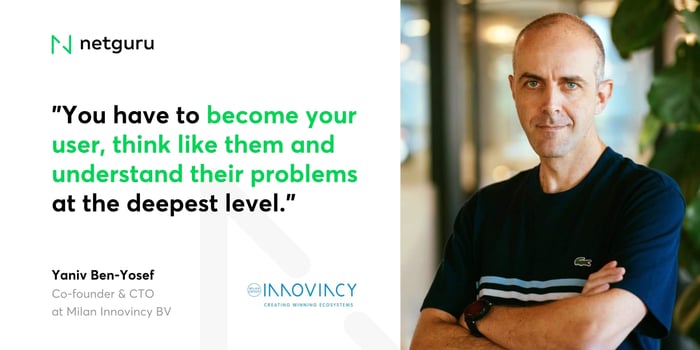 Asaf Avidan Antonir of ONYX, explores what it actually takes to understand the users:
In order to build a product that users love, it's crucial to understand how users behave within the product, and how they feel about the product experience. User behavior is relatively easy to measure for many in-app activities. Understanding how users feel about the experience becomes more tricky. Ultimately, one of the most helpful things we did was to build user feedback natively into our product wherever possible. We've been surprised by how many users are willing to provide detailed feedback.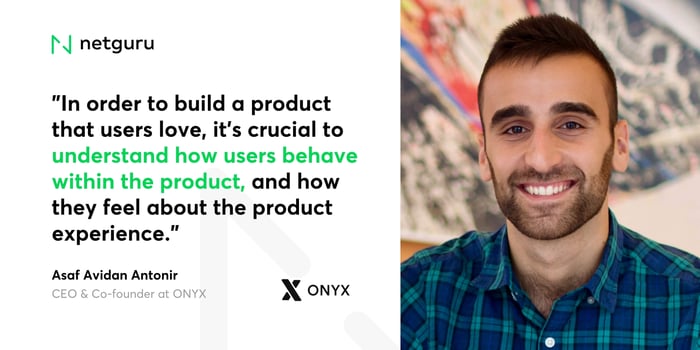 #5 – Embrace the feedback
Once the feedback starts coming in, you might not like what you hear. At this point, it is crucial that you remain humble. After all, whether you like it or not, "the customer is always right. Dealing with multicultural customer feedback is not easy – people from different parts of the world express their opinions in completely different ways. We've had to learn to accept the most angry feedback as a valuable source of information rather than as an attack on our work. It takes years of constant learning to find the right way to deal with feedback and to use it wisely, shares Oliver Reichenstein of Information Architects.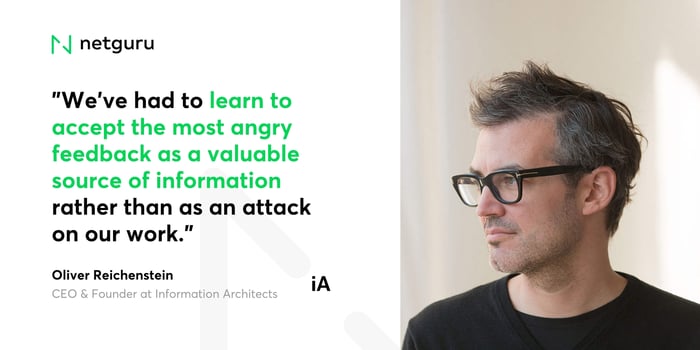 Noam Toister of Bookaway.com points out that it might be challenging to figure out which part of the feedback is most important: One of the challenges for us was the inundation of feedback. Once Bookaway was released, we were flooded with comments from everyone: Stakeholders, users, investors and employees. This information is extremely invaluable, but with limited resources, we needed to understand what to focus on, and to prioritize accordingly.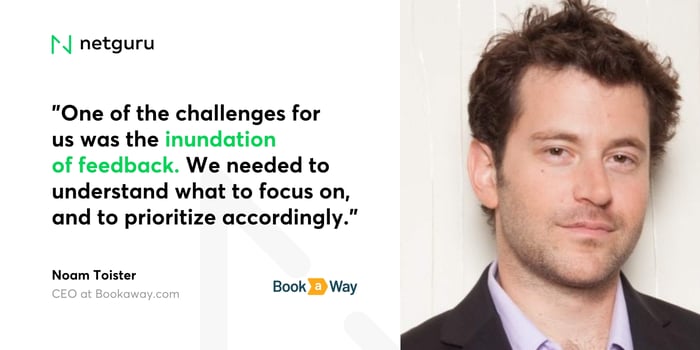 The great thing is that the users who take the time to leave feedback are often those that care most about making the product better, so it's important to listen! sums up Asaf Avidan Antonir of ONYX.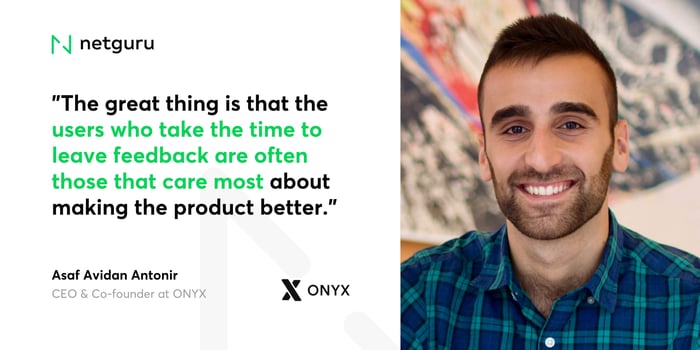 It takes true skill to seed through, interpret, and accept the feedback. If you can apply what you learn from the feedback to make the user happy, you'll be well on your way to making your product a success – a point underscored by Paal Kaperdal, co-founder, Chairman, Sensar Marine: By listening to our customers' wishes and by satisfying their needs, we have been able to develop a brand new product that has matched a market demand. We have managed to provide boat owners with around-the-clock remote access to their boats, no matter where they are. We now aim to expand our product to new markets.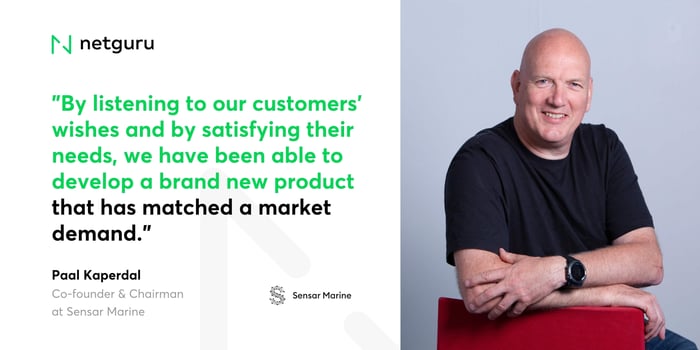 #6 Stay flexible
There are many reasons why things may not be working out as you expect, so being flexible and knowing when to pivot is a key skill.
Markets change very fast, says Yaniv Ben-Yosef of Milan Innovincy BV.The solution you developed may become obsolete by the time you launch the product. If you don't practice agile software development you are likely to fail, but even Agile methodologies are not always enough. We had to pivot, redesign, rethink and adapt our solution to changes several times along the way, based on feedback and changed circumstances.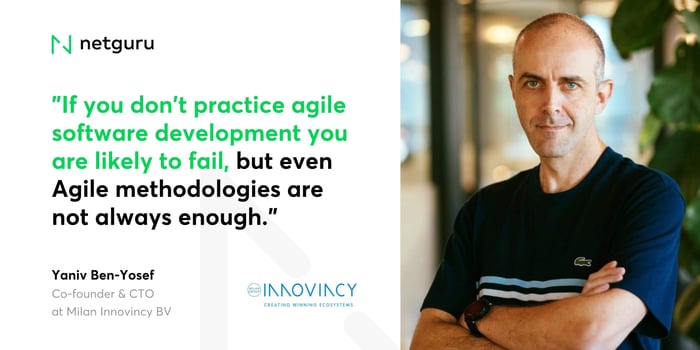 Edoardo Benedetto of Oval points out that most start-ups have made substantial changes or pivots to their product because they realised that it can be suitable and appreciated by different target users, compared to their original plans and thoughts. Flexibility is essential, even if your pride may be a little hurt. The sooner you realise this and find the right target, the sooner you will create the right product."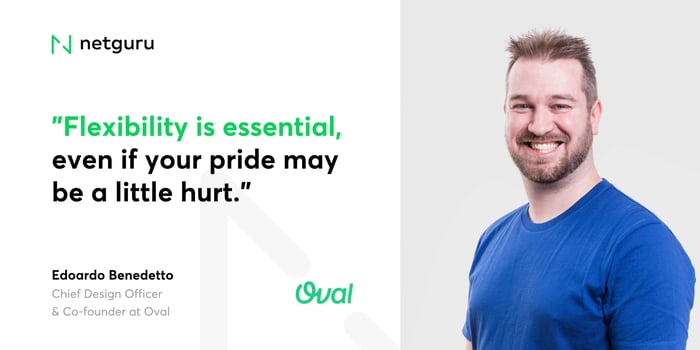 Danielle Pensack, Chief Executive Officer and Co-founder Rightfoot, which builds student debt repayment APIs, brings up the same issue when talking about her experience: We first launched Rightfoot as a standalone student debt benefits offering, administering employer contributions to employees' student loans. After learning how difficult it is to sell into HR as well as discovering a larger payments infrastructure problem, we focused on our technology. We built the industry's first RESTful APIs that make it easy for any developer to add student debt repayment as a feature of their app. Today we power the backend of B2C companies helping users manage and repay student loans, B2B firms like financial wellness, payroll, and 401k companies administering a tax-free benefit entirely under their brand.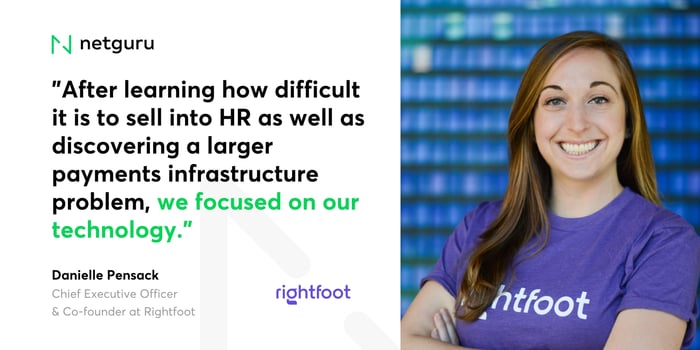 --
We hope that this guide helps you prepare for developing and launching your own digital product. If you need help along the way, we at Netguru have helped dozens of companies on their journeys, so don't hesitate to reach out to us.