How Decathlon Uses Data Science to Win at Online Shopping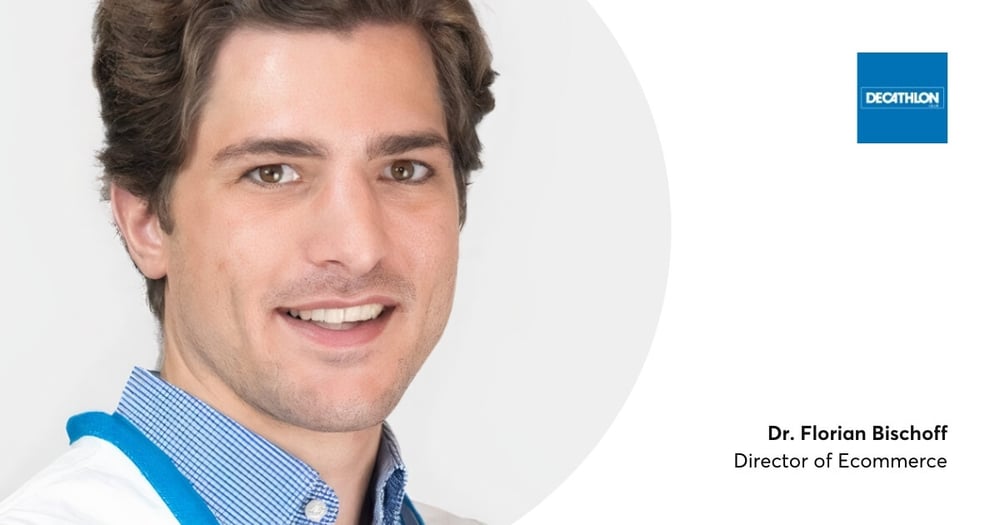 While many retailers struggled as the pandemic forced sales online almost overnight, sporting goods giant Decathlon Germany excelled.
The company's investment in optimizing its website, app, and marketing, coupled with the stellar performance of its logistics and transport team, allowed it to process 4.5 million online orders countrywide in the past 12 months. And with its data-driven approach to business growth, the future looks bright.
Data has become an indispensable asset for retailers in creating value and building competitive advantage. From intelligent recommendations and personalization to demand forecasting and advanced analytics, data science has created a world of new possibilities in retail.
To find out how Decathlon Germany has achieved success in the face of adversity and how the company leverages data to improve the customer shopping experience, we spoke to Florian Bischoff, Director of Ecommerce.
Florian has been with Decathlon for eight and a half years, and after performing a variety of roles, he led the Data and Technology team until 2019 before stepping into his current position. With a background in statistics and econometrics and a love of sports, including Judo, running, and skiing, Florian is perfectly placed to take Decathlon's ecommerce and data science strategy into the future.
Nat Chrzanowska: Four and a half million online orders in 12 months - just for the German market - is a very impressive result from both the operational/logistics and demand generation perspectives. Focusing on the latter, what strategies did you follow to achieve such high demand?
Florian Bischoff: Gyms, fitness studios, and so on were all closed, but people still wanted to do sports. The basis of our success is the wide range of sports we cover, and the demand for fitness products, especially fitness at home, running, hiking, and things for children, like trampolines, was huge.
We saw a shift from sports like football that you do in a team to sports you practice alone. And the advantage of Decathlon is that we have high-quality products and a good price policy in a very wide range.
What were your biggest challenges during this time?
The high demand for products, logistics, transport, and returns caused some trouble at the beginning because online shopping exploded from one day to another. But with the action plans we put in place, we were able to handle it. Now, as demand stays very high on digital, we can manage these huge volumes without any problem.
Let's focus on data. Why is data so important in ecommerce? How can it help businesses?
I always tell the team: no data, no decision. Without data, you only have hypotheses, a gut feeling.
Only data can prove if you're going in the right direction or not. Ideas we produce always go through a validation process. We create small products for the website or improvements within our products, then we go live with a minimum viable product (MVP), test them, and improve them. This test and learn circle is super important for me.
Besides that, data can be used for many other things, like automating processes that involve repetitive manual work. We can learn more about the customer journey, create better targeting, and be more relevant overall.
What metrics do you track to validate these hypotheses?
It depends on the product and the hypothesis. In my position as a leader of ecommerce, the two most important KPIs are the contact rate and the active customer number. The contact rate of the customer service center is the operationalization of excellence across the entire purchasing process and an indicator of how seamless the customer journey is.
The active customer number is the operationalization of how perfectly the purchasing experience runs from the first contact until delivery and maybe return.
If you are satisfied with the whole purchase, you will come back.
What kind of data do you gather to learn more about the customer or develop new features? What's the most valuable information from a business perspective?
Customer feedback is the most valuable. We have a feedback tool on the website, and I check that regularly. I'm also in touch with the customer service team to monitor complaints and understand our customers' problems. I regularly check the ecommerce KPIs: conversion rate, bounce rate, customers entering the website, cart abandonment rate, and so on.
You've recently updated the product recommendation engine. Can you tell us more about that?
We have an internal recommendation algorithm, and we also work with partners, and we check which algorithm fits best with which customer needs.
For example, for recommended products, an external algorithm improved the sales and revenue per user. However, on similar products, we saw that our internal algorithm performed better, so we kept that one. We are always fine-tuning to see what makes sense and what doesn't.
Could you share a bit more about the change and the results?
When we checked the internal and external algorithms, we saw an increase of 3% of revenue per user on overall sales. This example is one small test, but when you have a lot of these small tests, it scales.
Can you share more examples of how you leverage data to optimize the sales funnel, for example, for future demand prediction, churn prediction, or dynamic pricing?
On acquisition, we use it to balance our channels and reallocate our overall investments based on which one is the most profitable.
We have ongoing A/B testing. For example, we run small tests, such as hiding fields, which can sometimes bring a big uplift. We implement medium adjustments, such as making specific fields sticky, and we complete bigger improvements like fully developing a new home page.
We also use data science in forecasting. For example, we can predict orders to help the warehouse and transport teams plan their shifts and optimize the number of trucks.
Going back to customer value, how do these strategies create value for the end customer?
With personalization, the customer only sees what is most aligned with their needs, preferences, and behavior. We have a huge range of products, and if a customer loves the mountains, they should specifically see these kinds of products and content. Personalizing the journey in this way provides huge value to the customer.
What can machine learning offer ecommerce that regular data analytics can't?
Data analytics is oriented on the past, whereas forecasting and machine learning take data from the past to learn about the future and build models to predict it. So machine learning is more focused on tomorrow and the day after tomorrow. Forecasting helps us predict what will arrive for the teams to handle.
We get a lot of feedback each day and using natural language processing we can immediately mark the reviews with a specific label and transfer them to the right person.
With this classification, they can start reacting much quicker. Simple data analytics wouldn't allow us to do that.
What are the most surprising findings you discovered through customer data analysis?
We tried putting a recommendation algorithm on the cart page, and it wasn't that successful. But we discovered that people who were on a listing page before and used the pricing ranking responded to the recommendations – adding products recommended on the checkout page to the cart – while all the others didn't.
That's why now, when you use the website without ranking by price, you won't get the recommended products. But when you click on a ranking and sort by price, you will get these kinds of products on your basket page.
What will you focus on next to make the ecommerce platform even more customer-centric?
At the moment, it's B2B. Currently, our website is focused on creating a seamless customer journey for the individual customer. But we have a lot of schools, associations, clubs, and businesses also interested in our products. We are now looking at how we can optimize these journeys with a lot of personalization.
Our search engine is also a big topic because our assortment is huge. The search engine is a big help if it's working optimally.
What were the biggest challenges, especially on the technical side, when implementing this search engine?
We implemented a new search engine a few weeks ago, and the biggest challenge is getting the new one to the same level as the old one. We are doing this in A/B testing mode. We started with 5% of customers getting the new search engine, and we will increase this until we reach 100%.
Any other big missions on the way for Decathlon Germany?
We are also focusing on second-use products.
Ninety-eight percent of the returns we receive go back into stock. The 1% that are not perfect, for example, a bike that has scratches but overall is technically perfect, are only available in-store. We want to make them available for our digital customers, which will help us offer second-use products to customers and be better on our green footprint.
Thank you so much for sharing, Florian. We're excited to see where data takes Decathlon Germany next.