Remote Sales & Marketing: Move Your Business Online in 10 Steps
Moving your business online is no longer something to consider - you should be asking how to do it instead.
Running your business online is particularly important for retail companies - they can enjoy a significant increase in customer base, lower maintenance costs, and greater brand exposure thanks to online presence.
Small- and medium-size businesses are increasingly moving their offerings online and the COVID-19 pandemic has only sped up this process. This transformation is not temporary: it's more convenient for consumers to buy products and services online, so businesses must adjust to this trend.
How do you start selling remotely? There is no clear-cut scenario, but we've managed to pinpoint an 10-step process to moving your business online. In this article, we explain:
What are the best strategies for moving your business online and building an online presence in a way that promotes business growth?
How to use online marketing strategy to maximize online sales?
What are the core principles for remote work that allow these operations to run smoothly?
A word of warning: There's a lot of work to be done, so let's dig straight in!
Building your digital presence
Online shopping is one of the most popular online activities worldwide. To succeed at moving your business online, you must ensure your business can be discovered. This requires translating your current marketing strategy to new demands of the digital world. To do so, follow these steps:
1. Research the online market
Likely, your competitors are online already. Make a list of the direct competitors and their exact offerings, analyze their presence and how they advertise their products or services. Also research your existing and potential new customers - what they like about your competitor's products.
Perhaps you'll also find out what they are missing? The point is that your online marketing activities must meet true customer demand, without multiplying what your competitors are already offering.
2. Find your brand differentiator
It's also known as the Unique Selling Point (USP), but you are probably familiar with this term already. When you've done your market research, pinpoint what it is that differentiates your company from the competitors, even if the difference is only subtle.
Perhaps none of your competitors sell a specific service online in your area? Your digital presence will have to focus on both hitting the market needs and communicating what it is that your brand offers that others don't.
3. Imagine your brand experience
This is about translating what you've researched and established about your brand into a design. Why is it important? Because you need to translate your offering into coherent brand experience elements: logotypes, fonts, colours or even images and icons that will appear on your website and social media.
It's crucial to keep these features consistent across all the channels you intend to use. Otherwise, you may simply confuse your customers when they leave your website and start exploring social media, which may scare them away.
4. Establish a strong digital presence
Here comes the fun part of creating something from scratch: you need to set up the relevant channels that will maximize your online presence and serve as your new sales engines (we'll dig deeper into that in the next section). These should include, but not be limited to:
A service website or an online shop - research the relevant platforms, e.g. Shopify, Big Commerce, Magento, Wix, Squarespace. Don't forget about purchasing a relevant domain name that references your brand!
Social media accounts - they say 'when you don't have a social media account you don't exist' and it's still valid for businesses. Depending on what product you're selling, different platforms will be more relevant (e.g. Facebook for retail, LinkedIn for B2B services, Instagram for lifestyle products).
5. Prepare an online marketing growth plan
You can't just establish your online presence - you also need to ensure it actively grows and continuously attracts new leads. Think about an SEO strategy to drive traffic and position your brand in online search rankings. Blogging may be an excellent tool for this purpose.
In addition, a strong social media strategy with content tailored to each channel will also help you drive consumers to your website. Promoting on-site events online, discounts, online events, live broadcasts - all of these elements may help you grow your customer base.
6. Ensure smooth communication with customers
This point is about being available and offering support whenever needed. There are a number of tools that can greatly support users in this: Website chat, website support areas where you can include things like FAQs or forms.
Part of this strategy is publishing your returns and refunds policy on the website, so people can find answers to most common questions without having to ask you - and consumers will certainly want to clarify their rights. With live chats and automated bots, technology can handle at least a part of this process for you.
Now that you've brought your company online, it's time to get down to business and start selling! Below is an overview of what to keep in mind.
Growing online sales
E-commerce has become an indispensable part of the global retail segment. This Statista 2020 survey indicates e-commerce sales worldwide amounted to 4.28 trillion US dollars in 2020 and are projected to grow to 5.4 trillion US dollars by 2022! You cannot ignore these figures. Here's what you need to know for the right start in online sales.
7. Prepare an online advertising strategy
Choose where you place your ads wisely - it's about knowing where your potential customers are. For instance: Cosmetics and clothes manufacturers could use Instagram to their advantage, while LinkedIn may not necessarily work for them.
Also, don't forget about the whole different world of Google Ads! These will allow you to run entire campaigns, but do your research before starting this complicated process. Email marketing can also be a great advertising tool when you are launching new products and want to inform existing customers about them.
8. Offer seamless omnichannel experience
Consumers expect excellent customer experience, which is not surprising - they may be spending their hard-earned money, so they expect the highest standards. That's what a seamless omnichannel experience is to them.
According to McKinsey, omnichannel has become the standard and is no longer an exception. Remote human interaction or digital self-service, which gives customers the opportunity to seek and find answers to questions or issues they have, is preferred by over 60% of consumers.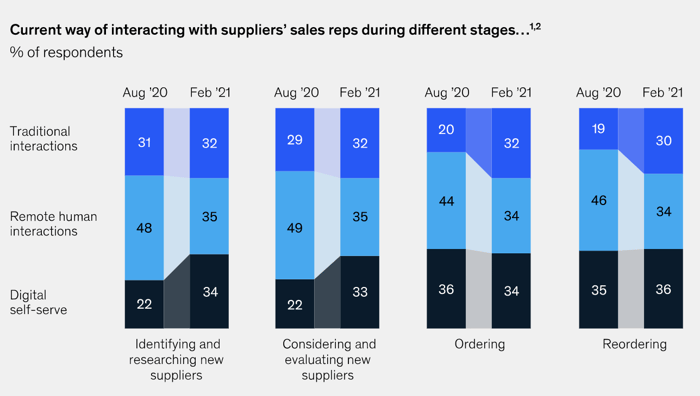 Omnichannel becomes the standard. Source: McKinsey & Company: Omnichannel in B2B sales.
9. Manage data scrupulously
You need to have a (CRM) system in place to handle every relationship and interaction with your customers: From potential leads, through sales, to returns and refunds. This is about selecting the right software, so research a provider that will work best for you (eg. Oracle, ZOHO, Hubspot, SAP).
Having the right system in place is crucial to ensure your team stays organized, keeps track of the sales pipeline, and is able to provide outstanding customer service to all customers at all times. Modern CRMs also allow for lead generation and sales forecasting.
10. Ensure online payments security
This may be the most important element of this strategy. The online payment system must protect customer data and that is an indispensable factor in building and maintaining customer trust. Just one slip in the system will cause grave damage to your business: From financial losses, to potential fines and loss of customer base.
Select a secure online payment platform that also offers a quick and convenient payment process. You can opt for systems embedded directly on the sales platforms (eg. Shopify, Magento), or integrate a third party provider with your website.
Maximizing online presence and sales through remote work
Moving your business online and managing remote sales and marketing won't end once you complete the above steps. You also need to have a plan to manage these activities online.
Think about a broader communication strategy for connecting with customers online. Know where to seek immediate IT support when it's needed - you can't afford to have your online shop unavailable for a prolonged period of time. Select a single online platform for storing your business resources so all employees can access them easily from every location.
If necessary, train yourself and your staff in using these systems at home to eliminate difficulties, ensuring full focus on online sales and maximizing your digital presence.