"The Swedish Real Estate Industry Will Never Be the Same Again"

Thus, there is a big focus on innovation and urban development to improve residents' lives and attract more business to the city. The real estate industry, which has long been very conservative, will be one of the industries that will undergo the most significant changes.
15 forward thinking companies in the Swedish real estate market have already united in SF Invest (Swedish Real Estate Industry Investment Company) to speed up the pace of development in the industry. Their first project is the launch of the commercial real estate platform Newst.se. After that, as they say: "The Swedish real estate industry will never be the same again".
We have asked Andreas Nordgren, CEO of SF Invest and Newst.se about the future of the real estate market and their new product.

Sweden is a second hub for innovation in the world after Silicon Valley (in the number of software companies per capita) with unicorns in finance, music and communication. Is real estate catching up with other industries?
The real estate industry has long been very conservative, and it didn't develop as fast as other industries. There have been bad competition, incorrect pricing and outdated services. Everybody turned a blind eye to the experience a client had to go through. Of course, no one would admit that. They say: we find our clients, they seem happy, we get our money, we have always done it like that, and it's working.
There's often this comparison between the financial industry and real estate because both involve big money and big transactions. But in the financial arena of such companies like Klarna the main thing you compete in with others is technology or technology-driven. In the real estate sector, if you have the best property and the best location you can be undigital for the next hundred years and it's because you have the best asset. And the asset is static. So that creates a very conservative environment. But we want to find disruptive elements and keep the innovation pace going.
Is that why you're launching the new platform, Newst? What is it about and how will it work?
Yes, we wanted to create a better environment for clients, real estate owners and consultants. The three-part collaboration that is happening within the lease segment, but the parties are yet far away from each other. The environment with a special focus on the end-user, whose needs haven't been considered for so long.

So if you want to buy or rent anything for commercial use, no matter where is Sweden, such as: residential property, a store, an office, or a restaurant, you enter our platform, you create a personalized profile, put in all the details of your search and we do the rest.

We created Newst to make the search easier, smoother and much more satisfying for clients. More often than not, clients don't know anything about real estate. And the process of getting this kind of rental contract finalized is very tricky.
Why exactly, what do you mean?
It's very hard for someone who is not in the industry. At big marketplaces, there are around 12,000 ads. So being an owner of a small company and starting a search in such a maze when you don't really know what to look for in the premise is dreadful, and real estate owners don't make it any easier it. If you ask anyone who's looking for a place to rent what they want to see in a rental ad, they will say that they want to see the price, summarised information and good pictures. And the things missing in online ads today are price, information and good pictures. Only a very small percentage of office ads show the price.
Even the way they talk about the rental price is mysterious. They say it's SEK 3,000 per square metre plus taxes and other additional costs. And the only thing you want to know is how much will it cost me per month. It's like going to a shoe store and asking 'how much does this sneaker cost?' And getting the answer it's four and a half euros per square centimeter, and you do the math yourself. They are unwilling to provide the information the client wants. It shouldn't work like this. It's the only industry in the world which does it that way.
I've worked in real estate for many years, and I have been a client too. I have done a couple of listing processes, where I had to find a new office for my business. And it would have been a hundred times easier if I could just say 'this is our business, we are this many, we need three meeting rooms, 10 parking places and to be near the subway', and someone would take my rental needs and match them with a provider. Then I would have three property owner's consultants coming to me and saying 'I have the right office for you, it's here or there, and it meets your budget.'
Is that how the idea for Newst came up? I've read on your website that your platform was born out of frustration.
Yes, the industry wasn't developing well and it was the time for a change. A friend of mine running a real estate consultancy company first came up with this idea to gather all the big players in the Swedish real estate market to co-create an investment company, SF Invest. While working together, we came up with the idea for the platform. There is actually a market leading site for real estate in Sweden, but its owners' willingness to develop the site is rather low, so we created our own platform within the market to take control of the process ourselves.
Andreas Nordgren CEO with Mikael Uusitalo, Product Manager Newst.se
At the moment there are 15 companies – such as Catena, Klovern, Svenska Hus, Diös and NP3 – that jointly own the platform, and 10 more are listed. The total value of the listed investors involved is €14bn. We're trying to create a perfect hub for forward-thinking entrepreneurs in the real estate. There is no other initiative in the whole world where so many large and strong players in the industry act together for a bigger cause in a formation like this. I'm very excited to see what impact it will have on the industry, not only in Sweden. We have to take one step at a time, and try not to do too much too fast.
Do you think it might be a Spotify moment for the real estate?
It's a good question. Spotify is a unicorn with a totally disruptive business model and I don't think it could be done in real estate. That's because the product is very static – buildings stand where they are, that's not going to change.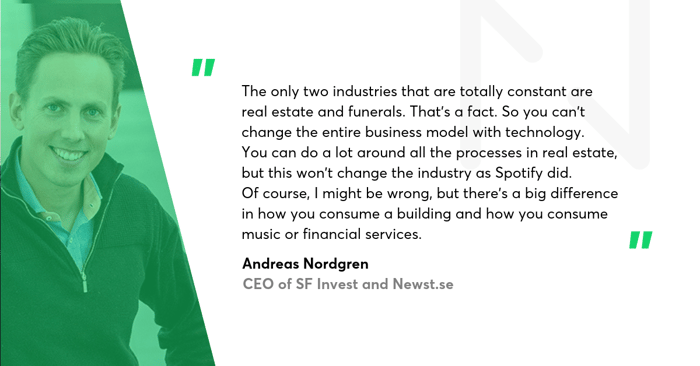 Even if we only had totally digitised 3D printed houses, it would still be a very static asset, on a defined piece of land.
There are a few platforms which already serve the Swedish real estate market. What is Newst's advantage over them?
There are two sides of the market today. One is the real estate companies and consultancies which have lists of the premises they lease on their own websites. The other one is listing platforms. And it is the latter which is our competition, because they target their services directly to the end client. Of course, our great advantage is a unique collaboration of partners, who alone represent around 20% of the market. But to confront the market we had to come up with a cutting-edge, more user-friendly platform with better functionalities.
Besides, apart from being a hub for communication between the parties, we want to be a hub for innovation, where we can co-create technology-driven initiatives and startups, and trigger the development of companies. I already have at least five development ideas in mind that I'm surprised no one else has done till that point.
What ideas? What else can be done to move things forward?
There's a lot of processes based on data that you can put in SAS services that you can store and aggregate to create new products and new insights from what you have already put in. Then, for instance the lease agreements, they are standardised, most of them are written on paper, and it's a stack of paper you have to store. It is freaking 2018, I want to have it online so that I can access it whenever I want. So we would definitely add a digitised lease agreement service to Newst. Another idea: when you switch offices you have to arrange cleaning services, heating services, internet services, while all those should come as an integrated part of a lease. And I think half of the clients don't even think about them until after they sign the papers. So we want to connect them with the services already on the platform, so that they choose the best partners.
It's not rocket science, but we should focus on that too.The real estate companies don't care about it – all they want is to have their lease signed, but for the end client all the hassle around it is part of the process of renting an office. Therefore, we want to put all those services together and be the hub for it. You shouldn't forget about the client's experience.
I guess that's not a very popular approach. From what I've heard from my friends who live in Stockholm, a client doesn't have many rights. With too much demand and too little supply of housing in the city, tenants can't be picky and have to agree to the lessor's terms. Otherwise, the lessor will find new ones in no time. Is that the case with your business as well?
That's basically the result of a free market. If there's a popular city or popular country, the real estate market looks like that. The renting levels in Sweden are lower than in many other countries and there's very high demand for any residential object that is for rent, but it's different with commercial buildings. It's easier to find an office than to find a flat.
Well, then maybe live in an office?
Yeah [laughing], but it would be very expensive and there are certain restraints on what you can rent and where you can live. Living in central Stockholm and renting a 100 m2 apartment would cost €2,000 at most, but for the same space office at the same address you would probably pay €5,000 or €6,000. So it wouldn't be worth it.
What is the biggest challenge of operating in real estate market now?
The biggest challenge, after so many years of stagnation, is to keep the development process going forward. We have to deal with an extremely constant product and I see that as our mission to help the proptech industry develop proper technology. We also need to create good working conditions for people coming to the industry in the next ten years, who are rather going to be data-driven engineers than traditional real estate agents. And if doesn't change rapidly now, they are not going to choose real estate as their career, and we won't have enough professionals working for us.

This makes me think of professions that will die out in the future because of digitalization and machine learning. I've read that real estate agents and middlemen are going to be replaced in the future. Is it the place where Newst fills in and where you see your chance?
Sort of, but personally, I don't think that a real estate agent as a profession is going to die out. We may have fewer people working in the industry, but we shouldn't underestimate the service side of transactions and processes. Because that's where human interaction cannot be replaced by a machine. For me, it's the service side and the client's experience that are more important than creating an AI environment that's totally digital, however convenient it might be.
Where do you see your business in 5- 10 years then?
I see Newst as a much broader platform that takes on a lot more processes of handling commercial real estate. This will be our core business, but we will build other services with other companies as well. Through CRM (Customer Relationship Management), we might build a system of properties and sell services for lease agreements, digitise transactions and connect to built in data services. And if we keep a really high pace of development, we will try to create a system that includes it all, so that there are no data losses between all the different processes.
I see Newst in other countries such as Denmark, Finland or Norway, as we have partners operating in many Nordic countries. Poland could also be of interest. So if we have a good launch in Sweden, we would start to expand.
Do you think a continuous cooperation with Netguru can add a value to your project?
Absolutely. The project is a kind of an enormous organism, which will go through a continuous evolution and become bigger and bigger, and a proper ecosystem is extremely important. Thus, the setup we worked out for Newst is a really good base that we could build upon. Netguru was very fast and very helpful during the design phase, and the the Newst platform looks is great. It's very important to have a company that understands the vision behind a product and that you can rely on.
Read also: The Man who Wants to Disrupt the Real Estate Industry. Learn from a Startup Making Inroads on the London Property Market