Top New York City Startups – Your List for 2023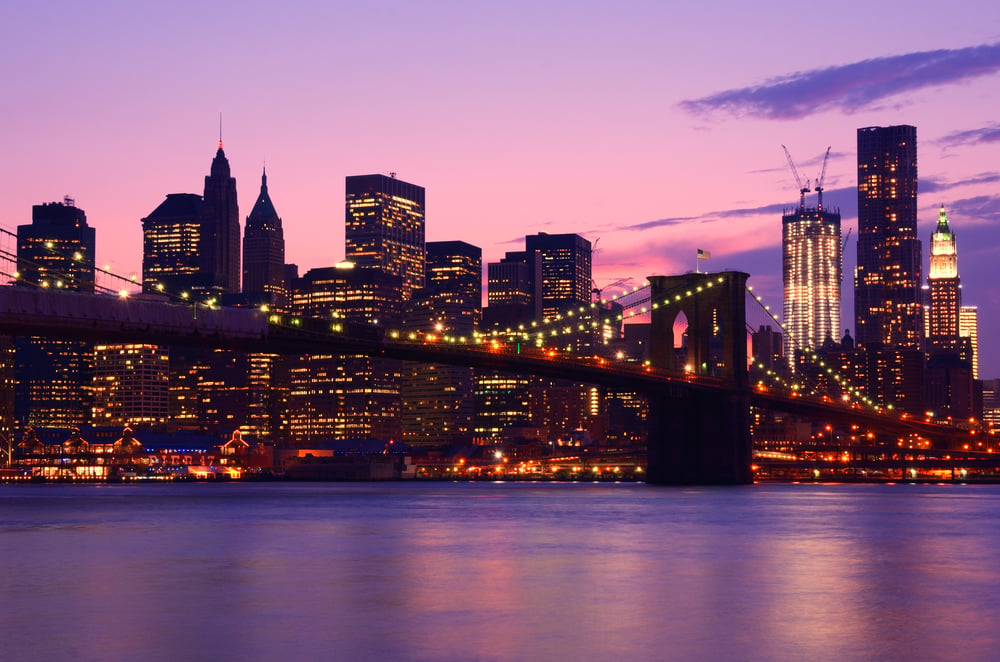 New York City has firmly established itself as an innovation industry powerhouse, and this article lists 16 startups that shine really bright on the city's tech skyline.
The city that never sleeps is home to 10,000+ startups in industries like fintech, healthcare, cybersecurity, and beyond. Its ecosystem is valued at $247 billion – making it the second most valuable tech hub globally after Silicon Valley. While Silicon Valley takes the cake in more startup numbers with 40,000+, New York enjoys steady growth.
The city offers startup founders limitless opportunities, with thousands of VCs and private equity firms seeking the next tech miracle to invest in. NYC's tech scene is also home to an impressive talent pool, offering new companies the human resources they need to bring their ideas to life.
To bring the buzzing New York tech environment to you, we have made a list of its top 16 startups worth following in 2023 and beyond. This list is based on their recent fundings rounds, total evaluations and what's responsible for their continued success, with data sourced from Crunchbase.
Dynamic Yield
Founded Date: 2011
Total funding amount: $105.3 million
Latest valuation: $301 million
Exemplary investors: Viola Growth, Bessemer Venture Partners, Naver, Vertex Ventures
Industry: Software and Tech Services
Mission: Empowering companies to create exceptional customer experiences.
Dynamic Yield uses AI technology to help businesses deliver tailored customer experience to their customers. What they're doing differently from other customer experience companies is that they've built Experience OS, an operating system that algorithmically matches the content and products to individual customers, allowing them a personalized experience. Their software helps customers feel seen, increasing customer loyalty and business revenue.
Click Therapeutics
Founded Date: 2012
Total funding amount: $926.4 million
Exemplary investors: H.I.G. Biohealth Partners, Accelmed, K2 HealthVentures, Sanofi Ventures
Industry: HealthTech
Mission: Enabling patients to live healthier lives through effective digital treatments.
Click Therapeutics is a digital data science platform that develops software to help people live healthier lives. Their platform is designed to help patients overcome medical challenges by addressing the underlying mechanisms of diseases, such as people's emotions, sensations, thoughts, and behaviors that define the experience of their conditions.
The process of targeting those mechanisms to treat diseases is called the science of change. Click Therapeutics develops, validates, and commercializes software as a prescription for people with unmet medical needs. Sometimes the prescriptions are paired with biomedical treatments to achieve desired results.
Compass
Founded Date: 2012
Total funding amount: $1.5 billion
Latest valuation: $6.4 billion
Exemplary investors: SoftBank Vision Fund, IVP, Fidelity Investments
Industry: Real estate
Mission: To help everyone find their perfect place.
Compass is a Fortune 500 company and is the largest real estate brokerage in the United States. The company's online real estate platform automates buying, selling, and renting real estate assets all in one place.
Compass is solving the problem of the traditional real estate sector where buyers or renters have to manually visit properties at the first stage of negotiations before deciding whether it suits their style or meets their needs.
Attentive
Founded Date: 2016
Total funding amount: $863 million
Latest valuation: $2.2 billion
Exemplary investors: Enaic Ventures, Coatue, IVP, Sequoia Capital
Industry: Marketing Automation
Mission: Driving business engagement and sales through personalized mobile text messaging.
Attentive is a tech-powered text messaging company offering software that lets retailers send personalized marketing text messages to customers instead of generic emails. In 2021, the digital platform facilitated over 18 billion text messages and drove over $10 billion in sales
The digital platform's marketing solution drives 19% of total online revenue for leading brands and currently has 8,000+ brands relying on their product to scale further.
According to their CEO, Brian Long, "It's just a much better way to get in touch with a consumer," when referring to marketing text messaging, which guarantees a 99% open click rate over emails.
GlossGenius
Founded Date: 2016
Total funding amount: $42.6 million
Exemplary investors: Imaginary Ventures, Bessemer Venture Partners, Left Lane Capital
Industry: Enterprise Software
Mission: Automating administrative duties for the beauty and wellness industry.
GlossGenius uses SaaS and fintech-powered solutions to enhance the growth of the beauty and wellness industry. According to the platform, they understand that running a business can be challenging and lonely, so they've built a process to make it easier.
Their software automation tool handles administrative tasks like scheduling appointments, processing payments, client management, and same-business-day transfers, so business owners only have to show up and deliver quality customer service. The numbers speak for themselves, proving the accuracy of GlossGenius's business model – the digital platform has served 40,000+ beauty and wellness entrepreneurs since 2017.
Treat
Founded Date: 2021
Total Funding Amount: $15 million
Exemplary Investors: Vinyl Capital, Homebrew, SVA, Greylock
Industry: Ecommerce
Mission: Using AI technology to boost customer leads for businesses.
Treat simplifies customer acquisition for ecommerce brands. Their digital platform uses AI technology to generate personalized photos that communicate brand value better, enabling companies to catch customers' attention and convert them.
How does Treat do this? Their software uses parameters such as a brand's ad creative, customer behavior, and available demographic data to analyze catchy photos that get business leads. The platform integrates with tools and platforms like: Google Analytics, Google Ads, Facebook, TikTok, Klayvio, and many more.
Florence
Founded Date: 2021
Total Funding Amount: $20 million
Exemplary Investors: Thrive Capital, Salesforce Ventures, Google Ventures
Industry: Healthcare
Mission: Enabling healthcare providers to deliver higher quality care for patients.
Florence is disrupting healthcare with their automated software. Their digital platform helps healthcare practitioners reduce administrative burdens and deliver quality patient services. Administrative duties like scheduling patients, taking their details, past medical history, and similar tasks are all automated through the Florence App. Patients can access complete care without the bottlenecks of the typical delays they face at clinics.
The Florence software increases clinical capacity and enables specialists to do more for patients by lowering administrative costs and long delay periods at the same time.
Votiro
Founded Date: 2010
Total Funding Amount: $25.2 million
Exemplary Investors: Senetas, Harvest Lane Asset Management, Redfield Asset Management
Industry: Cybersecurity
Mission: Redefining file security so organizations can do business freely and securely.
Votiro is a cloud-powered cybersecurity platform that eliminates file-borne attacks commonly carried through emails, web downloads, portal uploads, and any file-sharing platform. Votiro's customers integrate API-based services into their existing IT and security platforms, and the platform protects their content and applications. The platform boasts of protecting 7 billion files so far with zero breaches.
According to the company's CEO, Ravi Srinivasan, "Votiro is headed into 2023 on the heels of a strong 2022. Over the past year, we've doubled sales in the United States, released new capabilities, expanded our leadership team and Board, and forged new integrations with leading technology partners."
DataDome
Founded Date: 2015
Total Funding Amount: $81.2 million
Exemplary Investors: InfraVia Capital Partners, Elephant, ISAI
Industry: Cybersecurity
Mission: Protect businesses from online fraud and cyberattacks.
DataDome, a provider of AI-powered online fraud and bot prevention software, are leading the fight against online attacks.
According to the CEO and co-founder of DataDome, Benjamin Fabre: "Bots have become a common path to fraud. In 2022 alone, DataDome stopped, in real-time, over 250 billion online fraud attempts." "Because of how our product is built and deployed, we have a unique lens into attack vectors and can see across silos to stop attacks in their tracks. This is why enterprises like Rakuten, Reddit, and AngelList trust us to protect their digital properties."
Salt Labs
Founded Date: 2022
Total funding amount: $10 million
Exemplary investors: Fin Capital, Anthem Ventures Partners
Industry: FinTech
Mission: Building a loyalty rewards program for hourly workers to get long-term rewards.
Salt Labs is a loyalty rewards company backed by payment technology. The company targets hourly workers across the US to enable them to reap the long-term benefits of their work, including rewards, by logging their hours on the Salt Labs app.
Salary earners often get perks like equity, stock plans, a 401(k) plan, and other safety nets guaranteeing a secure financial future, but the same is not available to hourly workers, so this platform is stepping in to provide a similar financial safety to hourly workers.
LeapXpert
Founded Date: 2017
Total Funding Amount: $36 million
Exemplary Investors: Summer Capital, Lingfeng Capital, Rockefeller Capital Management
Industry: Software
Mission: Providing secure and efficient communication solutions for businesses.
LeapXpert is a tech-powered business communication platform that simplifies messaging between companies and their customers. The platform's enterprise conversational solution – the federated messaging orchestration (FMOP) – lets companies securely communicate from a central source while customers maintain messaging apps of their choice.
The problem LeapXpert is solving is the business, compliance, and regulatory challenges that the rise of messaging applications has created. All businesses need to do is integrate the LeapXpert communication channel, making all employee-customer communications seamless.
Zorro
Founded Date: 2022
Total Funding Amount: $11.5 million
Exemplary Investors: Pitango VC, 10D
Industry: Insurance/Insurtech
Mission: Transforming healthcare insurance and services with artificial intelligence.
Zorro is an insurtech company focused on reducing health insurance costs for employers and creating personalized, valuable health insurance benefits for employees. What sets Zoro apart from other insurance platforms is that it uses artificial intelligence to analyze millions of data points to offer employees insurance benefit bundles that match their pay and make payment reasonable without fluctuations throughout the insurance period.
According to the founders of Zorro, Guy Ezekiel and Maya Perl, when asked about the problems Zorro is looking to solve in healthcare, they said the platform's mission is to address healthcare's most prominent issues: affordability and access to care.
Spiral
Founded Date: 2019
Total Funding Amount: $42 million
Exemplary Investors: Team8, Nidoco, Phoenix, Intuition Fund, Euclidean Capital
Industry: Software
Mission: Empowering US financial institutions to integrate social impact.
Spiral is an impact-as-a-service platform for banks and other financial institutions to maximize their impact in communities. They aim to help banks increase customer engagement, loyalty, and revenue by embedding social impact, sustainability, ESG, and CSR into their businesses.
Spiral achieves its aim by offering payment options to charities and matching the payments made, allowing users to earn rewards for their charitable contributions.
Amogy
Total Funding Amount: $208.3 million
Exemplary Investors: AP Ventures, Amazon, Aramco Ventures, DCVC, SK Innovation
Industry: Energy
Mission: Innovating zero carbon emission for the transportation sector using ammonia.
Amogy is an energy startup committed to building a carbon-free future for transportation. In 2021, the United States recorded a total of 1.7 BMT in CO2 emissions in the transportation sector. Amogy is using ammonia as a renewable fuel to innovate the solution for zero carbon emissions.
According to their founders – four MIT PhD alumni – research led them to discover that due to the properties of ammonia, it is environmentally friendly and has the capacity to revolutionize the heavy-duty transportation industry.
Vantage
Founded Date: 2020
Total Funding Amount: $25 million
Exemplary Investors: Scale, Andreessen Horowitz, Harpoon
Industry: Software
Mission: Simplifying the management of cloud infrastructure costs.
Vantage is a cloud cost management and optimization platform. The startup's co-founders, Ben Schaechter and Brooke McKim, led cloud infrastructure teams at Digital Oceans and use their combined experience to simplify and demystify cloud infrastructure.
What sets Vantage apart from other cloud infrastructure companies is that they build tools to help businesses analyze and reduce their cloud costs. With their automated management platform, Ben says they help over 300 companies manage $1+ billion in annual cloud costs. These companies include AWS, Azure, Google Cloud, Databricks, Snowflake, New Relic, Datadog, Fastly, MongoDB, and Kubernetes.
Volastra Therapeutics
Founded Date: 2019
Total Funding Amount: $104 million
Exemplary Investors: Polaris Partners, ARCH Venture Partners, Vida Ventures, Droia Ventures
Industry: Biotechnology
Mission: Using biotechnology for the treatment of cancer.
Volastra Therapeutics uses biotechnology to stop cancer in its tracks. The company is developing novel therapeutic solutions to treat metastatic cancers by exploiting unique insights into chromosomal instability (CIN).
Other biotech companies in their research have focused on genetic mutations that result from chromosomal instability to treat cancer until now. Volastra fixes its gaze on the study of CIN, known to be present in 60-80% of all cancers and associated with the death and recurrence of many cancer patients.
The platform helps stop the spread of cancer and reduce its victims by using two therapeutic approaches: synthetic lethality and immune activation in CIN treatment. In their own words, Volastra states:, they've discovered what drives cancer and aim to stop it.
Looking forward to what's next in tech
Whether it is in the blockchain, fintech, ecommerce or cybersecurity, creative ideas are enjoying backings and financial support from people and corporations who believe in fresh perspectives. I look forward to the new developments in New York's tech startup scene.
Watch this space for more updates on buzzing tech around the world.