Top Apps for Wealth Management for 2024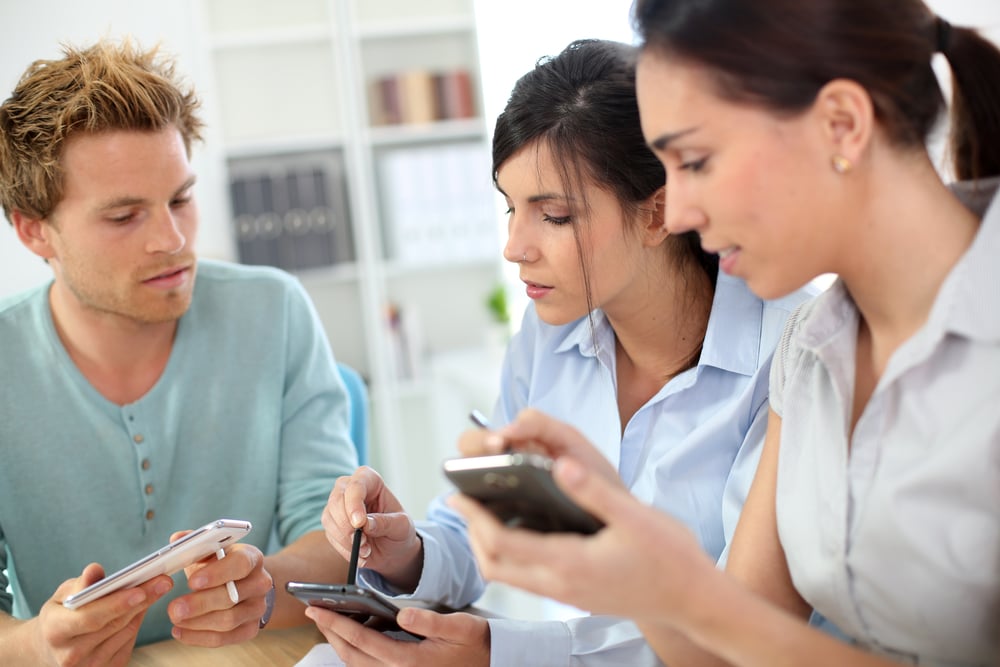 Ever thought about optimizing your financial management and investments while effectively managing your budget?
With the rapid advancements in technology, top apps for wealth management have become essential tools for individuals aiming to take charge of their finances and attain financial success.
In this blog post, we will delve into a detailed exploration of the standout budgeting apps for 2024. Explore their unique features, benefits, and gain valuable insights into choosing the perfect app that aligns with your specific needs.
From providing comprehensive financial oversight to automating investment strategies, these leading wealth management apps offer an array of tools and resources designed to boost your net worth and reach your financial goals.
Top wealth management apps
Wealth management apps come in various shapes and sizes, catering to different aspects of personal finance.
The selected apps provide:
Insight into your income and expenditure
Connect to your bank accounts and credit cards to automatically download transactions
Offer financial goal-setting and cash flow tracking across multiple financial accounts
Empower: Best for comprehensive financial management
Empower is a no-cost budgeting app that provides an extensive array of tools for wealth accumulation, retirement planning, and fee analysis. Upon linking your bank accounts, credit cards, student loans, mortgages, and other budget line items, Empower generates a comprehensive financial overview, empowering you to take charge of your finances.
Key features:
Visual financial overview
Easy account tracking through account linking
Tools to facilitate wealth building and retirement planning
Fee analysis to assist in saving money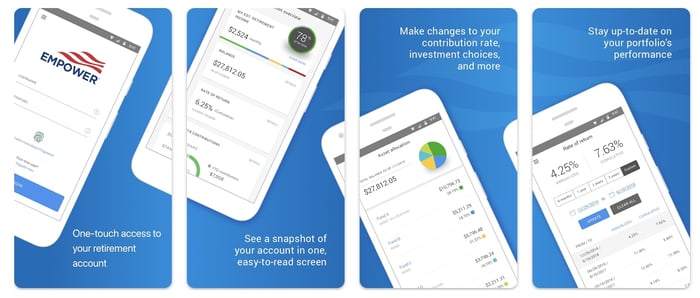 Image source: Google Play
With its visually appealing interface and seamless account linking, Empower emerges as a top choice for monitoring investments compared to other no-cost budgeting apps.
Recognized as one of the premier budgeting apps for efficient finance management and wealth accumulation, Empower offers budgeting tools, investment tracking, and personalized advice. A notable advantage is that it's regarded as the leading free budgeting app, devoid of any monthly fees associated with the product.
Empower's financial advisors offer tailored guidance and advice to ensure you stay on track with your financial goals. With its comprehensive suite of free budgeting tools, Empower is a good choice for those looking to upgrade their approach to financial management.
Betterment: Best for automated investing
Betterment is an automated investing platform, commonly referred to as a robo-advisor, presenting the following features:
Users can create and manage their investment portfolio online.
Personalized portfolios are offered based on individual goals.
Additional financial planning tools are available to assist users in achieving their financial objectives.
Operating as a robo-advisor, Betterment offers:
Automated portfolio management
Risk assessment
Financial planning
Tailored advice and recommendations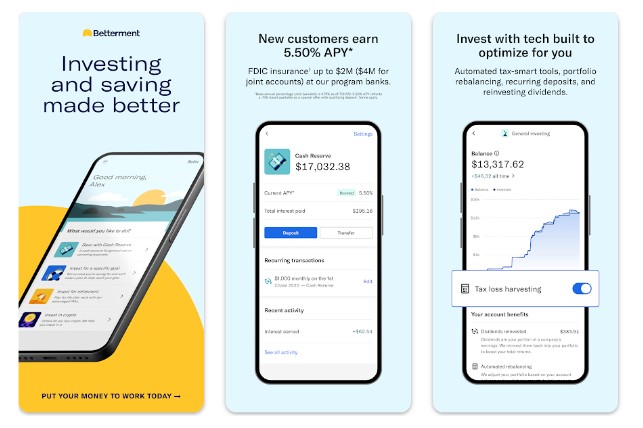 Image source: Google Play
Betterment is an ideal choice for individuals who favor an automated approach to investing and wealth management.
With its intuitive interface and goal-based investing features, Betterment streamlines the investment process and assists in keeping you aligned with your financial objectives. If you're looking for a wealth management app that emphasizes automated investing, Betterment could be a fitting option.
Mint: Best for budgeting and wealth tracking
Mint is a well-known budgeting app that incorporates wealth tracking features, enabling users to monitor their net worth and track financial progress. The app offers an extensive array of features, including:
Tracking financial goals
Generating reports on financial habits
Synchronizing bank accounts
Tracking expenses
Categorizing expenses
Automating savings
Offering saving tips
Providing bill alerts
Access to credit scores
Investment features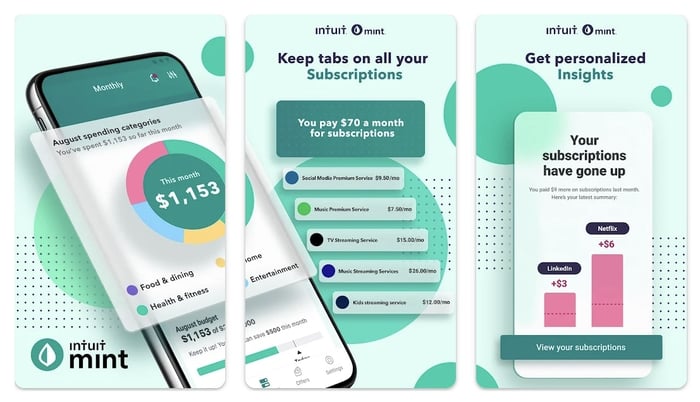 Image source: Google Play
One of the primary advantages of using Mint is its accessibility, offering a free version of the app with a multitude of features for budgeting and wealth management. Its distinctive features, including access to credit scores and investment insights, distinguish it from other budgeting apps.
By assisting users in comprehending their spending patterns and establishing personalized budgets, Mint greatly contributes to improved financial management and the achievement of financial goals. If you're seeking a comprehensive budgeting app that also integrates wealth tracking features, Mint stands among the top choices.
Honeydue - Best for couples
Honeydue is an easily navigable wealth management app that seamlessly integrates financial organization and collaboration tailored for couples. Equipped with an intuitive toolkit, Honeydue empowers partners to efficiently handle their finances and strategize for the future by synchronizing all their financial accounts within a unified platform.
Highlighted features:
Streamlined financial overview designed for couples
Effortless account synchronization for comprehensive tracking
Tools facilitating wealth management and financial planning
Expense analysis to optimize spending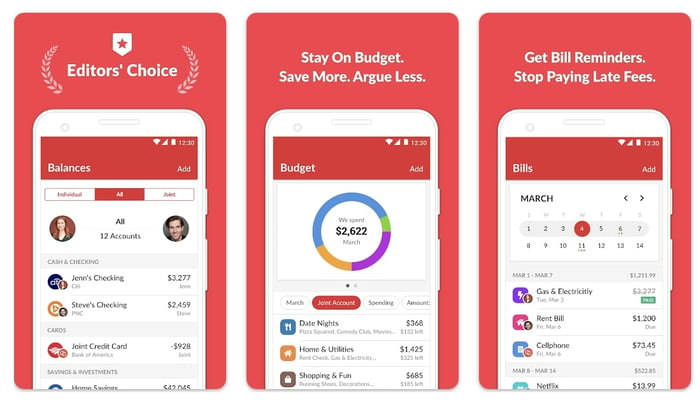 Image source: Google Play
With its visually appealing interface and straightforward account integration, Honeydue stands out as the preferred choice for those seeking efficient financial tracking compared to other wealth management apps.
Recognized as a premier wealth management app, Honeydue streamlines budgeting, investment monitoring, and provides personalized financial insights. Importantly, it distinguishes itself as a top choice due to its cost-effectiveness, offering valuable features without imposing monthly fees.
Wealthfront - Best for simple investment process
Wealthfront is a prominent robo-advisor and wealth management app, aiming to streamline and automate the investment process. The app focuses on constructing diversified portfolios and optimizing investments for long-term growth.
Upon linking your accounts and defining your financial goals, Wealthfront utilizes advanced algorithms to efficiently manage and rebalance your portfolio.
Key features:
Automated portfolio management
Goal-oriented investing
Tax-efficient strategies
Easy account linking and tracking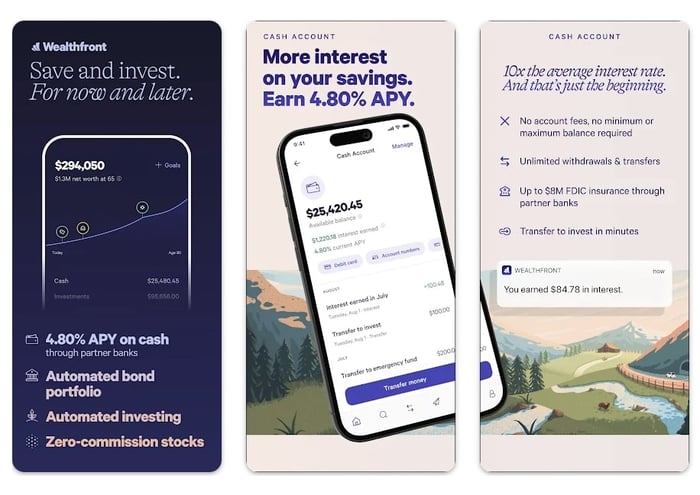 Image source: Google Play
With its intuitive interface and hands-off investment management approach, Wealthfront excels as an excellent option for those seeking automated and diversified investment solutions.
It's highly regarded as a top robo-advisor for individuals looking to enhance their investments without the intricacies associated with traditional wealth management.
Additionally, Wealthfront offers competitive fee structures, adding to its appeal for investors mindful of fees.
How to choose the right wealth management app
Selecting the appropriate wealth management app begins with assessing your needs and objectives. If you're in the market for an app emphasizing budgeting, investment tracking, or automated investing, evaluating the specific features and pricing of each app before deciding is crucial.
Your income and requirements should steer your choice between a free or paid wealth management app. While a free app may offer a range of features, a paid version is likely to furnish more comprehensive tools and assistance to help you achieve your financial goals. Be cautious of potential hidden fees associated with paid apps.
To commence, try using a single app and acquaint yourself with its features. Once you feel at ease with the app, consider exploring additional wealth management apps to broaden your financial toolset and refine your wealth management strategy. Remember to make use of free trials for paid apps, as they present a risk-free opportunity to evaluate their offerings.
Ultimately, the appropriate wealth management app aligns with your financial goals and provides the features and tools necessary to attain them. Invest time in researching and comparing different apps to discover the ideal fit for your financial journey.
Summary
In conclusion, wealth management apps have become essential tools for individuals seeking to take control of their finances, optimize spending, and achieve financial success. The best budgeting apps for 2024 offer unique features and benefits that cater to various aspects of financial management and investment tracking.
As technology continues to advance, the future of wealth management apps promises even greater innovation and personalization. By staying informed about the latest developments and trends, you can ensure that you are making the most of these powerful tools to manage finances and build wealth.