How the Value Proposition Canvas Can Help Achieve Product-Market Fit?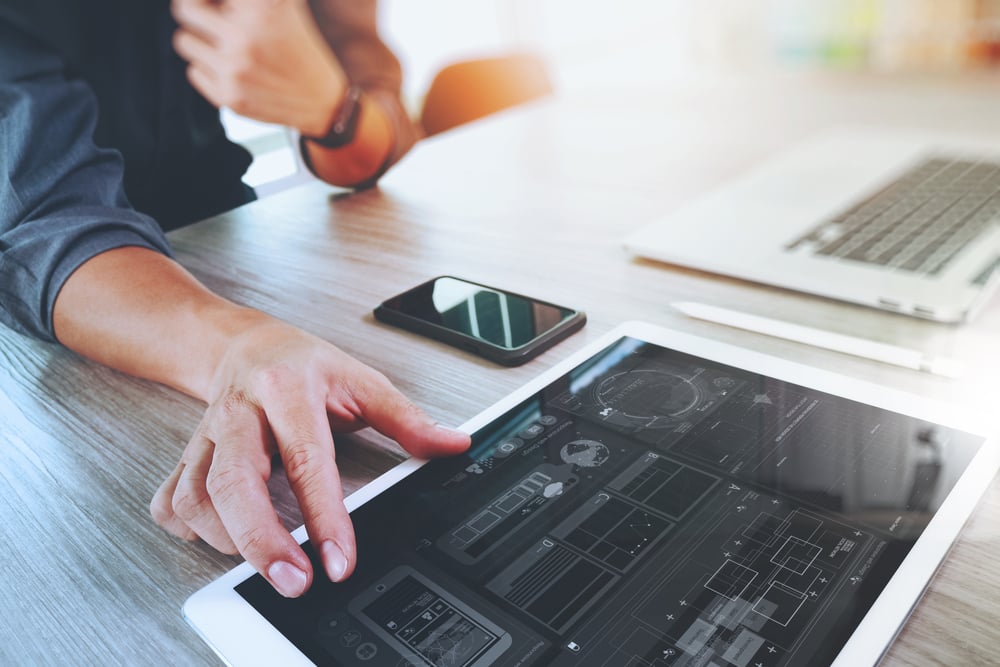 People don't always buy and use products offered by companies no matter how flashy their marketing campaigns may be.

In fact, it's been reported that 30,000 new products are introduced every year and 95% of them fail. This just proves that understanding customers — what they want, what they need, what they're willing to pay for — is not as easy as most think.

It's important for businesses to design and develop their products and services, digital or otherwise, with customers as their prime consideration. While this is easier said than done, there's an arsenal of analytical tools and research methodologies that product teams can use to improve their product's chances of achieving product-market fit.

While the depth of insights generated from these processes can sometimes be overwhelming, one framework can help simplify product discovery and design — the Value Proposition Canvas.

The value proposition canvas (VPC) is an analytical framework that positions products around customer needs to achieve product-market fit.

This guide walks through:
What the value proposition canvas is
What are its elements
When do you need it
What are its benefits
Tips in using the canvas
And an example of a filled-out canvas
This guide is ideal for product managers, company founders, sales and business teams, designers, and anyone looking for a tool to position their product around customer values and needs.
What is the Value Proposition Canvas?
The Value Proposition Canvas is a framework that matches a product's value propositions to their customers' profile with the aim of achieving product-market fit.
The canvas is intended to be used by organizations and their product teams in developing a new product from scratch or refining an existing one. This tool is applicable for any type of product or service, not just digital products.
The value proposition canvas was created by Alexander Osterwalder, a business theorist who also created the Business Model Canvas.
This framework enables product teams to describe in detail their products' value propositions and target customer segments. The purpose of this exercise is to evaluate the "fit" between the value a business plans to offer and the expectations that their customers have.
Enterprises and startups can use this canvas before building an in-depth knowledge of their customers, but it's best done after. If you use it before customer research, the canvas will highlight what you need to learn about customers.
If you use it after customer research, the analysis will help you evaluate product-market fit, which is the principal objective of the value proposition canvas. The ideal way to proceed is to articulate your assumptions, map them with the canvas, and then validate or invalidate these assumptions with customers.
Companies can and should revisit their value proposition canvas when new value propositions and customer segments surface. This framework can also be a helpful tool in iterating your products.
What are the elements of the Value Proposition Canvas?
The value proposition canvas template, as visualized in the image below, consists of two main sections: Value Proposition and Customer Profile.
Participants of this analytical exercise should start first with the customer profile (circle, right-hand side of the canvas) before moving to the value proposition (square, left-hand side).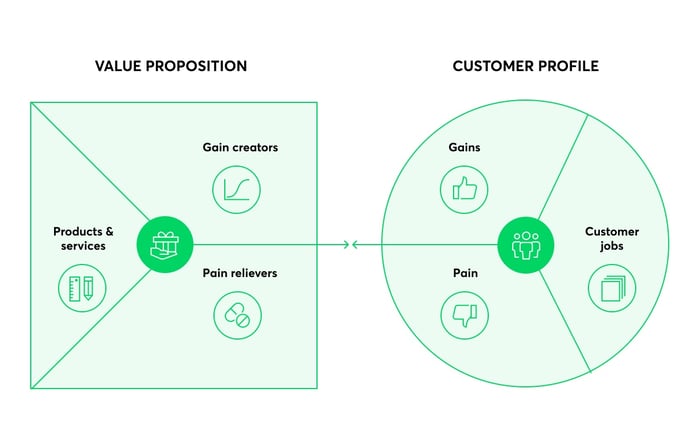 Source: Strategyzer
Customer Profile
Building the customer profile requires describing three elements: customer jobs, pains, and gains.
Customer Jobs
Customer Jobs refer to the tasks that your target customer is trying to get done. These jobs can include problems they're trying to solve or needs they want to satisfy. Jobs can be functional, social, and emotional. Answer the question: What are the tasks that customers can complete with your product?
Pains
Pains refer to factors that deter customers from completing a job or negative experiences while performing a job. Pains can also include negative outcomes that customers aim to avoid. Answer the question: What are the problems that customers can eliminate by using your product?
Gains
Gains refer to positive outcomes, results, and benefits that customers aim to achieve. Answer the question: What are the benefits that customers can get by using your product?
Value Proposition Map
After building the customer profile, create the value proposition map by describing these three elements: products and services, pain relievers, and gain creators. The value proposition map must relate to the customer profile section.
Products and Services
Product and Services refer not only to the actual products and services but should also include features, functionalities, and versions. Answer the question: What are the products and features that can get customer jobs done?
Pain Relievers
Pains Relievers describe how these products and services eliminate, reduce, or minimize pains that customers experience. Answer the question: How can your product address the customer pains you've identified?
Gain Creators
Gain Creators describe how these products and services produce, increase, or maximize outcomes or benefits that customers expect, desire, or can be surprised by. Answer the question: How can your product deliver the customer gains you've identified?
Achieving fit between value proposition and customer profile
After building your value proposition canvas, rank or prioritize all entries from within each element in terms of value to the customer. Fit between value proposition and customer profile is achieved when your products and services address the most significant — and not necessarily all — customer pains and gains.
Articulating the value proposition on a canvas is still within the early stages of product design or development. These are still assumptions. Product teams should validate their value proposition canvas with customers using some validation techniques such as user interviews, usability tests, mockups etc. Product designers and managers can then use these customer insights to refine their canvas.
When do you need the Value Proposition Canvas?
Now that you know what the value proposition canvas is, here are the business situations when it can be most valuable.
a) When creating a new product or feature: The VPC can be useful as part of product discovery for a new product or when introducing a new feature for an existing one.
b) When entering a new market or customer segment: It's never safe to assume that a product can stay the same when you're entering into a new market or customer segment. The VPC can help businesses and their product teams draw this out.
c) When conducting customer or user research: The VPC can help segment your customers. When drawing a VPC, different customer segments must have their own respective canvases. The canvas helps surface how pains and gains may vary for different types of customers.
d) When creating or refining your marketing strategy or product communication: While the VPC can't entirely create your marketing or branding strategy, each of the elements should inform it. Ideally, your product's marketing campaigns should be consistent with the pains, gains, pain relievers, and gain creators you've identified in your canvas.
e) When testing for product-market fit: Achieving product-market fit is the ultimate objective of the VPC. However, companies need to test for this first, especially for new products or features. The canvas can serve as an anchor when product teams conduct tests and experiments in designing, developing, prototyping, and iterating their products.
f) When clarifying your value propositions: Product teams can sometimes hyperfocus on delivering features at the expense of value. The VPC helps remind product managers to focus on relieving pains and creating gains rather than jumping straight into features that may or may not do these.
What are the benefits of the Value Proposition Canvas?
There's no silver bullet in product development. While using the value proposition canvas is not a guarantee of product-market fit, it can boost your chances of achieving it. Here are the benefits of using the value proposition canvas:
It simplifies insights throughout the product lifecycle: Product discovery, design, development, and management is a messy process, which can overwhelm product managers and designers. While product teams have to absorb and process a lot of information, the value proposition canvas can serve as a foundational framework that simplifies all the customer, market, and product insights that teams gather.
It reminds product teams to empathize first with the customer: The value proposition canvas requires that you build the customer profile first before looking into products. This can rein in the impulse to introduce nice-to-have products or features without assessing whether they address real customer needs.
It reminds product teams to anchor product features on the value they deliver: The canvas reminds product teams to develop products in line with the value they're designed to deliver.
It serves as a foundation for your marketing strategy: The content of your value proposition canvas should find its way into the marketing plan for the product. Product messaging typically centers around pains, gains, pain relievers, and gain creators. The ultimate objective of the value proposition canvas is to improve your product's chances of achieving product-market fit.
Tips in using the Value Proposition Canvas
Here are key tips in creating a value proposition canvas for your next product:
1. Customer research and product discovery goes hand in hand with the value proposition canvas. Build the customer profile with as much research and validation as possible.
2. Create one canvas for every customer segment. Each customer segment has their own jobs-to-be-done, pains, and gains, which may then require tailored products, pain relievers, and gain creators.
3. Identify which customer jobs, pains, and gains to prioritize. The most significant ones are likely to be the most profitable opportunities.
4. Label each entry under customer jobs as functional, social, or emotional. Being aware of this can help further clarify the overall customer profile. Further, social and emotional jobs can prove to be more important or consequential for customers.
5. Position the value proposition map around the customer profile. Each pain reliever should relate, correspond, or match to a pain, gain creators to a gain, and products and services to customer jobs.
6. The value proposition canvas is not an all-encompassing business plan. The VPC should shape but not take the place of plans or analytical models relating business models, product pricing, go-to-market strategies, and marketing, among many others.
Example of a Value Proposition Canvas
To demonstrate the canvas, imagine a startup that has secured funding to develop a volunteer management platform. Their target clients are nonprofits, events management companies, emergency services, and other organizations that manage hundreds to thousands of volunteers.
Value Proposition
Customer Profile
Products and Services
Customer Jobs

All-in-one volunteer management platform that integrates many tasks that volunteer managers have to deliver with multiple apps
Volunteer Recruitment features: create & post volunteer advertisements, application management
Rota Management features: volunteer profiles, volunteering history, create teams
Expense management
In-app communication features: inbox, bulletin board, push notifications to volunteers' mobile app

Recruit volunteers
Display volunteer opportunities
Manage rota of volunteers
Manage volunteering events and group volunteers into teams
Receive and manage expense claims from volunteers
Communicate with volunteers

Pain Relievers
Pains

All-in-one platform with full life cycle of volunteer management
Ability to create teams for any volunteering opportunity
Functionality to sort active and inactive volunteers; Feature to efficiently send out volunteer opportunities to entice inactive volunteers

Number one pain: "App overload" which impairs productivity
Creating teams among volunteers for different volunteering opportunities have to be done manually in a spreadsheet
Rota has too many inactive volunteers

Gain Creators
Gains

Workflow management and rota management features that increase efficiency and save time during administrative work
Dashboards and analytics that help volunteer managers meaningfully engage their volunteers; Generate reports

More time for meaningful engagement with the communities they serve and less for administrative work
Make sense of all their data: volunteer database, volunteering history and opportunities, expenses, etc.
The opportunity they've discovered is that these organizations say that their volunteer managers use too many digital applications in their work, particularly in managing their volunteers. They use recruitment platforms for recruitment, spreadsheets for rota planning, communication apps to disseminate volunteering opportunities, event apps for volunteering activities, and so on.
Among volunteer managers of many organizations that this startup has talked with, eroding productivity due to "app overload" is the number one complaint. While volunteers will also be intended users for this volunteer management platform, the value proposition canvas below will focus on volunteer managers.
Ensure that your product fulfills customers' needs
The Value Proposition Canvas forces businesses to ground their products on understanding customers. No matter how eye-catching or newsworthy a product is, the market won't necessarily reward you if it doesn't provide value to them.
At the same time, product teams can get overwhelmed and paralyzed during product discovery, customer research, product ideation, and design. The value proposition canvas is an elegant and simple framework that can help product teams integrate their insights towards product-market fit.
If you're looking for an experienced partner in product development and management, we at Netguru have built countless of successful digital products for enterprises and startups. We know how to perform discoveries, study customers, validate product ideas, and develop products anchored on value propositions. Reach out to us, and let's start a conversation.