Welcome to the Age of Digital Acceleration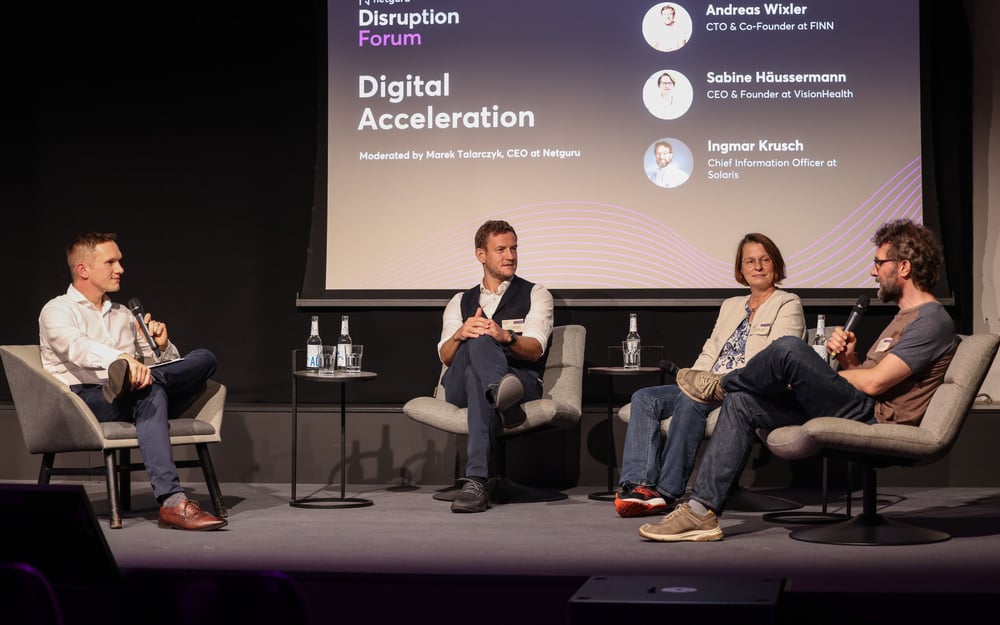 We're living in a paradise for innovators.
Today, with every aspect of our life digitally transformed to some extent, innovation is happening at an unprecedented pace.
Not only do innovators have better digital tools, processes, and practices to work with and move the needle, that innovation now has a largely receptive audience. Digital transformation has had its day. Digital acceleration is now necessary to capitalize on this opportunity.
Consumer-led acceleration
Consumers are well accustomed to digital innovation. Ever since the advent of the smartphone, companies have reinvented and transformed the way users interact with their products and services. As a result, people have come to expect a high standard of digital experience. A whole generation, in fact, doesn't know any different.
Of course, many of these people are now decision-makers in businesses worldwide, and they expect that same high standard of digital experience in the products and services they use in the work environment. Digital transformation means nothing to them – they've grown up in a digital-first world.
Indeed, talking to these digital natives about digital transformation is like talking to a fish about changing the water in its tank.
What matters to them the most is the further acceleration of the digital.
Accept reality
Digital acceleration is about accepting reality. We have to accept that the world is changing – and it's changing rapidly.
The pandemic forced businesses to change overnight. There was no time for lengthy internal decision-making. Real-time responses were required and, in many cases, entire pivots. As Microsoft's CEO, Satya Nadella, famously said, "we've seen two years' worth of digital transformation in two months."
Now that the worst of the pandemic is behind us, some businesses might be tempted to return to the safe, secure decision-making processes they were used to. The problem is, though, that user behavior hasn't changed. If anything, the digital-first mindset that existed prior to COVID-19 has only received a boost.
Returning to a step-by-step transformation simply won't work. Businesses must keep up with user expectations.
They need to respond to change or, better yet, drive it. And they need to move fast.

Speed is of the essence
The main differentiator between digital transformation and acceleration is speed – delivering a product in months, even weeks, rather than in years. In the words of my colleague and Partner at Netguru, Radek Zaleski, "going faster means starting tomorrow."
Going faster requires a change in mindset, however, from thinking about transformation to focusing on acceleration. Digital transformation was about adding incremental digital features to an already established business or product, sometimes just to meet the needs of digital natives. Digital acceleration, on the other hand, means building something completely new, and building it fast.
Because if you don't, you can be sure your competitors will.
How to be faster
There are many ways to go faster. Think big and start small, for instance. Rather than spending time on decision-making, or on worrying about staff costs or potential hits to your bottom line, start innovating with something small, and do it quickly.
You'll find that valuable proofs of concept can be delivered within 30 to 60 days.
Take a close look, too, at the software, applications, and devices younger consumers use for work and fun. The popularity of apps like TikTok, with 656 million downloads in 2021, and WhatsApp, with 395 million, speaks for itself. What starts out as a fad can often go on to shake up the market.
You need to have top talent on board – the developers, DevOps, project teams, and product people who understand beautiful software, know how to deliver it, and who, importantly, know the difference between digital transformation and acceleration. You need people with a wide range of skills to make everything you need for a specific product, and make it quickly. And you need designers that you can trust to build the mock-ups and concepts that will convince your customers you're moving in the right direction.
Also: don't be afraid to be a bit reckless. Management teams can often be too cautious, too afraid of change. Every business decision is a leap and today's business environment calls for bold moves. You can't afford to linger around too long – the speed of decision-making can make or break your business.
Adapt and move on
Being fast means you must be ready to adapt at any time. The market might shift, or you might receive some challenging user feedback, so you need to be open to change. After all, you're not building the product for you, you're building it for the market and your customers.
Indeed, going fast requires you to anticipate market needs. Peeking around corners will help you see what those needs might be. Invest in market research, hire strategists and specialists in digital acceleration.
Before you commit to the future, you need to understand what it will look like.
And forgive failure. It's important to understand that when you're moving fast and peeking around corners to see what lies ahead, you'll often fail. Be ruthless in stopping something if it's not working, and move on. Because, as we've seen, speed is critical to digital acceleration.
Conclusion: No time to lose
The time for digital transformation is over. Companies have either already transformed or were born digital. We're now living in the age of digital acceleration.
The opportunity for innovators is huge. People no longer fear innovation, they're far more eager to experiment than ever before. The time has come to accelerate. It's better to start prototyping now to see if your product makes sense – even on paper – than waste time on lengthy evaluations.