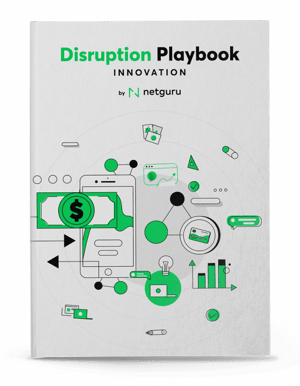 Disruption Playbook:
Innovation
Get strategic insights on innovation from the most successful innovation experts in business today.
Learn from the experience of industry leaders
Click for the details
Sorry, our forms might not work
Find ways to make innovation more successful
Continuous innovation is essential for long-term success. And with COVID-19 rapidly changing demand, consumer behavior, and the way we do business, the need for an effective innovation strategy is stronger than ever.

To help you do just that, we've created this playbook. Inside, you'll find insights from some of the brightest minds and most successful innovation leaders in business today.

Practical tips to help innovation flourish
Disruption Playbook: Innovation brings together expert insights on six key topics:
Startups and Corporate Innovation

Design Thinking

Breaking down Silos

Digital Transformation

Failure and Innovation

Validation and Prototyping
Drive innovation in your business with lessons from industry leaders
You need a sense of urgency to overcome silos. If you look at, for example, a war room or a task force, everybody cross-functional is on board. They have one goal – to survive. Urgency also makes people rethink how they work today and how they might work better tomorrow.

In reality, for everyone that works in innovation, failure is just part of your day job. At Deutsche Bank, we start small before we scale, so if phase one fails, we may change the strategy or the way we do things before the next level.

As the organization becomes bigger, it becomes very difficult to manage the silos being formed – even if they are close to the agile methodology, they have their own agile mindset, which is separate from other parts of the organization or other business units. So it's a need for every organization to have the right culture in place.
Boost innovation and build your competitive advantage
Get insights from top innovation experts
Download the Playbook