How AI Is Transforming the Real Estate Landscape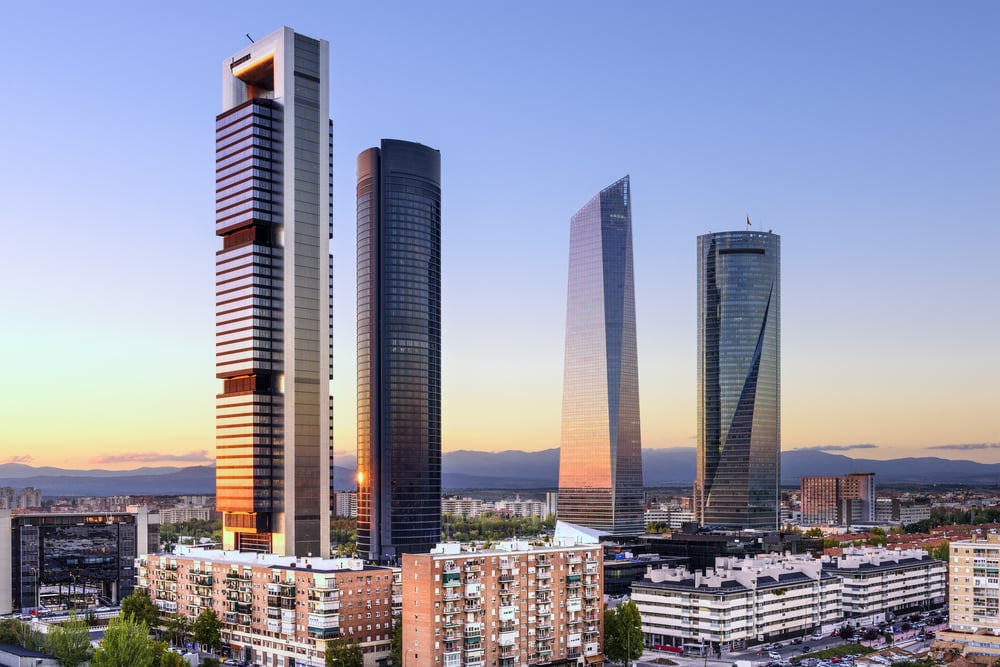 AI is fundamentally transforming property acquisition, sales, and management processes, with predictive analytics influencing investment decisions and virtual property tours revolutionizing how we navigate the real estate landscape.
Deloitte's research reveals that 52% of corporate real estate developers believe AI can ensure precise property valuation, highlighting its pivotal role in property assessment and pricing accuracy. Additionally, 48% of property managers plan to enhance their revenue through tech-driven efficiency, according to Buildium.
AI solutions are central to the rapidly expanding proptech sector. The global proptech market is projected to reach $94.2 billion by 2030, with a compound annual growth rate (CAGR) of 15.8% from 2022 to 2030.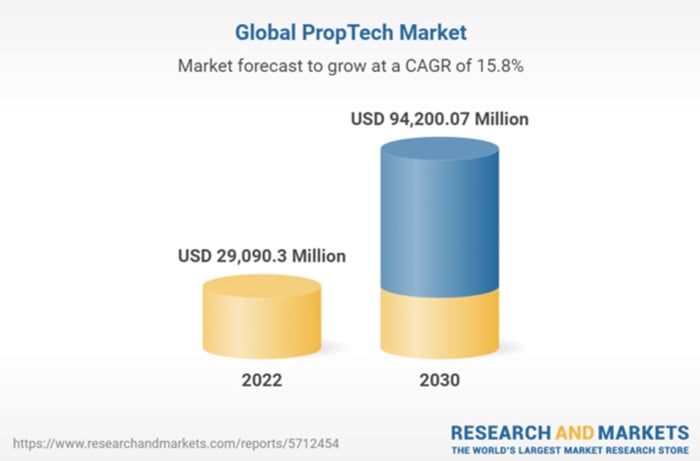 Image source: Research and Markets
In 2021, global investments in proptech companies reached a remarkable total of $24.3 billion. This figure has shown a consistent upward trend since 2012, with the exception of 2020 when new proptech company establishment decreased.
The United States recorded 154 proptech funding rounds in 2021. The following year, 2022, secured the second-highest spot on the record charts, with an impressive count of 109 deals.
AI and ML enablements in real estate sector
Manual process optimization
AI and ML technologies are revolutionizing the real estate sector, particularly by streamlining manual processes that have traditionally been paperwork-intensive.
Entrepreneur reports that incorrect data in real estate can result in substantial revenue losses, including missed opportunities, lost sales, operational inefficiencies, legal complications, and poor decision-making.
The global property management software market is anticipated to grow significantly, with its value projected to increase from $22.05 billion in 2023 to approximately $42.89 billion by 2030. This growth is driven by the rising demand for property management software that caters to evolving client preferences in terms of customer interaction and support.
Property management software also enables proactive maintenance by monitoring equipment and systems, scheduling regular checks, and detecting potential issues before they escalate, thus extending the lifespan of property assets and reducing emergency repair costs.
Innovations like Customer Relationship Management (CRM) systems that adapt and learn from usage, character recognition for document handling, and AI-powered document creation significantly reduce errors associated with manual interventions.
The implementation of automated data capture has delivered remarkable time savings, with Cushman & Wakefield, a global leader in real estate services, saving 550 hours per month.
Data-powered market analysis
The transition from paper-based business rates management to a digital platform involved collaboration with Rossum, a document processing platform, and Open Box, experts in Robots-as-a-Service. In just a few weeks, they successfully established a cognitive data capture solution, reducing manual document processing time by an impressive 70%.
Data-powered market analysis is a game-changer for the real estate industry, driven by AI platforms that empower rapid evaluation of real estate projects. These analyses, fueled by data from diverse sources, provide a solid foundation for informed decision-making.
Here are some tangible examples of how data-powered market analysis can benefit the industry:
Demand forecasting: AI processes data from sources like online property listings, social media trends, and economic reports to predict future demand for specific property types or features. For instance, if data indicates a growing interest in eco-friendly homes, developers can incorporate sustainable features into their designs.
Identifying profitable locations: AI platforms analyze historical and real-time data on property prices, demand levels, and local economic indicators. This helps developers pinpoint areas with the highest potential for profitable investments.
Risk mitigation

: AI tools help assessing potential risks associated with real estate projects, such as market volatility, regulatory changes, or economic downturns.
For instance, Lennar collaborated with Climate Alpha, an AI analytics platform, to identify climate-resilient residential areas in the US for future investments. They employed climate models and socio-economic data to invest in regions with strong forecasted demand.
Data insights
AI-powered real estate solutions offer immediate access to a comprehensive overview of properties and investments, enabling data-driven decision-making.
Homebuyers benefit by making informed decisions about where to live, considering a broader range of factors. Investors can better assess the risks and potential rewards of real estate development projects with a clearer understanding of the surrounding environment and market dynamics.
According to the UK's Department for Business, Energy, and Industrial Strategy, one in five homebuyers expects more information during the purchase process. AI analytics tools streamline decision-making by saving time and effort that would otherwise be spent on manual research.
Keller Williams, a prominent player in real estate, has seamlessly integrated AI into all its major platforms and applications. The AI-powered data insights generated are highly valuable to both agents and consumers.
For agents, these insights include estimates of offer acceptance likelihood based on specific parameter adjustments. Consumers benefit from a more personalized and efficient property search experience through the "deep-match search" system, which prioritizes preferences over traditional filtering criteria, delivering a user-centric approach to property search.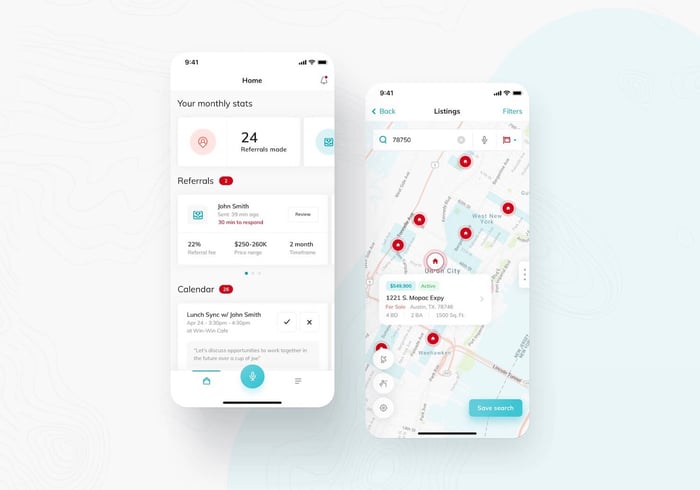 Tailored recommendations
AI-driven property recommendation engines leverage multiple variables to deliver highly personalized suggestions to potential buyers or renters. These engines analyze preferences, utilize computer vision for visual recommendations, and ensure greater granularity and consistency in datasets.
Real estate companies are reaping significant benefits from adopting AI and ML technologies. For instance, Compass, a prominent American real estate tech company, achieved a 153% increase in homepage click-through rates and a 107% boost in engagement by implementing AI-powered recommendations and similar home features in its search engine.
Realtor.com employs AI algorithms to provide homeowners with personalized insights and recommendations for home improvement projects. The company places a strong emphasis on understanding the needs of its nearly 100 million monthly users.
This data-driven approach enables them to customize the website experience for each user, ensuring alignment with their individual needs and interests
They employ AI algorithms to analyze various factors, such as consumer preferences, agent expertise, and location, to identify the best-fit agents for each consumer. This ensures that consumers are connected with agents who are most likely to meet their specific needs and expectations.
Virtual and AR in property showcasing
This advanced technology offers a more convenient approach through self-guided property viewings, saving time for both tenants and property managers. It provides an immersive experience without the need for physical visits, allowing potential buyers or renters to visualize themselves in their new space more effectively than traditional methods.
As an example, ReimagineHome harnesses various proptech advancements like AI, virtual reality, and smart home devices to enhance the homebuying, renting, and property management experiences.
Through virtual property tours, AI-driven property recommendations, and efficient property management features, ReimagineHome creates a seamless and immersive environment for users to explore, interact with, and manage real estate properties.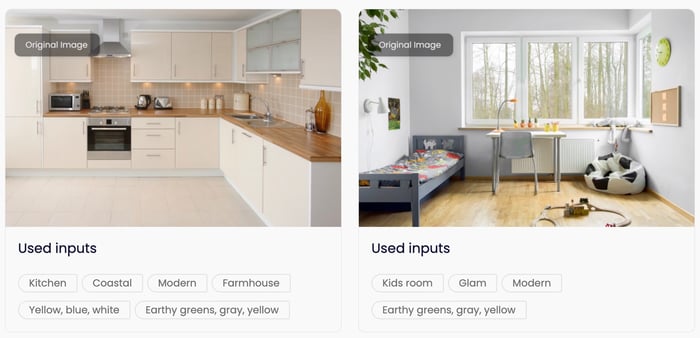 Image source: REimagineHome
AI chatbots and assistants
AI chatbots and assistants have revolutionized customer service in the real estate industry, providing round-the-clock support with conversational AI and digital assistants.
Natural language processing enables seamless interactions, while access to multiple data sources ensures swift responses. These chatbots assist in various tasks, from answering inquiries and matching customers with properties to scheduling viewings and automating lead capture and follow-up.
Keller Williams, in its pursuit of enhancing agent experiences and driving sales growth, introduced Kelle, an AI-powered personal assistant app often dubbed as 'Siri for the real estate industry.' This innovation aids agents in managing their deals efficiently, among other tasks.
AI-driven marketing
AI-driven marketing has transformed real estate marketing efforts by offering real-time insights into target audiences and their preferences. CRM systems powered by AI analyze lead conversion probabilities, enabling more effective lead nurturing. Furthermore, AI generates automated, tailored ads that precisely target the right leads and deliver them to the most relevant audience.
Mountain View, an Egypt-based property developer, exemplifies the impact of AI in lead generation and email campaigns. Leveraging Oracle Eloqua Marketing Automation, the company significantly reduced campaign deployment time from days to minutes and achieved a notable 5% increase in direct sales.
Potential positive impact of AI property technology on environmental sustainability and energy efficiency
The real estate sector carries a substantial environmental burden, responsible for a staggering 40% of annual global CO2 emissions, highlighting the urgent need for change. McKinsey's research further underscores this issue, suggesting that approximately $7.5 trillion in property value is at risk due to climate-related challenges or the inability to decarbonize existing structures.
Proptech presents a significant opportunity for the real estate industry by potentially reducing maintenance costs for green buildings by an average of 20%, as revealed by McKinsey's findings.
To expedite the adoption of sustainable real estate practices, proptech introduces smart decarbonization strategies and green building technologies. Energy optimization solutions are also being harnessed to minimize energy waste and enhance energy efficiency. Artificial intelligence plays a central role in scaling up decarbonization efforts, offering data-driven insights and solutions for carbon reduction.
Considering that real estate stands as the largest single emitter of CO2 globally, the focus on building decarbonization has become paramount for developers and operators.
Notably, industry leaders like Cushman & Wakefield are actively addressing carbon emissions through proprietary digital software assessment tools like C&W Green Buildings. These tools assess current carbon emissions and energy efficiency, empowering clients to identify opportunities for reducing their environmental footprints.
Smarter buildings, driven by proptech innovations, are taking a proactive approach to combat climate change. Developers and operators can now reduce emissions and waste while actively involving tenants in sustainability efforts through clean technology solutions.
Building management systems encompass control over heating, ventilation, air conditioning, lighting, security, and energy consumption, while tenant apps provide real-time data insights and guidance for sustainable living. Integrated predictive maintenance solutions monitor occupancy and optimize building operations for energy efficiency.
Creating an energy-sharing platform
Furthermore, proptech extends beyond individual buildings to encompass community-wide energy-sharing solutions. For instance, Salzburg AG, a prominent greentech company, partnered with Netguru to prototype an energy-sharing platform, demonstrating the industry's commitment to sustainable practices on a broader scale.
This innovative solution empowers communities to efficiently share energy, minimizing the necessity for energy storage. The platform offers real-time insights into energy consumption at the individual unit and community levels, thereby improving household management and promoting sustainable energy practices.
Summary
As the proptech industry continues to advance and introduce innovations, it holds the potential to transform the real estate landscape, improving accessibility, convenience, and the overall experience for all participants in the industry. This includes property managers, real estate agents, buyers, renters, and investors alike.