Change Through Fashion: Building a Clothing Brand with a Purpose
Ninety Percent is a game-changer in the fashion industry.
They took the challenge of creating a stylish brand that would link latest trends with a sustainable approach towards society and environment. Their main goal is to empower customers to make a difference through fashion. The company allocates 90 percent of their profits to four charitable causes, and customers are the ones who can vote for the cause they wish to support. At the end of the year, the profits will be split between the charities based on the votes.
The project is on the way and just before the big launch, we asked the company's Brand Manager, Nabil Al-Jannati, about the inspiring path towards a better world of fashion.
Natalia Chrzanowska: What's behind the idea of Ninety Percent?
Nabil Al-Jannati: We are striving to improve our social and environmental legacy by starting a consumer movement that elevates style and the lives of others.
Natalia: What distinguishes your business from other fashion brands?
Nabil: People are the core of our brand concept. We hope to empower customers to shop from a considered jersey and knitwear collection with a clear conscience, while giving them the option to play an active role in how our profits are shared. Dress Better is our manifesto in our endeavour to start something meaningful.
Natalia: What's your business model?
Nabil: We're trying something new: sharing 90 percent of our distributed profits between four causes, and the people who make the collection happen. The remaining 10 percent goes to investors.
Natalia: What are your main goals as the socially responsible company?
Nabil: We want to enable the wearer of our collections with self-confidence. We will make a meaningful collection with finesse to enhance the daily life. By investing in our label, she will be given a vote and encouraged to find her voice. She can choose how her contribution to our profits is shared. We hope to see her become an engaged and active influence in our consumer movement, conscious about style and totally committed to change through fashion.
Natalia: What were the main challenges that you faced on the way?
Nabil: There were many challenges we faced along the way, one was curating a signature product range that was fashionable but not fast-fashion, and developing luxury materials that were also sustainable (where possible) and bring this all together at a reasonable retail price. Secondly, it was creating a concept where each product contains a unique code that validates a customer's right to vote for a cause of their choice. The challenge here was to create a robust algorithm in the background that also makes a beautiful and simple user experience. In collaboration with Netguru, we achieved both of these goals.
Natalia: How do you tackle the challenges?
Nabil: The key to overcome these challenges is to surround yourself with talented people, who can offer their expertise and merge all these ideas into the best solution. We evolved and fine tuned our concepts in two ways: we step away and review again with a clear mind and always observe people's first impressions. This is what counts!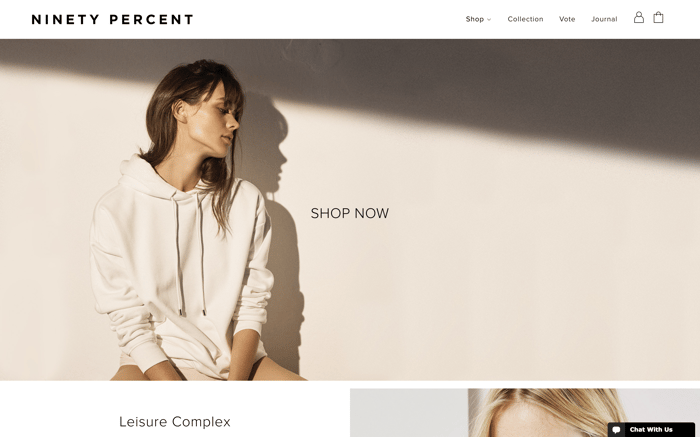 Natalia: At what stage is your business now?
Nabil: We are 30 percent away from the completion of the Ninety Percent website, the product is approaching completion The next step will be to hold solid focus groups before we launch in Sept 2017
Natalia: What would you recommend to other London-based entrepreneurs when they start their businesses on this highly competitive market?
Nabil: Find your edge and keep evolving it. Always observe people's first impressions – you may spend months looking at your concept and end up overthinking things. React to people's criticism and be open about it even if it hurts. It will make your brand stronger.
If you want to read more about Ninety Percent, check out the case study.