Making Data-Driven Decisions With Business Intelligence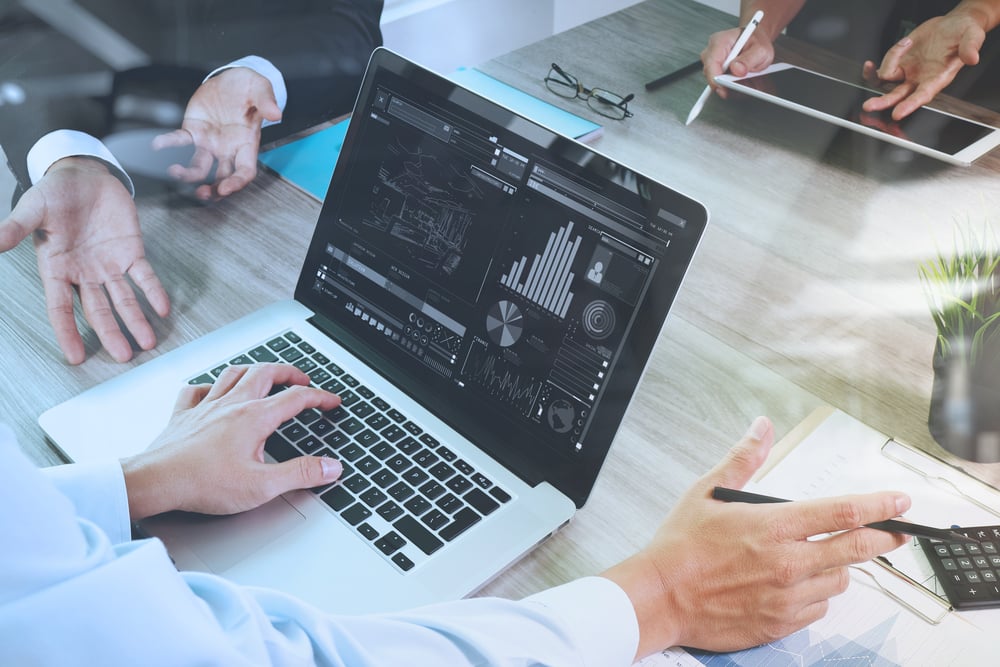 Do you still make decisions mostly based on gut instinct or what you "think" is going on? If so, you're not alone.
Many business stakeholders make decisions in this way. However, relying solely on intuition can lead to missed opportunities and incorrect assumptions. To make data-driven decisions, businesses need accurate and timely data. This is where business intelligence comes in.
It is important to generate insights from transparent, unbiased, and consistent data. However, data-driven decision-making can be tough due to data variety, size, complexity, and velocity of changes. Often, there is much to take into consideration, analyze, and validate, which takes a lot of time if it is not streamlined by efficient processes and tools.
Also, a major challenge is that it is difficult to make confident decisions based on so many potentially relevant data insights. After all, how can we be certain about what is the most unambiguous, reliable, and impactful insight, and how do we combine this with our intuition?
To deal with such challenges, the key is to have a platform that compiles data from various sources, processes it, and exposes it through a set of interactive, customized views with the possibility to drill down.
Why data-driven decision-making is important (and difficult!)
This Deloitte survey shows that 67% of executives are not comfortable accessing or using data from their tools and resources. Furthermore, a BARC survey shows that 90% of decision-makers indicate that information has high priority in enterprise decision-making, but only 25% state that decisions are predominantly or purely based on data.
Both of these indicate that although there is common knowledge and understanding of the importance of using data for decision-making, it is not actually very common to do that.
Another McKinsey survey shows that only 37% of executives and managers agree that their organizations' decisions are high-quality and done with velocity. Undoubtedly, a lot depends on data analytics, which, if used properly and commonly, makes decisions much faster and more accurate.
What is difficult about this process?
Everyone knows that data is somehow important, and it is natural to rely on information obtained from data while making decisions. What might be missing, however, is how to extract and present relevant insights efficiently and continuously, at the same time making sure it is digestible and explainable for decision-makers.
BI has advanced capabilities to build engaging, insightful, and user-friendly dashboards. This directly addresses one of the most common challenges highlighted above, that is, helping decision-makers to be comfortable and confident about using data insights combined with their natural intuition. Making it happen is not easy and requires continuous effort, however, business intelligence with its powerful features and elasticity, streamlines the process of embedding data in a decision process.
What is business intelligence?
One of BI's primary goals is to enable data-driven decisions by giving you access and insights into all aspects of your company's operations. BI technologies include analytics, data mining, and data visualization that provide actionable knowledge for any level within an organization. It can be used at every stage of a process, providing decision-makers with more meaningful information so they're able to take appropriate actions quickly when needed most.
This stage often precedes the primary stage of building data-driven organizations and/or products and is usually the first step for further data science processing and broader data utilization.
A business intelligence strategy is a data-driven approach to making decisions that are informed by data analytics to drive changes in organizations. Business intelligence systems and analytics help organizations to collect valuable data, store it, and analyze it to generate actionable insights. A modern BI strategy prioritizes:
Flexible self-service analysis
Governed data on trusted platforms
Empowered business users
Speed to insight
By implementing a business intelligence strategy, businesses can improve their decision-making processes and better position themselves for success. It provides decision-makers and stakeholders with precise insights into the state of the business, and helps them inform tactical choices, such as what investments to make or where resources should go next.
How does business intelligence contribute to informed decisions?
There are multiple benefits to using business intelligence to support decision-making processes, and most of them are simply related to the fact that the key role of BI is effective - exposure of what is relevant for decision-making.
More accurate and higher quality decisions
Decision-makers have access to insights generated out of data based on numbers and facts, which can easily be combined with intuition. This provides a deeper understanding and helps with the assessment of decision-related risks and potential outcomes for business objectives. They also give a broader perspective and, if needed, the decision-relevant data can be explored from different angles.
Faster decision-making process
The manual data research and calculations can be automated and available through BI dashboards which are continuously updated with information necessary to make decisions. If integrated with a machine learning prediction model, some decisions can even be partially automated, leaving the decision-maker with only those decisions which are crucial and require the highest confidence.
Higher efficiency in using data insights
Data insights are more digestible and actionable. Especially if a lot of data is available and it takes a lot of time to review it. BI can help to narrow it down to what is relevant from a business perspective, thus helping to avoid situations where decision-makers are overwhelmed with the amount of information.
More confidence and comfort in using data insights
Data storytelling, which is an essential part of BI, explains the insights and surrounding context, which helps to connect them naturally with intuition and professional experience.
Higher quality data
The decision-makers are more effective in providing ongoing feedback so BI specialists can continuously improve the dashboards and request further implementation of data improvements.
How to use BI to make strategic business decisions?
Business intelligence can be a powerful tool for making informed decisions. However, before using it, it is important to understand the limitations of the data. BI is only as good as the data that is available, and some data may be more reliable than others.
Additionally, business intelligence tools are only as effective as the people using them. To get the most out of business intelligence, businesses need to ensure that their data is of high quality and that their employees are properly educated in how to use the tools. Here are some guidelines on how to achieve that.
The key phases of a business intelligence project are:
Define the decision-making problem and capture requirements. Ask questions, use structured thinking, and communicate with decision-makers to understand their thinking process.
Prepare relevant data. Work further with decision-makers to identify which data is within the scope of the defined decisioning process. This step also includes close cooperation with data engineers to make sure there is good quality data extracted, transformed, and available in the data warehouse upfront before creating dashboards.
Identify key metrics, perspectives, and angles for presenting the insights. This defines data aggregation operations, grouping, and filtering needed to show decision-makers the full picture.
Build the solution. Use the selected tool to implement dashboards, interactive data visualizations, and reports according to collected requirements.
Share and validate. Ask the users to try out the dashboards and provide feedback. Often this step and above require some iterations to achieve desired outcomes. It is often quite challenging for decision-makers to communicate all their requirements for BI upfront and at once. It is worth spending as much time as is needed to make sure they are confident and comfortable with using the dashboards for decision-making.
Maintain. Update and improve the solutions in order to keep them up-to-date with ongoing changes of process, data, and user preferences.
Tips to make BI really useful
Apart from the process itself, here are some key considerations and priorities you should also consider for successful BI initiatives:
Augment people and decisions
Ultimately, this is the main objective. The main focus should be on providing enriched, context-driven analytics which decision-makers combine with their natural intuition.
Data quality
This must be the subject of continuous evaluation as any flaws in that area may result in an extremely high risk of losing decision-makers' trust in the data.
Data sharing
This not only means sharing access, but most of all it means asking for feedback and contributions. Often, data requires a joint effort before it represents some actual business value which can later be exposed through BI.
Self-exploration
BI tools have many advanced functionalities which allow the creation of highly interactive dashboards connected with multiple data sources. With that, we can empower decision-makers with tools that they can use on their own to explore insights. Such an approach is much more efficient compared to shared static image visuals which are fixed to specific views and which the users can only look at.
Business analysis
BI initiatives require a deep understanding of business problems and stakeholder objectives, therefore make sure there is some space for business analyst work and do not treat it as just some technical implementation of dashboards.
AI simulations
Due to a major overlap between BI and data science, we can use both to embed machine learning model predictions and their explanations in dashboards. This is especially important in cases where AI can be used to simulate specific decision outcomes and it is beneficial to share them next to the other data insights.
Evolving BI
Do not treat BI dashboards as a one-time activity but rather be ready to improve them continuously based on business feedback.
Expose analytics in the right place
BI tools always offer a platform for deploying dashboards, however, it might be worth considering embedded analytics in case there is an internal system already used by decision-makers. This gives additional comfort of having analytics accessible straight away from tools that are used on a daily basis.
What BI tools are good to start?
With the number of options available, it can be difficult to decide on what platform will work best for your business. The beauty of the solutions listed below is that they integrate closely with cloud platforms. In addition, it's also important not only to look into pricing but see whether they offer monthly subscriptions instead, so that cost doesn't eat away all possible profits from one project.
Tableau
One of the market leaders, Tableau offers an advanced product with a visually-based data exploration experience. It's highly intuitive, providing progressive and specialized functionalities.
There's also a SaaS option fully hosted by Tableau or on-premise.
With a product that is both intuitive and powerful, Tableau offers an advanced, visually-based experience to explore data. It is one of the favorite tools among BI Specialists.
Microsoft Power BI
Microsoft Power BI is one of the most popular business intelligence tools on offer, and it is especially common among Office 365 customers. It offers a variety of built-in functionalities that fit your specific needs for data analytics solutions, such as creating custom visuals or dashboards to monitor your metrics.
Power BI can be used either inside Azure cloud (SaaS) OR outside it on premise.
Looker
Looker is a business intelligence platform acquired by Google. It is closely integrated with GCP but can also be hosted on AWS Private Cloud or even your company's own servers.
The centralized data modeling layer will allow you to analyze all the information in one place without having to extract repetitively from various sources.
AWS QuickSight
AWS QuickSight is a relatively new cloud-based service that automates reporting and analysis. Besides common subscription user-based licensing, it has a unique pay-per-session pricing model which is especially effective in case it is hard to foresee the future dashboard usage.
Your data is there, waiting. Use it well
Much research shows that there are strong, positive market trends in the utilization of data analytics for business insights and decision-making.
Gartner estimates that by 2023, more than 33% of large organizations will already have analysts practicing decision intelligence, including decision modeling. Business intelligence solutions are undoubtedly a key component of business analytics as it is made to provide relevant, explorable data insights which empower decision-making.
In time, as we will be dealing with an increasing amount and variety of data, the efficiency of extracting and exposing meaningful insights will become even more important.