Disruption Insights: Fostering Collaboration and Open Dialogue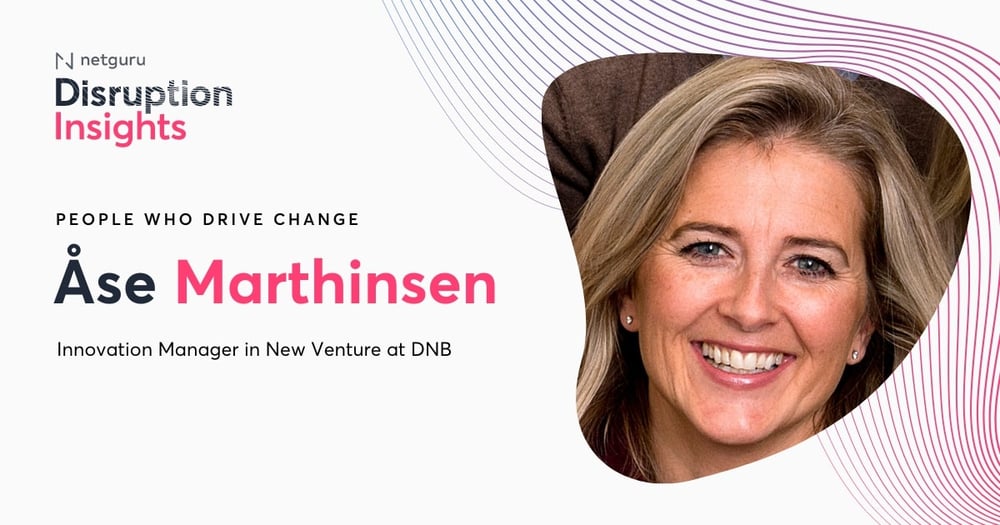 Åse Marthinsen, Innovation Manager in New Venture at DNB, sees the focus on a collaborative approach and ability to communicate benefits to all stakeholders as the main catalysts to leading innovation.
Åse Marthinsen has worked for various financial and tech companies, including Nokia, Microsoft, and Telenor. Her experience has allowed her to test countless frameworks and processes for delivering innovation projects. Now at DNB, Norway's largest financial services group, she guides multiple teams in their efforts to run and implement initiatives that drive change. What can you learn from her?
In the Disruption Insights series, we discover inspirations and insights from global innovators who shape how we live and do things today. True innovation doesn't happen as an overnight breakthrough — it's an ongoing process of constant trial and error done by teams and organizations who strive to solve real human problems. Åse Marthinsen is one of the people who push those ideas forward, making things possible.
💼 Corporate innovation
How do you choose one idea out of one hundred?
If I had to choose one idea out of one hundred, I'd start by grouping them and dividing them into three categories: ideas to analyze further, ideas to get back to later, and ideas I'm giving up on right away.
There are criteria and a process I follow to decide which ideas from the first group I want to focus on. Firstly, I write down all the concepts I'll analyze further and order them from the least to the most complex ones. Then, I answer a question of "How do these ideas align with the DNB's strategy?" It's to make sure all stakeholders will be able to collaborate within and then benefit from a project that will originate from particular ideas.
Based on the outcomes, I map priorities and focus on the impact of the concepts that align with our strategy. Researching other people's opinions on the selected ideas is the next step. I continue with those that get the best feedback. Finally, defining clear goals and milestones brings me closer to selecting the final idea to work with.
Innovative ideas are exciting, but they will remain ideas unless you take action and get committed to turning them into reality.
How do you convince decision-makers to back innovative ideas?
My experience proves that being clear about the reasons behind innovative ideas, fostering collaboration, and open dialogue from the get-go is key here. Additionally, finding a mutual goal that brings benefits to all the engaged parties makes it easier to get decision-makers on board with innovative ideas.
One thing you'd change about your work
Maybe more opportunities to fail fast and thus learn fast. Allowing room for failure requires a collaborative culture where teams can make mistakes, drive conclusions from these pitfalls, grow, and gain new knowledge. Such conditions make teams more successful. Obviously, when something isn't working, the course of innovation projects should be changed based on the learnings from failure.
💪🏼 Innovation mindset
One personality trait that helps you at your daily job
Being positive. But there's more to that. I'm able to stay calm in stressful situations, which helps me a lot. I'd also point out my collaborative approach and the focus on involving both people and technology in innovative projects.
What drives you at work?
My passion and curiosity.
Your dream profession when you were 20
I wanted to lead the Ministry of Trade and Industry in Norway.
The biggest milestone in your career path
Being Head of Payments at DNB and leading a successful, 90-people strong department.
The biggest accomplishment in your career path
It was when I was applauded by our CEO for the new strategy.
💡 Inspiration corner
Biggest source of daily inspiration
I look for inspiration in various newspapers and podcasts I consume every day. In general, I follow an outside-in approach to avoid bias and broaden my perspectives.
Books that inspire you
"The Innovator's Method" by Jeff Dyer and Nathan Furr
"Platform Revolution" by Geoffrey G. Parker, Marshall W. Van Alstyne, Sangeet Paul Choudary
"Delivering Happiness" by Tony Hsieh
Blogs and magazines you follow
Kapital (a Norwegian business magazine)
Podcasts you listen to
A few podcasts by Forbes
Fintech Insider podcast by 11:FS
Stormkast - a podcast about Norwegian economic news
Movies that inspire you
That's a difficult one! I watch movies mostly to relax.
Want to be a part of the Disruption Insights series? Shoot us an email at: paulina.burzawa@netguru.com.
---
Discover insights from other inspiring innovation leaders: