Disruption Insights: Empathize with Users and Have a Clear Goal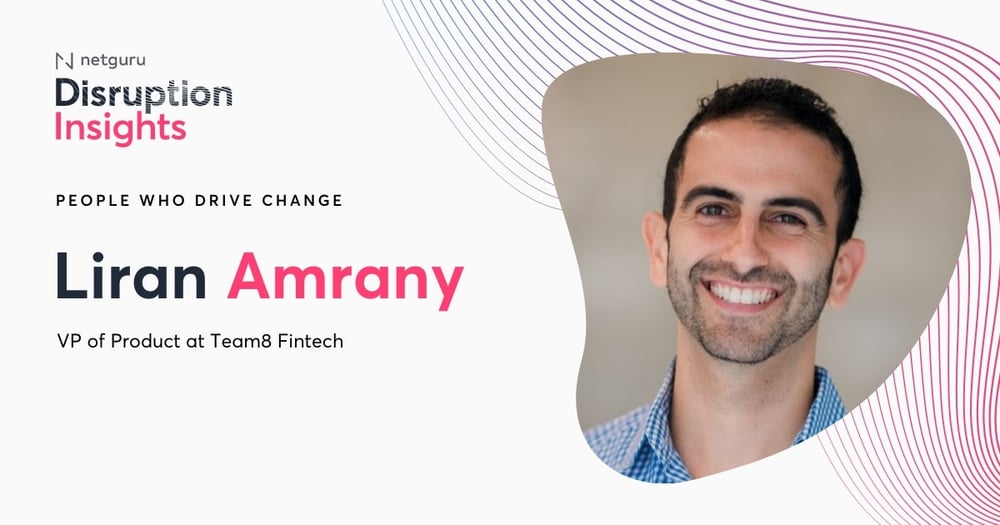 A user-focused financial innovator and entrepreneur, Liran Amrany, VP of Product at Team8 Fintech, shares how to create innovative products that positively impact people's lives and help them establish valuable habits.
Liran has over 15 years of experience in the financial space, both traditional and tech-focused. His portfolio includes building and scaling financial startups, tools, and platforms.
Get to know Liran's winning strategies for product development, best practices of working with users, hiring top Product Managers, and much more.
Being an outstanding Product Manager requires combining a methodological approach, creative thinking, and people skills. How does it work in practice? We answer this question in the Disruption Insights series by presenting proven frameworks and battle-tested tips from top experts who contribute to creating valuable and effective products.
🎁 Product
The most important elements of good "product" stories
User stories should include clear articulation of the user, the feature, and the end goal. Ten different engineers should be able to read it and understand the same task without further clarification. Having a clear goal is especially important as it allows discussion around other ways to accomplish the same outcome that you might not have considered.
Tips for communicating product vision and strategy to get others engaged
Firstly, frame everything in terms of KPIs. It's crucial, provides structure, and operational coherence. Secondly, create a culture of transparency and involve relevant people in the decision-making process so they don't feel like they're operating in a vacuum. Thirdly, set firm but realistic milestones and timelines so everyone understands what needs to get done and by when. This will help keep everyone rowing in the same direction towards those stated goals.
Decision-making process when defining strategic bets
Most of my experience is with very early-stage startups launching brand new products, so basically everything is a strategic bet when you go from 0 to 1. Sometimes, you don't have the time, luxury, or resources to carry out all the testing you would like. Instead, you have to rely on your intuition and empathize with users.
In this case, the decision-making process is less about prioritization on the roadmap, and more about what needs to be included in the initial product or not. It's tempting to become trigger happy and fall into the trap of "feature creep." Conversely, very often it's in your best interests to ship a leaner product sooner.
📋 Work and talent
Key traits or skills of a great Product Manager
Being empathetic with the customer's perspective, completely data-driven, and ensuring all the stakeholders are aligned with the overarching product mission.
What distinguishes a good Product Manager from an average one?
A great Product Manager has a firm understanding of the technology and the tech team. This allows them to communicate more clearly to save time and operate as a single team, be better at problem solving when they run into technical hurdles, and understand how and when to challenge engineers on their assumptions.
Three favorite interview questions when hiring a Product Manager
How do you determine which user stories to prioritize, and how do you balance requests from sales, users, tech, etc.?
What existing products would you use as inspiration for various parts of [product you are hiring for] and why?
Which product that you've worked on are you most proud of, and what was your role and contribution to building it?
Top PdM habits you follow
Using my own product as much as I can, and in as many different ways. I aim to put myself in the shoes of users that might be leveraging the product in other specific use-cases.
I would also encourage Product Managers to talk to their users as often as they can — understand what's working, what's not, and what are users' underlying motivations.
🎤 Customer centricity
Top habits, rituals, and frameworks for gathering insights
I try to gauge user sentiment on an ongoing basis by using different methods: surveys, phone interviews, user testing sessions, focus groups. I also conduct extensive event tracking to truly understand how people use the product, and frequently carry out A/B testing.
Winning strategies to collect customer feedback
It really depends on the type of feedback you want to collect. For high-level feedback and NPS scores, surveys often work well. To acquire deeper insights, nothing beats getting on the phone with some of your customers or watching them try to use your product live.
💡 Inspiration corner
Book that every Product Manager should read
"Hooked" by Nir Eyal is a classic — an essential read for any Product Manager keen to develop a thorough understanding of user behavior.
Essential reads to stay on top of the Product Management trends
First Round Review
Hacker Noon
Silicon Valley Product Group blog
Want to be a part of the Disruption Insights series? Shoot me an email at: paulina.burzawa@netguru.com
---
Learn from other product experts: