Disruption Insights: Understand What's Vital For Customers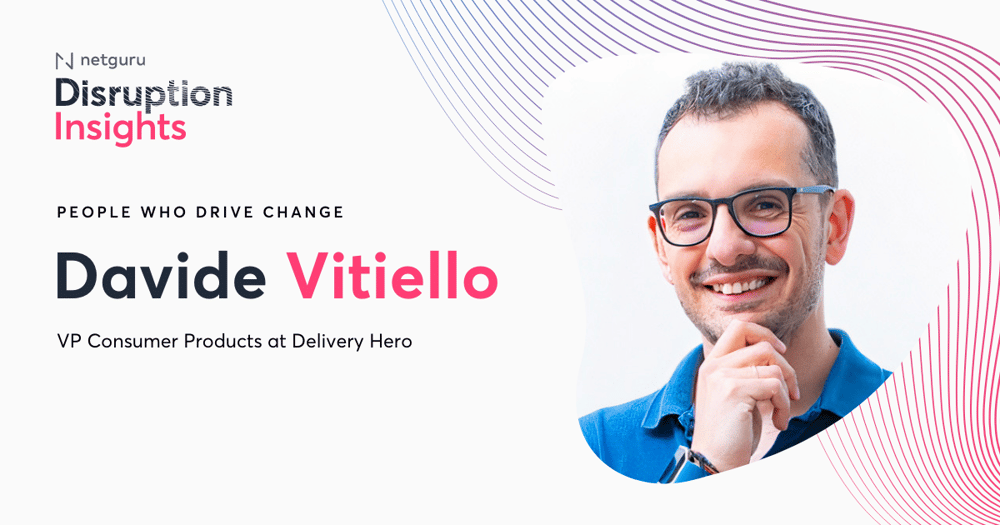 In this episode of Product Management Insights, Davide Vitiello, VP Consumer Products at Delivery Hero and CPO at foodpanda, shares how to create customer-centered solutions that will wow the market and ensure a product's success.
Davide is a seasoned product management professional. For more than two years, he has been leading the Consumer Product, Design, and Analytics department for the biggest Delivery Hero platform. Delivery Hero itself is a multinational network connecting food delivery services. Before joining Delivery Hero, Davide worked at, among other companies, ​​Shopify and SoundCloud. He has software development and architecture experience that helps him better understand diverse product development processes.
He describes his role as "Putting great people together, to build amazing experiences," which truly depicts his focus on building extraordinary solutions that meet customer expectations while keeping his teams happy.
Being an outstanding Product Manager requires combining a methodological approach, creative thinking, and people skills. How does it work in practice? We answer this question in the Disruption Insights series by presenting proven frameworks and battle-tested tips from top experts who contribute to creating valuable and effective products.
🎁 Product
The most important elements of good "product" stories
All great products have a great story. This motivates the people who are building the product and connects them with the end-user or customer. The strongest stories are cohesive and supported by evidence. Data makes the story as impactful and powerful as possible. A story also needs to be simple, and connect with people's feelings.
Tips for communicating product vision and strategy to get others engaged
The vision needs to be simple and understandable. If the foundations are clear, it's much easier to get people on board. To achieve this, the message should be concise, use repetition, and communicate the vision with feeling.
Decision-making process when defining strategic bets
It's a balancing act between what I think I know about the audience, market, business, and what other parts of the company think they know. The decision-making process is all about gathering these signals and then weighing up the possible options.
I strongly believe in using data in all its forms (competitive benchmarks, analytics, etc.), although data cannot be used in every case, especially when creating innovative products, as there is no existing data. That's why I also believe in following my gut feeling. Additionally, it's important to be open to being wrong and continuously challenge yourself.
Three favorite product frameworks
Product frameworks like the RICE scoring model can be a good starting point to help Product Managers. However, success can not be boiled down to using just one framework or process. Product managers need to develop their vision and strategy, not just use a pre-existing framework. Some of the best products I've seen in my life would not exist if a strict framework and prioritization process had been used.
📋 Work and talent
Key traits or skills of a great Product Manager
Lots have been written on the best traits of skills of a great Product Manager. I like to work with Product Managers who have strong opinions but are also open to changing or renewing these when new evidence is presented.
Secondly, good Product Managers have either previous tech or design experience, or an understanding of these fields of work.
Thirdly, a great Product Manager should be an innate leader. They may not directly manage people, but they have to lead and coordinate a cross-functional team to ensure the product's success.
Three favorite interview questions when hiring a Product Manager
I like to start the conversation by asking, "What is your favorite product?" There is no right or wrong answer, but it tells me a lot about the person. I get to discover their passion, how they perceive products, and what they care about (design, functionality, etc).
Other questions I like to ask are "tell me about the last conflict and how you managed it," which tells me about their leadership style, or "tell me about the best product you ever worked on."
Top PdM habits you follow every day/week
Some habits I follow include reviewing the product dashboard to see how things are performing. Additionally, I try to read at least one user research interview weekly, to stay close to the user. I also like to go to different app stores and read product reviews to get a sense of what people pay attention to.
🎤 Customer centricity
Top habits, rituals, and frameworks for gathering insights
At Delivery Hero, our teams produce lots of amazing insights and information. I like to review our dashboards, app store reviews, and existing in-house user research to understand what is important to the customer.
Winning strategies to collect customer feedback
To collect feedback, I believe user research is a good place to start. At Delivery Hero, we have invested a lot into having a sizable and knowledgeable user research team spread out across the globe. This is the best way for us to understand customer feedback directly.
💡 Inspiration corner
Book that every Product Manager should read
I would like to recommend the book titled "Principles" by Ray Dalio. It's not specifically a book for Product Managers, it's a book that's relevant for lots of people in business. In the book, the author talks about his principles for life, how he creates and applies them to life. I find it fascinating.
Essential reads to stay on top of the Product Management trends
This is very personal. I have a Google Sheet that I populate with things I want to read and listen to. Everyone should build such a list for themselves.
There is so much information and resources out there, you need to discover which ones are relevant to you. Just to mention one and not leave people disappointed, a team member recently pointed me to "Abstract: The Art of Design," a Netflix series on some great designers' stories.
Want to be a part of the Disruption Insights series? Shoot me an email at: paulina.burzawa@netguru.com
---
Learn from other product experts:
"Empathize with Users and Have a Clear Goal" with Liran Amrany from Team8 Fintech
"Ask the Right Questions" with Pedro Sousa from Netguru
"Fall in Love With the Problem First!" with Jan Schütz from finstreet