Where Are We Now – and What's Next – in Fintech? Key Takeaways from Disruption Forum Fintech 2021

A lot has changed in fintech over the past 12 months. The pandemic rapidly accelerated digitalization in banking, with online-only banks emerging stronger than ever.
We witnessed the explosion of buy now, pay later. And decentralized finance furthered the dispersion of power in financial services.
But despite the uncertainty, one thing didn't change – the industry continued to forge ahead. So to understand the major issues currently affecting fintech and to help us navigate the coming year, we brought together 15 experts spanning design, innovation, digital assets, and more for Disruption Forum Fintech.
Across five key sessions, speakers from companies including Visa, SumUp, BNP Paribas, Société Générale, and Solarisbank shared their experience and insights on topics like:
Product design trends for 2021 and beyond
What to expect from DeFi and blockchain
How innovation is rapidly changing payments
The evolution of buy now, pay later
Innovation and the interplay between banks and fintechs
More than 2,000 attendees from almost 70 countries joined us for the event, with many tuning in to select sessions broadcast on social media. If you weren't able to get involved on the day, you can still catch up with on-demand access to recordings of the event.
Here's a flavor of what we covered during the event.
Getting rid of inequalities
In 'What's Next for Product Design – Trends for 2021 and Beyond,' Richard Banfield, VP of Design Transformation at InVision, was joined by three senior design executives from Visa, Finastra, and Société Générale. During the session, the panel discussed how the pandemic has changed their work, building the right culture in design teams, and getting stakeholder buy-in.
The group also talked about the importance of inclusion and how to embed it within design teams. "I really believe that UX has the power to change the world," said Shelley Armstrong, Head of Design at Finastra, on removing biases and inequalities.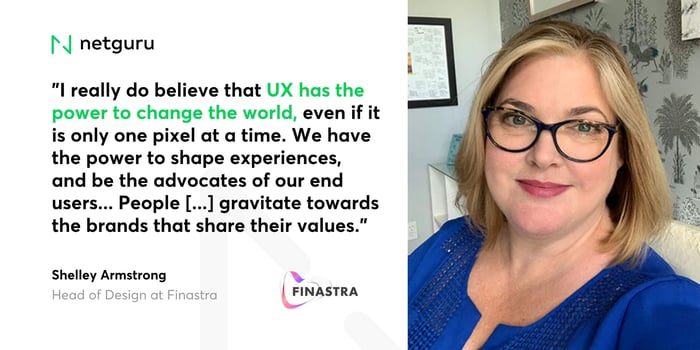 "Are we being advocates for the user? Are we building products with integrity? And are we trying to form those emotional connections with our customers? Because, at the end of the day, people want to feel like they're valued. They want to feel like they're putting their money where their mouth is, and so they gravitate toward the brands and products that share their values or at least help them," she said.
Andrés López Josenge, VP of Design at Visa Europe, shared how his team has integrated an inclusion mindset in practice. "There were always three questions when we went about designing something," he explained. "What are you trying to design or improve, who do you want to design or improve it for, and how are you going to do it?"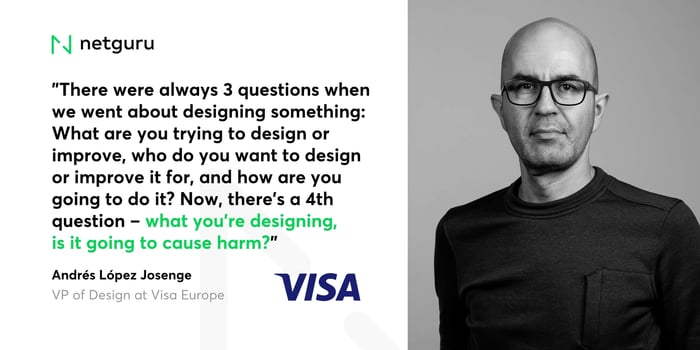 "Now, there's a fourth question – what you're designing, is it going to cause harm? Is it going to put anyone in a bad position, now or in the future? You've got to now throw that question into the mix at the beginning and understand you can't anticipate everything, but you've got to be prepared for it, and you've got to have that accountability for it as well."
Bringing DeFi into the mainstream
Filip Sobiecki, Relationship Manager at Netguru, sat down with Julian Grigo, Co-Managing Director of Digital Assets at Solarisbank in 'Commodifying Crypto – What to Expect from DeFi and Blockchain.' During the session, they chatted about the uses of crypto and blockchain, what the future holds for them, the role of DeFi, and the implications of regulatory intervention.
In their discussion on DeFi, Filip suggested that it may be considered 'blockchain on steroids,' but Julian countered with an analogy: "If Bitcoin is gold or a precious metal, then DeFi is micromechanics," he said. "It works with the gold, but now it adds functions to it. I don't like the comparison to steroids because it seems like there are some tricks to it, but it's just adding micromechanics to blockchain technology."
And moving on to the topic of commodifying crypto, they agreed that a successful commodity is supported by three pillars – usability, compliance, and security. "From a structural setup, they are the three most relevant pillars to offer a service that is reliable and that, from a regulatory perspective, can be brought to retail investors," said Julian. He also explained that it was important to extract complexity away from investors to achieve digital mass adoption.
Harnessing the power of data
In 'Payments Innovation – The Way We Pay is Changing Fast,' Netguru's Tomasz Grynkiewicz spoke to product experts from SumUp, Pleo, and OpenPayd about open banking and the role of data in the payments sector, regulation, and major trends.
"I think we're overdue an overhaul in the infrastructure of payments," said Adam Bialy, Chief Product Officer at OpenPayd.
"It's going to be very interesting to see some of the new developments, people seem to be thinking that crypto and blockchain can substitute SWIFT, for example. You have projects like Ripple and RippleNet and Stellar where you can see the world of crypto or blockchain converging with the world of payments. And COVID is going to accelerate a lot of that."
The panel also discussed the impact of open banking on customers now owning their data and how payment providers should adapt to this.
"Data is still king," explained Sven Dörfel, VP of Product – Online Payments & Risk at SumUp. "But you need to provide something back, especially when it comes to the end consumer. You need to make it very clear what the customer actually gains out of it because otherwise, they won't give away their data easily."
Tapping into the boom in buy now, pay later
In 'Buy Now, Pay Later,' experts from Starling Bank, Adyen, and Solarisbank joined Filip Sobiecki to discuss, among other things, what is driving the growth of buy now, pay later and where it may go in the future.
Jakub Czerwiński, VP CEE at Adyen, cleared up a misconception that buy now, pay later is aimed at consumers with liquidity issues. "It's absolutely the points of convenience and ease of usage and the freedom that comes alongside that," he said.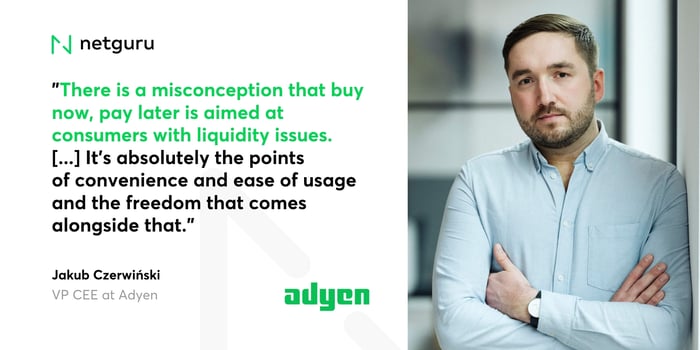 "And by freedom, I mean the freedom of not freezing your own capital by the purchases you're making, which you cannot see in store because you're buying them online. And then you're not sure how many of them you're going to return."
The panel also chatted about the ideal use cases for buy now, pay later and where it may be less successful.
"Where we're seeing it working at the minute, and especially the data we've seen released by the FCA is that it's working for transactions of a value under a hundred pounds," explained Luke Furnell, Product Manager at Starling Bank. "I think it's unclear whether retail goods or any goods over that amount are going to work because we know the fees are potentially quite high for these products."
Producing successful innovation through collaboration
Isabel Woodford, a Senior Reporter at Sifted, hosted the final session of the day, 'The Innovation Trap: Tensions and Successes of Bank and Fintech Interplay.' She was joined by experts from Citi Ventures, Alloy, and BNP Paribas Polska to talk about innovation among banks and fintechs and the challenges they face.
In particular, the panel addressed the possibility of a culture clash when banks and fintechs work together and chatted about the organizations innovating successfully.
"To do innovation and work effectively with fintechs, you need to onboard people with a different mindset," explained Paulina Skrzypińska, Chief Innovation Officer at BNP Paribas Polska. "[You need] the kind of rebels that will do the job differently, that will question, 'why do we do this like that? Do we need those rules?' […] You need to change processes because, without that, you will go nowhere," she said
"One thing that I warn founders and teams against is innovation theater. And I think we see that sometimes across some FIs," noted Charley Ma, GM of Fintech at Alloy. "I think that the banks that tend to be the most forward-thinking are those that have been able to bring in the right talent, bring in the right people, and have a pretty big shift in terms of how they view innovation and disruption within their own business units."


If you missed Disruption Forum Fintech or would like to re-watch any of the sessions, sign up here for the full set of recordings.