5 Largest Brick-and-Mortar Retailers in the US
How many times have we heard that traditional retail stores are dying? It's the opposite, they're still thriving.
With a whopping 85.2% of annual sales, it's crystal clear that physical stores still make up the majority of retail revenue in the US. Meanwhile, 14.8% of retail sales happened online in the United States as of 2022, noting a 1.1 percentage point increase compared to 2021.
The stellar sales results in traditional stores are not only thanks to recent technology advancements, such as online-offline commerce integrations or undoubtedly convenient solutions like grab-and-go, but simply because customers still enjoy the in-store shopping experience.
Who is the number one retailer in the US? Search no more. Here are the five largest brick-and-mortar stores in the US, ranked by worldwide net revenue. It's worth noting that retail companies dominating the US market don't represent one sector, but operate in different business verticals, including grocery, home supplies, and healthcare.
Brick-and-mortar store: the definition
When talking about a brick-and-mortar store, we refer to a physical retail location customers can visit to view, try out, and purchase goods or services. In contrast to online or ecommerce retailers, traditional stores often offer customers the advantage of experiencing products firsthand, receiving personalized assistance from sales staff, and enjoying instant gratification by taking their purchases home immediately.
Selection and ranking criteria
The NRF's (National Retail Federation) Top 100 Retailers 2022 list ranks companies according to international retail sales figures (excluding fuel sales) – the decisive factor for this ranking.
In the company descriptions, the figures presented come from publicly disclosed information available on Oberlo, Statista, and stock exchange data since all the listed retailers are publicly traded. We rank companies that rely on physical retail as their primary business, which is why you won't find names such as Amazon or Apple, even though their retail activity includes traditional stores. All of the top five companies are members of the NRF.
Is Walmart the largest brick-and-mortar retailer?
Good job, you guessed it. However, it's not the only supermarket chain in the top five retail stores chart for the US. Here's the full list and background information on each leading retailer.
5 largest brick-and-mortar retailers in the US:
Walmart
Costco
The Home Depot
The Kroger Co.
Walgreens Boots Alliance
Walmart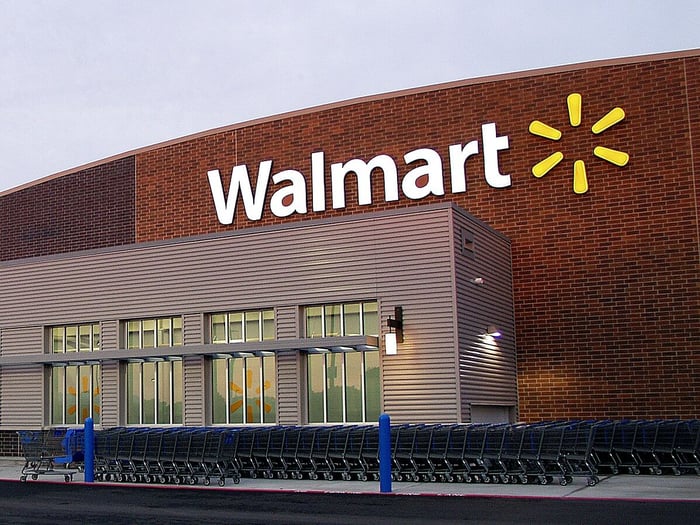 Image source: Wikimedia Commons

Market cap (in billions): $372.91
2020 worldwide retail sales (billions): $430.82 incl. 87.63% offline and 12.37% from ecommerce
2021 worldwide retail sales (billions): $526 incl. 87.19% offline and 12.81% from ecommerce
2022 US stores: 11,000
Headquarters: Bentonville, AR

Walmart (stock symbol: WMT), the largest retailer in the US, is renowned for its low prices and extensive range of products. Boasting over 11,000 stores globally, the company offers everything from groceries and electronics to apparel.

Founded in 1962 by Sam Walton, Walmart has grown into a world-famous brand. It is committed to providing quality products at affordable prices, making it an ideal destination for budget-conscious shoppers. Additionally, the retail titan has ventured into ecommerce with its popular online platform, offering customers convenient shopping options from home. With its revenue exceeding $500 billion, Walmart maintains its dominant presence in the retail market.
Costco Wholesale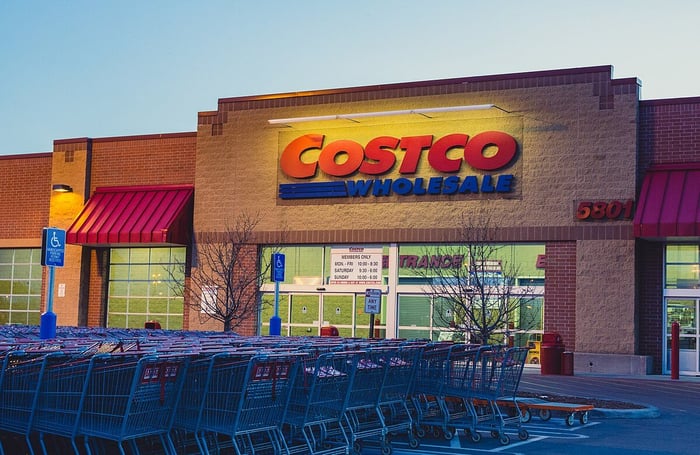 Image source: Wikimedia Commons

Market cap (in billions): $215.55
2020 worldwide retail sales (billions): $121.22 incl. 94.39% offline and 5.61% from ecommerce
2021 worldwide retail sales (billions): $189.42 incl. 94.87% offline and 5.13% from ecommerce
2022 US stores: 800
Headquarters: Atlanta, GA

Costco Wholesale (stock symbol: COST) is an American chain of membership-only warehouse clubs that provides a wide variety of brand-name merchandise, from grocery and household essentials to jewelry. Founded in 1983 by James Sinegal and Jeffrey Brotman, it owes its success to selling items at significantly lower prices than traditional retailers due to bulk buying power and lower overhead costs.

The company operates over 800 warehouses worldwide, including the United States and Puerto Rico, Canada, Mexico, the United Kingdom, Japan, and Taiwan. In 2021 alone, Costco Wholesale had more than 95 million members worldwide who pay an annual membership fee for access to its retail stores.
The Home Depot
Image source: Houston Chronicle

Market cap (in billions): $291.48
2020 worldwide retail sales (billions): $121.26 incl. 85.6% offline and 14.4% from ecommerce
2021 worldwide retail sales (billions): $149.41 incl. 86.3% offline and 13.7% from ecommerce
2022 US stores: 2,200
Headquarters: Atlanta, GA

The Home Depot (stock symbol: HD) is the largest home improvement retailer in the United States, boasting over 2,200 stores nationwide. Established in 1978, the company offers an extensive assortment of products. It caters to both DIY enthusiasts and professional contractors, and includes building materials, tools, appliances, and home decor.

Competing with the likes of Lowe's Companies and Ace Hardware, the brand is committed to delivering high-quality products at competitive prices, alongside expert advice and exceptional customer service. As a one-stop shop for all home improvement needs, The Home Depot provides a comprehensive solution for various projects, from major renovations to smaller DIY tasks.
Kroger
Image Source: Supermarket News

Market cap (in billions): $33.81
2020 worldwide retail sales (billions): $131.57 incl. 92.3% offline and 7.7% from ecommerce
2021 worldwide retail sales (billions): $136.49 incl. 90.6% offline and 9.4% from ecommerce
2022 US stores: 2,700
Headquarters: Cincinnati, OH

Kroger (stock symbol: KR), one of America's largest supermarket chains, operates over 2,700 stores across 35 states, including other concepts like Harris Teeter, Ralphs, and Fry's Food & Drug Stores. The company boasts an ecommerce presence and offers a vast range of products: fresh produce, meat, dairy, household items, and pharmaceuticals.

Kroger's commitment to offering high-quality products at affordable prices manifests through its own brands, like Simple Truth for organic products and Private Selection for gourmet foods. With convenient services like online ordering and delivery, their stores remain a go-to destination for families stocking up on essentials.
Walgreens Boots Alliance
Image source: Supermarket News

Market cap (in billions): $28.75
2020 worldwide retail sales (billions): $104.70 incl. 98.3% offline and 1.7% from ecommerce
2021 worldwide retail sales (billions): $121.2 incl. 98.2% offline and 1.8% from ecommerce
2022 US stores: 8,600
Headquarters: Deerfield, IL

Walgreens Boots Alliance (stock symbol: WBA), established in 2014 from the merger of Walgreens Co. and Alliance Boots GmbH, has become the largest drugstore chain in the country, with over 8,200 stores across all 50 states.

As a global pharmacy leader operating in 25+ countries, WBA offers a wide variety of products and services, including prescription medications, health supplements, personal care items, and beauty products.

Their three main divisions are Retail Pharmacy USA, Retail Pharmacy International, and Pharmaceutical Wholesale. The company is dedicated to providing affordable healthcare solutions worldwide, leveraging their extensive network of pharmacies and healthcare professionals to serve as a trusted provider for millions of people.
The runner-ups: retailers in the top 10
The biggest retailers whose company revenues fell below the top five are in no way less impressive than their leading counterparts:
Target: $104.62 billion
CVS Health Corporation: $93.79 billion
Lowe's Companies: $92.47 billion
Albertsons Companies: $71.87 billion
Royald Ahold Delhaize USA: $91.19 billion
Wrapping up: traditional retailers rule the market
Ecommerce has undoubtedly experienced significant growth in recent years, however, the traditional retail business model continues to remain safe and sound. While consumers appreciate the convenience of ecommerce, certain retail segments, such as apparel and grocery, maintain a strong foothold in offline shopping experiences. Physical stores offer the advantage of trying on clothes or personally selecting fresh produce, which is still difficult to replicate in the online space.
According to the Top 100 Retailers 2022 ranking by National Retail Federation, Walmart leads the market among the largest retailers in the USA, followed by other notable names including Costco Wholesale, The Home Depot, The Kroger Co., and Walgreens Boots Alliance. These retail pioneers have successfully adapted to evolving consumer preferences while still emphasizing the importance of traditional stores in the retail landscape.