How Can Innovators Use Lean Canvas to Formulate Business Models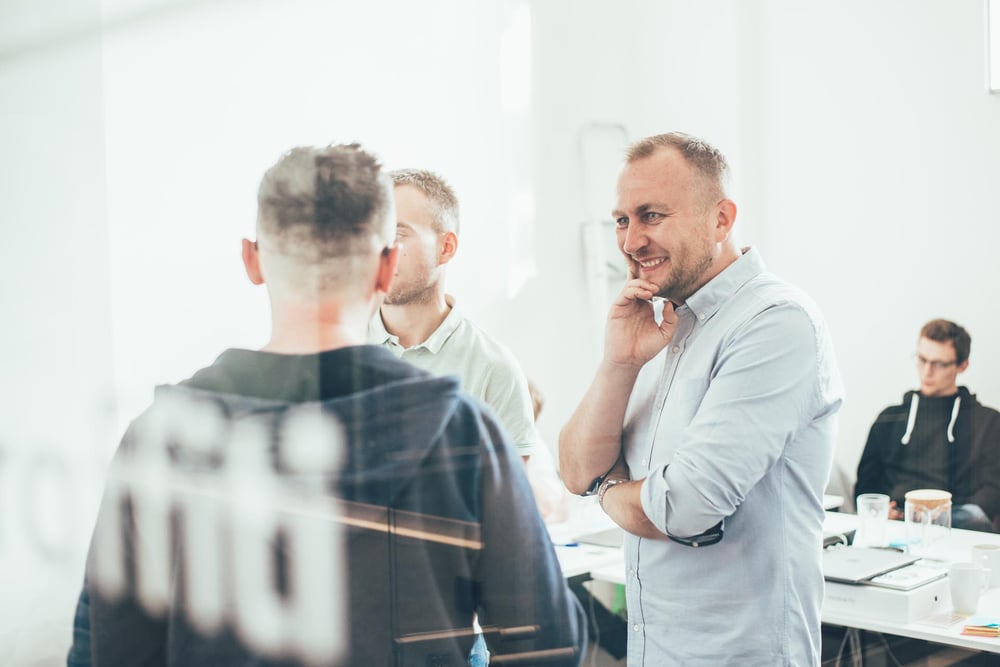 Lean Canvas is a way of capturing, organizing and documenting your business model in a simple 1-page template.
For product innovators, using Lean Canvas could be the key to unlocking the creative potential of their teams and solving big business problems they have in their workflow.
In this article we will explore how product teams can make the most of the Lean Canvas Model, how it works, the disadvantages of using the model and when it is most effective. By the end of this post you will have a good idea of whether this framework can help you achieve your product management goals.
What is Lean Canvas?
Lean Canvas is a one-page business plan template that enables you to segment and deconstruct business ideas into key assumptions. It is a document created with strategy and cohesion in mind and was inspired by the Lean Startup movement.
The Lean Startup is a scientific approach to creating and managing startups that is centered around producing and delivering quality products to customers as quickly as possible.
This one-page business model template, adapted from Alex Osterwalder's Business Model Canvas, is about efficiency and clarity.
Lean Canvas allows users to present its unique solutions and market competition to key stakeholders. Put simply, it is a sketch: a way to evaluate business opportunities without a need to create a time-consuming business plan.
With Lean Canvas template product managers can focus on solving one problem at a time. It is a reliable way of working through ideas and concepts in a way that allows product managers to examine the idea from a variety of angles.
Why should you use the Lean Canvas Model?
The Lean Canvas Model can be used in a variety of contexts to achieve a number of different business goals. Traditional business plans take too long to compile, too long to read and sometimes too long to understand. If you still want to document your plan, then Lean Canvas is often your best solution.
You should use the model because it is:
Fast
Lean Canvas is simple and quick to complete. Writing a traditional business plan can take months whereas you can outline your business models in a day with Lean Canvas. This is extremely helpful for product managers looking to be efficient with their strategic planning and get their product to their customers as soon as possible.
Portable
A single page business model is more portable than other types of business plans. You don't have to carry around heavy stacks of paper to explain the concept and ambition of a product. With Lean Canvas, a single page is enough which makes it an exceptionally portable method.
Concise
The Lean Canvas Model allows you to get straight to the point. It is a single page business model and as a result there is no room for unnecessary information. Everything included on the single page will be essential and paired down to its simplest form. You will be able to distill the essence of your product or business and focus on grabbing the attention of your reader.
Effective
The Lean Canvas Model works. The lean approach has been used by businesses and product managers all over the world and has produced great results. Lean Canvas provides an effective overview of your product/business model and allows you to easily document and communicate your progress. It is an exceptionally effective product management tool that makes your job easier from the planning to the delivery stage.
How to create a lean canvas?
The first step to creating a lean canvas is to choose a a template. There are a number of different templates to choose from such as a Miro template, a Lean Canvas Google Doc, a Lean Canvas Word template, a Lean Canvas Excel template or simply a piece of paper.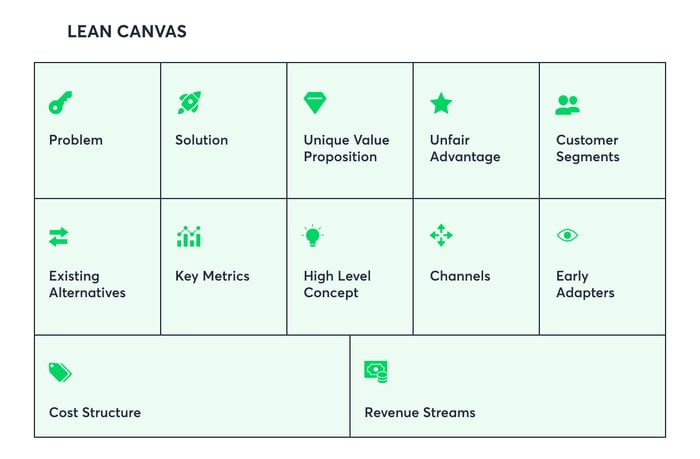 Source: Miro Lean Canvas Template
Each of these templates has a slightly different layout but incorporates the same sections/segments which we shall discuss below. They will all allow you to customize sections according to your needs and develop a clear one-page overview of your product.
Once you have decided on a template you can then start filling in the canvas with various features such as:
Blocks with sticky notes that include essential product information, ideas, headings, workflow suggestions
Links
Other file types such as photos or videos
PDFs/ documents
All templates enable you to dynamically iterate on the content included in the canvas. That way you can ensure that you are able to include all the ideas you want in a way that is specific and concise.
Building blocks in Lean Canvas
The single page document will be split into various segments. Each segment will address a particular stage/issue within the product management process. Each segment can be approached individually but it also helps to consider how each segment will interact through the product creation process.
Problem: Here you can outline the problem your product aims to solve or a gap in the market you want to fill. For example, "A user can't easily and effectively find hot deals for hotels or accommodation aggregated in one place."
Solution: Here outline how your product solves the problem you've identified. For example, "A site that finds and aggregates the best deals for hotels and accommodation".
Key Metrics: These are the key activities you intend to measure throughout the process.
Cost Structure: Outline the costs e.g. customer acquisition costs, hosting, distribution costs, labour etc.
Unique Value Proposition: What makes your product stand out? Is there a single, compelling message that states why your product is worth buying?
Unfair Advantage:

What do you have that no one else can buy? This is more than a committed and passionate team. It is about gaining a competitive edge. "The only real competitive advantage is that which cannot be copied and cannot be bought." — Jason Cohen
Customer Segments: Understand who your target customers might be. This will be intrinsically connected to the 'Problem' section. Whose problem are you trying to solve?
Channels: What is the right path to your customers? Which channels will give you the most access to your target customers and how can you ensure your product is being seen by people who need it?
Revenue streams: This segment will include information about the revenue model you intend to use, the lifetime value, and any expectations you may have regarding revenue and gross margin.
Review: How will you manage, assess and review your product development process? What targets do you need to hit to succeed?
The segments will differ slightly depending on the exact Lean Canvas document you use. However, generally the segments will follow this structure and focus on these particular business concepts.
Disadvantages of the Lean Canvas Model
One of the main disadvantages of Lean Canvas model is that it might not take the bigger picture into consideration. This may in turn lead to a lack of a strategic approach. Other tools that take more time and precision to complete may be better for product managers that want to take a holistic approach.
The Lean Canvas models are also lacking in regard to macroeconomic fields. It does not always account for future changes, trends or predictions and the cost structure often does not correctly represent the available resources. In the long term this may lead to product issues and is definitely something product managers will want to keep in mind when using Lean Canvas.
When to use the Lean Canvas technique?
The Lean Canvas technique can be deployed in a variety of circumstances. It is a flexible single-page template and can therefore be adapted to different products, models, workflows and processes.
There are a few key moments in the lifecycle of a product manager that would be perfect for the Lean Canvas technique, such as:
When you want to visualize an idea and see the bigger picture
When you need to brainstorm a new idea or business model
When you want to visualize a competitive advantage and conduct market analysis
When you need to maintain focus on operations during the launch of a product and during that product's lifecycle
When your priority is to identify a problem and create a product that solves that particular problem
When you develop a new product with an innovative business model
When you want to focus your product development on finding a scalable business model and learn what works and what does not
This list is not exhaustive. There are many occasions when Lean Canvas is useful and there are many kinds of products that would benefit from being workshopped through the Lean Canvas Model.
A tool for entrepreneurs to focus on identifying problems and solutions
Eric Ries, an American entrepreneur and author of The Lean Startup, a book on the lean startup movement, wrote, "When in doubt, simplify". This is the essence of the Lean Canvas approach. A simplified single-page model enables you to get to the root of the problem and allows you to explain your product to your colleagues and stakeholders.
The building blocks in Lean Canvas attempt to encompass everything you need to know about a product before you start making it. As a result, Lean Canvas makes the essential information accessible and simplifies the planning process. Ultimately, most product managers will benefit from experimenting with their business model. And implementing a lean canvas model that enables fast, concise and effective product development is a great place to start.