100+ Best Product Management Tools in 2022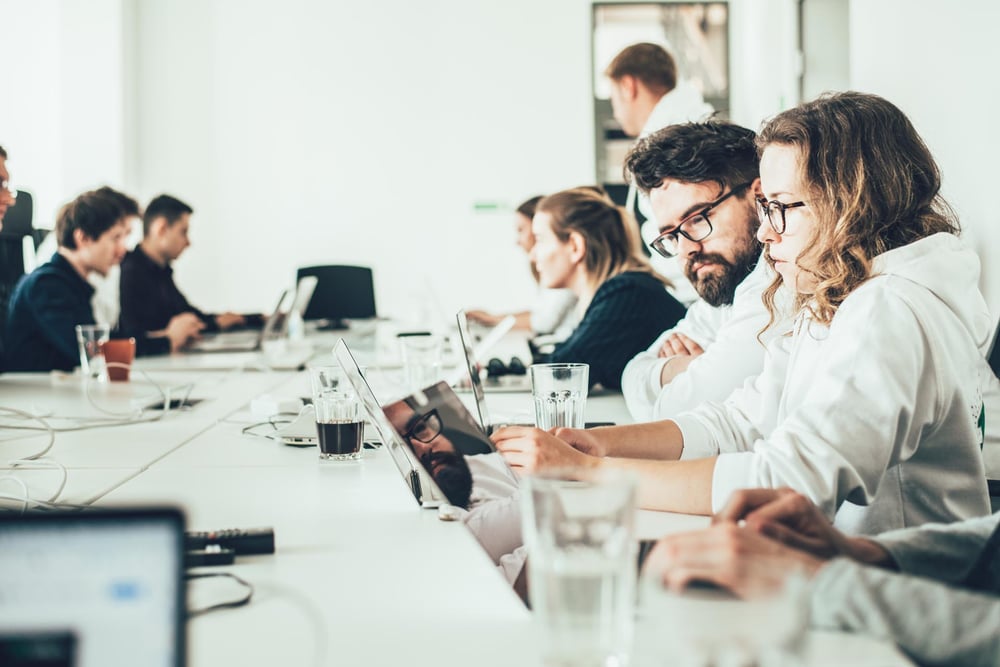 With an ever-changing product development environment, it's always best to see what's on offer when it comes to product management tools.
Therefore, to keep things simple, we've collected the top 105 tools for product management that could be the answer to any problems you're facing.
Our list contains the ultimate solutions for businesses to ensure daily operations run as efficiently as possible. Although some may not be relevant right now, they could be a suitable answer in future stages during product management. Let's take a look.
Best tools for product analytics
Product analytic tools are a great way for businesses to understand user behavior, user flow, and product metrics. In other words, the tools foster a better understanding of how users are interacting with a product.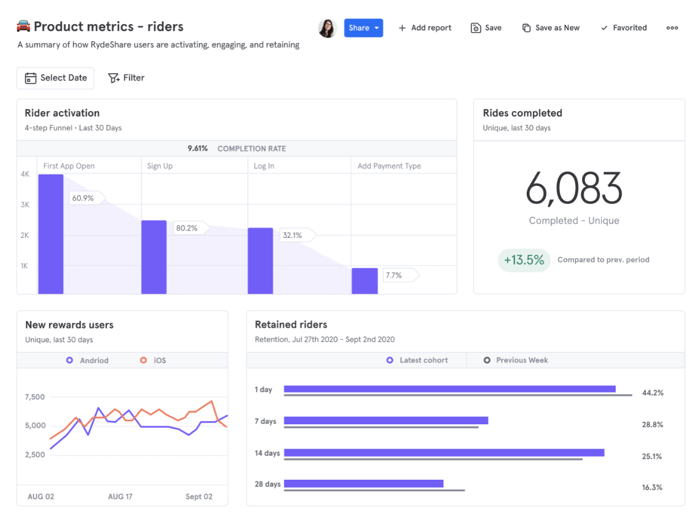 Image source: mixpanel
Take a look at some of the best tools for product analysis below.
Product analysis
The product analytics tools provide objective feedback about a product. This crucial information helps product managers to prioritize the right things and create a balanced product management strategy.
1. Adobe Analytics
Adobe is known for its easy-to-digest analytical software, used by product managers worldwide. It's perfect for turning vast streams of web data into actionable insights. It measures customer pathing, traffic sources, content effectiveness, and video engagement, among others. It helps to answer the questions of who is coming to a site and why. Providing highly accurate customer insights makes this tool one of the most used product management tools.
2. Amplitude
This analytical management software helps businesses to build the best products by understanding the customers better. Amplitude allows product managers to understand the adoption of a new feature, user engagement, or customer retention. The tool stands out with reporting KPIs, measuring feature impact, and conducting user research. Amplitude provides product managers with a way to understand user behavior, helping increase conversions when shortcomings have been identified. It can also help understand the product life cycle.
3. mixpanel
By using this management software, product managers can understand user behavior better, segregate and picture data, and measure the success of a product launch. The tool provides real-time data on how users interact with a product and helps to recognize trends, for example, a decrease in onboarding rate, which demonstrates areas for improvement.
Business Intelligence
There are many business intelligence tools out there that can be used that provide actionable insights from data to make strategic business decisions.
4. Amazon Quicksight
It is a scalable and serverless machine learning-powered tool for Business Intelligence (BI) analytics. Machine learning allows businesses to perform advanced analytics such as what-if analyses, anomaly detection, or churn prediction. The tool enables businesses to make informed decisions about operations and strategic planning. Amazon Quicksight is also cost-effective for companies with large-scale deployments because it offers pay-per-session pricing; you pay when users access the dashboards or reports.
5. Google Data Studio
Google Data Studio can be grasped quickly without training; it provides an all-rounded approach to reporting and monitoring KPIs. Product managers can use this tool for detailed analysis for a better understanding of trends in user experience with the product. Its interactive and fully customizable dashboard and reports make it easier to make smart business decisions. It is an essential part of any product management tools kit.
6. tableau
This multi-purpose tool for product management helps organizations of all sizes to make more data-driven decisions. The visual analytics platform transforms product managers' work by allowing them to find and interpret relevant data. It provides insights into end users' workflows within a product that can lead to better strategic planning and execution of a product launch.
7. Microsoft Power BI
Microsoft Power Bi is one of the best power BI tools available on the market for generating insightful and easy to interpret data. It offers interactive data visualizations and business intelligence capabilities with a simple interface to create dashboards and reports. It's great for avoiding inconsistent data manipulation to produce actionable results. It offers two versions - desktop and web for online collaborations.
Subscription-based revenue
These tools help product managers to track activities related to the sale of subscription-based products. Software as a service (SaaS) is not the only product that is subscription-based anymore. More and more businesses build products that provide digital as well as physical products as a subscription model. The tools help to, among other things, define and manage subscription plans, decide on pricing, track sales and revenue, identify new sales opportunities, save customer data.
8. ChartMogul
ChartMogul takes the pain out of extracting and analyzing subscription revenue to understand trends. With data presented on clear graphs, it helps visualize insights product managers need.
9. baremetrics
A simple yet effective choice is baremetrics. It helps provide a quick overview of all income gained through subscriptions. If you deal with high volumes of subscriptions, this tool should be one of many product management tools to consider.
Best tools for product development
To accurately evaluate your current product management processes and develop your products to improve your offering, you need the best tools for the job. Check out the best tools for product development below.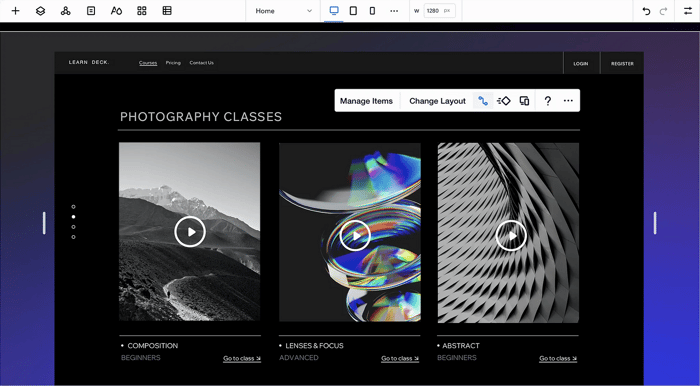 Image source: EditorX
Development and launch tools
There are many elements of developing and launching a new product. The following tools help product managers to execute product strategy and lead to successful product launches.
10. Editor X
This product management tool is similar to InVision. It helps design your websites by providing high-quality APIs and giving you the freedom to develop an exceptional digital user experience. With its flexible canvas, product managers can turn ideas into beautiful designs that users love and value. The secret of the platform is to combine responsive design with smooth drag and drop.
11. GitLab
GitLab helps with product management by allowing you to use the same all-in-one platform to plan, build, secure and deploy your software development. The tool supports the product manager from the idea to production and improves the time cycle from week to minutes. In this way, it helps to increase productivity. At the same time, the cost of product development and decreases time to market.
12. Shuffle
Shuffle is one of the highest quality product management tools for helping developers speed up their development processes and increase efficiency. The tool combines four visual editors, Bootstrap, Bulma, Tailwind CSS, and Material‑UI. Moreover, it includes 3,000+ UI components organized into different categories with various configuration options allowing users to build customized templates.
A/B Testing
Development teams need A/B testing tools to identify the best performing variations of a product, feature, or update that leads to better product designs.
13. Google Optimize
This free product management tool is perfect for those looking to test their websites in order to gain or improve conversions and increase user engagement and user satisfaction. It provides a quick insight into how a website can be improved. Besides A/B testing, it can be used for multivariate testing, and redirect tests.
14. AB Tasty
Through AI experimentation and personalization, this product management tool can help build high-quality end-to-end experiences. This tool can be used, for example, to test a new feature on different user segments, integrate user feedback in real-time, run experiments. Product teams use AI Tasty for A/B testing as well as multivariate testing.
15. Apptimize
This A/B testing tool allows cross-platform optimization, from mobile and web-based platforms to OTT and more. It enables the optimization of all customer digital touchpoints and tracks the performance of those optimizations. In this way, businesses are able to offer a consistent experience across different platforms. It can also be used for multivariate tests. A great addition to management software tools.
Retrospective tools
The role of retrospective tools is to structure a framework for a team and facilitate team meetings. They help with organization, retrospectives, and follow-ups.
16. Miro
This online board product management tool helps bring teams together so they can collaborate effectively and develop products to the highest standard. Miro offers multiple templates suitable for team brainstorming, team sessions, and workshops.
17. EasyRetro
Working remotely? This is one of the easiest product management tools perfect for remote teams wanting to collaborate on projects. Product teams use it for retrospectives for regular team spring sessions to discuss what went well and what didn't go as planned. Product teams can use it as an opportunity to learn and improve their work.
Quality management tools
Product teams use quality management tools to recognize repeatedly occurring problems, product defects, and their sources.
18. Code Climate
If you're looking for a tool that tests the quality of your code, Code Climate is the quality management software that has everything you need to test coverage, track your progress against measurable goals, maintainability, and much more. You can receive automated code review and comments on your requests. The tool is based on a 10-point technical debt assessment to provide real time feedback.
19. Ghost Inspector
This innovative and comprehensive product management solution allows product teams to perform testing that is approachable for every team member, even those without deep technical knowledge. What makes this tool so attractive? It sends alerts immediately when a problem occurs. Moreover, it eliminates some problems before the impact user experience by, for example, catching bugs that customers encounter them.
Best tools for product design
Effective product management requires tools that can support different aspects and phases of product design.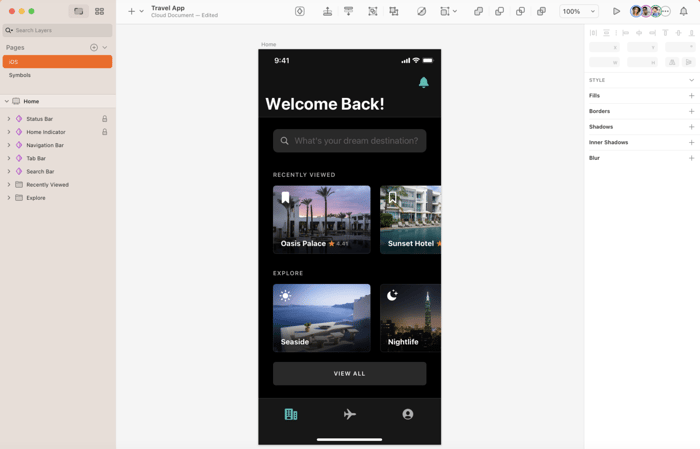 Image source: Sketch
Prototyping
Prototyping tools allow trying products or features and work on details.
20. Adobe XD
Adobe XD helps businesses to create websites, apps, and voices, among others. It allows users to quickly sketch wireframes and mockups, create high-fidelity designs for any screen, and work together in real-time. It offers an option to add animations, build interactive prototypes, and test across different devices. Moreover, it allows users to share handoff designs, collect feedback, and iterate quickly.
21. Figma
If you're looking for a quality vector-based design management software where you can collaborate on different projects. At the same time, look no further than Figma. The tool offers to create animated prototypes, sketches, clickable prototypes/ mock-ups. Users with no coding skills can build intuitively, define interactions, and make prototypes feel like a real experience with mobile-promised designs.
22. Proto.io
Proto.io is one of the ultimate prototyping tools for product managers, UX designers, entrepreneurs, and marketers looking to turn their design ideas into reality. The easy-to-use prototyping management software helps capture ideas seamlessly. Prototyping, creating sketches, clickable prototypes, and mockups are possible thanks to 250+ UI Components, 1000+ templates, and 6000+ digital assets.
23. Sketch
Chosen by over one million people as the go-to software development program for creating high-quality designs, it's the perfect tool for optimizing your collaborative design process.
It is not an interaction-based prototyping tool, it is more a low fidelity to high fidelity on a static mockup. If you want to design a very simple prototype Sketch can do that for you. As the above tools, it can be used for prototyping, creating sketches, and clickable prototypes/mock-ups.
24. UXPin
UXPin creates innovative tech-powering code-base designs. It is not a simple prototyping tool that links static screens or artboards with transitions. It is equipped with various tools that enable designing prototypes that work as they are a final product.

For example, in UXPin you can design different versions of any element, update properties between states with one click, dynamically update text elements, catch data from inputs, create conditional interactions, preview your prototypes on Android and iOS mobile devices, and many more.
Creating visual content
Product management involves using visual content creation tools to produce presentations, videos, among others.
25. Canva
This graphic design management software is perfect for creating professional visual content. What's more, the easy-to-use interface makes it suitable for beginners and experts alike. In Canva, you can make presentations, infographics, and short videos through using different features, many templates for dedicated platforms and formats, an outstanding stock of photos, videos, and other elements.
26. PiXLR
PIXLR is cloud-based editing software that solves all your photo editing needs. With free templates included, you can get on the right track straight away. Its AI-powered tools allow users to make intuitive photo editing and graphic designs. Moreover, the tool opens different image formats, for example, PSD, PGN, JPEG, WebP.
Best tools for product communication
Communicating with your team on the same project can be difficult. These tools below can help make communicating with your team and your clients easier than ever before.
Image source: Hopin
Online video meetings and webinars
Product management involves a lot of meetings within the team as well as with customers and other stakeholders. Often, customers or team members are in different locations and remote communication is necessary.
27. Google Meet
One of the most internationally-used communication management tools is Google Meet. It has decent video quality and the ability to accommodate large calls when needed. It offers many useful integrations and practical features such as setting a background, recording a meeting, or dividing a call into different meeting rooms.
28. Microsoft Teams
This simple to use communication management software helps connect businesses without delay. Product-related issues can be discussed in great detail with its amazing note-taking feature. It also offers chat and discussion space as well as a simple task management board.
29. Zoom
Zoom needs no introduction. The software is widely used throughout the business world and is one of the most common communication management tools for meetings, phone calls, webinars, and other online events.
30. Hopin
One of the most customizable management tools, Hopin is great for getting right down to business. Usually, businesses use it for streaming online events. It's often praised by product managers for their high-quality support whenever needed.
31. StreamYard
When streaming to different social platforms, this software provides an easy option. You can share your screen or camera without complication when organizing and managing video streaming.
Cooperation and communication
There tools facilitate communication and cooperation of remote teams.
32. Slack
Slack provides an efficient way to organize discussions and documents. Remote internal communication becomes much easier thanks to this great piece of software. Why do businesses use Slack? Because of its outstanding integration that enables centralization of all notifications, including support, sales, social media, and blogging. It is so easy to find all notifications in one place and be able to discuss them instantly.
33. Google Docs
With real-time capabilities, Google Docs allows product team members to write various forms of documentation. It also facilitates collaboration between team members as well as external actors.
34. Google Workspace
For quick integration of different cooperation and communication management tools, this option is a good choice. All information can be compiled in one easy-to-access location. Google Workspace plans include a custom email, Gmail, Calendar, Meet, Chat, Drive, Docs, Sheets, Slides, Forms, Sites, and more.
35. Google Sheets
Google Sheets is Google's answer to Excel. Their sheet program offers many of the same key features of the traditional software but with one clear bonus: real-time editing for multiple users. The perfect answer to file sharing.
36. Google Slides
Quick to learn, Google Slides is an inexpensive option to use when creating visual slide presentations. It's saved in the cloud, thus access to the program is achievable for the whole company.
Best tools for product marketing
When it comes to product marketing, businesses know all too well how costly it can be. To make sure results are acquired without breaking the budget, check below.
Image source: Drift
Email marketing
Email continues to be one of the most common channels for marketing as 87% of B2B marketers and 77% of B2C marketers use it for lead nurturing. Read on tools that can simplify product marketing.
37. MailerLite
If you want to create advanced email campaigns, give MailerLite a try. With automation, surveys, and more, you'll have everything you need with this email marketing management software.
38. GetResponse
GetResponse is a powerful tool for sending emails and creating landing pages, helping you grow and engage with your target audience. It can handle not only email marketing, automation, sales funnel, push notifications but also webinars. Moreover, it offers a lot of integrations. , Microsoft Dynamics 365, Salesflare, Save My Leads, SamCart, Magento, Shopify, WordPress, to name a few.
39. Drift
The Drift email management software helps you engage in personalized conversations with your customers, assisting you in gaining leads and new business. One of the features worth mentioning is the automated separation of human replies from auto respondents. It also helps to elevate contact records by adding new contacts to specific target accounts and automatically reads back to your CRM and MAP to replace old contact records with updated information.
Marketing and e-commerce automation
Marketing and e-commerce automation tools allow businesses to reach more prospects and optimize different processes with less effort and a shorter time than when done manually.
40. Adroll
Audience targeting and cross-channel engagement are just some of the helpful marketing management tools that come with the Adroll software. With Adroll, you can run campaigns, find more customers, build profitable relationships, track, measure, and improve results, and protect customer data. Businesses that use this tool observe growth in sales by reconnecting with customers and bringing them back by using display ads, automated emails, segmented audiences, and targeting.
41. MailChimp
This dual marketing and e-commerce management software is perfect for those who want to get the most out of email marketing. Mailchimp's email builder is easy to use, and its customization feature allows brands to make emails look just like their websites. Moreover, businesses can save time and do more thanks to various integrations, such as Accelo, Adobe Photoshop, Zendesk Activity, ConvertFlow, 40Nuggets, DataBox, Monday.com.
42. SALESmanago
This AI-driven software helps create and automate marketing channels as easily as possible. You don't even need to learn code to use it! It is the only no-code CDP & Marketing Automation platform that utilizes first- and zero-party data by using advanced analytics and AI automation.
Social media management
It can take a lot of time and effort to promote a product. Social media campaigns are a big part of it. Check the tools on the market that help streamline social media marketers' workflows, save time, and deliver content to the right audience.
43. Buffer
Buffer is one of the best product management software for helping you manage all your social media accounts, whilst analyzing and engaging with your target customers. Small businesses tend to choose Buffer to build their brand and presence on social media.
44. Postify
If you are looking for an all-in-one tool that helps schedule your posts to all your social media channels, look no further than Postify. It allows you to schedule posts on Facebook, Instagram, LinkedIn, Twitter, and Vkontakte.
Best tools for product discovery
​​The majority of the time spent on the product discovery process is collecting large amounts of user information to make the best decisions for the product. Take a look at some great tools for increasing efficiency in the product discovery process.
Image source: Mural
Experimenting
Growing customer expectations make product managers turn to experimentation to evaluate ideas and base decisions on data.
45. ClickFunnels
The tool is perfect for people who do not know how to code to build pages inside a sales funnel. You can create multiple sales funnels in one easy-to-access location. Ideas can be launched rapidly without slow external integrations holding you back.
46. Landingi
Landingi is a solid choice to assist you in the creation of high-converting landing pages through many modern management tools. You can use customizable templates to make the process easier. You can quickly create, launch, and optimize pages with a drag-and-drop page builder.
Teamwork
Whether your team works under the same roof or is scattered in different cities or countries, the below tools can help you work without interruptions.
47. draw.io
Draw.io is a free product management software that provides a user-friendly experience, even for beginners. You can use it for displaying and editing graphical information.
48. Miro
Miro is another amazing visualization tool that product teams can use to collaborate effectively and develop products to the highest standard. Miro offers multiple templates suitable for team brainstorming, team sessions, and workshops. The Enterprise plan enables you to set multiple teams that can work on different projects with different purposes.
49. Mural
Perfect for product brainstorming and visual collaboration for a product management team, Mural is an interactive whiteboard that helps connect staff no matter where they are located. The visual collaboration features include sticky notes, diagramming, and even gifs.
User insights
The crucial part of developing a product is user insights. What is the users' experience with the product? How do they anticipate it? How do they respond to it? These tools can help you get all insights you need.
50. BRAND24
Brand24 provides the ability to track user analytics and comes with an 'online mentions' option that identifies conversation across social media discussing your business, to help gather customer feedback.
51. SentiOne
SentiOne is another great way to find mentions and user stories across social media, blogs, forums, and more to see what users think of your products and help drive improvements. The company also offers AI chatbots and voicebots that can improve omnichannel contact centers.
52. Google Forms
This free online tool helps generate customer feedback through the use of a simplistic survey. You add your photos and logo and Forms automatically picks up the right color templates to make your survey unique. Ask the questions you want to gain actionable information regarding your products.
53. matomo (PIWIK)
Matomo can be synced with websites such as WordPress to provide user analytics about how users are interacting with your website and products. The tool is an alternative to Google Analytics. They respect customer privacy and do not use or share data for their purposes as Google does.
54. Typeform
A great customizable form that helps create complex surveys without the usual headaches attached. Data can be integrated without issues into this great user-generated feedback tool. Typefrom offers various templates for quizzes, research, feedback, and lead generation.
55. SurveyMonkey
SurveyMonkey is one of the most renowned survey management tools that set the standard for online form submissions. Its veteran status provides you with an abundance of features to help engage users when acquiring high-quality feedback.
User testing and research
In this section, you can learn about what can help you conduct UX research and testing. These tools can be used for usability testing, surveys, interviews, or more specialized tests.
56. Firebase
When gathering data for apps, Firebase provides a solid all-in-one approach. Those that use the software class it as the only backend tool you'll need for collecting data. It's a backend as a service, and it doesn't require programming. Therefore, making it a must-have for product management tools used by businesses.
57. VWO
Looking for web testing and conversation improvement? Then VWO is a fantastic choice. You can gain access to both qualitative and quantitative user research to improve product sales. The tool offers A/B testing, multivariate testing, surveys, heatmaps, funnels, and session recordings.
58. smartlook
Gain qualitative data from this easy-to-use analytical software for both websites and apps. Discover what drives customers and what stands in the way of reaching more conversions. You can use this tool for watching recordings of the users, using tracked events generated on the website, creating heatmaps of visitor's behavior, and performing analysis of user behavior.
User tracking
To optimize your product, such as a website or an app, you need to understand and measure user behavior.
59. Google Analytics
One of the most popular management tools used by businesses for user analytics, providing valuable quantitative data. It enables tracking advertising ROI, Flash, video, social platform sites, and applications.
60. VWO
VWO, which has already made our list, also includes amazing analytical management tools to track users and understand even more information about your audience. The tool offers A/B testing, multivariate testing, surveys, heatmaps, funnels, and session recordings.
61. hotjar
For an easy-to-use heatmap tool, hotjar helps businesses see users' behavior to help a product team enhance user behavior analytics. It combines qualitative and qualitative data to determine needed changes.
62. uxcam
When focusing on heatmaps, screen analysis, session length, and more, then this analytical management software is the one you need. It's designed for apps and provides great valuable data to implement change.
Best tools for product operations
To enhance day-to-day product operations there are different options to take advantage of. See below.
Image source: LiveChat
Communication automation
Marketing communication is complex and time-consuming. For this reason, marketers use communication automation software.
63. HubSpot
This product operation software helps you stay on top of all your processes, by automating and ensuring team communication within all systems and departments. It covers CRM, sales app, landing pages, call schedule.
64. LiveChat
This product management tool is a high-quality live chat software that helps you stay connected with your customers. LiveChat offers many integrations with various communication channels, including HelpDesk, WhatsApp Business, ChatBot, Hubspot, Zendesk, SnapCall, or Slack for Live Chat.
Knowledge base
Every product team needs a space, where they can share knowledge and gather documentation.
65. Confluence
When thinking of product management software tools, Confluence needs to be considered. It's a collaboration tool that helps teams work together on their projects remotely. The product team can use it for documentation and knowledge repositories.
HR
HR tools are various solutions that help product teams with day-to-day activities such as reporting and other administrative tasks.
66. bambooHR
Whatever stage you are at in the HR process, whether that is hiring, onboarding, or improving company culture, bambooHR gives you the analysis to make life easier. The tool was created for small and medium businesses to store and analyze employee records and track applications.
67. Calamari
Need help with tracking time off and attendance? Calamari automates all these processes, allowing you to focus on the most important HR tasks. Many businesses have already added this to their main product management tools that are regularly used.
68. Namely
It is one of the best management tools that give you all the product management information you need in one place, whether that's payroll, employee engagement, compliance, or benefits administration.
Chatbots
The success of the product depends on communication with the customers. Here are several tools that can be used for real-time and automated customer support.
69. TIDIO
TIDIO is a high-performance, yet simple to use chatbot, perfect for those looking to reply to their customers quicker than ever before. TIDIO enables keeping all messages from different channels stored in one dashboard. TIDIO's AI chatbots work 24/7 and besides answering customer questions they can also save abandoned carts and offer discounts.
70. MobileMonkey
This is one of the best product management tools for reaching more customers than ever before, through SMS, LinkedIn, Facebook, Instagram, and website chatbot marketing. You can use MobileMonkey's multi-platform chatbot builder to write content that will be used on every chat platform. The unified chat inbox will allow you to keep all customer communication via chat in one place.
Onboarding
User onboarding is crucial for driving customer satisfaction. Onboarding tools help utilize a product properly and increase customer retention. On the other hand, the product team also needs to make sure that their new team members are offered engaging training and a smooth onboarding process.
71. walkme
Since 2011, walkme has been one of the best product management tools for helping businesses increase user onboarding to the platforms through high-quality digital experiences. The tool will help customers to embrace the product through a smooth onboarding process.
72. apty
Apty can be used for employee training and onboarding. The cost-effective tool fosters learning and helps new employees to absorb knowledge faster.
Multi-Language
One of the more challenging aspects of product management is creating multilingual products. Localization and translation tools can make the process much easier.
73. gengo
Gengo helps solve any issues in understanding different languages by offering high-quality and affordable translation solutions, no matter how complicated. A great addition to your product management tools.
74. lokalise
Lokalise helps make the development cycle more efficient. With its high-quality machine translation tools, you can be sure that the translations will be accurate. The tool offers a seamless localization workflow. It allows localization of a product in unison with the development cycle through plugins Adobe XD, Figma, and Sketch.
75. Grammarly
Ensuring a product has perfect grammar is key. This tool solves this potential problem by checking for any spelling, punctuation, clarity, or grammatical mistakes in the text.
76. LanguageTool
This free open-source grammar checker is perfect for those looking to improve their products or new products' writing content straight away.
77. DeepL
DeepL is a machine translation software product management system that is extremely accurate due to its contextualization features, whilst also never storing any of the texts that are translated.
Data management
The entire product life cycle generates an enormous amount of data. Product management cannot do without tools that store, analyze, and process the data.
78. Funnel
This data management tool collects and analyses all marketing data, allowing you to make more informed product management decisions. Funnel integrates with 500+ marketing apps and platforms. Salesforce, Hubspot, Microsoft, Facebook,to name a few.
79. Google Sheets
Created by Google, this is ideal for inputting and managing all your data in an easy-to-use free spreadsheet program. It includes real-time editing to help track progress through its simple-to-use user interface.
80. Microsoft Excel
This is one of the most famous spreadsheet tools, and with its many features, it provides all you need for inputting and managing data.
81. tadabase
This efficient database tool can be customized to automate workflow and streamline operations, and you don't even need to know a line of code to use it. Tatabase integrates with Pipes, native integrations, and third-party tools.
Best tools for productivity
A productive workforce can be the difference between achieving business targets or falling short. These are the best software types that can help improve productivity throughout.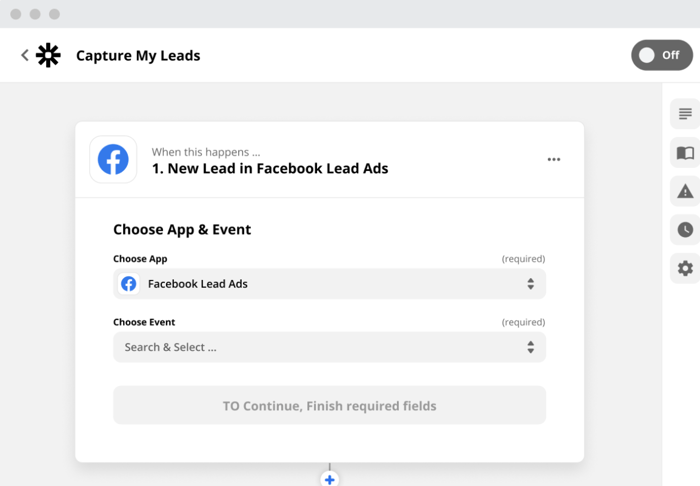 Image source: Zapier
Workflow/tools integration
Connecting different apps and services to automate repetitive tasks can save a lot of time in product management.
82. zapier
This tool helps businesses gain an affordable way to implement automation without the need to write any code when integrating apps and other essential workflow processes. A great addition to workflow management tools.
Time management
Product managers need to prioritize their work on the tasks to achieve project goals. Effective time management skills are important, however, there are different tools that can help with being focused and structured.
83. Google Calendar
A quick and inexpensive way to organize meetings and other deadlines throughout the week. The perfect task management tool for those with existing workflows that want to prevent any mess-ups.
84. Timely
Timely was the first ever-created time tracking app. Today, it helps over 5,000 businesses schedule their work to ensure everything runs smoothly. Seamlessly manage schedules without hassle.
85. toggl
No matter the workflow, toggl is a simple way to track tasks that sync to all your devices in real-time. Along with displaying tasks and projects your internal teams are working on. Toggle tracking is particularly useful when working with clients. It is easy to present reports and demonstrate how much time has been spent on particular tasks.
86. Calendly
Calendly is an easy-to-use tool for scheduling meetings that eliminates back-and-forth emails. It offers you times that work with your and other participants' availability across different calendars.
Best tools for product sales
Take a look at some of the best tools for improving your product sales process. Whether it is finding leads or CRM, you'll find it all here.
Image source: SalesQL
Leads acquisition and generation
After launching a product, it's time to generate leads.
87. Apollo
The ultimate lead generation tool that not only helps you find high-worth leads but also helps enhance your outreach approach to improve response rates.
88. SalesQL
Add leads to a united database where their information can be accessed easily and used during outreach campaigns. With SalesQL, you can find emails on 1st, 2nd, and 3rd+ LinkedIn connections, backup, and export your contacts.
89. RocketReach
From large corporations to small businesses, more than 8 million businesses use RocketReach. You can get access to Real-time verified data for 450 million professionals across 17 million companies globally.
90. Hunter
It is the ultimate product management software for acquiring valuable leads from verified emails sourced from websites, businesses, and other methods to expand your sales. You use Hunter's Chrome extension to find emails behind any website. You can verify emails from 100+ million professional email address databases.
91. Growbots
An all-in-one outbound sales program, Growbots automates the lead generation process by obtaining new leads and carries out automatic email campaigns.
92. ProspectIN
Use LinkedIn for leads? ProspectIN is a browser extension (for Chrome) that helps automate outreaching leads. It provides consistent results without exceeding the daily limits.
93. LinkedIn
The social media platform where professionals come to network, grow, and promote products. Many of the companies around the world have a LinkedIn presence providing the perfect place to source leads.
Best tools for product strategy
One of the most important parts of product management is the strategy process. To create the best strategy, you need high-quality tools that will help you stay on track with your goals.
Image source: Kapta
OKR
Every product team creates its own objectives and key results to measure the success of products.
94. Smart Progress
SMART PROGRESS is a collaborative product strategy tool, where you can share goals and work together to come up with plans on how to achieve them.
95. Gtmhub
Used in more than 75 countries, Gtmhub is one of the best product management software for planning, where businesses can change and adapt their strategy effectively and easily. It is possible to visualize objectives and key results making data more approachable.
96. Kapta
This is one of the best product management tools. Kapta makes account management and goal-setting simple, helping achieve higher efficiency, whilst ensuring you never lose your biggest accounts.
Roadmapping
Roadmapping is an essential part of every product manager's job. It is one of the most important product management techniques to keep track of projects. Different tools on the market can help with the vision, directions, priorities, and progress of product development.
97. productboard
Productboard consolidates everything from customer feedback and insights, to engagement and prioritization, to create a detailed roadmap everyone can get behind. The tool is built on an open platform to meet the expectations of product teams.
98. ProductPlan
If you're looking for an easy way to create product roadmaps that your whole team can align with, ProductPlan's product manager toolkit is for you. It is essential roadmapping software is used by many businesses.
99. Jira
Jira is the ultimate product management software for roadmapping, where you can keep track and ensure the project is going along smoothly.
Prioritization
Prioritization, a process of evaluating the importance of different tasks and eliminating unnecessary activities, and delivering a product in the shortest possible way, is crucial for every product manager. To make the job done, product managers need to make sure that the team focuses on the most important things first.
100. Feature Upvote
This tool centralizes all your customer feedback into one system, so you can ensure valuable feedback never gets lost in other tools.
101. airfocus
Airfocus allows you to prioritize your most important projects and tasks to ensure you always achieve your most urgent objectives and targets.
Project management
Here are the top project management tools you should consider.
102. asana
This product planning software helps the entire team stay up-to-date on all developments and manage your team's work, projects, and tasks online.
103. Jira
A right choice for those who want to schedule and develop products effectively. This project management software can sync with multiple devices to ensure you've always got access. Jira is one of many tools for product managers to utilize but is often seen as the complete product management suite.
104. monday.com
Another option for top product management tools to use is Monday. Every aspect of work can be covered and managed through the use of Monday. Teams can collaborate easily and produce rapid results.
105. Trello
Remove unnecessary hurdles with an easy-to-use product management platform for the whole business to map out and stay on track. Businesses around the world rely on this product management system for day-to-day scheduling.
Choose the right tools for product management
With so many options at your disposal, you can choose products specifically designed for your needs. The best approach to finding what works is to analyze your core processes and find areas that need improvement.