Netguru Receives 3rd Deloitte Technology Fast 50 Central Europe Award

Great news on Friday morning! Netguru was awarded in the prestigious Fast 50 Central Europe competition that recognises and profiles the fastest growing public or private technology companies in Central Europe.
It's already the third time (we received it in 2015 and 2014 as well) we were ranked in the list among other disrupting companies that are changing the lives with technology.
Last night, Radek Zaleski, our Head of Growth received the prize in the name of Netguru. We're extremely proud to be recognised in the industry. It's a privilege for us, especially that it's not easy to stand out in our sector. We're happy that our company is one of those that are pushing the economy forward with innovation.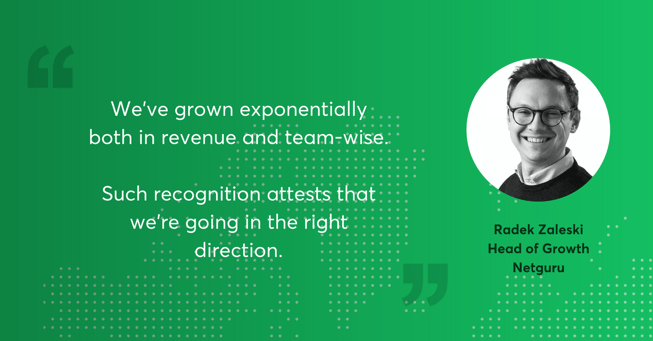 Within the past few years, we've worked really hard to get to the place we're in now. We invest heavily in people and technology and it does pay off. We've grown exponentially both in revenue and team-wise. Such recognition attests that we're going in the right direction. - Radek Zaleski, Head of Growth at Netguru.
In 2017, three hundred companies from eleven countries applied for the Fast 50 Central Europe competition. Their average growth rate is 1127%, which makes it a very competitive ranking. If you want to read more about the competition, check out the report.
Congratulations to all the other companies that made it to the list!