17 Positive Effects of the COVID-19 Lockdown. Here's What Retail Executives and Experts Shared With Us
Gloomy rather than blooming – that's the first that comes to mind when you think the retail landscape.
The lockdown induced by the COVID-19 pandemic has had a devastating impact on non-essential retailers (especially small businesses), leading to many store closures (eg. 16% of all Zara's stores) and layoffs.
All companies, large and small, accelerated their efforts towards digitalisation, improved their e-commerce channels, or doubled down on keeping in touch with their customers.
Yet, if you look at the numbers, it was as much as could be done. For instance, two-thirds of Britain's firms say the COVID-19 lockdown has been the biggest hit to sales since the financial crisis, according to the CBI survey.
Is it bad? It is. But though we can't do much about the coronavirus, we wanted to change the narrative and focus on the opportunities that the lockdown created.
This was one of the reasons we hosted Disruption Forum Retail with top brands as IKEA, eBay, Żabka, Arup, or Delivery Hero.
To give retail businesses further inspiration, we asked retail executives, managers, VCs and advisors one question:
What's is #1 positive impact the two-month-long lockdown has had on the retail industry and/or your job?
Here's what they shared.
1. Rapid acceleration and behavioural change
Tom Elkins, Head of Mobile for Buyer Experience, eBay
Trends, which were already in motion, accelerated, and that acceleration has brought us at least several months, if not years, forward. We have observed new users coming online even in the most penetrated markets; we have seen digital natives experimenting with shopping in new categories. For instance, at eBay alone, we have noted six hundred percent growth on VR headsets.

I believe it's a kind of a ratchet – once people have crossed that threshold of being comfortable buying everything from grocery to dumbbells online or in the app, they won't go back. This is a behavioural change.
Jipy Mohanty, Senior Director, Groceries and New Verticals, Delivery Hero
There are several positive signs of the return of store footfall in countries that have started to ease restrictions. At the same time, it's interesting to see how much of a previously unpenetrated e-commerce user base the pandemic has been able to covert. And, how much of that has gone from a panic, only-available option to a habit-forming behavior now for this customer segment.

As a manager, and for someone who had never managed 100-percent remote teams, I think the pandemic has made me more empathetic to my team members, their individual situations and how I can help them succeed.
Moritz Spangenberg, Retail Transformation Practice Lead, Netguru
Most crises also entail moments of opportunity, and I can observe one positive consequence in the retail industry. Retail leaders are accelerating their digital initiatives and doubling down on online sales and more delivery options such as Click & Collect, curbside pickup, and home delivery.

Projects that would have taken years to plan and execute are now MVP-ed, tested and scaled in a matter of weeks. I hope this MVP mindset is here to stay and we will see more bold moves in the industry.
Olgierd Cygan, Managing Partner, Hello Consulting PL
The lockdown became a real accelerator of digital transformation in the retail category. Prior to the pandemic, many retailers focused on traditional brick-and-mortar areas of their business instead of going omnichannel.

Nowadays, customers' expectations are set very high. As a consequence, just keeping up with the market is not enough. In order to succeed, retailers have to be ahead of the market.

It is not only about owning an ecommerce site, but also about mcommerce, mobile apps, quick payments, seamless delivery and convenient returns. The bar is set higher than it was just three months ago. But better late than never.
Marek Jużak, Head of Account Management APAC (Asia & Pacific), RTB House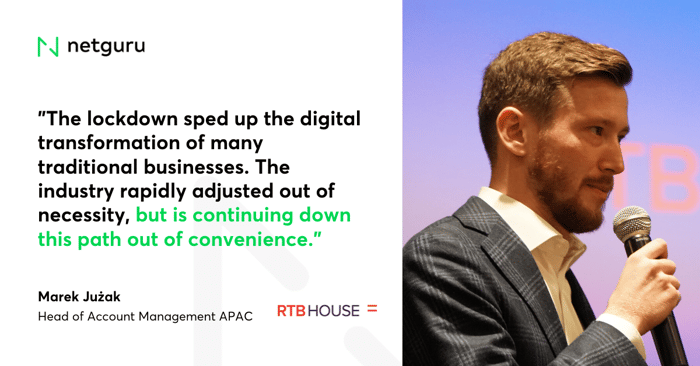 The lockdown sped up the digital transformation of many traditional businesses, which is something that would have happened anyway. The industry rapidly adjusted out of necessity, but is continuing down this path out of convenience. For me, personally, the biggest upside is the same as for most people out there – in the long term, it's an easier and more seamless access to a wider range of products and services.
2. Some business models have failed, while others thrived
Mirco Pasqualini, VP Strategic and Innovation Design, Originate
From the point of view of design, how you build is always more important than what you make, defining the value of the final result and innovating. The two-month-long lockdown in retail allowed us to highlight this difference.

It has become tangible to everyone how specific business models have failed to react, while others have not only adapted but have even been able to grow. The latter, with an integrated, holistic approach where digital & physical were not separate aspects, but the common denominator of omni-channel customer experience, have become the new business case in the market.

At the expense of our personal lives and economic uncertainties that the lockdown has created, the positive impact has been precisely to clarify unquestionably in which direction the future of retail is going.
Maximilian Jansen, Co-Founder, Theywillnotice
The retail industry was now forced to think outside the box – the disruption of retail was already going on, but now every floor staff understood the risk of the crisis.

Therefore, everyone was spurred on to think about new concepts and new ways to interact with customers, such as Instagram stories to show new collections or to get in direct contact with important customers via Whatsapp.

For sure, it's far from being revolutionary, but it shows what kind of service level retail teams have to offer in the future.
3. E-commerce is "the new black"
Kinga Stanisławska, Co-Founder, Experior
The switch to e-commerce in the older-aged customers is an example of the growing digitalization of the silver generation and represents an opportunity for those retailers with established online presence to reach new customers that used to shop in a traditional way.

In home furnishing, there is a quite a revolution for many traditional players who invested none or very little in online presence. Today, they must change the approach to digitalization or their longer term survival will be put in jeopardy. Home furnishing is one of the fastest growing online segments today fueled by the new approach to working more from home. An example of a fully online home furnishing success story is the Polish company TYLKO.
Christos Fragakis, Sales Operations Manager at efood
During lockdown, households started turning to online delivery for supplies (e.g. groceries). Even people without any online ordering experience started using them – small readjustments at procedures (like contactless delivery or payments) made the delivery safer than ever.

Even though the fear of contamination caused a reduction in the food delivery market at the beginning, after a short amount of time and as a result of some readjustments in delivery, the orders went back to normal, which is great if you consider that a lot of businesses are struggling.
Henry Ngan, Founder, HHN Capital
The human habits of going to physical retail stores have practically come to a halt due to COVID-19. We've learned and have been forced to adopt e-tailing. While I still believe having physical stores is important for the overall omni-channel experience (though limited and only in selected locations), the new era of e-tailing has just begun.
Monika Brzóska, Project Manager, CEO at DISAIN Consulting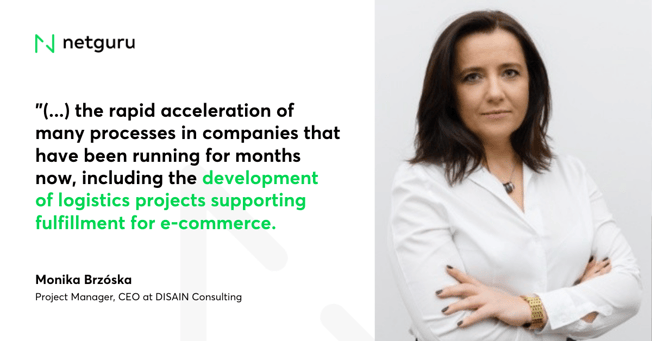 One of the positive effects of the COVID-19 pandemic is the rapid acceleration of many processes in companies that have been running for months now. Examples include the protracted implementation of e-commerce projects or the development of logistics projects supporting fulfillment for e-commerce. Thanks to digitization, companies are undergoing a significantly accelerated transformation.
4. The era of reorganized priorities, redefined personal goals and lifestyle
Tomasz Chłodecki, CEO, Justtag Group
The impact I've seen on the retail industry: increased awareness about the way offline behavioral data can drive results in online marketing activities.

In my job: reorganized priorities – a focus on projects that truly contribute to the future of our company and deprioritizing all the rest.
Mosaab Khalil, Category Manager, Delivery Hero
We used the lockdown period to restructure our priorities, clean our database, plan ahead of time, catch up with some delayed tasks and prepare for the new phase after the lockdown.

Being in a 24/7 business is stressful and pushes employees away from being creative and innovative. Such a break is rare, and those who take advantage of it will gain a lot and will always be one step ahead of competitors.

Here in Kuwait, we've just resumed the business, so the impact of our efforts in the lockdown is yet to come.
Piotr Kruszyński, CEO at PizzaPortal.pl
In PizzaPortal.pl, we switched to a completely remote mode of work mid-March. Some departments found this very smooth, as they had some flexibility before, for others it was more challenging, at least because of the existing infrastructure (dedicated to office work).

Personally, I was amazed that actually no work was compromised due to this abrupt switch at all. Even the departments that have never worked remotely before were performing very well and nailing all SLAs and KPIs.

For me, this is a pretty strong argument against the belief that productivity is proportional to the number of hours within an office environment. Also, this boosts employee satisfaction.
Damian Przybyła, Founder, Laka
It was an opportunity to redefine our tools and goals. We needed to adjust our projects, and instead of thinking about them as the products, we considered them as the values that can be distributed via different channels (including the online ones, making them more accessible).

The situation reminded me of the concepts of "Black Swans" and "Antifragility" – introduced by Nassim Nicholas Taleb. It's good to evaluate activities against the question – "what kind of products or services can be 'antifragile?'", in the sense that they benefit from uncertainty and from highly-improbable events.
Conor Heffernan, Product Manager, Edge by Ascential
The impacts of COVID-19 will become the reality for the next few quarters or years. For FMCG, availability is key right now. Availability gaps hurt the growth opportunities which COVID-19 has opened: online and click and collect. Synchronised marketing sales and logistics are more important than ever.

Everyone has experienced remote working as a reality. This is going to redefine jobs, lifestyle and employment from now on, salaries will no longer be driven by the housing costs in a few cities and talent will embrace the family lifestyle opportunities that have opened up.

I live on the north west coast of Ireland. I've loved not having to travel for work. I've done video calls to colleagues and clients on five continents over the last two months (and seen or heard children in most of them :)
If you're interested in more retail trends and insights, sign up for recordings from our Disruption Forum Retail.
Should you have your own story and insights to share, reach out to us at disruption@netguru.com