Map Out Your Team Goals and Values With Team Canvas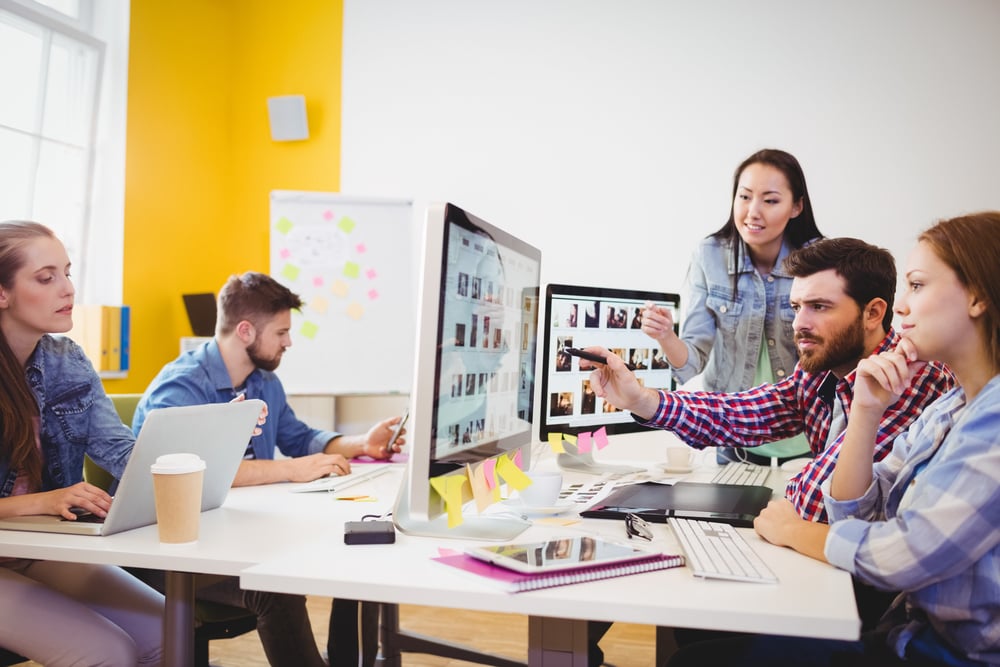 Team Canvas helps product teams map out all their goals and values in a simple and straightforward manner. But what is team canvas?
And how does canva teams work?
It's a strategic framework of which one of its guiding principles is to provide all team members with a common vision to work towards, ensuring everyone is on track.
If you're working in teams and need a quality transparent framework to complete projects to a high level, this is a great tool to use. Throughout the article, we will go into great detail about its relevant features and how new teams can improve productivity, efficiency, and more.
What is Team Canvas?
This is the ultimate free tool for a teamwork template. Team canvas offers a business model canvas that many business professionals can benefit from, this includes:
Consultants
Stakeholders
Facilitators
Team members, and more
Everyone involved can be kept up-to-date with relevant information to increase efficiency and overall productivity by referring to the team model at any given time.
Founded by Alex Ivanov and Mitya Voloschchuk. Alex Ivanov is a strategic designer, prototyper, and facilitator with eight years of experience who wanted to create a framework that would make projects run smoother. Also, he is a strategic designer and mentor, helping early-stage startups achieve their goals through the use of team canvas.
Mitya Voloshchuk has over ten years of experience as a human capital consultant and lots of knowledge of group development, and Mitya helps startup teams get up and running successfully.
Why use Team Canvas?
Establishing a team identity is facilitated by certain well-thought-out steps. All in all, team canvas works well for getting all members in the same room organized. They are more likely to achieve their time-bounded targets by using this team alignment model in a team session, making people's life easier in the process.
It also creates a more productive team culture by providing structured conversation in meetings, ensuring time is spent more wisely in these creative groups.
It is used for many projects, including the creation of mobile apps and ad campaigns. However, it doesn't just stop at mobile apps and ad campaigns, various teams use this framework for thousands of different projects to suit their needs.
Creating a team
You can use the team-building tool for many stages of the product management process. The first, and often most important step is the team creation process. This is where the first general alignment sessions take place and where team norms are created.
By listing the roles that are needed to complete the project you can use the canvassing team to pinpoint what must be done. They will find suitable members with the necessary soft skills and hard skills that will complete the project to a higher level together.
Clarifying tour goals and roles
After doing this, you need to make sure your team is on the same page as you. To do this, the team canvas template will first ask your team what goals should be reached, on both a team and personal level. This is quite important, as if the team isn't on the same page, it can be corrected here.
Measuring team performance
Finding a way to accurately measure overall team performance when the team gets going can sometimes be difficult. That's where team canvas comes in, to provide goals for the team to reach to understand the performance of the whole team better and make any changes if necessary.
Team behavioural standards and symbols
Ensuring rules are put in place to maintain proper behavior can also be done in the team canvas basic model. There is a rules and activities section, where team coaching can include everything the team should be doing to make sure that it functions as effectively as possible.
Onboarding and team alignment
The more a team increases and the longer a team is along their project timeline, the more each new team member will grow into their role. A Team canvas workshop can be used for onboarding new team members to get them up to speed with current processes and how to do their tasks.
It can also be used to ensure current canva team members are close to achieving their goals, and if they do, then create new ones.
What aspects are covered in Team Canvas?
There are many features that are incorporated into the team canvas to keep teams on the same page. Features such as team alignment meetings and common goal setting all provide incredible value for new teams working together. Let's take a look at some of them below:
People & Roles
When trying to bring team members together they may be unfamiliar with all members within the team. Therefore, it's important to clearly map out all people involved when you build a team and their specific roles.
By doing so using the team charter canvas, teams can function more efficiently when utilizing the expertise of different group members. A personality assessment is often taken by each member of the group to better understand in which role they would be best suited.
Common Goals
Most teams bring team members that are goal-oriented, with leaders providing clear communication on how to meet them. However, by using the online team canvas, team members can clearly state if they have opposing views on what's trying to be achieved or how they should be measured.
This allows for a re-evaluation of what the goals should be to create the foundation of a great functioning group so that the team leads without personal agendas getting in the way.
All goals will be feasible, measurable, and time-oriented to nail down the specifics in what should be accomplished. Having common goals should also be focused inwardly in order to improve organizational development within the team.
Individual Personal Goals
Individual goals such as leadership development can be added to the framework to motivate certain members. By expressing them for everyone involved to see, others can help support them throughout their journey to reaching their individual goals, helping create a positive team environment.
Purpose
Understanding the team's purpose can help align members to provide greater value. When combined with the businesses' mission and common values the outcome will more likely reflect what the company is trying to achieve, whether it is digital and service design or something else.
Core Values
Team values are important qualities to create, more so ones that connect with the businesses' values and mission. There are many values that should be discussed to ensure teams thrive. For example, making sure all members are contributing to the best of their ability rather than relying on others.
Strengths & Assets
Listing out all the strengths and assets that individual members bring, and the team exhibits as a whole is a task that many should adopt. During the time working together, the strengths and assets can be utilized to find the most effective way of reaching the desired outcome with the group dynamics.
Key Weaknesses & Development Areas
The majority of groups will face obstacles through the group development stage and beyond, this is nothing to be embarrassed about. Identifying these areas can be beneficial in helping find new approaches to overcome them.
Whether it's personal goals or team-related, both types can gain value from discussing weaknesses and areas that need improvement. This can help improve the overall digital and service design. Over time, knowledge of group development will improve, helping these weaknesses lessen and turn to strengths.
Needs & Expectations
This is one of the key pieces of team canvas. Noting down individuals' needs within a team can help create a productive work environment, along with discussing what they expect of others through the team expectations template to keep everyone on track.
Rules & Activities
Lastly, the team canvas methods help provide a concrete set of boundaries that all members should abide by to keep the team working effectively. This also includes different activities such as when you invite participants to take part in regular meetings, ensuring important information is being discussed and heard by all members.
This is an important part of the team working agreement canvas as team members can find out what they are accountable for and what they are not, which helps with reducing any potential blind spots in the project.
How do you fill Team Canvas?
Now that our previous sections have helped you understand what a team canvas is and how you use it, the next step is finding out how to fill one. It is quite easy to get the template, all you have to do is download the template from the website, or use the online one depending on which is most suitable for achieving your key goals.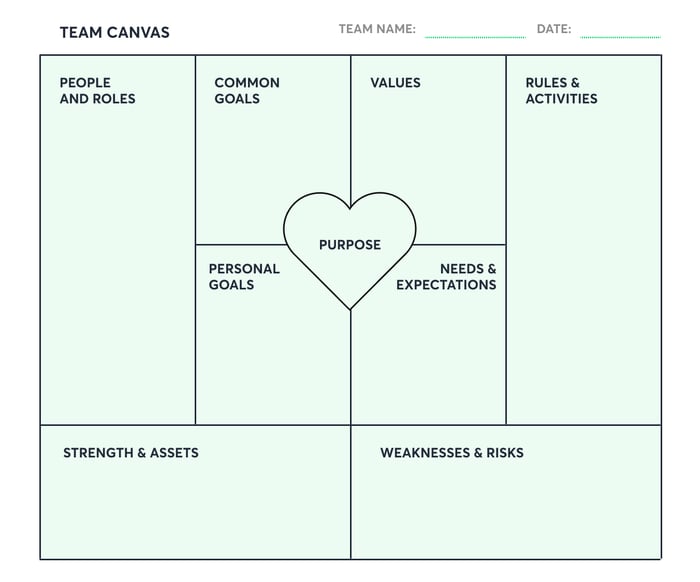 Source: TEAM CANVAS
Once you have the team canvas template, the next step is to use sticky notes and try to fill the template with ideas in response to the different sections. Use different colored sticky notes per team member to make sure everyone has a say.
What are the benefits of using Team Canvas
The benefits of using team canvas are numerous. Here are the most important advantages:
It helps align teams and increases cohesion very quickly, allowing for everyone on the team to be working towards the same goals. As a result of this, the whole team will work in the most efficient way to get the project completed.
It creates a more productive team culture. As the common and personal goals will be known to everyone, they will be more enthusiastic about completing their goals as they know they will improve on a personal level as well.
What are the disadvantages of using the value proposition canvas?
No framework is perfect, and like many others, the team canvas does have its drawbacks. For example, it's only available in a pdf file. Therefore, sharing the document around either by file or paper may be difficult.
This is especially the case if new information is added to it when certain team members aren't present as they may not be kept up-to-date with relevant changes. A great solution to this is to have an easy-to-access shared folder that all team members can routinely check.
Another issue is that groups tend to be entirely focused on what's on the page. There could be real value in exploring different avenues and processes but could be completely missed as the canvas didn't consider this.
Team Canvas in action
The framework is a beneficial tool that many new teams can use to enhance the overall results of a group assignment or project. It's straightforward to use and can be applied in a variety of different scenarios, especially within the product management world. For example, allowing teams to increase productivity and efficiency with relevant information they can refer to from the canvas, whether that be core actions, goals, values, team roles, or more.
There really are multiple uses for this tool that teams can use to their advantage. The best way to see if it's the right fit for you is to try out the free to download framework.