Top London Tech Business Events List for 2017/2018 – Recommended by Experts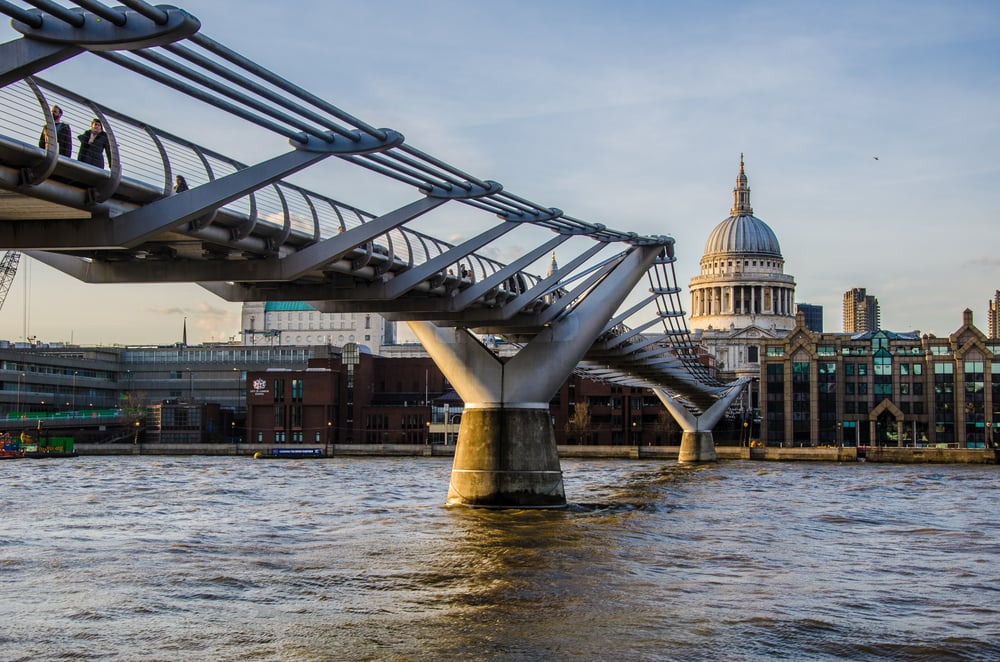 We asked ten experts from the London tech scene to share their recent experiences of events they went to.
Their recommendations will help you decide in which tech events you should participate in the upcoming 2017/2018 season.
With over 10,000 tech events taking place in London each year, it's not easy to choose the ones you can be satisfied with. The selection is growing ever larger, prices go up, many conferences turn into sales pitches, and the choice is getting much harder. On top of that, one event might be better than another in terms of networking, but fall behind when it comes to keynotes and speakers. A recommendation from a reliable source is perhaps the best help if you don't want your money to go down the drain.
How to Choose The Right Event – Specify Your Needs
Tech is an extensive term that covers a variety of topics aimed at different audiences. You can find niche conferences for individual industries such as FinTech, Healthtech, education, marketing, and so on or attend one targeted at the wider public. On top of that, events differ regarding their profile. Some are a great way to network, others to generate sales leads, and even others will let you learn about the latest trends in technology. Many factors determine the final shape of an event, and our perception is often subjective.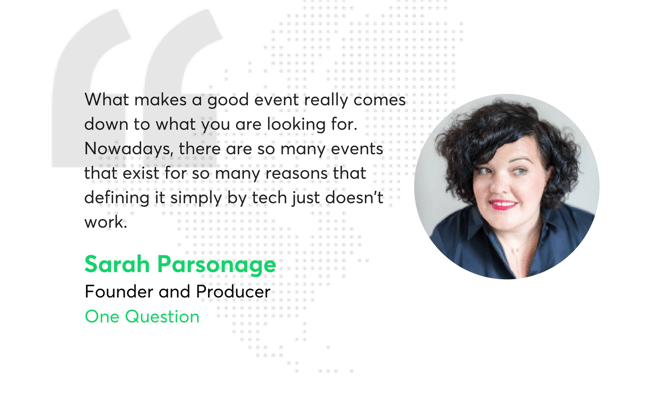 Having that in mind, you should precisely define your expectations and specify the goals you want to achieve at a particular event. Thus, not only will you be able to choose the best option, but you will also verify after participation whether an event met your needs – because you will have actually defined your needs. Following generic recommendations might result in a big disappointment. Just because someone rated an event high, doesn't mean you will get what you wanted to get from an event.
Sarah Parsonage, a Founder and Producer at One Question, who's got a long-standing experience in event production and curation, admits that the idea of 'tech' is a blanket term.
"It could include Wired through to the likes of Festival of Marketing. In addition, what makes a good event really comes down to what you are looking for. Nowadays, there are so many events that exist for so many reasons that defining it simply by tech just doesn't work. Furthermore, what makes it good is so subjective. Wired is a great event, but at a £1000 price tag, isn't always obtainable for every business."
Top London Tech Events
The list includes London events recommended by founders, managers, and directors who are active on the London tech scene. Events are sorted chronologically. Most of them are located in London, but there are also a few outside of the UK's capital.
1. ReasonsTo
ReasonsTo is an award-winning international conference held annually in Brighton. Every year, it gathers digital creatives, who can inspire each other and draw insights on what's trending in the tech world now. As Christie Fidura, EMEA Senior Developer Marketing Manager at Salesforce, put it:
"ReasonsTo is a tech creative conference, so the presentations are always fascinating. I loved seeing State of Play present their Lume game there the other year. The intersection of tech and creative is utterly gripping and I love seeing what these techmakers can do."
The event attracts designers, developers, coders, managers, game developers, artists, film makers, sound designers, illustrators, and animators who seek inspiration and connection with like-minded people.
Next edition: 4-6th September 2017
Location: The Brighton Dome, The Old Court House and The Unitarian Church, Brighton
Industry: Design & Development
Price: £399 (regular pass)
2. Level39 events
Level39 is a tech community, based in Canary Wharf, supporting fast-growth tech companies by giving access to world-class customers, talent, and infrastructure. Beside running a top-notch co-working space, they host and organise many events on a range of topics.
Anna Antimiichuk, a Communication Lead at ClauseMatch, a Regtech startup strongly recommends keeping track of L39 events.
"Level39 has high-value events that are open not only to the members but people from the outside. You can meet successful startups that are already advanced to a high growth space. If companies look for media attention, it is always a way to go. Level39 runs so many events they are progressive on creating valuable events and content."
Next edition: All year round; next event 9th October 2017 (LendIt Europe)
Location: Various; next event: InterContinental London – The O2, London
Industry: Various; next event: Fintech
Price: Various; LendIt Europe £1,295-£1,495 + VAT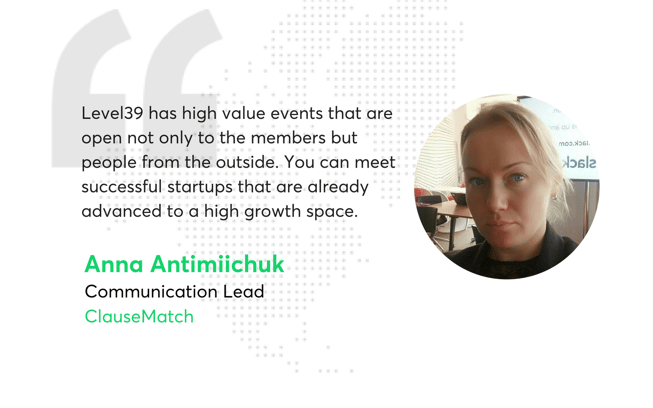 3. Thing Monk by RedMonk
ThingMonk is a developer conference for technologists and designers building IoT platforms. This two-day event with unique talks delivered by experts in the field is a single track, tightly curated conference with "no more attendees than you'd find in a small village". It was described quite accurately in Christie Fidura's review:
"The RedMonk conferences have a focus – so you've got Monki Gras bringing together the idea of craft and tech, and you have ThingMonk focusing on AI and IoT. Again, the quality of the presenters and the tech presented are always mind-blowing. Plus, the team make it a special mission to bring in craft suppliers for all the catering, so the food and drink are superb and support small, local suppliers. Finally, diversity is a very strong ethic amongst the organisers, so they seek to have 50/50 male/female speakers. In fact, their diversity scholarship programme is so strong, they won an award for it from the Women in Marketing."
Next edition: 11-13th September 2017
Location: Shoreditch Studios, London
Industry: IoT
Price: £62.07-£232.85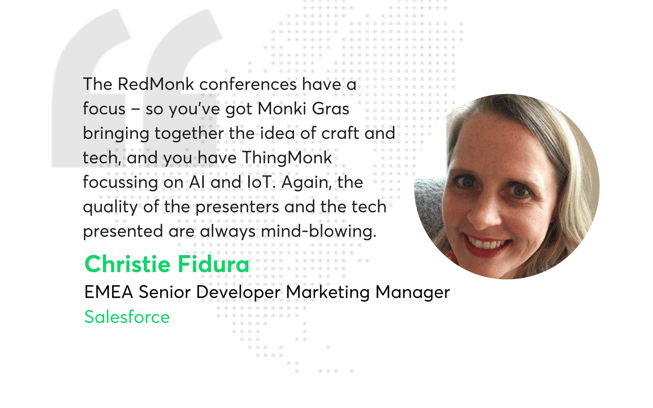 4. Sales Hacker
Sales Hacker is a one-day conference for sales practitioners who seek valuable knowledge on innovation and the latest trends in the field. Twenty people with vast experience will share lessons, and actionable tactics and strategies in all areas of sales: Sales Strategy & Leadership, Sales Development, Inside Sales, Sales Operations, and Sales Enablement. No chit-chat, just meaningful knowledge. Sales Hacker is also an excellent way to connect with the sales professionals, executives, and leaders that are responsible for billions in revenue, from hyper-growth startups to Fortune 500 companies and beyond.
Timothy Hughes, a co-founder at Digital Leadership Associates, speaker and the author of a best seller book: "Social Selling – Influencing Buyers and Changemakers" spoke about the value of Sales Hacker.
"I will be attending and speaking at Sales Hacker in September. Many events just turn into "sales pitches" for companies. Events should be educational and entertaining, and this is what you get at Sales Hacker. You go there to take something back to the office to implement."
Next edition: 12th September 2017
Location: De Vere Grand Connaught, London
Industry: Sales
Price: £120-£160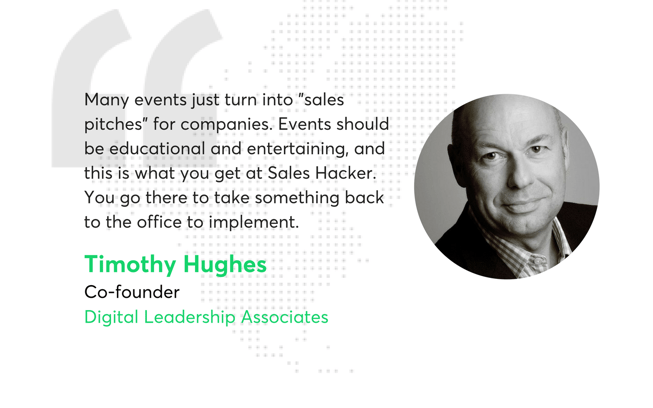 5. BrightonSEO
It is another event on our list located outside of London, but definitely worthwhile for Internet marketing specialists. BrightonSEO started out as a casual meeting of eager practitioners in a pub but transformed into a massive conference with 3,500 attendees year in, year out. Apart from talks delivered by world's best search marketers, participants can sign up for practical, hands-on and in-depth Analytics, PPC, and SEO training to acquire and develop new skills.
Sarah Parsonage a Founder and Producer at One Question, who has rated a great deal of events admits that it is one of the world's best events for SEO practitioners.
"Kelvin Newman's two-day conference is by far one of the most inclusive conferences in the search world. Arguably niche in its focus on search engine optimisation, it is a great event for new team members and their foray into the world of marketing. Free to attend and located by the sea, it is a no brainer, but you must be quick, tickets go almost as soon as they are online."
Next edition: 15th September 2017
Location: Brighton Centre, Brighton
Industry: SEO
Price: £100 (£475 with Training)
6. Digital Gaggle
Digital Gaggle is an event that is way smaller, yet still worthwhile. Seven speakers from the digital marketing industry will share lots of actionable tips on how to improve the online visibility of your business. The talks are aimed at beginner to intermediate participant, so they are perfect for both in-house and agency marketers who want to develop their skills and find inspiration to perform their job more efficiently. As it is more of a cosy event, you'll get a chance to rub your shoulders with best experts in the field and network over a pint of free beer.
Sarah Parsonage from One Question has also recommended us this conference.
"If you are keen to explore different parts of the marketing technology landscape and fancy a trip to Bristol then Digital Gaggle is a great conference. Founded by Noisy Little Monkey, it is the definition of community conference, bringing the great and good of Bristol's marketing world to the stage."
Next edition: 21st September 2017
Location: Lantern at the Colston Hall, Bristol
Industry: SEO
Price: £60 + VAT
7. TechDay London
TechDay London is a massive startup event attracting around 10,000 founders, investors, industry leaders, press reps and people involved in London's tech scene. It is one of a kind opportunity to showcase a brand and connect with the massive tech community. The event aims at supporting startup growth, exchanging ideas and sharing trends. Those who just want to browse and make connections can attend for free. If your startup is seeking funding opportunities and press attention you can exhibit for a reasonable price. "Exhibitors have raised billions of dollars in venture funding, at every imaginable stage".
"Scouting for London's next 'unicorn'? You can't go wrong with TechDay London these days. At Curve, we're using tech to build a simpler and safer way for you to manage your money – so it's a huge bonus that London gives us access to events spanning innovation, technology and finance."
said Callum McCaig, Head of Communications at a 'connected finance' startup, Curve.
Next edition: 27th October 2017
Location: Old Billingsgate, London
Industry: Tech; general
Price: Free to attend, exhibit passes start from £360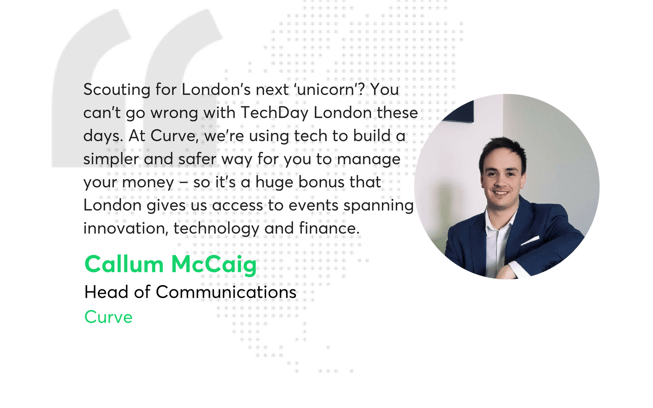 8. London Food Tech Week by YFood
London Food Tech Week is, as its organisers declare, the world's largest week-long "festival celebrating and connecting all the incredible people, companies and innovations in Food Tech". The conference connects industry leaders, founders, and all other members of the community who want to learn about the technological trends transforming the food ecosystem. London Food Tech Week brings together experts from companies of all sizes so that they can exchange ideas, network, and help each other with their business.
Marc Zornes who founded the foodtech startup, Winnow, to cut food waste in half and boost your kitchen's profits confirms that London Food Tech Week is one of the leading events on how technology is transforming our food ecosystem.
"It's a great set of events to attend because of its ability to draw in a large number of investors, companies, and startups on a common theme. They focus on key themes each day which helps focus into areas of interest."
Next edition: 30th October – 3rd November 2017
Location: Various locations across Central London
Industry: Food Tech
Price: Starts from £300 + VAT (Early bird tickets available from £240 + VAT until 31st August)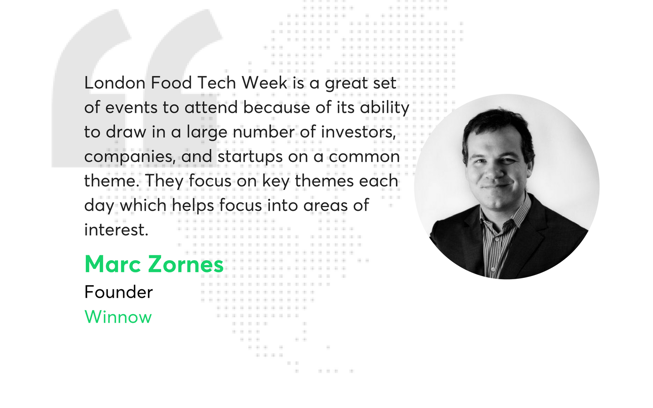 9. OneQuestion
One day, one venue, one industry, and one question. That's the mission statement for an event launched by Sarah Parsonage, who has rated many events in London and the whole of UK for us. OneQuestion challenges the current conference format by bringing together creative and technical minds to answer one question from different marketing perspectives. The main goal is to educate, inspire and excite through genuine debates and discussions. This one-of-a-kind conference will challenge the way you think and motivate you to try out new strategies and ideas. Sarah promises an exceptional experience: "If you are looking for something completely unique that asks one big question from different industry perspectives then OneQuestion is the one to go to."
Next edition: 31st October
Location: Banking Hall, London
Industry: Marketing
Price: £150-£200 + VAT
10. Noah
Noah is an exclusive, invite-only event where Internet CEOs, executives, and investors "gain deep insights into the latest proven concepts, network with senior executives, and establish new business relationships". Over a hundred speakers from many companies will be discussing disruptive trends across industries to help better understand how they have successfully managed challenges and benefited from the opportunities they had. It is a sector-neutral conference, and executives and leaders from all industries can participate and join the debate on the hottest trends that are transforming the business landscape. Luka Planinc, a Managing Director at ABC Venture Gates who's been to Noah, recommends that you participate if you get the chance.
Next edition: 2nd-3rd November 2017
Location: Old Billingsgate, London
Industry: Tech, for established and disruptive companies
Price: Invite-only event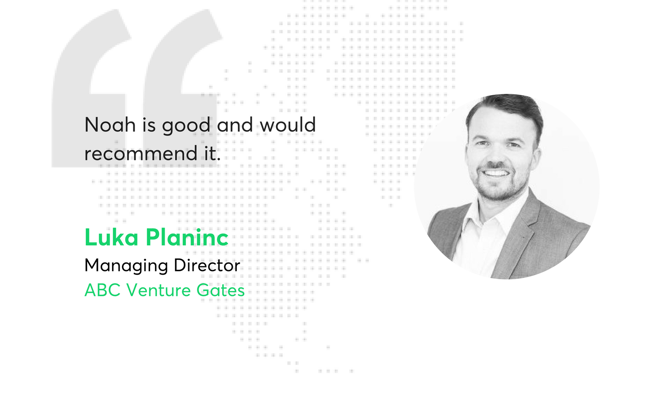 11. Internet of Business
Internet of Business is the series of events focused on various business-related issues. They are designed to support each market sector and help understand how technology is affecting their industry and jobs. The conferences that will be held in London include: Internet of Aviation, IoT Build, Internet of Banking and Payments, and IoT Connectivity. Each event offers a mixture of case studies and analysis tailored to specific markets and stripped of the technological jargon.
Isabelle Tibayrenc, Head of Tech at Business France UK, said that the Internet of Business events are very relevant.
"We work with all types of companies from across the technology and services space, but we tend to attend specialized events rather than general ones. The value we try to gain out of event participation is market insight and networking. Thus, we generally target keynotes followed by cocktails."
Next edition: 7-8th November 2017 (Internet of Aviation),14-15th November 2017 (IoT build), 21st – 23rd November 2017 (Internet of Banking and Payments), 5th – 6th December 2017 (IoT Connectivity)
Location: Various locations across London
Industry: IoT, Fintech, Aviation
Price: Depending on the event, complimentary if you meet the criteria to £499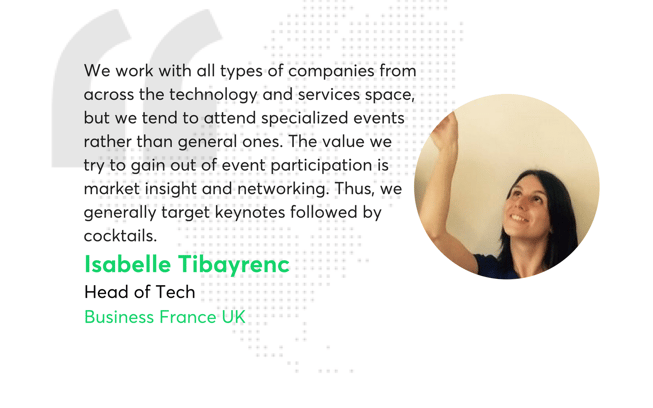 12. Fintech Connect Live
Fintech Connect Live connects startups, financial institutions, fintech unicorns, governmental agencies, investors, regulatory authorities, accelerators, incubators, and many more sectors. It provides the audience with business connections with prospective customers, partnership and investment opportunities, knowledge about the key technological trends that are affecting the market, and access to top-notch talent. The conference is divided into four streams: FinTech, PayTech, InsurTech, CloudFinance to give each subsector tailored benefits.
"Out of all the events I've been to in London, I would say Fintech Connect is a great choice. The cost is reasonable. There are a few insurtech specific ones, but I haven't been myself because they're too expensive, so I can't recommend them to early startups."
says Janthana Kaenprakhamroy, CEO and Founder at Tapoly. Anna Antimiichuk from ClauseMatch also gave a review of the conference:
"We participated in the previous edition of Fintech Connect Live. There were people from FCA who gave their point of view, startups and even representatives of banks. The exhibition itself wasn't that impressive. The information we've obtained from the talks was valuable. The main value we took away from the conference were the heated debates. Networking was alright, we met many people with whom we're friends, not much business to bring into the company."
Next edition: 6-7th December 2017
Location: ExCeL London
Industry: FinTech
Price: Conference pass £39-£59 for start-ups and £299-£399 for other companies; expo pass is free.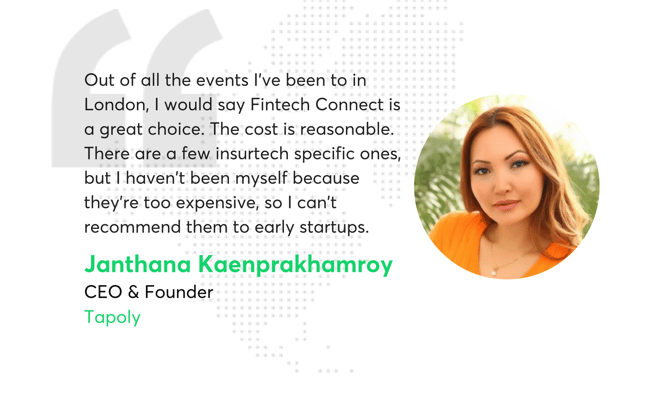 13. The Bett Show
The Bett Show is focused on how technology and innovation is shaping the education sector. Their mission is to bring together people, ideas, practices, and technologies so that educators and learners can live up to their true potential. This massive event offers exhibition opportunities for brands who want to present how participants can benefit from their solutions. The agenda, speakers, and other detailed information are yet to be announced. Isabelle Tibayrenc from Business France UK assures that The Bett Show is the leading event for education, so they run a French Pavilion there.
Next edition: 24-27th January 2018
Location: ExCeL, London
Industry: Education
Price: Registration required
14. Finovate
With more than 1300 attendees, Finovate is one of the top conferences for Fintech enthusiasts and practitioners. Finovate events showcase cutting-edge banking, financial, and payment technology from 70+ companies in unique live fast-paced demos of their latest solutions. The organisations who can present their technologies are selected in a competitive application process, which guarantees that you will only see true innovation on the stage. Participants have a chance to speak directly to the founders and senior executives during networking sessions. What's the biggest value? Anna Antimiichuk from ClauseMatch gave us an accurate answer:
"Finovate is more for the PR, not sales results or product development. Gives you a great buzz. Worth it if you want to get more visibility."
Next edition: 13-16th February 2018
Location: ExCeL London
Industry: Fintech
Price: £1,395 if booked by 15th September, then £2,195 (you can save more if you go with a colleague)
15. RBTE
RBTE is targeted at retail and hospitality organisations looking for the tools, solutions, innovations, and advice on how to best run a retail business. Isabelle Tibayrenc from Business France UK has also had a French Pavilion at the exhibition and confirms it was a meaningful event for their business. Both small companies and big players across all industries can benefit. It's a good chance to see what new technologies pop up on the market and what vendors can do for retailers. RBTE provides many business opportunities. As top quality brands, global brands, and well-known first class names participate in it, chances are you can cut a handsome deal there.
Next edition: 2nd-3rd May 2018
Location: Olympia, London
Industry: Retail & Business
Price: Conference free, Registration required for exhibition
16. WIRED Money
WIRED Money "brings together the innovators, inventors, and entrepreneurs defining the future of the finance industry". It is a conference where you can meet practitioners, and leaders of the fast-moving, dynamic startups disrupting the business as we know today. Key themes usually include distributed ledger technology, personal financial management, RegTech, insurance, payments, the rise of algorithmic trading platforms, and the banking of the future.
"If you want to hear first-hand about shiny new technological innovation then Wired UK is the one for you. Arguably, it prices most out of the game, however, if you happen to have the ticket price, then it is worth exploring, if for nothing else than hearing about some of the newest forms of technology in one place at one time. It really is Wired editorial live."
says Sarah Parsonage from One Question. Callum McCaig from Curve also recommends WIRED Money for those who "want to see how tech is shaping the future of money."
Next edition: May 2018 (date to be announced)
Location: London
Industry: Tech; general
Price: £958.80 (2017 edition, the price might vary in 2018)
17. The London Tech Week
London Tech Week is a top-flight festival with 40,000+ attendees from 70+ countries and 300 live events across the city. It attracts domestic and international tech specialists, enthusiasts, and business leaders who want to get their hands on what's best in tech, network, learn, and find business opportunities.
"London Tech Week has continued to grow since its launch a couple of years back and does a great job of showcasing London as a leading tech hub."
says Callum McCaig from Curve. The programme includes conferences, showcases, forums, and round-the-clock networking.
Next edition: 11-15th June 2018
Location: Various locations across Central London
Industry: Tech; general
Price: £958.80 (2017 edition)
18. unbound London
Every year, unbound London connects corporate and brand executives, startups, investors, and governmental agencies to exchange experience and knowledge on groundbreaking innovations. It's a cross-industry conference with many opportunities to engage with sources of innovation from around the world. Startups have a chance to connect with partners, investors, and consumers, but also to pitch to leading brands and take part in hackathons, innovation challenges, and competitions. Investors, on the other hand, can find leading cross-vertical disruptive technologies, products and services that offer a great investment potential. As Callum McCaig sums it up:
"great speakers, great attendees, and big ideas that'll hurt your brain and challenge the way you think."
Next edition: 18-19th June 2018
Location: The Old Truman Brewery, London
Industry: Tech; general
Price: £147.50-£295
19. B2B Marketing Ignite
As it's advertised on the event's website, "B2B Marketing Ignite is recommended by Entrepreneur.com as one of the top 10 conferences to attend". The conference is exclusively focused on needs, goals, and challenges of B2B marketers. Timothy Hughes assures that it is not one of those events that turn into "sales pitches" for companies. Instead, you get actionable tactics, strategies, and knowledge you can implement in your business straightaway. The event features experienced keynote speakers who battle-tested their solutions in real life. With over 1,000 attendees, B2B Marketing Ignite is an excellent way to network and exchange inspiring ideas. The event ends with the "infamous post-awards networking drinks".
Next edition: Summer 2018
Location: London
Industry: Marketing
Price: £495+VAT (2017 edition)
20. RANT
The RANT Conference is an annual flagship event focused on information security with discussions, debates, and a variety of strategic and interactive presentations. Each year, the organisers invite the industry's foremost thought leaders, evangelists, and entertaining speakers. Edward Lucas, a Senior Editor at The Economist, told us that RANT offers interesting talks and good networking. The latter is probably what makes the conference so exceptional. The relaxed, informal atmosphere followed by plenty of beer, wine, good food, and entertainment creates an environment that encourages discussion on industry's most relevant topics between like-minded individuals.
Next edition: Summer 2018
Location: London
Industry: Information Security
Price: ?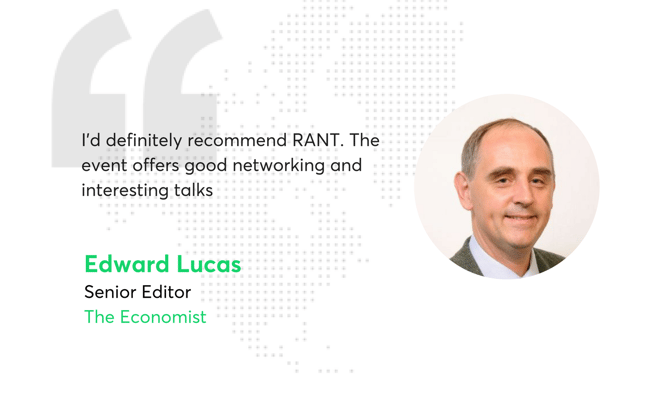 21. London Fintech Week
As London is the world's informal capital of Fintech, our list includes so many events focused on that industry and Fintech Week is yet another one. The event is a series of conferences, exhibitions, workshops, hackathons, meetups, and parties with approximately 5,000-6,000 people attending throughout a whole week. Just like most Fintech events, it aims to build links between established multi-nationals, innovation firms, disruptive start-ups, governments, media, and investors. Each day of London Fintech Week has a different theme focused on issues relevant to the industry. For Anna Antimiichuk and ClauseMatch, the event was particularly beneficial.
"Not only it focuses on different topics that are valuable for our business, but it also generated some leads for us."
Next edition: Summer 2018
Location: London
Industry: Fintech
Price: £499 + VAT (2017 edition); Exhibition only free
22. Insurance AI and Analytics Europe
AI & Analytics Europe Summit is a two-day event that brings together more than 350 C-level analytics, pricing, marketing, claims and underwriting executives. The conference focuses on Artificial Intelligence and how to put the emerging technology into practice in your business. The organisers promise that attendees will obtain first-hand knowledge on how to defeat data-silos and legacy systems challenges, embed actionable insights into core business areas and maximise data value, ultimately realising the promise of AI.
Next edition: 9–10th October, 2018
Location: Hilton London Tower Bridge
Industry: Insurance & AI & Analytics
Price: Regular £1699
23. TableCrowd events
TableCrowd offers probably the best networking experience you can get. It regularly hosts highly curated events in a more intimate environment, that is around one dinner table. Each dinner has a different theme and a speaker sharing insights on a different topic with a dozen or so participants. The host offers relevant, enjoyable, productive, social, and, most importantly, relaxed networking dinners that encourage meaningful conversations, promote sharing, and provide the right environment to build relationships. My colleagues from Netguru and I have participated in many dinners by TableCrowd, and I can assure that such events create an atmosphere where you can form partnerships, engage new clients, find talent for your team, and discover new business opportunities. Finally, the topics are very specific, so you can be sure that you will make quality connections.
Check out the interview with TableCrowd founder, Kate Jackson.
Next edition: All year round
Location: Various locations across London
Industry: Different theme for each event
Price: Per dinner: £67 (or £47 if you book 3 dinners and £37 if book 10)
Wrap-up
The list of London's tech events we've created thanks to our contributors will be a handy guide for the upcoming 2017/2018 season. Share your feedback with us about the events you have participated in! The list isn't set in stone, and if you feel we might have missed on something, send us your review!
PS: A big shout-out and great thanks to all the lovely people that found the time to share their experiences!