Top 10 Telemedicine Software Platforms

Will telemedicine applications become the new normal?
In the face of the COVID-19 pandemic, more medical practitioners and health organizations worldwide are rushing to adopt telemedicine solutions.
According to Ray Dorsey, director of the Center for Health and Technology at the University of Rochester, the number of virtual patient consultations in the US increased tenfold within two weeks (in comparison to the pre-COVID-19 situation). Kaiser Permanente, the health maintenance organization, managed to reduce in-person visits to its specialty doctors by 40%thanks to the use of telemedicine.
Although telemedicine is still not widely used in the United States, a survey conducted by Sykes showed that 38% of respondents liked the idea of being diagnosed without the need to physically see their doctor and be around sick patients.
Considering the global reach of the coronavirus pandemic, a lot of countries will follow in the footsteps of the US, increasing the demand for telemedicine applications worldwide.
Doctors recommend that their patients limit face-to-face appointments
It has been widely advised to limit human interaction, including in-person doctor visits, which can temporarily be replaced with virtual appointments.
Healthcare workers are at high risk of contracting coronavirus. There is a shortage of healthcare workers, and for this reason, protecting them is in everyone's best interest – especially governments.
What's more, according to Dr. Stephen Parodi, the national infectious disease lead at Kaiser Permanente, the coronavirus pandemic will lead to a paradigm shift, where a lot of people will start to perceive telemedicine as safe and OK to use.
What telemedicine applications should you be aware of?
Here are ten examples of telemedicine applications for you to take a look at. To make it more convenient, we've split the telemedicine applications into five categories.
Patient engagement software
It is a system that enables better patient interaction with care providers via mobile devices, tablets, and computers. It encourages patients to monitor and improve their health.
1. NextTech Patient Portalis a HIPAA-compliant patient portal that grants medical practitioners access to patients' health records, and provides real-time data updates, secure messaging, and an automated reminder system.
Thanks to automated visit reminders, the number of no-shows is reduced, which improves doctors' revenue. Patients can conveniently pay for their visits online using secure payments.
Patient data, including demographics, medical history, and insurance information, is updated continuously and can be viewed in real-time.

Source: NextTech
2. Patient Pop is an end-to-end practice management platform used by smaller medical practices across the US, aimed at simplifying the management of their medical practice.
Its simple-to-use online booking system allows patients to search and book appointments online. Additionally, it offers automated patient satisfaction surveys that help medical practices gain feedback and improve the overall patient experience.
Patient Pop integrates with the most popular practice management, EMR, and EHR systems, which helps with streamlining the experience for both patients and medical practitioners. It not only automates front-office tasks to save time but also enhances practitioners' online presence and reputation, which helps in acquiring new patients.
Source: PatientPop
Medical imaging software
It extracts information from medical images to assist clinicians in disease diagnosis and prognosis.
3. OsiriX HD is a full DICOM image viewer that enables doctors to access, download, and manipulate medical images using an iPhone or iPad. They can use the multipoint touch screen interface to zoom, pan, rotate, and adjust image contrast.
Source: Capterra
It supports all imaging modalities, including ultrasound, CT, MRI, PET scans, etc., in their native standard DICOM format used by the medical/ scientific industry. It works effectively with any DICOM compatible software like PACS, medical workstations, and acquisition modalities.
Healthcare professionals value the solution for its ease of use and good customer service.
4. Life Image is a cloud platform that uses customized image sharing workflows to connect healthcare providers with their colleagues and patients. It helps medical professionals interpret data, learn from it, and ultimately make better-informed clinical decisions. With the help of lifeIMAGE, doctors can improve patient outcomes.
The platform allows the sharing of medical images and their related medical information within minutes.
Source: Capterra
Digital therapeutics software
It enables therapists to interact with their patients effectively, recommend treatment, and adjust treatment to increase its effectiveness.
5. Talkspace is a platform that offers access to thousands of licensed therapists. Initially, patients get an assessment, after which they're matched with the most suitable therapist. They can select a payment plan that fits their budget – plans start at $65 a week.
Talkspace allows patients to stay in touch with their therapists by letting them send unlimited messages whenever they need to talk to their doctors. All conversations are encrypted to keep them confidential.
Source: Talkspace
Talkspace also offers a psychiatry module where patients can get personalized treatment from prescribers trained in mental health care. They can schedule live video call sessions with their chosen psychiatrist.
6. Second Nature is an online habit change program that helps people to lose weight in just 12 weeks. It's backed by the NHS. To sign up for the program, users have to answer a questionnaire, which takes two minutes to fill in. After answering the questions, they get a personalized health plan.
Source: Medium
The platform gives its users access to fun and delicious recipes, which saves them from calorie counting. They also get online support from qualified health and nutritional coaches, whom they can chat to on a daily basis. The platform includes a tracking app where users can monitor their progress.
Real-time health monitoring
It enables continuous remote health monitoring using wearable devices, IoT sensors, and smartphones.
7. Spire Health Tag is an intelligent health tracker that monitors users' sleep, stress levels, activity, pulse rate, and more. Its technology is backed by seven years of research from Stanford University and is recommended by thousands of health professionals.
The Health Tag allows users to understand their sleep patterns and find ways to improve their sleep, manage their stress and take action before symptoms occur, and remind them to stay active by tracking their calories and steps.
It comes with a free iOS app, which allows users to monitor their progress 24/7 and get daily actionable insights and recommendations.
Source: Spire
8. Fitbit Charge 3is an advanced health and fitness tracker, voted the best fitness tracker of 2018 by Wareable. It provides users with health insights by:
Measuring their heart rate 24/7 – thanks to advanced heart rate sensors and algorithms, users can track their pulse and make the most of their workout by seeing when they're in fat burn, cardio, and peak zones.
Checking calorie intake – informing users about how many calories they have burned.
It includes automatic exercise recognition, personalized guided breathing, over 15 goal-based exercises, and reminders to move. It's water-resistant up to 50 meters.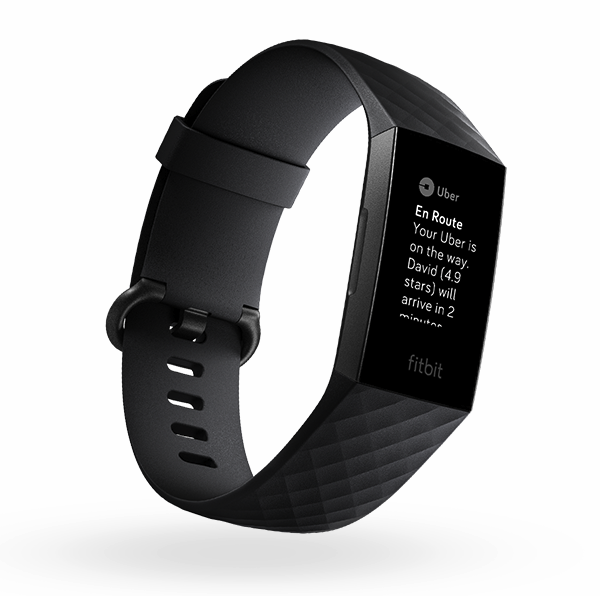 Source: Fitbit
Electronic medical records software
It automates the documentation, storage, and recovery of patient data.
9. EpicCare EMR is an ambulatory EMR system that increases the productivity of physicians by making patient-facing elements of care delivery simpler. It is used by providers from over 100 specialties. EpicCare incorporates chart review, order management, and documentation in a system that learns users' preferences as they work.
It helps organize patient information and includes embedded analytics and population management infrastructure, which supports the transition to value-based care models.
Its features include:
Compliance tracking
Appointment scheduling
Voice recognition
Self-service portal
10. iPatientCare EHR is a simple and intuitive web-based electronic medical records software that enables patient charting, e-prescriptions, appointments scheduling, and other tasks to let medical practitioners focus on their patients. It has a point-and-click interface, workflow customization, and other tools to support medical practices in their daily operations.
iPatientCare EHR can connect medical practitioners with pharmacies, labs, immunization and state registries, and other practice management systems, helping them extend their reach, reduce errors, and bring efficiency.
Source: Capterra
There is a bright future for telemedicine applications
The COVID-19 outbreakhas brought more attention to telemedicine applications for healthcare, which is understandable, taking into account the social limitations imposed by governments worldwide.
Although telemedicine has not yet been widely adopted, even in developed countries like the United States, the vision of the recurring pandemic will likely push health institutions and their patients into higher adoption of telemedicine applications.
We hope that the apps mentioned in this article give you a good overview of what telemedicine is. If you're considering developing this type of software, we can help you to tailor the right solution to your needs.