Pioneering Social Feedback Platform Development for a Large Retail Bank
A platform to collect ideas for improving services of the BZ WBK Bank (Santander Bank Polska)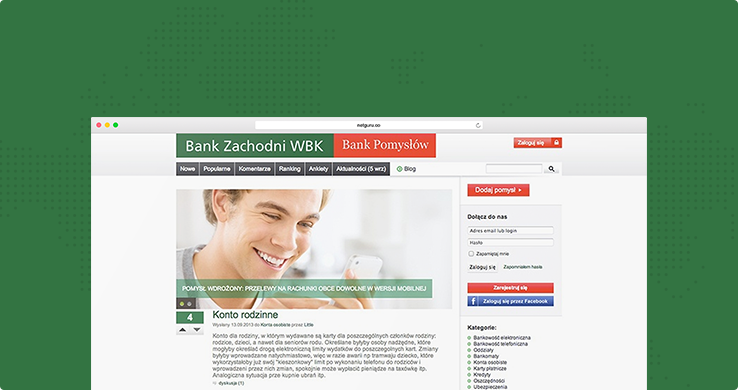 Bank Zachodni WBK (BZ WBK) was the third-largest bank in Poland.
It offered a range of banking services for both private and business entities, had a network of more than 650 branches, over 1000 ATMs, and over 3.5 million customers. It offered services related to securities intermediation, leasing, factoring, asset and fund management, insurance, and shares trading.
In 2011, BZ WBK was acquired by the Spanish bank Santander Group. Headquartered in Warsaw, Poland, it's now known in the market as Santander Bank Polska SA since 2018.
Goal - Creating a space to share ideas
BZ WBK bank approached Netguru to develop a platform where their clients could share their expectations and provide feedback to the bank in order to improve their services. Thus, 'Bank of Ideas' was born.

It was designed to be an innovative social platform, a community-powered space where the bank's customers expressed their needs in a first of its kind online space.

The main challenge behind the project was to deploy a creative approach that, in turn, would encourage clients to interact with the service without any hindrance.

Netguru took full responsibility for the project - from concept to solution.

Process - Bringing 'Bank of Ideas' to life
Given Netguru was tasked with the full lifecycle of the project, a dynamic and experienced team was deployed to be at the helm of affairs. After chalking out plans for both backend and frontend, and meeting all expectations of BZ WBK, we got down to bringing 'Bank of Ideas' to life.
This was a 'never been done before' initiative within the banking industry in Poland, and Netguru was right in the driving seat steering towards a new direction.
Within the platform, a user could create a profile and submit their issues, or vote for ideas shared by other customers. The bank could also conduct surveys there. Users could look up the most pressing issues that were being discussed and provide comments. For BZ WBK, Bank of Ideas was a one-stop-shop to collect feedback from all its customers.
Result - Fostering growth through innovation
The result of our cooperation - Bank of Ideas, a social platform designed to collect feedback for continuous improvement - was a pioneering solution in the Polish market. We deployed a secure platform, a user-friendly website, that met with satisfaction both from BZ WBK and its clients.
The platform provided a safe space for the users where they could voice their issues without any friction. For BZ WBK, Bank of Ideas became a source to understand their clients' sentiments and the challenges that they were facing with the bank. At Netguru, we've always believed in pushing the envelope via innovation. Bank of Ideas was a testament to this fact.