Development of Real Estate Platform for Proptech Startup
Hybrid property lettings agency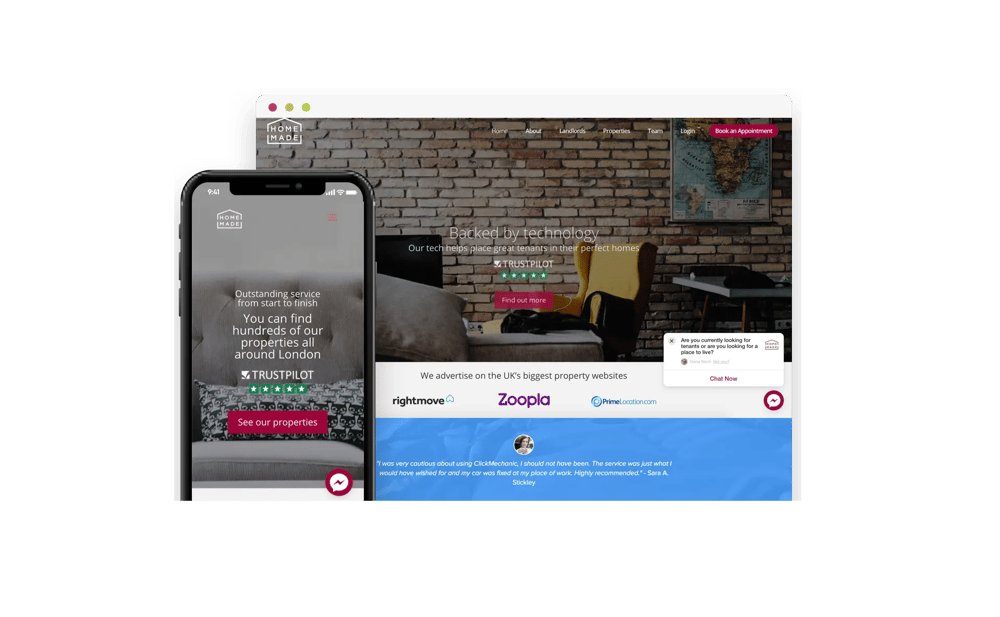 Home Made is a hybrid lettings agency that brings the quality of service of a top-notch traditional estate agency for a low flat fee.
Goal
The company focuses on £500,000+ residential properties in London. They want to provide an exceptional experience for their customers, which entails many challenges:
Complicated legal regulations that require an individual approach to different cases.

A diverse market in which not everyone is accustomed with technology.

Big complex databases with a significant number of records.

High levels of stress and emotionality in both parties of transactions.

No access to APIs of property websites (or outdated APIs).
Process
The founder of Home Made turned to Netguru to help them build the platform from scratch. Netguru's team of five first met with the client to discuss the scope of the project and find the optimal solutions for the application. The process involved the following steps:
Designing a web application that would be both appealing to users, but also intuitive and easy to navigate.

Recommending and implementing a backend solution (Node.js) that would effectively handle multiple requests sent to the server.

Integrating the platform with a CRM based on Salesforce.

Building solutions that would automatically collect the required data from different sources.

Translating designs into a fully-working platform.
Results
Within 13 weeks, the team released a commercial product that attracted its first clients. The cooperation between Netguru team and Home Made went smoothly and everything was delivered on time and within budget. The main achievements were as follows:
The app received very positive feedback from users, who emphasised the app's streamlined UX.

The platform is adapted to serve more traffic while maintaining high performance and smooth user experience.

Our original solution for processing daily reports from property ad portals saved our client hours of operational work.

Thanks to our implementation, Home Made transformed from yet another digital real estate agency to a PropTech company, which sets it apart from the competitors on a difficult market.

The company has raised £850,000 in seed funding.
Numbers
£500k+ properties
5 team members
13 weeks to release the product
£850k seed funding