Celebrating Software Pioneers Utilizing an Award-Winning Website Built With No Coding
No-code content hub to pay tribute to the Hidden Heroes of the digital revolution.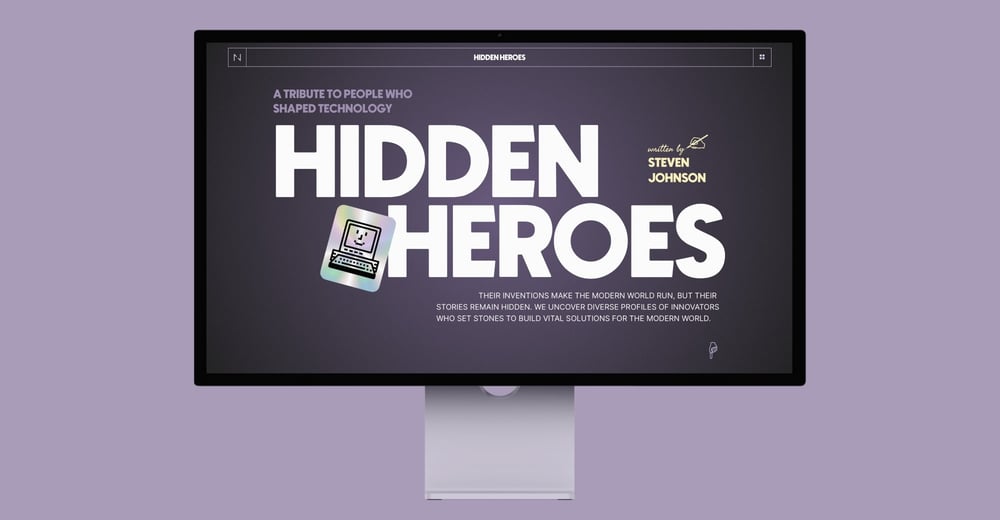 About this project
Hidden Heroes
is a publishing initiative with a content hub at its core, built with few resources thanks to leveraging the no-code platform, Webflow. It hosts touching stories by a legendary writer, Steven Johnson, profiling some of the most influential but less known people whose inventions enabled the digital revolution. The project is growing in popularity and generating media attention.
Something crucial is missing from the mainstream dialogue about digital technology, which is currently dominated by big tech CEOs. The world seems to have overlooked those that set the foundations for modern software and did the groundwork we all rely on. We made it our mission to bring them back into the spotlight.
We associate the digital revolution with Bill Gates, Steve Jobs, Mark Zuckerberg, Sergey Brin, and the likes – but these people are just the tip of the iceberg. They built their empires on a foundation that was carefully crafted by innovators who don't get enough credit for their contributions.
In the previous century, there was a group of people that envisioned how software could change our lives. Propelled by their bold ideas, right at the center of the biggest cultural and geopolitical shifts in human history, they rolled up their sleeves and gradually bridged the gap between imagination and reality for the whole world to benefit from.
Thanks to them, we now take for granted many things that were once impossible challenges. The humble web browser, the networking protocols that exchange data in a matter of milliseconds, the encryption that protects our communications, or collaborative software that most of us can't imagine working without.
All of these things and more were built by the Hidden Heroes of the digital revolution. How do you pay fair tribute to people that changed the world and made your whole career possible? We knew that we had to do something big, bold, and beautiful.
Creating a bold publishing initiative with global reach
The main goal of the whole initiative was to bring global attention to the people who we owe so much for their contributions to modern technology, and to inspire the future generations of software engineers, designers, and computer scientists.
This created several challenges for us:
To really highlight our heroes and the context of their stories, the design and presentation had to be top-notch – the animations, illustrations, text flow, content boxes, quotes, all the details were very important to get right.
We wanted each story to be unique, but at the same time consistent with the branding and color palettes of the whole platform.
The publishing initiative had to meet the highest standards to reach international audiences.
We wanted to use the newest technologies and showcase our proficiency in them.
The content hub had to be modular, easily editable for non-developers, scalable, and extensible,

so we could swiftly publish a new story each month.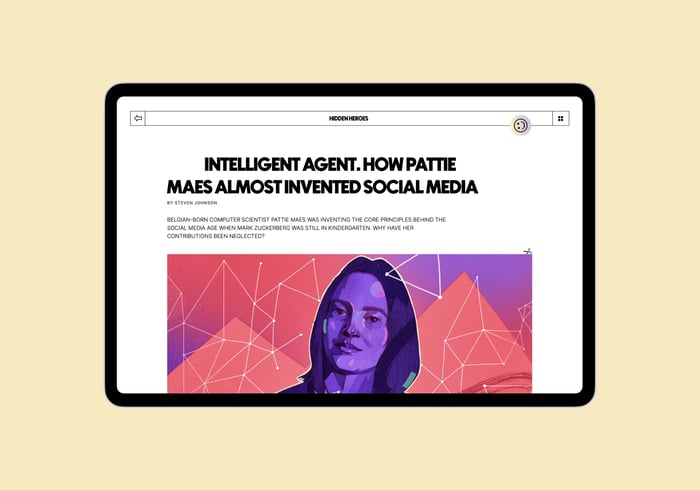 Using

a no-code platform to host inspiring stories of innovators that changed the world

From the start, we wanted to do our very best in order to do justice to the software pioneers we admired. We thoroughly planned everything out, carefully considering the tech stack, authors, heroes to profile, and every tiny detail in between.

Since we wanted to promote innovators, it only made sense to use an innovative technology to do it. Which is why for this project we relied on the leading no-code platform Webflow. This allowed us to:
Easily scale the project
Build with a fraction of the regular resources team
Easily add new stories with reusable components
Build custom features without actual coding
Ensure premium quality of the final product with great UX, accessibility, and visual candy
Our goal was to reach international audiences and offer touching, compendious stories based on deep research and supplemented by broad knowledge. So, we partnered with Steven Johnson, who over the past decades has been trying to understand and explain where the innovation and progress in society comes from.


Steven has written over a dozen critically acclaimed books about science, technology, and life. He's a TV host, podcaster, TED speaker, as well as co-creator of several influential websites, including one of the earliest online magazines in 1995. He has been studying the interactions between technology and society for almost four decades now.
With Steven on board, we were confident that each story would be as rich and intriguing as we had envisioned.
We settled on eight heroes to highlight. Choosing them, we focused on people whose work is actually still alive and critical in the digital world today, but whose names and contributions have been largely forgotten. People such as Pattie Maes, the people-focused technologist who built the progenitor of our current social networks, or Lou Montulli, who invented cookies in one week and incidentally changed the ad business forever.
The scope
Timeline:
June 2021 – Creative workshop and conceptualizing the idea
August 2021 – Low-fi wireframes of the mockup
January 2022 – Beta version of the content hub
March 2022 – The first story implementation
21st April 2022 – Official launch of the project in New York City and publication of the first story
Project team:
5 designers including 3 with the Webflow expertise
Results (as of October 2022)
Hidden Heroes went live in April 2022, along with the first story about Pattie Maes. We organized a kick-off event and interview with second hero, Radia Perlman, in New York. The project continues to generate positive results:
The website generates approximately 1,000 unique visits per day
The top story has amassed 20,000 unique visits
We've reached 10 million people across different channels
The project has been mentioned by the MIT Internet Hall of Fame, ZDNet, Steven Levy, and Stewart Brand
The Reddit AMA session with Lou Montulli, creator of web cookies, reached 2 million people and generated over 900 comments, the AMA with Philip Zimmermann reached 1.8 million people with 600 comments, and the one with Radia Perlman reached 216,000 users
The website was featured on Behance in the UI category