Enterprise AI-Powered Knowledge Base And Why We've Built One for Ourselves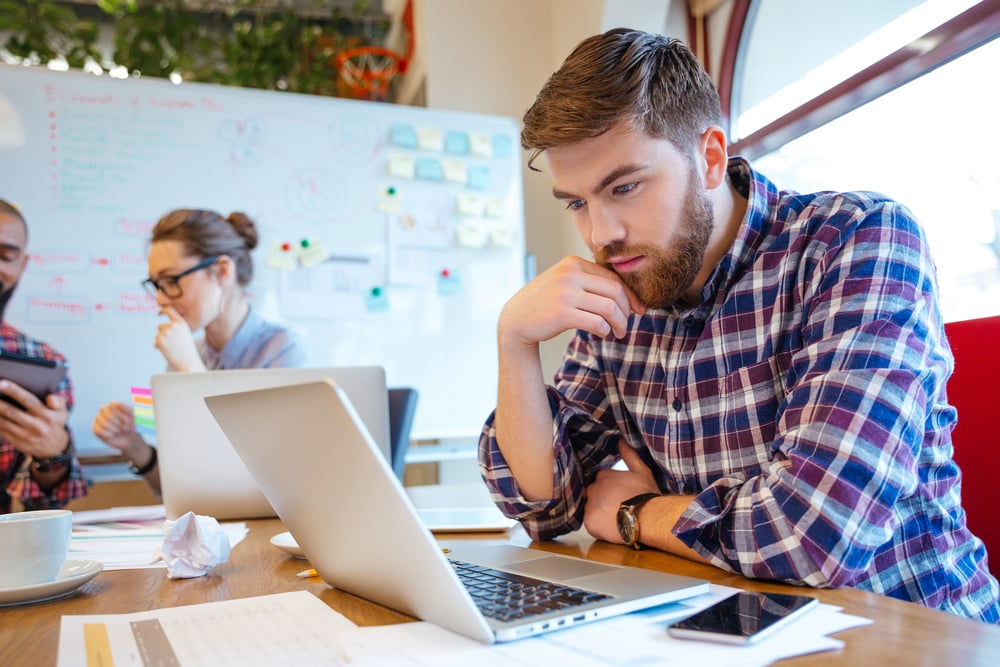 Information is power. Making it accessible quickly is a superpower. Smart systems with fast information flow and rapid delivery revolutionize the way businesses manage their knowledge.
Accessible quickly, information makes your company responsive to market changes and gives you a competitive advantage. But managing access to enterprise internal information can be hard. You probably already use various tools for different purposes across different teams. Even if you use one tool, it's probably difficult to find relevant answers to your questions quickly.
We had the same problem. Having thousands of projects and information about those projects causes delays in many areas, including project delivery, business development and marketing. We developed Netguru Memory knowledge base to streamline internal knowledge management processes.
Understanding AI knowledge base
An AI knowledge base is a centralized repository that stores, organizes, and disseminates knowledge within an organization, acting as a smart advisor available 24/7. It leverages the power of artificial intelligence and machine learning to enhance decision-making, automate workflows, and provide easy access to information for businesses both, internally and externally.
Usually, the key components of an AI-powered knowledge base include sophisticated search functions, machine learning algorithms, and natural language processing to facilitate effective knowledge management. This allows users to quickly and effortlessly locate relevant resources.
Why is that a problem worth addressing?
The answer is simple and revolves around two crucial aspects of business operations:
Time and money loss

We live in a hybrid post-pandemic world. Many companies adopted remote culture, making information accessibility a necessity now.
According to a report by Panopto, employees spend 5.3 hours per week waiting for information. These delays have a major impact on project schedules. 66% of projects will last up to a week, and 12% a month or more. The total annual productivity loss can be up to $200 million depending on the company's scale.

Wasting opportunities

It takes time to propose sales/marketing materials and they are expensive and time-consuming. The faster you deliver examples of the projects you've done, the faster you'll get business results.
Slower decision-making. You might lose time on making the important decisions on various levels if people don't have access to the information they need.
What is the landscape of smart knowledge bases?
There are multiple tools available in the market that solve knowledge sharing. With the generative AI renaissance, some of them have implemented AI enhancements. To give you some examples:
How we solved internal problems with Netguru Memory
Implementations of new solutions are always challenging for organizations, especially if you want the outcome to fit like a glove. We needed a solution tailored to our needs which available products didn't meet. The reasonable way to approach this task was building our own custom smart knowledge base. And that's how we've created Netguru Memory.
Netguru Memory utilizes our collective knowledge to gather and organize information about clients, their problems, proposed solutions, and outcomes. By centralizing it and making this knowledge easily accessible for the teams, we can reach our strategic clients, generate and adopt new offerings and solve our day-to-day challenges faster and smarter. We'll follow the 1-10-100 principle:
| | | |
| --- | --- | --- |
| 1 minute | 10% | 100% |
| Time needed for anyone at Netguru to find relevant case study. | Of the regular delivery time - time needed to prepare crafted case study ready to be sent out to prospect, included in decks or share on our website. | Coverage of relevant projects documented in the Netguru Memory. |
How does Netguru memory work?
The system consists of two components: data gathering and data consumption. The data gathering component is focused on collecting and structuring the data to make it easily accessible for the company needs. It automatically gathers the data from different sources like Salesforce, presentations, Google documents, Slack, Confluence, already published materials, and enhances them through AI mechanisms for easy retrieval.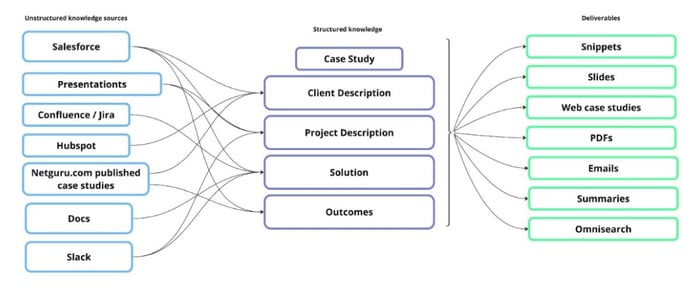 The data consumption component uses gathered data to customize case studies, presentations, and messages with the help of an AI Assistant.

You can improve each section's content with a single click. AI Assistant is capable of analyzing both automatically and manually provided data, and then proposing improved solutions based on the insights gained from that data. You can make manual improvements to the draft provided by the AI Assistant, save the enhanced content and download it in PDF format.
On top of that we've built the Netguru Memory omnichannel search bot, which helps find information on similar projects and solutions. It's a natural language search interface that simplifies retrieving relevant information about related projects, solutions we provided, technologies we used, client industries, etc.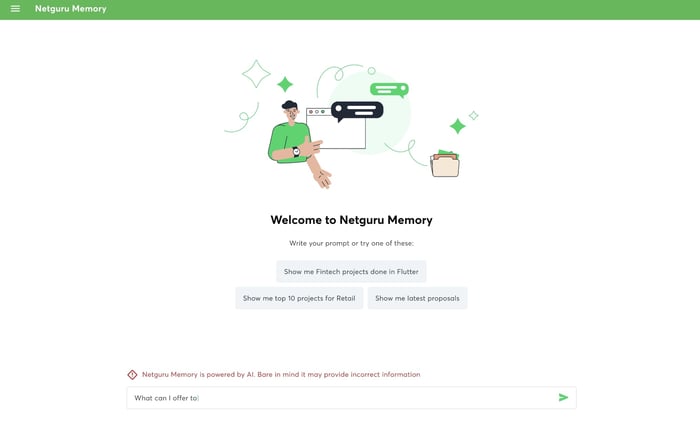 Infrastructure
To improve the quality of our content, we utilize AzureOpenAI for content summarization and improvement. By integrating Salesforce with OpenAI, we have built an AI Assistant directly into our CRM, which helps us automate the process of content creation and management. This integration has allowed us to save time and resources, while also improving the overall quality of our content.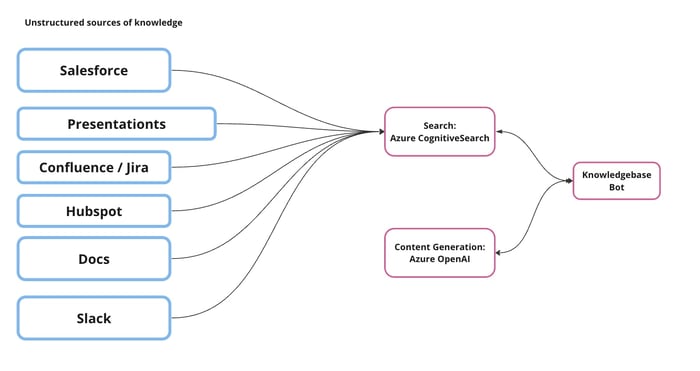 In addition, we also use AzureCognitiveSearch to power our knowledge base bot designed to answer complex questions. It helps us to find relevant examples from thousands of past projects within seconds.
It's still the early days of the product, but our team already loves it, just look at some of the comments: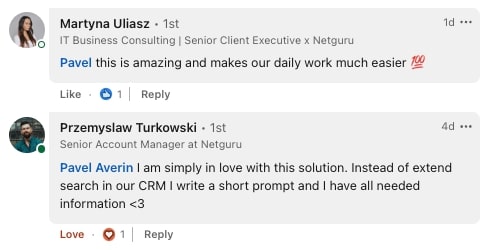 Revolutionizing knowledge management with AI-powered knowledge bases
The potential of AI-powered knowledge bases to transform the way businesses manage and access their knowledge cannot be overstated.
The power of AI and machine learning gives organizations ability to unlock the full potential of their knowledge base systems. And that is a big step towards improved customer experiences, increased agent efficiency, and streamlined knowledge management processes.
With the ability to quickly and accurately analyze data, AI-powered knowledge bases like Netguru Memory can help organizations stay ahead of the competition by providing the highest quality of support for customers and employees alike.
It simply makes life within our organization a lot easier, as we can quickly leverage valuable data, transforming it into the most usable format.
It can be easy for your business too.