10 Rising Fintech Ecosystems Shaking up the Order of the World's Best Countries to Invest In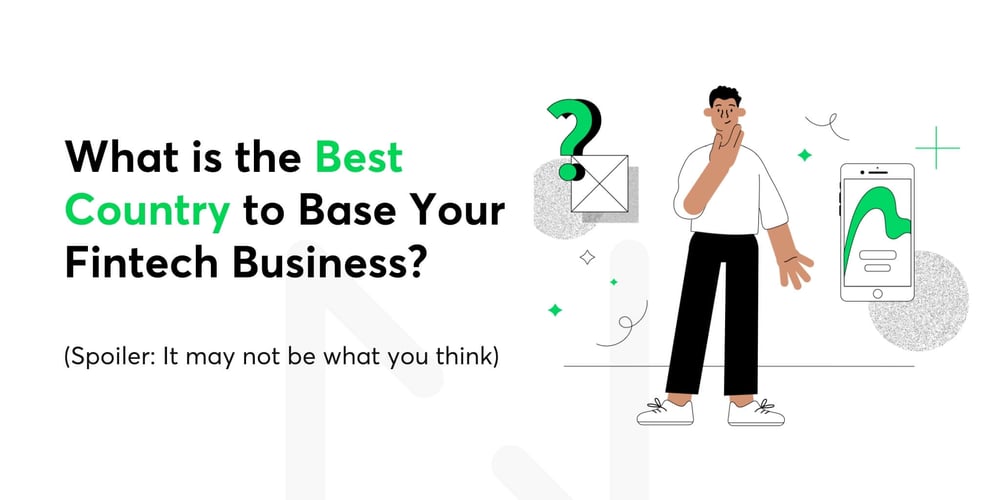 It's no secret that the United States has the best fintech ecosystem in the world, with the United Kingdom and Singapore trailing closely behind.
Their winning combination of available talent, healthy competition, enabling regulations, and financial stability gives them an edge that's hard to beat.
But while these countries are currently considered the best places in the world to launch or base a fintech business, this may not be the case in the future. In particular, the market in the United States is becoming increasingly competitive, and the impact of Brexit in the UK remains uncertain.
Enter the new guard – a group of rising stars that are making huge progress in developing their fintech ecosystems and changing the game for companies in the industry. They may not be world leaders just yet, but if you're hunting for the best location to base your fintech business in the future, they are certainly worthy of consideration.
Let's take a look at why the current fintech powerhouses are at risk of being displaced and find out which countries might be a better bet for your fintech business as we look forward.
Why 'best' doesn't necessarily equal 'most attractive'
With all but two of the companies listed on the Forbes Fintech 50 based in the United States, the country is widely recognized as the best in the world for fintech businesses. It boasts a thriving fintech ecosystem and the highest number of fintech hubs of any country worldwide.
The downside to this success, however, is that the country also has one of the most competitive environments in fintech. It can also be a high-cost location to base a business. Popular fintech hubs San Francisco and New York are among the most expensive cities in the world, with high costs of living and wage bills to match.
And the United Kingdom's reputation as a world leader in fintech has been called into question following the country's decision to exit the European Union. Other member states have taken advantage of this opportunity, positioning themselves as alternatives that are able to offer an entry point to the EU – something that is no longer available from the UK.
In addition, fintechs in the UK may be impacted by talent restrictions. Currently, 42% of their staff come from outside the UK, with two-thirds of this made up of workers from the EEA. But post-Brexit, workers from the European Economic Area (EEA) will no longer be able to take advantage of visa-free entry to the UK.
The rising stars
As we look to the future, we may see a shift in the nations at the top of the leaderboards. Many countries now recognize the economic benefits of a healthy fintech sector and are fiercely committed to building their ecosystems, including fintech-friendly regulation that promotes innovation.
To compile this list of countries that may be good bets to base your fintech business in the future, we used Findexable's Global Fintech Rankings. This report takes into account many factors, such as regulations that incentivize entrepreneurship and encourage investment, availability of talent, and infrastructure quality.
If you're considering launching or relocating your business, choosing one of these countries may give you a competitive edge and a boost towards fintech success at scale.
1. India
India has seen explosive growth in fintech over the past five years, and it shows no sign of slowing. Its fintech sector is expected to reach a valuation of $150-160 billion by 2025, a value creation opportunity of $100 billion, according to a recent report by BCG.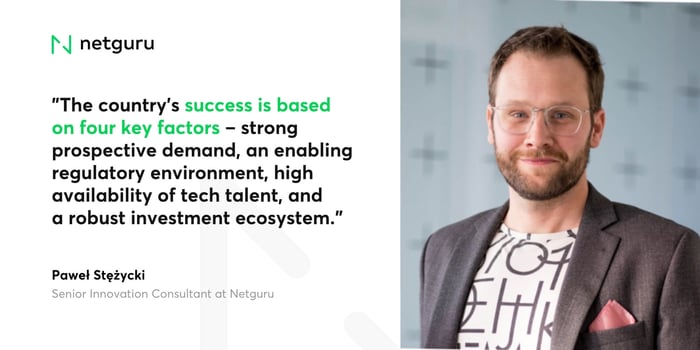 The country's success is based on four key factors – strong prospective demand, an enabling regulatory environment, high availability of tech talent, and a robust investment ecosystem.
India now has 11 fintech unicorns, including investment platform Groww, bill payment service BillDesk, and credit card management and bill payments platform CRED. Razorpay, Paytm, and Pine Labs are focused on payments and transactions, while general insurer Digit Insurance and life and general insurance comparison portal PolicyBazaar also make up the billion dollar club.
2. Brazil
The second-largest fintech hub in Latin America, Brazil is home to almost 380 fintech companies. The Central Bank of Brazil is supportive of boosting market competition and increasing financial education and began its implementation of open banking in February 2021.
Fintech companies also have opportunities in the form of a large underserved population and high technology usage coupled with a younger population – the country's median age is just 32. Fintech unicorns in Brazil include sexy neobanks like Nubank and C6 Bank and companies more focused on payment solutions, such as Ebanx and Stone.
3. Luxembourg
It may be small, but some of the world's largest e-payment and e-commerce companies, such as PayPal, Alipay, and Amazon, have made Luxembourg their European hub. Considered a gateway to the EU for international fintechs, Luxembourg is renowned for its innovative and fintech-friendly regulatory environment.
Luxembourg's favorable tax laws make it a hub for private investment, potentially boosting its appeal to future unicorns. The country also offers a range of public and private funding to assist fintech companies at all stages of their development, including the Luxembourg Future Fund, the Luxembourg Business Angels network, and the Digital Tech Fund.
4. Norway
Tipped to become one of the first countries in the world to go cashless within the next decade, unsurprisingly, Norway has a thriving fintech sector with a strong focus on mobile payments and online banking.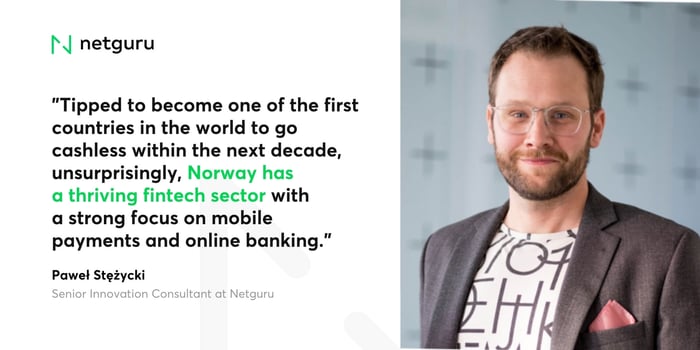 The country's government is highly engaged in supporting the growth of fintech. In 2019, its Ministry of Finance launched a regulatory sandbox, giving companies a fast, low-cost, and risk-free way to trial products, services, and technologies and boost adoption.

Norway is also renowned for its high standard of living and public education, bolstering its supply of available tech talent. It doesn't yet have any fintech unicorns, but mobile payments provider Vipps is one to watch for the future.
5. Mexico
Mexico is Latin America's largest fintech hub, just ahead of Brazil, with more than 440 startups. Similarly to Brazil, Mexico offers fintech companies significant opportunities in terms of its low penetration of financial services, good internet access, and young consumer base.
Legislation has also been introduced in Mexico to promote and drive fintech development. The 2018 Fintech Law and its subsequent secondary provisions cover areas such as open banking standards, cryptocurrency, and the Modelo Novedoso (Regulatory Sandbox).
Notable Mexican fintech companies include Konfio (digital banking) and Kueski (online lending).
6. Malta
The Maltese government has its sights firmly set on making the country a destination of choice for crypto and blockchain providers. In 2018, the Malta Financial Services Authority (MFSA) approved three new laws to regulate cryptocurrency and blockchain solutions. And in 2019, the MFSA rolled out the country's Fintech Strategy, which aims to establish Malta as an international fintech hub.
Binance, the world's largest crypto exchange, and BitBay, a digital currency exchange, moved their headquarters to Malta shortly after the new regulations were announced. Other Malta-based fintechs to watch include blockchain companies Neufund, OKEx, and Chiliz.
7. United Arab Emirates
The UAE is currently home to almost half of the Middle East and North Africa (MENA) region's fintech companies, making it the largest fintech hub in the area. In 2020, the UAE Central Bank announced a new fintech office, which aims to position the nation as a leading regional and global fintech hub.
The Middle East is experiencing exponential growth in its fintech industry due to a high number of unbanked or underbanked people who largely rely on cash, coupled with a substantial population of young consumers.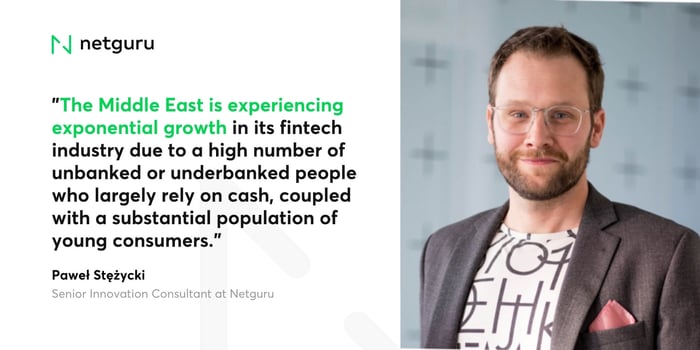 Promising fintechs from the country include Bayzat (insurance and HR software solutions), Beehive (peer to peer lending), and Dapi (banking API).
8. Malaysia
Malaysia also offers significant opportunities to fintech companies as a result of its relatively large unbanked and underbanked population, alongside high rates of smartphone penetration. Digital payments and mobile wallet companies currently make up around 40% of the country's fintech sector.
In 2016, the central bank of Malaysia, Bank Negara Malaysia, introduced the Financial Technology Enabler Group to enhance innovation and improve access to financial services. Part of the bank's provisions include a regulatory sandbox to allow fintech companies to test and deploy products and services in a controlled environment.
Malaysia hasn't given birth to any fintech unicorns just yet, but the Axiata Digital Group, the company behind Boost (e-wallet) and Aspirasi (financing and insurance for business), may become its first.
9. South Africa
Funding for African fintech companies grew by 51% in 2020. South Africa led the way with $112m in investments, prompting some to hail it as fintech's next big hub.
Around a third of the country's population currently use a smartphone and 94% of individuals have regular access to the internet. Combined with a large unbanked or underbanked population, the country offers great potential for fintech providers.
Companies disrupting the financial services sector in South Africa include Bank Zero, the country's newest bank; Mama Money, an international money transfer service; and LulaLend, an SME funding provider.
10. Argentina
Fintech is growing rapidly in Argentina. Since 2018, the number of fintech companies has more than doubled, increasing from 133 to 268 by 2020. Although bank account penetration is high in Argentina at around 80%, usage remains low, presenting an opportunity for fintechs to shape the market and increase financial inclusion.
The Cámara de Fintech de Argentina (Argentine Chamber of Fintech) was launched in 2017 to support the transformation of financial services in the country. Its aim is to turn Argentina into a hub for innovation and financial inclusion.
Up and coming Argentine fintechs include Afluenta (lending) and Comparaencasa (AI-backed insurance broker).
Who will rival the United States' fintech dominance?
While the United States may currently be unrivaled as the best fintech ecosystem in the world, it now feels like only a matter of time before another country poses a threat to its dominance.
The countries in this list are placing significant emphasis on building their fintech ecosystems and developing their economies. Their unique blend of fintech-friendly regulations, strong talent pools, and untapped markets is what places make these locations an interesting proposition for fintech businesses at all stages of development.
From an investment perspective, placing bets on fintechs in largely uncharted territories may bring better returns than doing so on the developed markets.
So if you're looking for an alternative to the highly competitive United States or an opportunity that the rest of the industry hasn't latched onto (yet), keep an eye on our rising stars.