Fixing the School System in the Middle East with an Innovative E-learning Platform – Darajat

Darajat is a unique project that combines strong commercial potential with social impact that can improve the lives of millions of families in the region.
We talked with Abdulla Hayat, co-founder and CEO at Al Darajat, a Kuwait-based company with bold plans to disrupt the education system in Egypt, Kuwait, and more.
Natalia Chrzanowska: How was Darajat born?
Abdulla Hayat: We have a big problem with the education system in our region. The public education system is not working well. It's inefficient, the classes are too crowded with 27-35 students, and the vast majority of educators fail to teach the curriculum to the kids. The situation creates a high demand for private tutoring, which drives the prices for an hour of private classes through the roof. As a result, the teachers in the public system are mostly underqualified.
The lessons are mostly lectures that last around 50 minutes. Under these conditions, even a good teacher can't explain everything in a way that would be understandable for all students. The teachers rush things to finish the curriculum and meet the government criteria on schedule.
The parents pay the price, as they are forced to hire private tutors and pay them 35-80 USD per hour.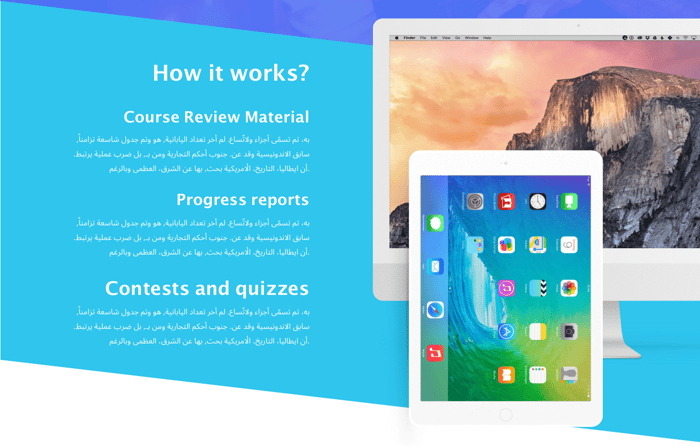 Is it indispensable?
It's difficult for many kids to pass the exams and graduate. It's not always their fault, they try hard, but have no way of acquiring the knowledge. Other parents want their children to have better grades. The scale of additional expenses for private tutoring is enormous. Imagine some parents have to hire tutors for eight, some for ten subjects every semester - mathematics, physics, chemistry, biology, Arabic, English or French - these are in high demand.
I was testing our app with two high school students. Their mother had to pay $3,000 per semester for each child.
How can it be fixed?
Two years ago I was wondering about it, and I came up with an idea that looked like a possible solution. If we were able to develop an e-learning platform that would be attractive for the students and useful, we could deliver a better service for a fraction of the price of private tutoring.
Let me give you an example. The most expensive course on the Darajat platform is going to be math. We'll set the price somewhere between $100-120 per semester - an equivalent of just one two-hour meeting with a private maths tutor.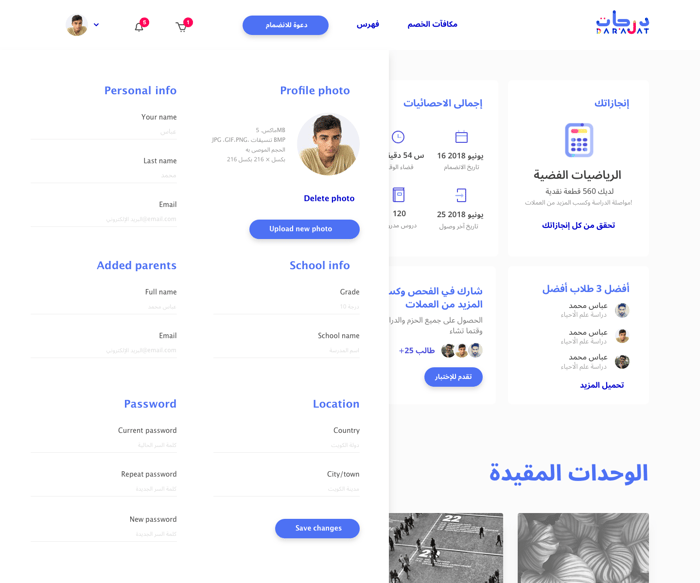 What do your courses look like?
They consist of slides (just like a PowerPoint presentation) with a voice-over. We chose the best teachers who cover the always up-to-date curriculum. The teacher gives a complete lesson. We want it to be at least of the same quality as the best school teachers and private tutors.
We checked the demand for such a product, and the realistic estimation is 100k-120k students using the product each semester.
There's a substantial supply-demand gap in the market.
What was the biggest challenge when building the Darajat platform?
It took us some time to understand the market - what the students want and how to design the product for them. We did a lot of research. We went through YouTube videos and e-learning platforms from the US and Europe.
I concluded that the best e-learning solution should provide three things:
decrease the effort needed to study. The student should stay very focused; no time should be wasted on digressions. You can use this time to repeat the most difficult parts and understand them better;
offer a very competitive price compared to private tutelage;
be fully available - to anyone, anytime, and anywhere.
We spent all the months developing Darajat to meet these standards. I think thanks to Netguru we are very close.
Another challenge (but also an opportunity) is the fact that e-learning is not very common in Kuwait and Egypt.
There are some local individual efforts, but they are underfinanced and too small to guarantee to be 100% up-to-date with the current curriculum, which changes every year (by 10-15%) and is wholly upgraded every three to four years.
How do you handle this in Darajat?
The project has two elements. The first is the learning material. We need to produce a lot of high-quality content, which is a complicated process and we do it in-house.
The second is developing excellent software.
Could you tell us more about this part of the project?
In the beginning, we wanted to do everything locally, but we noticed that none of the local software development and product design agencies had any experience with e-learning. We didn't want to take a risk. We wanted the agency to have enough e-learning expertise to make Darajat genuinely user-friendly.
During our research, we analyzed some sites from Egypt and India. The UX was not satisfactory, and they weren't working correctly. We didn't want to copy any European or US designs. We wanted to build something better.
How did you choose your tech partner?
We hit the market, created a list of companies, and we approached and discussed the project with five companies. It came down to Netguru and a US company, but we felt more comfortable with you. I was impressed with how enthusiastic your team was. From the beginning, you were very engaged in our vision.
Another argument was that the application has to be built in Arabic, and your team had some experience with our language. We had a couple of online meetings with your team. I was impressed by your thirst for knowledge. You wanted to understand the market, the needs, you didn't jump on the project just for money. This made us feel you're there for a long partnership, not just a well-paid assignment.
What have you achieved already?
We approached Netguru in February 2018. The first discussion was in March; then we had long, detailed scoping sessions. We had the idea, but wanted someone to guide us on how to do it.
In just seven months we finished the entire curriculum for high schools in Egypt and Kuwait.
At the moment we are testing the platform with Netguru. Things are going in the right direction. I don't think we are behind schedule, which is very impressive for a project on this scale. What we have achieved so far is a huge thing.
I'm very proud that we managed to do it with minimum capital. We interviewed more than 200 teachers, and now we are working with more than 80 teachers. We need one or two for each subject.
Within the next 2-3 weeks, once we make sure that everything's good with the MVP, we'll be open to the public.
What growth plans do you have?
Of course, we want to expand geographically. The plan is to see the results in Egypt and Kuwait in two years, and then we'll seek expansion to Saudi Arabia, United Arab Emirates, Qatar, and more.
In the beginning, we financed the whole project privately, but in December 2017 we started looking for financing. In June 2018 we presented the idea to two investors. They jumped at the opportunity right away. They agreed with us on the potential of an e-learning system in our region.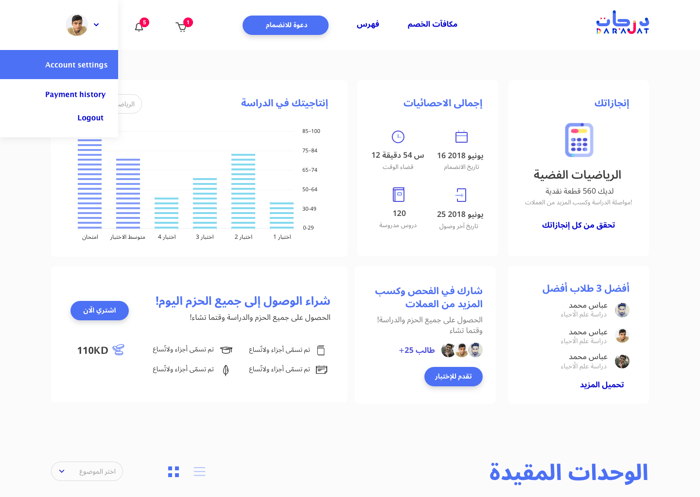 How do you estimate the potential market now?
If you combine the public schools in Kuwait and Egypt, we are talking about 2 million students. Of course, we are not going to have everyone subscribed. Even if we take from 1 to 2 percent, this is 20,000 subscribers.
Nowadays everyone has a smartphone and there are global projects for expanding mobile connectivity in our region. For the new generation looking at their mobiles is the first thing in the morning and the last in the evening. Having a product that's very accessible has an enormous potential.
We compared our MVP with other e-learning platforms in the region and we are way more advanced than them. We already have the teachers and parents involved. The parents, who are our paying customers, can follow the progress of the kids, while the students get a reward system that's inspired by gaming mechanics. They get points for studying, which they can later spend on valuable gifts. The tests we are running are very promising, and we get a lot of enthusiastic feedback.
In the next few weeks we are going to announce the launch of the Darajat app and everyone is invited to give it a try. We are convinced it's going to be a world-class piece of software with great UX and design, which is going to solve a significant social problem we have in our region.